From Janet & Saunoa Molia in Victoria B.C. (27 May 2006)
The Hugag'esea Club in British Columbia once again held a successful Rotuma Day celebration weekend. This year's festivities were held in Abbotsford B.C. 19-21 May. Rotuman friends and family gathered from all around and some came from as far away as Ft. McMurray and Calgary in Alberta and Seattle, Tacoma, and Port Angeles in Washington. A great time of dancing, feasting and fun was had by all. Thanks to all the committee for a job well done. See you all again next year in Vancouver.
---
From Fijitimes Online (25 May 2006)
Grandson follows giant yam steps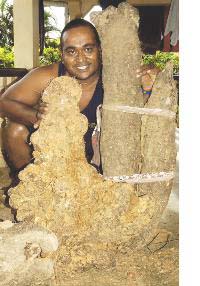 Mua Mesulame, 27, shows the giant Komaiele and Jamani yams that he pulled from his farm in Dilkusha yesterday
HIS grandfather was known for harvesting giant yams in their village of Noatau in Rotuma in his young days.
Mua Mesulame of Nausori, a former mine driller, is glad to be continuing the tradition.
He harvested about 20 giant yams from his backyard last week.
The heaviest he weighed in on Tuesday was 100 kilograms.
Mr Mesulame said he did not use any secret technique in planting the crop but had heeded the advice passed down from his grandfather and father in planting them.
I have been planting the crop in my backyard for the past three years and I harvest giant fruit all the time, a delighted Mr Mesulame said.
I dont use any special technique or fertilisers in planting them. I guess its just a gift passed down from my forefathers.
His family had distributed the crop to unfortunate families living in the area and to some church ministers. He said they always looked forward to harvesting the crop during the Methodist Churchs Thanksgiving Sunday of fruits and crops when they take the crops to church.
---
From Tui Lakokiperitania in New Zealand (20 May 2006)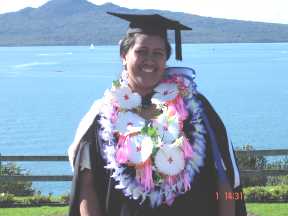 Tania Lakokiperitania
A big congratulations to Tania Mary Lakokiperitania for graduating with a Bachelor of Education degree in teaching from the University of Auckland on 1 May. Your achievements have made me and all your family in New Zealand, Fiji and Rotuma very proud of you.
Tania is now teaching a year 3/4 class at Sutton Park School in Mangere, South Auckland.
| | |
| --- | --- |
| | |
| Tania and her mapiga Tausie | Tania and her mother, Rosie Ackland, her uncle Kiko Tausie, and husband Tui Lakokiperitania |
---
From Mika Taito in California (16 May 2006)
Our Rotuma Day 2006 here in California was held last Saturday, 13 May, with great success. 'Otomis Gagaj Puer ta Pedro Rigamoto ka tape'ma se members ne Seven Stars of Rotuma a'hae la naaf 'otomis faeag ne 'ua'ua'aki ma alalum'aki se te' ne hensasiag ma o'o' ne po ma na 'omus ava ma leum la 'is teag'esea se Fremont California. Noa'ia 'e hanis airet 'e Seven Stars of Rotuma.
'Os temamfua 'ea moa ta pulou ka 'uaf ta pulou tape'ma this was in comparison to the celebration last Saturday.
'Ua'aki leuof se te' ne Gagaj 'atakoa ne po ma na 'oris ava ma po ma 'is teag'esea se kato'ag ta.
•Ian Vaurasi & Maureen Osborne from Fremont California (Noa'ia 'e a'sok ne far te ne Seven Stars la saea kato'ag ta ka na tape'ma ta vaeag koroa rauraut)
• Sisters Leotina Fesaitu & Vianney Tifare from Hanford, California
• Sarote Tolo & family from Utah
• Sophia Turaga & Rejieli Lilino from Laie, Hawaii
• Brigitte & John Kafoa, Kapani Elaisa from Los Angeles, California
• Rosarine Semesi Tuitoga from Suva, Fiji
• Lia Taito Lapekas, Elizabeth & Katherine from Madison, Wisconsin
• The Murphys ( Joe, Francis, Jonathan & Lauren ) from Ypsilanti, Michigan
• Makrao, Lilian Mario & Family from Utah
• Motofaga Phillip from Haga, Juju, Rotuma
• Freddy, Rosie & Stephanie Tigarea from Menlo Park, California
• Akata & Tomasi Rigamoto from Tanmahini, Motusa, Rotuma
• Tiare Tolo & Family from Las Vegas, Nevada
• Kamoe Fonmanu from Savannah Georgia
• Lusia & George Asuenga & Family from Moreno Valley, California
Also we would like to thank other Pacific Island communities here in California: Tongans/Samoans/Fijians/Fiji Indians and anyone else present but not mentioned.
'Ua'aki leuof se members ne Seven Stars ne po ma haiasoagan kato'ag ta. We also extend our thanks to Marieta & Pene Samisoni from Pacifica 'e a'potsusun ne maka 'e faute' not forgetting our Master of Ceremonies Yvonne Aitu Suniamafileo and our one & only DJ, Pete Suniamafileo. Well Done !
Se te' ne kainag ne kat po ra la teag'esea 'e fau te' ma 'amis Seven Stars of Rotuma, 'am 'airot'ak ne 'is la po la haipoag se Fremont on Saturday, 12 May 2007.
Just a Reminder: The next Seven Stars of Rotuma meeting will be held on Saturday, 3 June at the residence of Pedro & Makereat Rigamoto in Stockton, California at 2pm.
Faiaksia ma fu'uomus!
Photos
More Photos
---
From Kijiana Roy in Auckland (15 May 2006)
Susau Erika Jane Strickland Awarded Queens Service Medal
On Tuesday, 28 March 2006, Susau Strickland was one of four Pacific Islanders presented with the Queen's Service Medal by Governor-General Dame Silvia Cartwright at the New Year's Honours Award Ceremony. The investiture was held at Government House, Epsom, Auckland.
Susau Strickland
Susau, at the age of 70, still works as a full-time nurse at the Little Sisters of the Poor at Herne Bay, Auckland; she has been working there for 18 years. Her nursing career commenced in 1953 at the CWM Hospital, Suva, Fiji. She later served in the Cook Islands for 15 years. In 1971 she migrated to Auckland and worked at National Women's Hospital and St. Helen's Hospital. Susau now has been nursing for 54 years, and is hoping to do still more in years to come.
Susau is a lay minister at the Kingsland Rotuman Methodist Church, Auckland. She is a steward to the Auckland Methodist Central Parish and the Methodist Church of NZ. In 1998 she was Vice President of the Methodist Church of NZ, and was the first Pacific Island woman to serve in the position. In the year 2000, Susau was elected President of NZ Methodist Women'ís Fellowship for a term of two years. During her term of office, a multi-cultural group of women was selected to form the first Pacific Island Women's Executive of the NZ Methodists Women's Fellowship in its history. Susau has served for many years as a convenor for the Wasewase ko Vita kei Rotuma and Niu-Si-Ladi (a combined advisory committee for the Methodist Church of NZ) for Fijians and Rotumans in NZ. She has dedicated her life to the work of the Rotuman community in NZ for 25 years, especially in Auckland.
On 1 April 2006, the Auckland Kingsland Rotuman Congregation hosted a dinner at the Fortuna Restaurant, Sky City. We were delighted to have Mrs Marieta Rigamoto, MP from Fiji, to be with us at the dinner.
Susau is grateful to God Almighty and sincerely thanks all who have supported her
ministry.
See photos of investiture and dinner
---
From Fijitimes Online (15 May 2006)
One of the Pacific region's best known and most highly respected journalists, Robert Keith-Reid, died in hospital in Brisbane on 13 May. Mr Keith-Reid, aged 63, was a naturalised citizen of Fiji and publisher of the Pacific's most influential news magazine, Islands Business.He was also a stringer correspondent for America's Associated Press and a columnist for Fiji's Sunday newspaper.
Mr Keith-Reid is survived by his Rotuman wife Lillian and his daughter Kialika whom Robert, a father comparatively late in life, utterly adored. For a feature article on Mr. Keith-Reid go to the Fiji Time obituary.
---
From Fijitimes Online (11 May 2006)
$45m market for city
THE Suva City Council has embarked on a $45million development project for the Suva Market and the adjacent bus station.
Terence Erasito and Lord Mayor Peni Volavola yesterday look through the master plan documents for the development of the Suva market and bus terminal.
Yesterday the council and local engineering consultants Erasito Consultant Limited formalised their partnership on the project.
Suva Lord Mayor Ratu Peni Volavola said Suva ratepayers should anticipate a lot of changes to the current sites in the near future.
"We just re-confirmed our professional engagement with the consultants for the project and we are looking forward to working with them," said Ratu Peni.
The planned building for the market would also include a stop shop with retailer outlets.
He said the proposed developments to the bus stand would ease traffic flow.
Ratu Peni said the project was a complex one and the council would be working closely with the consultants and the architect.
"The council will have its steering committee including five councillors and our own technical people working with the consultant."
Project manager, Terence Erasito, said they were honoured with the engagement and looked forward to working with those associated with the project.
"We will co-ordinate the consultancy services and construction activities associated with the development," Mr Erasito said.
The same company undertook similar projects for the 2003 South Pacific Games facilities.
---
From Fijitimes Online (11 May 2006)
Airline applies for local routes
FIJI Airlines Ltd, the new player in the domestic aviation market, has filed a notice of application for licences to service the domestic routes of its predecessor Sun Air, and three new routes.
Local airline Sun Air has been bought by Air Pacific, in a bid by the national carrier to enter the domestic market.
Besides applying to provide regular service to a number of routes, Fiji Airlines has also applied for a licence to provide a general charter air service.
It hopes to start operations by July 1.
The new routes it has applied to service are Suva/Savusavu, Suva/Kadavu and Suva/ Rotuma. The other routes are Suva/Taveuni and Suva/Labasa, and from Nadi to Suva, Labasa, Vatulele, Yasawa, Kadavu, Savusavu, Taveuni, Malololailai and Mana.
It has also applied for the Labasa/Taveuni, Taveuni/Laucala and Savusavu/Taveuni routes.
In its application, Fiji Airlines said there would be some intermediate landings for the purpose of loading or landing passengers or goods within the approved aerodromes.
The application was filed at Air Transport Licensing Board earlier this month.