From Talei Inia in Sydney (29 September 2006)
The Wesley Mission Rotuman Congregation within the Wesley Mission Parish, Sydney, under the auspices of the Uniting Church in Australia, Youth and Children, organized a variety concert at Parramatta Town Hall, Sydney, Australia, on Saturday, 16 September 2006.
The aim of this concert was to help fundraise towards Wesley Mission Sydney and its many outreach centres leading up to the main event on 28, 29, and 30 September 2006. Proceeds from those three days will go towards the Northmead Children's Respite Centre.
Organization of this fundraising event was supported by our Rev Sydney Taito, Radini Vuti and family, the Wesley Rotuman congregation, the parents of the youth, and children and their older siblings.
Wesley Fair Concert Programme
5–5:20pm: Guests arrived, tickets processed by youth at the front door. Young children garlanded guests on entry to hall (lolly garlands were handmade by the children.) Processing tickets were, Hanisi Tupua, Fasina Konrote, Tyrone Amai, William Flexman, Mea'lofa Tupua, and our church treasurer Fereti Konousi. Garland girls were Ellie Atalifo, Kayleigh Langi, Regina Amai, and Elocin Smith. Guests were then directed to the main hall by our security boys, Tuimasi Tupua, Paul Metusela, Sarafu Fatiaki and Benjamin Va'foou.
5:25pm–5.40pm: greeting our guests were Hanisifuri Konousi and her ushers, Rhiannon Raki, Joellytane Amai, Fredricia Konousi, Evotia Tupua, and Chantelle Konrote. Refreshments were served, including vegetable samosas and spring rolls with an endless supply of fruit punch.
5.45pm: Curtains opened and our mistress of ceremony miss Muarina Konrote opened the evening's events with a welcome speech.
5.50pm: A chorus (Oh How Happy) was sung by the Youth And Children's Choir and was brilliantly conducted by Mr Paul Metusela.
6.00pm: Rev Sydney Taito said an opening prayer to officially start the concert.
6.10pm: Our chief guest, Mr Osea Taito was introduced by Miss Muarina Konrote and garlanded by Miss Fredricia Konousi. Mr Osea Taito later had a message for all our guests.
6.30pm: The first of our prizes were drawn. The table prizes were hand crafted by our youth and children - 25 handwashes with lace and 25 hand painted knobs.
6.35pm-7.45pm: Dinner. Grace was said by Rev Peter Chung (Minister for Drummoyne Rotuman Congregation). Dinner was buffet style. Dishes included: Chinese dishes, chicken and goat curries, kokonda, baked fish, octopus, prawns, seafood salad, tossed salad, potato salad, coleslaw, lovo chicken, lovo pork, lovo taro, uhi, pofo, kumara, puri, roti, rice, palau, honey glazed ham, fekei, etc. For desert we had trifles, homemade pineapple pies, cream cheese pies, cakes of all sorts, fruit salad, cassava cakes, etc. Tea and coffee was served later.
7.40pm-9.20pm: Entertainment
Item 1. African Dance, sung by The Watoto Childrens Choir, performed by the youth and children.
Item 2. Trio by Marlaena Benz, Milli, and Bella.
Presentation of the children's prize by Miss Tuasiri Taito.
Item 3. Tupua Sisters: Tuvaluan, Samoan and Tokelaun Dance.
Item 4. Mrs Elizabeth Benz and Mr Tony Leoni danced a Tango.
Item 5. Tupua Sisters: Tahitian Dance.
Radini Vuti Taito judged the best dressed prize, won By Mrs Rejieli Clayton. The prize was presented to her by Mrs Catherine Chung.
Item 6. Young Mens Dance 'Eatoso'.
Item 7. Tupua Family Drumbeat.
Mrs Sarote Mooney presented the runnerup young adults' prize to Alana Holdorf. Mrs Amoe Mccarthy presented the main young adults' prize.
Item 8. Young Ladies Cook Island Dance.
Item 9. Young Men And Ladies Dance, French Waltz.
Mrs Elizabeth Benz presented the runnerup prize to Mrs Lilly King, nee Samisoni, while Osea Taito presented the main prize.
Parents Item: A courageous solo act from Mrs Liua Tupua, which brought the house down.
Ruerue 'on haharagi was performed by all the youth and children. Mr Tuimasi Tupua gave a speech thanking everyone who participated.
The highlight of the night was the tautoga. The children looked beautiful in their traditional Rotuman costumes and danced very well. A fara followed in which guests participated.
William Flexman made a faeag ne faksoraki in Rotuman. We all sang a bell song together, 'Reko Te Ne Te Lelei' . We all sang 'God Be With You' as a farewell hymn.
Rev Sydney ended the proceedings with a prayer and benediction.
9:30pm. Curtain Closed
Thank you to our Manotu, Mr Paul and Mrs Haniteterani Amai; choreographers, Josephine Konousi, Hanisi Tupua, Mea'lofa, Tupua and Evotia Tupua; Mr Jione Metusela, who taught the boys to dance; and Mrs Liua Tupua.
Dvd's for the concert will be available for sale soon.
Youth and children participating (From youngest to eldest)
| | |
| --- | --- |
| Name | Parents |
| Cherish Flexman | Savea and Shirley Flexman |
| Philemon Inia | Petero and Talei Inia |
| Vataiki Konousi | Fereti and Voi Konousi |
| Haydrian Raki | Terotuma and Betty Raki |
| Ellie Atalifo | Owen and Tasha Atalifo |
| Elocin Smith | Teariki and Marseu Smith |
| Kayleigh Langi | Etika and Mua Langi |
| Regina Amai | Paul and Hani Amai |
| Sina Fatiaki | Joeli and Marieta Fatiaki |
| Avaiki Konousi | Fereti and Voi Konousi |
| Alexandra Amai | Paul and Hani Amai |
| Brandon Atalifo | David and Una Atalifo |
| Sukamanu Raki | Terotuma and Betty Raki |
| Ethan Inia | Petero and Talei Inia |
| Samuela Vo'foou | Pene and Lilly Vo'foou |
| Rhiannon Raki | Terotuma and Betty Raki |
| Joellytane Amai | Paul and Hani Amai |
| Fredricia Konousi | Fereti and Voi Konousi |
| Chantelle Konrote | Aisake and Akanisi Konrote |
| Evotia Tupua | Jona and Liua Tupua |
| Aaron Vasea | Peter and Lilly Thomas |
| Tyrone Amai | Paul and Hani Amai |
| Mea'lofa Tupua | Jona and Liua Tupua |
| Sarafu Fatiaki | Joeli and Marieta Fatiaki |
| Fasina Konrote | Aisake and Akanisi Konrote |
| Paul Metusela | Jione and Anna Metusela |
| Benjamin Vo'foou | Pene and Lilly Vo'foou |
| Josephine Konousi | Paul and Hani Amai |
| William Flexman | Shane and Rejieli Flexman |
| Hanisi Tupua | Jona and Liua Tupua |
| Muarina Konrote | Aisake and Akanisi Konrote |
| Hanisifuri Konousi | Paul and Hani Amai |
Senior Youth Helpers, Fredrick Metusela, Charles Metusela, Malaena Croker, Rosemaine Fatiaki, Jenifer Fatiaki, Rosarina Palako , Tieri Gibson, Karlina Smith, Hifa Flexman, Shannon Flexman, Savea and Shirley Flexman.
Acknowledgements:
Wesley Mission Sydney
Rev Keith Garner and Mrs Garner
Rev Sydney Taito and Radini Vuti Taito
Mr Osea Taito, Chief Guest
Ms Liz Crawford (Senior Solicitor, Uniting Church Australia)
Air Pacific Pty Ltd and Mr Victor Sharan
Ms Lavonne Sharan Rep. for Musket Cove/Sun Air
Mr Paul Cutler Rep. for Bounty Island Resort
Fiji Visitors Bureau and Miss Louisa Finiasi
Rev Peter Chung and Mrs Catherine Chung
Drummoyne Rotuman Congregation
Wesley Rotuman Congregation
Wesley Rotuman Womens Fellowship (Myers Gift Voucher)
Mr Jakopo Pau'u and Mrs Lusia Pau'u (costumes from Fiji)
Mr Vamarasi Ieli (making all our

te fui

from Fiji)
Miss Aliti Konousi (transporting costumes from Fiji)
Mr Neville Phillip and Mrs Tinolei Phillip (children's Prize)
Mr Fereti Konousi and Mrs Voi Konousi (donating ipod nano)
Mr Paul Amai and Mrs Hani Amai (box of chocolates)
Mr Terence Gibson and Mrs Ritie Gibson (Thank you for the lovo)
Mr Pene and Mrs Lilly Vo'foou
Mr David Maccallagh (photographer)
Wesley Rotuman Youth and Children's parents for all the food donations and food preparations.
Noa'ia e hanisit ma haisamoag ne garuet ne vah se ne mou se la'ri'ri'i ma haharagi. Gagaja la hanis ma la alalumak aus ma amus kaunohoga.
God Bless You All. Your children in Christ Jesus, Wesley Rotuman Youth and Children.
---
From Fijitimes Online (27 September 2006)
Ship owners unable to pay for salvage
by Ernest Heatley
THE owners of the inter-island vessel Bulou Ni Ceva have declared they are unable to pay for the cost of salvaging the ship and towing it back to Suva.
The vessel has been tied up at Oinafa Jetty in Rotuma after salvage contractors Workboats Fiji Ltd pumped oil out of it and towed it there.
Director of Government Shipping Services, Captain Seci Waqa, said Workboats Fiji set the cost of towing the vessel to Suva at $275,000.
Captain Waqa said the Kadavu Shipping Company had sent a notice of declaration to the Director of the Fiji Island Maritime Safety Authority (FIMSA) stating they would not be able to foot the vessel's salvage and towing costs.
He confirmed that the ship was refloated on September 8 and that 20 tonnes of oil had been pumped out of it, three months after it ran aground near Rotuma.
"Unfortunately nothing has been settled as of yet but we are hoping to come to some sort of an agreement soon," he said.
Captain Waqa said over $54,500 had already been spent salvaging the vessel and removing oil from a joint ministerial operational budget.
Prime Minister Laisenia Qarase mooted the action in light of the environmental risk from the ship's oil leak.
Captain Waqa said if the contractors failed to come to an agreement soon, a government tug would be used to bring the ship to Suva.
But he said he was hopeful that a deal would be struck soon between the contractors and the owners.
"We have tug No 7 which can handle a seven ton bollard pull which is more than capable of towing the vessel from Rotuma," he said.
Kadavu Shipping Company general manager Ratu Sela Nanono could not be contacted for comment.
---
From T.F. Katafono in Auckland, New Zealand (26 September 2006)
Isn't life hard enough as it is for the people in Rotuma?
Recently I sent some money to my folks in Rotuma via Western Union. Four days later (after unsuccessfully trying to contact Rotuma due to phone lines being down - again), I was told that people recieving money will, from now on require an ID card. Can someone tell me where can you get one or make one in Rotuma? I would think that in a small place like Rotuma where everyone knows everyone an ID card would be the last thing you would need!
 
I have been sending money on a monthly basis for the last four years with no problem whatsoever. Now, Western Union expects my old folks to make a special trip to Fiji to get an ID card (which requires a photograph of the holder) just so that they can get money that belongs to them!
 
When I contacted Western Union regarding the above, I was told that a passport would do - which made me laugh as half the people don't carry passports. Anyway I hope someone from the Council or the reps in Parliament will look into this and clarify it with Western Union.
 
T.F. Katafono
Auckland, New Zealand
 tttkatafono@hotmail.com
---
From Fijitimes Online (21 September 2006)
$62K to salvage ship from Rotuman reef
The Government has spent $62,000 salvaging the Bulou ni Ceva off a reef in Rotuma, Government Shipping Services Director Captain Seci Waqa said.
But he said there was never any contract signed by the Government for the towing of the Bulou Ni Ceva.
Captain Waqa said the salvage crew from Work Boats Fiji Limited was only contracted by the Government to salvage the oil off the boat.
"Their contract with the Government was basically to clear Rotuma from any harm from the fuel inside the boat," he said. "After satisfactory work on this the boat owners and the salvage team agreed to tow the boat from the reef to Oinafa wharf, where it is currently berthing."
Work Boats Fiji Limited said this week that of 12,000 litres of oil and fuel on board, half were siphoned off while the remaining litres, which were not spilled or damaged, were successfully drained out.
Captain Waqa said Government Shipping was willing to help tow the boat from Rotuma to Suva. But, he said, "Stakeholders of the boat need to sit and discuss an amicable solution."
Captain Waqa said damage to the boat was substantial and a substantial amount of funds would be needed to fully maintain the boat. He said the salvaging work would not have been possible without the assistance of the people of Rotuma.
The comments come after Work Boats Fiji Limited raised concern that the Government had not paid them for towing the boat to Oinafa.
---
From Fijitimes Online (20 September 2006)
Vessel needs major repairs
THE Bulou ni Ceva will need thousands of dollars worth of repairs if it is to continue servicing inter-island routes here.
Speaking from Rotuma last night, Workboats Fiji Limited's David Kumar said the boat desperately needed maintenance work.
Mr Kumar and 12 other workers from Workboats Fiji were on the island to salvage the boat.
He said the boat had been towed from the reef and was currently berthed at Oinafa wharf. "It is not only the damage that is done by the reef that needs repairing, there are cracks inside the boat that can measure up to four metres long.
"The whole ship needs thorough repairing as soon as possible, he said.
Mr Prasad said they were contracted by the Government to drain the fuel from the boat. Of the 12,000 litres of oil and fuel on board, half were siphoned off while Workboats Fiji Limited successfully drained the remaining litres.
"After draining the fuel we told the officials from Government Shipping that we would be able to tow it to Suva which they had agreed to. Mr Prasad said they were awaiting government confirmation over whether his company would tow the boat back to Suva.
He said they had already spoken with Government Shipping and the Marine department but had received no official response as yet.
The Bulou ni Ceva ran aground on a reef at Rotuma more than two months ago.
Senator Doctor John Fatiaki had earlier said the people of Rotuma were free at last from the concern after the successful salvaging of the Bulou ni Ceva from Oinafa.
---
From Ke Alaka'i at Brigham Young University--Hawai'i (16 September 2006)
New Professor at BYUH
by Khemlada Chittaladakorn - Staff Writer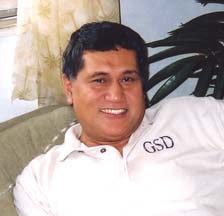 Hiagi Wesley
Hiagi Wesley, associate professor of the School of Education, was born in Rotuma, Fiji, and raised in Fiji and Tonga. He came to BYUH as a freshman and was a dancer at the PCC [Polynesian Cultural Center]. "I was the best dancer," he joked. Then, he transferred to Ricks College, and finally to BYU-Provo and received a bachelor's degree in geography and a minor in communications.
Hiagi taught school in Fiji. After receiving his master's degree, he recieved his doctorate. Recently, Hiagi spent time in Utah with his wife, Susan. They have seven children.
Before coming here, Hiagi taught at the University of Guam for five and a half years and was the director of the program. Here in Hawaii, Hiagi is looking forward to being part of the school and making a contribution towards the accomplishment of its mission and objective. "I want to be involved by getting to know the students and collaborating with other faculty and staff to maximize services," he said.
When asked about his goals, Hiagi said, "I want to prepare young men and women to go forward, equipped with knowledge, skills and competence to be the best. I want to help them strengthen their testimonies at the same time; prepare them to be world leaders."
---
From Fijitimes Online (16 September2006)
Islanders foot ship food bill
A VILLAGE in Rotuma spent more than $1000 to feed workers of Kadavu Shipping during their two-month stay on the island.
Rotuma council chairman Tarterani Rigamoto said villagers of Lopta went out of their way to provide food for the workers and the council planned to reimburse the village.
The workers were catered for while salvaging and pumping oil from the stricken vessel Bulou ni Ceva, which is understood to be now on its way to Suva.
Mr Rigamoto said the council would reimburse Lopta islanders through money from the Rotuma Development Fund because they supplied food bought from stores on the island.
"The issue was taken to the council on July 25 and we agreed we would pay the Lopta community for what they have done," said Mr Rigamoto.
He said most villagers on the island including the District Officer and council gave food to the workers in good faith.
State Minister for Provincial Develop-ment Ted Young said the shipping company should have footed the bill.
---
From Alan & Jan in Honolulu (14 September 2006)
This month marks the tenth anniversary of the Rotuman Website. What began as a small website in September 1996 has grown in scope to some 4400+ files, including text pages and photos, covering a wide range of events, activities, history, culture, language, and matters of interest to the global Rotuman community. For us it has been a labor of love, and we want to thank everyone who has supported us by supplying information, making suggestions for improving the site, and by providing encouragement. We love hearing from you, so whenever the spirit moves you, send us an e-mail with your thoughts about our first ten years and how you would like to see the website develop in the future.
---
From Fijitimes Online (13 September2006)
Boxing: Battle for the golden gloves
by Otilly Rabuku

Over 60 boxers will enter the elimination rounds of the Fiji Golden Gloves Championship at the Suva Civic Auditorium today.
Stiff competition is predicted for the three-day tournament as local boxers bid for a spot in the 2007 Pacific Games training squad.
Boxing Fiji spokesman, Paula Raqeukai, said while the chase is on for a place in the squad, the championship was a way to expose local novice boxers at the highest level.
"We're keeping a look out for young raw boxing materials that can be developed for future international competitions such as the Commonwealth Games and Olympic Games," he said.
He said it was an ideal opportunity to showcase local coaches, club administrators, referees and judges.
Featherweight silver medallist at the 2003 South Pacific Games, Metuisela Corikula, and Commonwealth Games rep to Melbourne, Sepeti Qio, will be out to stamp their mark.
Former national rep Jim Ratu will make a comeback in the welterweight division. Upcoming Rotuman boxers Mathew Michael and 20-year-old Gerald Aisake, of the Highlanders Club, are tipped to standout.
Raqeukai said Boxing Fiji was grateful to FASANOC for its $2000 sponsorship in hiring of the halls and associated expenses for the competition.
Former heavyweight champion and businessman, Sunia Cama, who will officially open the contest, will also donate a trophy to the best boxer.
A highlight of the competition will be the auction sale of associated items belonging to former World featherweight champion, Jeff Fenech.
"He has kindly donated some of his boxing items to Boxing Fiji to maintain his close link with the islands and this would be auctioned or raffled during the tournament to generate some income for the association," Raqeukai said.
The autographed items include boxing shorts, gloves, t-shirts and framed photos. Fourteen local clubs have signed up for the contest and among those are Army, Police and the Fire teams from Lautoka.
Weigh-in is from 7-10am this morning, medical check and draw at 4.30pm at the Civic Centre. Competition starts 6pm.
____________________
Update (14 September)
Uate Baleiono created the upset of the night, defeating upcoming boxer from Rotuma, Gerald Aisake, of the Highlanders Club, by points in the 78kg category.
Another upcoming Rotuman Mathew Michael is on track after knocking out Lui Rokoseru in the 78kg division. Semi-finals are on today and the finals tomorrow.
---
From Fijitimes Online (9 September2006)
Stranded boat salvaged
by Frederica Elbourne
A BOAT which ran aground on a reef at Rotuma more than two months ago was salvaged yesterday, to the relief of islanders who feared an oil spill.
Senator Doctor John Fatiaki said the people of Rotuma were free at last from the concern after the successful salvaging of the Bulou ni Ceva from Oinafa.
The boat ran aground at a reef by the coast of Oinafa on June 14. The inter-island vessel had arrived in Rotuma two days earlier after developing engine problems on the way from Suva.
Rotumans on the island were in a frenzy at the threat of an oil spill after an oil slick was seen after the boat got stuck.
Of the 12,000 litres of oil and fuel on board, half were siphoned off while the remaining litres, which were not spilled or damaged, remained on board the boat owned by Kadavu Shipping Limited.
Dr Fatiaki said the vessel was towed to deep waters around the island yesterday and they saw cracks on the side of the ship.
With the damage the boat is carrying, there was consideration that the vessel might berth at the wharf in Rotuma for a while so repairs could be done before it was towed to Suva.
Kadavu Shipping Limited manager Ratu Sela Nanovo said the boat would arrive in Suva within a week.
Dr Fatiaki said the successful salvaging of the vessel was good news after it was stranded for more than two months.
He said the people of Rotuma had hoped that because of the shortage of fuel on the island, part of the oil would be donated to them.
But the fuel and oil which were siphoned off the boat have been sent to Suva for testing.
No investigation has been conducted to ascertain the extent of damage from the oil slick, Dr Fatiaki said.
"We would like to thank the Honourable Prime Minister for intervening last week," he said.
"I had planned to file an adjournment motion in the Senate," said Dr Fatiaki.
"However, the Attorney-General tabled his ministerial statement on it and everything else unfolded from there.
"By last Friday, the situation was declared a natural disaster and everything happened within a week," he said.
---
From Fijitimes Online (8 September2006)
Irava, Turner in squad for Oceania
EVERGREEN powerlifters, Elisea Irava and Sanimili Turner have been named in the Fiji team for the Oceania Championship to be held in Townsville, Australia in December.
The two are among the 19 member Fiji squadnamed after the final trials held in Suva last weekend.
Irava will take part in the 100kg masters category while Turner, 52 will compete in the 90 plus Kg division.
Eughteen-year-old Helen Pahulu made the womens team after having recorded impressive lifts despite her young age.
Irava said other members not named in the squad are to continue training.
They could be considered depending on funds and there are still places for selection for the Pacific Games to be held in Samoa next year.
"It's an early start as we work towards the Oceania Championships and the Pacific Games," he said.
The squad is to meet at Charmans Gym on September 11 at 5 .30pm.
Men: Maroof Ramzan 56 kg open; Rrichard Lal 67.5 kg open; Benjamin Fatiaki 82.5 kg open; Rudolf Fonmoa 90 kg Jnr; Lorance Visanti 82.5 kg Jnr; Augustus Lee 82.5 kg Jnr; Paula Dawai 75 kg Jnr;; Edwin Shankar 75 kg open; Jolame Rasovo 90 kg open; Eric Jioje , 100 kg open; Rupeni Fatiaki 110 kg open; Charles Dari 125 kg open; Sonny Blake 110 kg open; Eliesa Irava 100 kg masters.
Women: Naimasi Naiyalatabua 75kg open; Eelesi Ikadrodro 90+kg open; Helen Pahulu 90+kg jnr; Judith Entake 90+kg jnr; Sainimili Turner 90+kg masters
---
From Fijivillage (7 September 2006)
Kadavu Shipping sends warning to Dominion Insurance
The Kadavu Shipping Company is now threatening to take legal action against Dominion Insurance if they do not receive the $1.3 million, insurance cover for the Bulou ni Ceva.
Kadavu Holdings Director, Ratu Jo Nawalowalo said it has been eight weeks and they are still waiting for the clearance of the insurance payout.
Nawalowalo adds that engineers from the Fiji Islands Maritime and Safety Authority have returned from Rotuma after removing the oil and fuel that was stored in the Bulou ni Ceva.
Meanwhile Kadavu Shipping has received complaints from Rotuma that the Bulou ni Ceva should be towed away as it is an environmental hazard.
Dominion Insurance will comment later today.
---
From Senator John Fatiaki and Minister Jioje Konrote in Suva (7 September 2006)
Noai'a and greetings to the Rotuman online community. Below is a brief update since my last entry in the news on 22 August.
A Ministerial statement was made in Parliament by the attorney general on behalf of the Minister of Transport on Thursday, 24 August, and the Bulou Ni Ceva was declared a national disaster on Friday.
The National disaster committee met that day with Minister Konrote and relevant department heads and a team and boat were sent to Rotuma on Monday to effect the removal of oil/diesel and salvage the boat.
A followup charter flight with specialist personnel went up on Thursday, 31 August with a tug following.
Work commenced to pump as much diesel fuel/engine oil of the damaged tank and this was succesfully achieved this past week with only a small amont of oil/fuel remaining in the undamaged tanks on board the boat.
Finally.... the news we've all been waiting for reached us at 4:30AM today when we got word from the island that the Bulou Ni Ceva had been successfully towed off the reef at Lopta and is presently in deep water near Ha'ua Island of Oinafa wharf.
They envisage berthing the vessel at the Oinafa wharf for temporary repair works to the hull and then towing it to Fiji.
We thank you for all your prayers and support and thank the Lord for his protection and blessings of our island.

Fai'aksia
Dr John & Minister Konrote
---
From Wikipedia (4 September 2006)
An article has recently been entered in the online encyclopedia Wikipedia about Chief Justice Daniel Fatiaki.
---
From Fijivillage (4 September 2006)
Ministry Begins Removal of Oil from Bulou ni Ceva
The Ministry of Environment has started work already on the removal of the oil from the MV Bulou ni Ceva which ran aground in the reefs of Rotuma two months ago.
Kadavu Shipping Limited managing director, Ratu Sela Nanovo confirmed that workers from the Ministry of Environment together with engineers are removing the fuel.
According to Nanovo, the exterior of the vessel is in a bad state while the interior is still in good condition.
The company is still waiting word from FIMSA and also from their insurance company before they can confirm whether they can salvage the vessel.
---