From Fijitimes Online (30 December 2006)
Bulou ni Ceva stays in Rotuma
THE Bulou ni Ceva remains in Rotuma until something eventuates from court action taken against Dominion Insurance by ship owners Kadavu Shipping Company Limited, said manager Ratu Sela Nanovo.
He said the company decided to take the insurers to court after the insurers were denying their claim for insurance cover.
"A court summons was issued in November and at the moment we are waiting as the High Court has taken leave of vacation," he said.
"The date of response for the summons was 14 days and that was to have expired this month but we found that the courts were on leave of vacation."
Ratu Sela said nothing could be done until a ruling was made by the courts and the next date set for court appearance was January 11 or 12.
He said until then, the Bulou ni Ceva remained in Rotuma.
In October, Kadavu Provincial Council chairman Ratu Josateki Nawalowalo said chiefs of the island had agreed that court action by way of a lawsuit was taken against the insurance company for not paying damage costs on the ship.
He said the council was tired of being pushed around in its search for answers and thought it best to take the insurance company to court.
He brushed aside claims the ship was going to be sold to cover salvage costs, calling on Government Shipping and Workboats Fiji Limited to solve their own problems.
In August, the Kadavu Provincial Council said a Tongan vessel had been chartered to cover the routes normally taken by the Bulou ni Ceva.
Meanwhile, attempts to get comments from ousted Rotuman Senator Doctor John Fatiaki and ousted parliamentarian Jioji Konrote on problems encountered on the island were unsuccessful as both were at Rotuma.
---
From Alan & Jan in Honolulu (27 December 2006)
Jason Fuata Faga, son of Seforosa Kiji Faga (maiden name, Eliesa) and the late Alfereti Faga (Ravaka) graduated from Brigham Young University Hawaii on 16 December 2006. He graduated with a bachelors in information systems with a minor in instructional design and development.
His mom, Seforosa, attended his graduation ceremony along with his wife, Harmony, his in-laws (Kaonohi family), cousins (Breckterfields, Lilino and Inokes).
He plans to work in BYU Hawaii University of Advancement, doing web development for a year, then pursue his Masters in Spring of 2008 either here in Hawaii, California or Utah.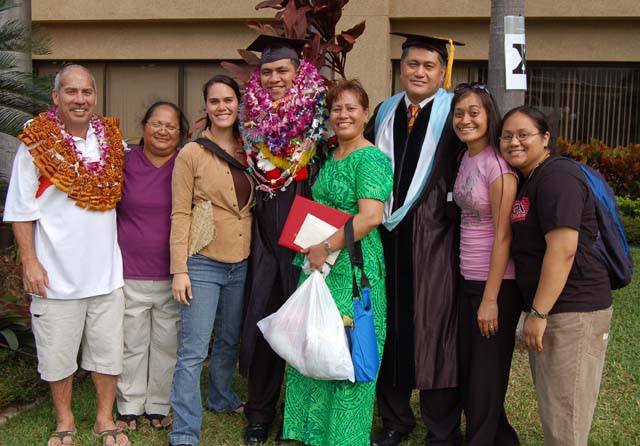 Left to Right: David Breckterfield, Pasepa Breckterfield, Harmony, Jason, Seforosa, Hiagi Wesley, Gaylani Lilino, Velisha Inoke
---
From Maniue Vilsoni in the United Arab Emirates (27 December 2006)
Salaam Malekum & Noa'ia 'e mauri! So good to read about Vama's graduation and seeing that wonderful family picture! Great achievement & family, Vama! It must be Ledua's genes, ay? Good one Jare!
Cheers and a belated congratulations to Paul Ralifo, too! Ms Mario's holiday job must be exciting. Keep doing well young lady!
We had a quiet Christmas week here. Leba (Ra & Malhaha) & Kamoe Ralifo (Malhaha) were at work. Leba's hubby, Timoci Camaivuna (an FIT lecturer & fellow Marist Old Boy), and their kids: Anastasia, Patrick & Viliame joined us for Christmas lunch. The BBQ grill replaced the koua pit (not allowed to light a koua). Vika's off-duty nurses from South Africa, Fiji & the Philippines also graced our home.
We screened pictures of Haua Island, the vaoniu at Oinafa & Maka Bay. They wowed at every scenic shot! It made us feel so nostalgic & misty-eyed.
Timoci (next door neighbour) reciprocated in the evening & passed over his stock of yummy palusami, kai & dalo. Vika and I did a Nujka'u & Nujmaga story on the kids and gobbled down the delicacies before they regained their appetite. Timoci brought all these goodies from Raisara Street, Suva.
On Christmas morning, while I was out on an errand, Wakeel, our Afghanistani friend & taxi driver, gave me a musical surprise. He switched on a Delaidokidoki tape. This bearded pal grinned at my shock and in a mixture of Arabic & English he told me that it was Simi (who works at the Valelevu Health Centre with Vika Makrava) who gave him this Fijian cassette. Small world, eh! We sang the lyrics as we sped at 140km/p/hr to Tawam. I mumbled a few silent prayers between the verses!
Roderick Aselu e-mailed from Brazil and expressed his longing to be just there in Juju and at a fara. I replied that he should stroll down Copacabana Beach to rid him of that Rotuma homesickness pang! Roderick did his seamanship training in Tuvalu and I had met his late father Jim when he was on Sofrana Lines with Ravai Hanfiro. I pray that his mother Kirou and the family are well in Caubati.
On a recent visit to Jabel Hafeet mountain, driven by Wakeel and another family friend from Pakistan, Taj, we marvelled at the 5-star Mecure Hotel near the top and the Palace (1,000 metres+ above sea level) at the summit.
Oman is to the south of Jabel Hafeet and I'd love to visit the spot where that brave Nadi soldier Labalaba (British Army) fought so gallantly to save his comrades. He was awarded a VC (posthumously) for his brave deed.
There was carol-singing last Friday (8am start) at the Oasis Hospital Chapel and Reverend Sotutu led the choristers. An expatriate told me at home that they were amazed with the musical talent of the Fijians! I would have loved to meet the Good Reverend to humorously remind him of our last church service at Nasinu Wesley on 12th November where he started off the service with the sermon and then excused himself to officiate at another service at Butt Street. I keep looking around in the malls to catch a glimpse of Talatala to remind him of that halftime dash!
Bedouin culture is very hospitable, like the practises of our elders! We've had some wonderful experiences. It's a far cry from Upu & Sauporporo in Malhaha but the Christmas winter in Al Ain is made warm when we come across lovely people.
We constantly think of & visualize that sunset that waves a golden farewell from between Uea & Hofliua. Next Christmas in Rotuma? Yeah, hopeful! 'Alalum & a prosperous Fau fo'ou to all. Hanisiof from Al Ain.
---
From Angela Ieli in Laie, Hawai'i (18 December 2006)
On December 16, 2006 Vamarasi Ieli (Elsee, Malhaha) celebrated completing his Bachelor of Science degree in Elementary Education. He has been studying at Brigham Young University – Hawai'i since January of 2003. His parents, Jare and Ledua Ieli, were able to attend the graduation ceremony along with his daughter Mallina and wife Angela. He is planning on staying in Hawai'i to apply to the University of Hawai'i to obtain a Masters Degree in Educational Administration.
L-R: Ledua, Angela, Vamarasi, Mallina, and Jare Ieli
---
From Fijitimes Online (18 December 2006)
$30,000 boost for island
The Rotuman community has received $30,000 from the Vodafone ATH Foundation for preserving Rotuma Island's natural resources.
The LajeRotuma project, initiated by a group of young Rotumans living in Suva, is concerned with the exploitation of Rotuma's marine life and its natural resources.
Vodafone manager for corporate social responsibility, Lenora Qereqeretabua, said the foundation was particularly committed to environmental projects and the LajeRotuma project provided an opportunity to invest resources back into the people and the environment.
"The project has been making an extra effort to assist projects that do not normally get recognition, especially initiatives in remote areas, and LajeRotuma fit perfectly into that category," said Ms Qereqeretabua.
LajeRotuma coordinator Monifa Fiu said the contribution had helped in the successful implementation of the second phase of the project.
---
From Fijitimes Online (14 December 2006)
Christina Mario makes most of her time
This item has been transferred to the Life Stories section of the website
---
From Maniue Vilsoni in the United Arab Emirates (7 December 2006)
Noa'ia 'e mauri! The kids and I joined Vika in Dubai on 16 November after a 20 hour flight from Nadi via Incheon, South Korea. It was great to fly parallel to the Himalayas and then swing over Pakistan towards the Arabian Gulf. We live in Al Ain in the emirate of Abu Dhabi. Al Ain is over 100km from Dubai.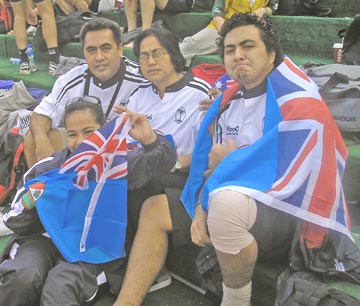 Maniue, Vika, Philip, and Sylvia Vilsoni
at the Dubai 7s rugby tournament
We were at the Dubai 7s rugby tournament on 1 & 2 December to support Fiji. Day 1 was all fine but on day 2 there was hail and rain (yes, in the desert!) Fiji lost to NZ 12-17 in the semifinals. We enjoyed ourselves and it was good to catch up with the small Fiji community here. Philip, Harieta and Sylvia are having a great time seeing the wonders of Abu Dhabi.
In the evenings, we reminisce about home and those wonderful years at 'Ahau (Vika and I worked in Rotuma for 20 years). We still crave for those delicious telulu. Vika and Philip then bring out the guitars and an impromptu fara under the Arabian stars. Hanisiof to our kainaga everywhere. Kes mas 'oaf'oaf ma alalum 'e fau fo'outa!
---
From Elisapeti Inia in Fiji (26 November 2006, posted 6 December)
I left Rotuma on 22 November by plane to Nausori. I came on the very day the school buses stopped running on Rotuma because of no fuel! Only the Form Six students went to school because of their exam; the others stayed home. I'm just wondering what's happening this week. At Savlei we started cleaning up the village hoping to finish before Christmas week. Every Saturday afternoon from 1:00 to 3:30pm is set aside for the combined cleanup; the men weed, women and school children sweep and heap up the rubbish in proper places. Tuakoi started cleaning up a month ago. They work on Wednesdays and now as you pass along the road you can see the Tuakoi houses and the cemetery in front quite clearly.
The Bulou ni Ceva is still sitting on the sand by the jetty at Oinafa. I don't know when the owners are going to remove her. She's down from the Lopta reef to the Oinafa beach with her bottom resting nicely on the sand with salt water moving within her lower part and the sides getting rusty. It is a poor sight. It's like "out of the frying pan into the fire." When the boat was high up on the reef it remained dry, but at the moment the white paint is full of streaking rust.
Jao Andrea died last month after a short illness. Rupeti Mani of Noa'tau is using his copra kiln to dry his copra. Rupeti has to weigh the copra of Pepjei, Juju, Tuakoi, Savlei, etc. It means the copra cutters will have to take turns and Rupeti must make sure he sends good copra to Punja Co. in Suva. The Sisters Enterprise at Oinafa has been sending bad copra to Punja, so Punja has stopped accepting them now. Tuakoi and Savlei villages sold their copra to the Sisters before, but now only to Rupeti. Places that have their own copra driers are not facing the copra problem.
Churchward Chapel
Yesterday (Saturday) I attending the Churchward Chapel fund raising,

kato'aga

called "charity princess." It started at 9am with a short service by Rev. Raki Tigarea after the four princesses were seated. Mamatuki, the master of ceremonies, greeted everybody who came. The women from Raiwai opened the

kato'aga

by singing as they moved slowly to offer their gift of F$4,000. They were followed by Raiwaqa (F$5,000), Rewa Street (F$12,000), and Turaki (F$5,000). With other

tefakhanisi

added donations totaled F$31,000. The wife of the minister, Mrs Raki Tigarea, received the money and crowned the charity princess from Rewa Street. Juria Katafono spoke on behalf of the women. The money is being collected for repairing and painting the church.
---
From Aggie Kulatea in Wellington (5 December 2006)
Saturday, 18 November was a typical Wellington day--cold, a bit blustery and rainy. For a bride who claims her origins to be from Tuakoi, Itu'ti'u, it was inevitable that her wedding day would have some rain! However, the rain could not compete with the radiant bride who who walked down the aisle, accompanied by both her parents, Kit & Agnes Kulatea, that morning at the Catholic Church of Ss. Peter & Paul, Lower Hutt.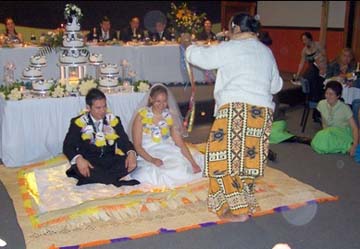 'Of sope

(ceremonial hair-cutting ceremony) performed by Vafoou Kunau on bride
Witnessed and supported by their Rotuman, Niuean & Samoan families & friends, Fidelis Perpetua Kulatea and Ian Vena Su'a professed their love for each other in holy matrimony.

The reception was held at the Silverstream Retreat, Upper Hutt, and the 'of sope was performed by her grand-aunt, Vafoou Kunau, who came especially from Suva, accompanied by her husband, Mareko (the bride's grand-uncle) for the wedding. The Niuean tradition of wishing the couple well was also performed by the bride's Niuean relatives.

A huge Noa'ia e hanisi, fakaaue lahi mahaki, faafetai tele & thank you to all the families and friends for making their day a memorable one.
---
From Bruce Richmond in Santa Cruz, California (4 December 2006)
Paul Ralifo
Paul Ralifo recently completed all requirements for a PhD degree from the Department of Chemistry and Biochemistry at the University of California at Santa Cruz. Paul's thesis is entitled "Chemical Investigation of Indo-Pacific Sponges: New Structures and Bioactivities." His work is on the cutting edge of the science of marine natural products, which includes the study of marine organisms such as sponges, bacteria, and fungi for the development of new drugs. Marine organisms may contain secrets that help in the development of new drugs for pain management, anti-aging, and cancer fighting applications.
In Paul's own words: "We are especially interested in chemicals that have (but not limited to) anticancer and antimicrobial properties. My research resulted in the discovery and characterization of four novel compounds from marine sponges collected in Fiji, Vanuatu and Papua New Guinea: spiroleucettadine (antibacterial), leucosolenamine A (cytotoxic against mouse colon cancer cells), leucosolenamine B and plakindine E (cytotoxic to some human cancer cells). Here are links to my dissertation (pdf) and my research group website which I currently maintain (but not for much longer) in case anyone is interested."
Paul is the son of Nofaga and Sarote Ralifo from Noa'tau village on Rotuma. He plans to continue with his research as a post-doctoral fellow in the Boston USA area.
---