From Lin'e Fatiaki in Suva (26 January 2007)
A happy 2007 to our kainaga and friends! Though belated, we hope your festive season was just as fun-filled and blessed as ours was. On 23 December, the families and friends of Motofaga and Semesi of Oinafa gathered at the Girmit Centre in Lautoka to celebrate the life of our son, Maika Lagi Fesaitu. The wonderful occasion ended on a high note as relatives took the floor to the groovy sounds of the Police Jazz Band.
Christmas Eve was a clan day for us at Fanoa Fesaitu's residence after church service at El-Elohe Rotuman Church. We held a thanksgiving fellowship that evening after which the home band played some gospel numbers.
On Christmas Day our 60 plus beloveds converged again at the Fesaitu residence. A big thank you to Mata Inoke and his band boys Ben, Mue, Freddy and Vama for thrilling us with their wonderful renditions. The dancing wore on until evening when our ladies made their debut. So, while everyone else dined, and our men returned to Roso and the grog, Fanoa called up her Spice Gals: Selina (drums), Molly (keyboard), Mere (bass guitarist), Susau ( back up singer) and Fanoa ( Lead singer & lead guitarist), Nina & Rina (Cheerleaders).
By 11 o'clock, both bands were exhausted so our teens, led by Aliti and Roselene, entertained us with a lively fara.
On Boxing Day, the Suva, Canada and Rotuma groups traveled to 20 Reba Circle to recover and wait for New Year. The Lautoka group arrived on Saturday. We had missed Wayne's 21st birthday the previous night but heard it was great fun. Our thanks to Samuela and Faga for their Nakasi home. New Year's dawn found us on happy feet to the powerful voice of Selina and the groovy tunes of the home band. After a delicious, quick breakfast, we traveled to Deuba for the final item on our itinerary, a great family day at the beach.
On 17 January, a farewell dinner was held at Aunty Maseru's residence for Nina, Mata & the boys, and Aunty Vamarasi, Uncle Suatiak and families who were leaving our shores.
For the music, laughter and awesome quality time, we thank our families.
---
From Ravai Shaw in Wellington (25 January 2007)
On Saturday, 16 December 2006, families and friends gathered at the Sheraton Fiji Resort, Denarau Island, to witness and celebrate the marriage of Cliff Te Amo and Shalom Tua'toko. It has been a long anticipated special day for this niece of ours and we were not disappointed one bit. In addition, we were blessed with a beautiful, sunny, yet cool day--not typical Fiji December weather.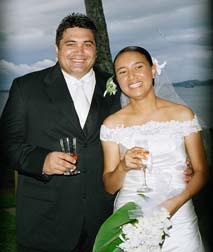 Cliff & Shalom
Shalom is the only daughter of Alfred and Rave Tua'toko. She works for the United Nations, and is currently stationed in Khartoum, Sudan, at the UN Mission there (UNMIS). In mid 2007 she will relocate to the UN Head Office in New York.
Despite the current political climate in Fiji, which saw many countries issue travel warnings, families and friends of the couple converged on the Sheraton Fiji to share their special day. We pay special thanks to Cliff's family and friends who travelled from afar--England, South Africa, Middle East, United States, Canada, Australia and New Zealand to be there. We also acknowledge and thank friends of Shalom's who made long distant journeys to be there.
For all our local families and friends, we cannot thank you enough for your support and presence; together with all others present, you made the day a happy, joyous, memorable and extra special one for the newly wedded couple.
The wedding commenced at 3 pm at Paradise Chapel. Rev Rocky Tigarea officiated the ceremony. Cocktails followed at the beach front. The reception began at 6 pm with Tony Tuatoko as master of ceremony.
The traditional Rotuman ceremony of 'of sope was performed by Shalom's sigoa, Deaconess 'Olovia Nataniela. It was a most moving ceremony to witness because of the immense display of koroa that the sigoa provided. Deaconess Olovia kel'aksio 'on hanis rauraut, hanis af'akit se 'on sigoa ta Shalom.
The fau ceremony followed the 'of sope. Traditionally, the fau ceremony is performed by the mothers of the bride and groom for their children before they become husband and wife. Here, Rave performed the fau for Shalom and I did it for Cliff. (Cliff is of Maori and European descent.)
Rave & Vama
The Fiji Police Jazz Band provided the music, and from the packed floor during every single dance number and the laughter and banter flying about, we can only assume that everyone was having a grand time. Generous, warm and kind compliments were received from many friends and families for the joyous and great occasion, and we can only thank God for making this possible and giving the newly weds a day to cherish forever.
To round off the evening, 16 December was also birthday for two of my sisters (twins) Rave Tua'toko and Vama Titifanue. With candles blown, the band led the singing of "happy birthday" and the party continued….
---
From Fijitimes Online (25 January 2007)
Vessel's fate to be known at meeting
THE fate of stricken inter-island vessel, the Bulou ni Ceva is expected to be known after an emergency meeting of stakeholders this weekend.
The meeting will include Interim Transport Minister Manu Korovulavula.
The vessel was stranded on a reef off Rotuma last September after a storm.
Government Shipping Services paid for the bill of salvaging the vessel after its owners, Kadavu Shipping, said they were not able to pay for the salvage costs.
Kadavu Shipping manager Ratu Sela Nanovo said the meeting on Sunday would discuss the matter.
The meeting will include salvage operator Workboats and the Fiji Islands Maritime Safety Authority.
"We should have a fair idea of where we are in regards to this matter after this meeting,'' he said.
Ratu Sela said writing the vessel off was an option that was being considered.
However, he said nothing could be confirmed until a complete assessment of the vessel was carried out.
"It can be both ways, a write off or the possibility of it being repaired but that will be known once the assessment is carried out,'' he said.
Ratu Sela said a settlement between all parties was expected to be reached by February 10.
He said he was hopeful of a positive outcome.
Venu Shipping vessel, the Sinuwasa, has been servicing Kadavu waters in the absence of the Bulou ni Ceva. It replaced a Tongan vessel that was temporarily running the route for two months. That vessel has since returned to Nukualofa.
Both Mr Korovulavula and Interim Minister for Public Service Commission and Public Sector Reform, Poseci Bune could not be reached for a comment.
---
From Fijitimes Online (21 January 2007)
Blast from the past that featured in movie
UNLIKE most modern bridal gowns these days (which are becoming more and more like evening wear), gowns from the past were very traditional, reflecting the couple's unique culture.
Traditional in the sense that most brides were covered from head to toe and veils were necessary.
When I first started designing bridal gowns, it was along the same guidelines fitted bodices with long sleeves, lots of ruffles around the necklines (never mind the soaring temperature) and "Victorian"style skirts with loads and loads of gathers.
Many sleeves were either gathered at the top of the armhole, gradually fitted to the wrist or tight fitting long sleeves with just plain lace.
In those days, you didn't have lace that had sequins and pearl detailing so we had to sew on a lot of these onto the bridal gown, which was time-consuming but rewarding.
Gowns these days are more fashion oriented.
Brides want sparkly, drapery gowns that fall seductively down their bodies like most movie stars.
Although styles are more simple now, the fabric makes up for the simplicity.
These modern day fabrics cost a lot and softer fabrics, which are used, can be easily found.
My gown today is worn by Miri Henry when she married Brian Aisake on Rotuma a couple of years ago.
Notice the heavy detailing, which was all hand-made.
This gown is special to me because it is the same one worn in the movie The Land Has Eyes.
The movie, which was filmed in Rotuma by Vilisoni Hereniko, features a wedding ceremony where this gown was worn. The film has been shown around the world, including Asia, Canada, Europe, Australia, New York and Hawaii.
Miri's wedding was the wedding of the year at that time. Her gown was made of satin, organza, lace with lace flowers and heavily sequined with pearls.
Her veil was plain. Her bridesmaids wore lilac off-the-shoulder gowns with matching netted frills and fitted bodices to the waist. It fell with a gathered waist line.
The flower girls had ruffled sleeves and yellow cumberbands around the waist. Yellow rosettes were used on the bridesmaids and flowergirls' gowns to complement the lilac colour.
For those of you who watched the film The Land Has Eyes, here is your piece of souvenir.
---
From Timesonline (14 January 2007)
The following is excerpted from a Sunday Times article entitled, "Family affair undamaged by great divide: A revealing documentary reflects the tight bond shared by the Ó hAilpíns and their determination to fulfil their dreams," by Michael Foley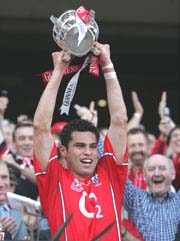 Seán Óg Ó hAilpín
At the end of the hurling season, Seán Óg heads to his birthplace in Rotuma, one of the Fiji islands, for the first time in 19 years. He sees much of his mother there, too: the warmth, the generosity of spirit, and rediscovers the traits he has inherited from island life. He gives a hurling tutorial in Fijian and is the guest of honour at a feast in the middle of the village, where a pig almost the size of Emeli's steaks is wrapped in leaves and carried out for all to eat.
As a voyage of self-discovery his trip bears parallel with Setanta and Aisake's adventures in Australia. He always carried his Fijian identity with pride. The journey gives him a deeper understanding of who he is. As Seán Óg leaves Rotuma behind, with its sandy roads and gentle way of life, he promising to return again soon. Meanwhile over in Melbourne, the boys turn towards another season at Carlton. Miles of ocean and land cannot break the tightest bonds. As a record of an extraordinary sporting family, this is a treasure.
There is a delightful Youtube feature on the Ó hAilpíns that includes some footage of their visit to Rotuma.
---
From Tania Ackland in Auckland (12 January 2007)
Introducing Ranadi Rosalia Waqavou Lakokiperitania, who is now two months old. Born to the proud parents, Tania and Tui, granddaughter of Rosarie Ackland and great granddaughter to and mapiga Tausie.
Faiaksia to all the kainaga in Fiji and Rotuma who have sent gifts, e-mails and prayers for our precious gift from God.
Also congratulations to the Tausie brothers for their achievements at the St Peters College. Jefrey came first in his class for year 10, Osea received an achievement award for industry subjects in year 9, and Patrick received an industry and service award to the school for year 8.

Well done boys on your achievements.
Jefrey, Patrick, and Osea
---
From Maniue Vilsoni in Abu Dhabi, United Arab Emirates (11 January 2007)
Salaam Malekum and Noa'ia 'e mauri! I was invited to be the facilitator at the Tawam Hospital ER-Department's workshop on "Effective Communication & Re-Energizing Staff" on Wednesday, 10 January, 2007.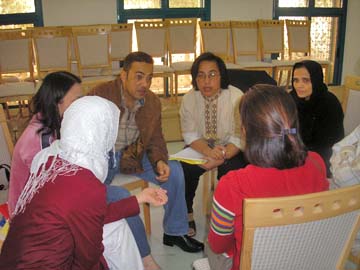 Vika brainstorming with her group
The Director of Nursing at Tawam (Tawam is also a teaching hospital for the Tawam Medical School) addressed the workshop & the participants were amused with my attire, a bula shirt & pocket sulu. At the wrap-up, one participant summed it up well when she said, "when the going gets tough in the world of ER, I'll think of the man in the skirt!"

We all had a great session and I had learnt more than what I offered. There were 30 participants (hailing from: UAE, Jordan, India, Philippines, Pakistan, South Africa, Sudan, Lebanon & Fiji). It was a pleasure having a former USP tutorial student of mine, Asenaca Vakaoca, sitting in the audience. Asenaca & Vika were the Fiji duo.

Timoci Camaivuna (neighbour & FIT lecturer) helped me with the IT & we were both amazed at the resources they had at hand. We did our best to represent our tiny corner of the world.
---
From Martoa Dickinson in Sydney (7 January 2007)
Macy Marine Kitione Graf was born on 9 September 2006 to Viki and Stuart Graf. Viki is the daughter of Martoa Dickinson (nee Kitione).
---
From Fijitimes Online (4 January 2007)
New mum Bernadette announces netball return
by Otilly Rabuku
FORMER national netball rep Bernadette Ramafono, who quit international netball, is considering returning to the courts.
Despite calling it a day in January last year, the 30-year-old Rotuman woman vowed that she would continue to engage herself in netball but only at district level.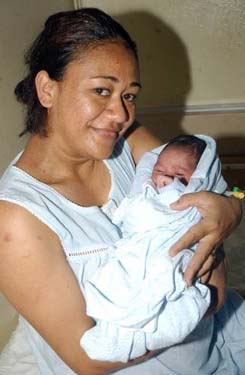 Former national netball rep Bernie Ramafono-Daurewa gave birth to a healthy baby boy yesterday and said she'll return to top flight netball.
"I feel I've accomplished some goals in my life and Nasinu's win at the National Championships last year inspired me to get back playing at district level," she said. "Things changed for me once I settled down last year and I feel that I still have a lot to offer to Nasinu netball but as for national level, I'll have to discuss it with my husband,"she said.
A lieutenant in the Republic of Fiji Military Forces, Ramafono tied the knot with fellow military officer Captain Tevita Daurewa in Lautoka in November last year.
Ramafono reached another milestone in her life after she gave birth to her first born, a healthy baby boy at the Morrison Ward in Suva yesterday.
While she reconsiders devoting some of her time to her district team, for the time being Ramafono looks forward to her new family.
"This is one of the happiest moments of my life, quite new but I'm looking forward to looking after my small-knit family,"she said.
Along with her military obligations, Ramafono recently completed her degree in Information System and Management at the University of the South Pacific last year.
"There is a time for everything and now I will get back to work at the end of next month,"she said.
Ramafono represented Fiji alongside the likes of now national coach Vilimaina Davu, Una Rokoura and Bulou Rabuka.
She was a key member of the Julie Hoornweg-coached national side that first won gold at the 1999 South Pacific Games in Guam.
If Ramafono performs well at district level, it could well see her team up again with Davu as the former Silver Fern puts together a combination for the World Championships to be held in New Zealand later this year.
---
---