From Bruce Tizard-Varcoe in England (30 April 2007)
Many congratulations to Erone Fatiaki & Elizabeth (nee Thimbleby) on their marriage, held at the Anchorage Resort, Lautoka on Saturday 17 February 2007.
The sun shone brightly as the day's formalities began at midday with a mamasa ceremony and lunch to welcome the overseas guests. Members of Elli's family and friends flew over from England and New Zealand to attend the big day. Erone's family also attended from England and Rotuma, as well as other parts of Fiji.
The wedding ceremony took place later in the afternoon. Elli's brothers, Joe and Tom 'gave away' their sister and having recently passed his captaincy examinations, Erone wore his naval outfit. The service was conducted by Erone's father, Reverend Irava Fatiaki and the bridesmaids were Erone's three nieces, sisters Farovia, Ketila and Elizabeth (named after Elli) and Lilly the daughter of one of Elli's friends from England.
Following the service, the happy couple were toasted by the guests and photos for the album taken. In the background and for the reception, the band 'Divine' (fronted by husband and wife Freddy Kado of 'Black Rose' fame and Hanisi Maloney) performed and they included many well-known Rotuman songs.
The Rotuman traditional ceremony 'of sope preceded the couple's first dance together, the orange sunset streaking across the sky. There was a lovely buffet meal and entertainment provided by Erone's brother Pelu and colleagues from the 'Oceania Dance Group'. After the speeches, Elli and Erone cut the wedding cake, further dance entertainment...and the guests danced the night away.
More photos (by Bruce Southwick and Bruce & Leilani Tizard-Varcoe)
---
From Fiji Times Online (26 April 2007)
This item has been transferred to the Life Stories section of the website
---
From Fiji Times Online (23 April 2007)
Trip of a lifetime for Joe
by Dorine Narayan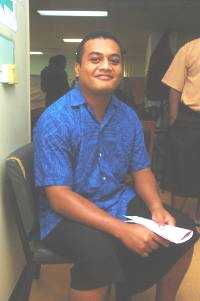 Joe Fuata ... says youth ship is an experience he will never forget
The greatest honour is achieved when you pull yourself out of all the failures and turn them into successes, is what Joe Fuata believes in.
Joe, 37, was head of Fiji's delegation to the 19th World Youth Ship tour program.
The group was selected to represent Fiji for the 19th World Youth Ship Tour in November last year.
The slogan for this year's program was: "Achieving the hopes of youth".
Being a part of the trip was the best experience of Joe's life.
"The experience was awesome. I cannot find the rights words to describe the feeling," he said.
"Spending 58 days with 254 young people from 13 countries was an experience I will never forget, especially when 44 days were spent sailing on the Nippon Maru," said Joe.
Joe's troop left Fiji on January 15 and returned on March 9, when they received a warm welcome from the Ministry of Youth and Sports last Friday.
This program is sponsored and fully funded by the Government of Japan.
The 11 participants flew to Japan and boarded the 19th World Youth Ship to visit Brisbane, Sydney, Wellington and Vanuatu before flying back to Japan and then back home.
"Imagine sometimes all we could see in a week was blue skies and sea. No email, no phone, no daily newspaper and no radio.
"We basically were living in a world of our own. We had no choice.
"It was either you adapted to the new environment, people, food and cultures or suffer in silence."
Joe said there were three main objectives of the program to broaden the knowledge of Japanese youth and overseas participating youths, to promote mutual understanding of each other's culture and to foster leadership skill in young people.
"Perhaps, our post-program objectives include raising awareness among youth groups and young people about the Ship of the World program, share our experiences and new knowledge that we gained from the trip so that we can help empower young people and to set up little projects with the help of ex-participants in Fiji and abroad that will help less fortunate young people," said Joe. The time factor was a key component of the trip says Joe.
"One major lesson learnt during the trip was time management.
"Talk about being on time, I take my hat off to Japanese people.
"All programs were according to the schedule that was prepared.
"It was funny how the administration staff would say the course discussion starts at 9.05. Please this is Japanese time not Fiji time".
"I guess they were already well informed about our sense of time," said Joe.
Joe was able to enrich himself by learning more about different cultures.
"I learnt to understand and tolerate people with differences in culture.
"A lot of time our communication skills were put to the test.
"Not everyone on board spoke English. I waschallenged to find other means of getting messages across.
"Not everyone shook hands, hugged or kissed each other on the cheek like we do here in Fiji when they greeted each other.
"For some, this was an insult. So I had to actually study the do's and don'ts ofthe other 13 cultures.
"There are many challenges and difficulties in life.
"Some of these are what I encountered as national leader for this trip.
"Sometimes we think about quitting when we do not succeed or when things don't go according to our plans.
"For me the program was very beneficial. I would recommend this program to any young person. The program moulds you into a leader and brings out the hidden skills and talents within you. It broadens your view about our global society and issues that affect young people.
"Such a program helps you achieve that hope," said Joe.
---
From Alan & Jan in Honolulu (1 April 2007)
Yesterday, on 31 March, Leina'ala Breckterfield and Tupou Bosenigauna were married in a ceremony at the Waimanalo Teen Project in Waimanalo, Hawai'i. The ceremony was followed by a reception at which a delightful array of island foods were served, including fekei.
Leina'ala is the daughter of Pasepa (Manueli) and David Breckterfield.
---
From Fiji Times Online ( 1 April 2007)
What makes Fiji unique
by Akisi Bolabola
ASK your average Fiji Islander to tell you what's unique about our marine environment and it's likely you will get the standard response of "coral reefs", or maybe even a blank look.
No fault of the person though. While 80 per cent of Fiji's population rely on the marine environment, very few really know what is out there that sets us apart from the rest of the world.
From information gathered through years of research, marine conservation stakeholders in 2003 identified 35 areas in Fiji that were unique and warranted some conservation action.
WWF's Fiji Country Program and its partners further identified what can be referred to as the "seven wonders of Fiji's marine environment".
These seven wonders include five globally significant areas (by WWF classification standards) and two species listed by the World Conservation Union (IUCN) as endangered.
The seven wonders of Fiji's marine environment (not in any order of importance) are:
Cakaulevu or the Great Sea Reef in the Macuata province of Vanua Levu;
Lomaiviti Triangle (Vatuira channel Ovalau, Makogai and Wakaya);
Namenalala;
Southern Lau Group;
Rotuma;
Turtles
Humphead Wrasses
[The entry on Rotuma is as follows:]
5. Rotuma
Rotuma is home to the blue coral Heliopora.
While Heliopora is found in Fiji, it is found in greater abundance in Rotuma.
The coral's external appearance makes it appear dull and uninteresting, however, the hue of blue within is likened to that of the deep ocean.
Extensive stretches of coral reefs, new found coral species and island chains are just a rough illustration of what Fiji's marine environment is composed of.
When considering the richness of this environment, one can think of the myriads of species that when combined, could boggle the mind.
Fiji's waters are home to more than 1200 various species of fish, sea snakes, marine invertebrates, corals and marine plants.
Two rather special species close to the heart though are the marine turtle (vonu) and humphead wrasse (varivoce).
---
From Fiji Times Online (23 March 2007, posted 1 April)
Ship owners split over route licensing
ROUTE licensing could compromise the quality of inter-island shipping services to a certain extent, Bligh Water Shipping Limited chief executive Simon Narayan said.
"Supposedly, if I am given this route to service and if I don't make enough money because there is no increase in passengers and cargo rates, my service will continue to suffer and people don't get optimum results," he explained.
But Consort Shipping's Leo Smith says route licensing is the only way to fix the problems that have long plagued the inter-island shipping industry.
"The new people coming into the business should go to places that are not being serviced like Rotuma and upgrade the service in the Lau Group," he said.
"There is a demand for shipping service to Rotuma but you must take into account the size of the vessel and the distance.
"Rotuma needs a service at least once a week and that vessel must be able to carry at least 500 tonnes of cargo....

"I had my first consultative meeting with all the ship owners, including operators in the West," he said. "They were very happy and unanimous on that and have been asking government all these years but there was no positive response.
"Despite the fact that we are an interim Government, we are taking a bold step to introduce it.
"We don't want people to suffer. We want to give people a service to improve what they are doing."
"The route shipping scheme is new to Fiji. Principally any transport, whether air, land or sea, are given routes to protect them from so-called pirates that will deprive them of their income."
---
From Fijivillage (15 March 2007, posted 1 April)
A 39 year old cyclist of Rotuma died after his motorcycle was bumped by a light goods vehicle at Coastal road on Tuesday night.
The 23 year old driver of the light goods vehicle was driving along the Rotuma coastal road when he failed to see the cyclist collided with the motorcycle.
The deceased received serious injuries and died at Rotuma Hospital yesterday.
The driver of the vehicle was charged and appeared in court yesterday afternoon.
---
From Fiji Times Online (13 March 2007, posted 1 April)
PACIFIC Broadcasting Services Ltd will reapply for a free-to-air television licence, about two years after it first applied.

PBS chief executive officer Simon Fong said the company was talking with its stakeholders and local production houses detailing plans and schedules that would make up the nation's second free-to-air channel, if the licence was granted.

He said PBS had always planned to have a free-to-air channel to complement its growing satellite pay service.

"With our satellite infrastructure well established, PBS will give free-to air terrestrial access to islands like the Yasawas, Lau, Ovalau, Kadavu, Bau, Koro and Rotuma without residents in these islands having to buy expensive receiving equipment," Mr Fong said.

He said the company would also extend segments of its free-to-air broadcast via satellite to cities like Sydney, Melbourne and Brisbane on the East coast of Australia, opening up export doors for local companies "who want to sell their products to consumers living there".
---
Items about Rotuma have begun to appear on the blogs of people who have some connection to the island. For an example, see the blog of "Yorkshire Pudding." Also see several clips of Rotuman dancing on the Hugagesea blog site.
---