From Fiji Times Online (27 June 2007)
Dance ties in myths and legends
The latest production by the students of the Oceania Centre tells the story of an individual through social problems and has been named "Le fesau ta -- The Prodigal Son".
Rotuman choreographer and dancer Sorpapelu Fatiaki said the production was his final project as a student of the Oceania Centre.
He said the dance drama was about a young man who goes through social problems such as alienation, discrimination and struggles to maintain his cultural identity in the face of western influences and pressure.
"I got this idea of doing this story from my past struggles," Fatiaki said.
"This is part of our work as dance artists and we choreograph our own productions," he said. Mr Fatiaki said he has been a dancer at the Oceania Centre for more than seven years and had toured internationally.
"This choreographic work will be an exciting new invention of contemporary dance interwoven with Rotuman myths and legends," he said. The Director of Dance for the Oceania Centre, Allan Alo said the production was about an individual searching for answers to questions relating to cultural identity.
"It is about how we are losing our cultural identity with the pressures of western influence," he said.
The group will be performing at the AUSAid Lecture Theatre performance space from the Tuesday, June 27-29.
---
From Alan & Jan in Honolulu (26 June 2007)
Three Rotuman researchers attended the Pacific Global Health Conference at the the East-West Center in Honolulu from 19-22 June: Sela Panapasa, PhD, a research investigator with the Survey Research Center program on Social Environment and Health, which is part of the Institute for Social Research at the University of Michigan; her sister Ofa Dewes, MBA, who works with two University of Auckland projects (Obesity Prevention in Communities, and Pacific Health Research Workforce Development) while working on her doctorate; and Lisa Kitione, policy analyst with the New Zealand Ministry of Health, Pacific Health Branch.
On 23 June, following the meeting, Sela and Ofa joined us for an evening at Maria and Paul Dumas's home, where Sister Ratu Leotina was visiting from California. It was a wonderful get-together, featuring delicious island food, including the best fekei (marama'ana) we've had outside of Rotuma, prepared by Akerio Afasio. Also present were Maria & Paul's daughter Nicole and her family; Maria's sister, Matilda, and her family, and Louisa Manueli. Entertainment was provided by Matilda's daughters, Kalei and Sofie, who performed Hawaiian and Tahitian dances in spectacular fashion.
| | | |
| --- | --- | --- |
| | | |
| Sela Panapasa | Ofa (Panapasa) Dewes | Sister Leotina Fesaitu |
---
From Pam Nataniela in Suva (18 June 2007)
The boat service to Rotuma provided by Cagi-Mai-Ba has been suspended indefinitely. According to Western Shipping, the Rotuma Island Council wrote a letter directly to the Prime Minister's Office complaining of various aspects of the boat's service to Rotuma. The lady to whom I spoke at Western Shipping states that the company was never informed of the complaints.
A lot of people have commented on the unclean condition of the boat. As far as the service is concerned, in all honesty, the boat made it to Rotuma in all kinds of weather -- weather that most would not even travel in -- to make sure that Rotuma received its cargo. As it is a small boat, a lot of times they would have to limit what they could carry where large items (for example, building materials) are concerned.
Also, concern was expressed about things were being stolen from the wharf or off the boat, but I don't see where the boat or its crew can be blamed. In the past, people on the wharf would have to stand back and wait, and the police would watch as shipping receipts and names were checked. Then, a former district officer changed the procedure. Now hordes of people just rush the boat and anyone can just go aboard and carry cargo off the boat and put it on the wharf; no one seems to notice when boxes are "walking," There are always police investigations, and in many cases the "missing" items (which most times have names clearly written on them) are found in the possession of other individuals, whose names bear no resemblance whatsoever to the addressee. It has happened to us. We had to hire transport and helpers a couple of times, going around the island three or four times (we all know how expensive that is in Rotuma), playing detective and finally finding our timber in the possession of a man who had neither any paper work nor anything to show he had a right to it. He immediately indicated he knew it wasn't his. It took some time, but we resolved the issue. The fault lay with the D.O. at the time, and the ministry took action. I fail to see how the boat company is at fault, since the procedure of having the supercargo check paperwork has been done away with. This is actually an issue of dishonesty, not on the part of the boat workers, but people on land! Give credit where credit is due!
Also, while I have heard that the boat is in a deplorable state of uncleanness, I have ridden on other boats (even on the famously clean government boats), only to see passengers throwing all kinds of rubbish, including fruit peelings, all over the floors, writing on walls, etc. The crew should keep the boat clean, to be sure, but so should passengers. Passengers should display common decency and not add to the problem. Well, enough of that -- we are now left indefinitely without boat service. If I was informed correctly, when tenders were asked for only Western Shipping/Cagi Mai Ba responded. So we should not forget the men who made sure Rotuma got its cargo, regardless of some of the really bad weather they traveled in, which was quite risky. I think that gratitude would not be inappropriate here. Whether the government will start sending boats to Rotuma every month remains to be seen. (The government boats are a pleasure to ride on; they are clean and are fast).
---
From Pam Nataniela in Suva (18 June 2007)
About 1-1/2 months ago, there was a near mishap when the runway at Rotuma airport was both muddy and full of algae, causing an incoming flight to skid and nearly lose control. The co-pilot was visibly upset, and left Rotuma without passengers, mail, etc. He gave a very strong warning to the airport workers that in the future, they need to inform the folks in Fiji about the conditions of the runway. This resulted in much more stringent guidelines, which led to more delays in flight service to Rotuma. Of course, safety is the order of the day. This is no ones fault (no one is in control of weather conditions), but all are hoping that in the near future, the much-needed tar sealing can be done, which would enable far more regularity in service to Rotuma. A few individuals who visited learned the hard lesson of "visit at your own risk," with regard to having to get back home on time to return to one's employment. It will just be nice for everyone involved when we are finally able to have the runway finished properly.
Also, the road conditions, though PWD has done some work on it, are indescribable Suffice to say that one has to be quite well-off financially to successfully keep a motor vehicle of any kind running on the roads of Rotuma without much interruption. Spare parts and repairs are a constant headache for many, and it would be lovely if someone was able to bring such things to Rotuma. Of course, it would not be practical. Oh well, there is always the "foot-mobile" ... you can easily step around most of the holes.
---
From Fiji Times Online (12 June 2007)
Islanders send $1m home monthly
ROTUMANS living on Viti Levu repatriate $1million a month to relatives on their homeland, interim Fijian Affairs Minister Ratu Epeli Ganilau was told on a tour there last month.
Ratu Epeli said the figure was confirmed by elders of Rotuma as it was the amount released by the post office on the island each month.
He said the island faced vast problems because it was so far from Fiji, saying it cost more to fly there than to New Zealand, with an irregular shipping service available for islanders.
Ratu Epeli said elders of the Rotuma Island Council revealed their roads, water and infrastructure plus the shipping service were the main causes of concern.
Ratu Epeli said they would look at upgrading the island runway so aircraft could land there in all weather.
---
From Marsefo Tausie in Fiji (12 June 2007)
Congratulations to Augustine and Elijah Mario on their recent graduations. Augustine graduated on 13 April with a diploma in light automotive engineering from Fiji Institute of Technology, and Elijah received a BA from USP on 27 April with a double major in accounting & finance management and banking finance.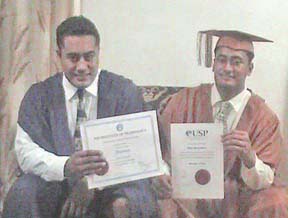 Augustine & Elijah Mario
Thank you boys for the hard work and many sacrifices you both have made. I hope that you both use wisely during your lifetimes what you have learned, but never forget our good saver who guided you and helped you to reach where you are today.
Lots of hanisi from the family at home in Bayview Heights, and not forgetting your relatives in Fiji and abroad, especially your grandfather Tausie Mausio, who lives with aunty Rosie Ackland in New Zealand.
[Marsefo Tausie, the boys' mother, is from Juju; their father is Peni Mario from Wailoku, Fiji.]
---
(11 June 2007) Christine Alexander in Brisbane has sent photos from the Rotuma Day celebration in Nadi. Faiaksea Christine.
---
Sent by Geraldine Sharon in Suva (6 June 2007)
Kaurasi sings a unique note at music festival
Sixteen year old Josefa Kaurasi caught the attention of many at the recent Suva Secondary Schools Music Festival at the Tattersal Leisure Center during the three day event.
Josefa Kaurasi
The form six student of Yat Sen Secondary School was one of two males singing soprano voice parts at the music festival which was revived after a ten year lapse through a combined initiative by the Ministry of Education and the University of the South Pacific.
Kaurasi, who has hails from Noa'tau in Rotuma, said he did not feel out of place when singing with female voices and being the obvious male among many females.
"I started singing when I was in class four and I usually sing when I'm alone or when I'm working. It didn't strike me odd that I could sing a bit higher than most boys my age; in fact it didn't bother me at all. I'm actually comfortable with singing soprano. It's the highest natural boy's voice or so I'm told," he said with a smile.
The tall lad stood at the center of the mass choir and blended in well with the voices of the other female singers. He says joining the music festival was a great experience, especially since he got the opportunity to mingle with students from other schools.
"I made a lot of friends. I was a bit observant of the other students at first because of this school rivalry tradition we have and students usually judge a person by the school they come from, but this music festival actually brought us together," said a confident Kaurasi.
He added that learning from renowned music conductor Igelese Ete was a rare opportunity, but he found it difficult to carry notes. He believes this kind of music fete should be held often as it would keep students out of trouble and also help put an end to school rivalry in Suva.
"I learnt to train my voice. It's a fun experience. I have never sang in a choir before and I'm so used to singing solo on my own by myself, but Igelese taught me how to blend in with the rest of the choir. I actually learnt how to carry high notes, even though that was a bit hard, but I practiced with most of my friends singing soprano too."
"I sing to pass time, to relax and maybe I might take that up as a career, but not now. I actually want to do something in fashion design. I want to prove to everyone that I can do something unique and different."
Kaurasi has even participated in his school's yearly talent quest, but prefers dancing at these talent quests to singing. Nevertheless, this Rotuman lad is balancing the tables to prove that even men can do whatever women can.
The Secondary Schools Music Festival was revived from May 28-30 and featured performances from USP's choral music group Malaga Singers. The festival was also a fundraising for the group's choir tour of South Korea at the end of the year.
---
From Henry Michael in South Australia (5 June 2007)
The Rotuman community of Adelaide celebrated Rotuma Day on Saturday 12 May as a big day out with our Pacific Island neighbors. A koua lunch with the trappings of a traditional aussie bbq was organized for everyone. The event was the inspiration for a new website at http://www.rotumasouthaustraliaonline.com/
---
From Fiji Times Online (3 June 2007)
No real season to fall in love
AT this time of the year, several weddings are planned. Weddings are joyous times to celebrate and have fun.
Weddings happen all throughout the year but many choose mid-year to suit favourable weather conditions.
But whatever the reasons and seasons, anytime is a good time to get married and indulge in celebrations.
Our focus this week is the wedding of Rosie Torika Vamarasi to Tupou Lagi.
A beautiful union ... In love and ready to start a new life are newlyweds Rosie Torika Vamarasi and Tupou Lagi.
Rosie Torika Vamarasi married law enforcement officer Tupou Lagi at the Dilkusha Methodist Church in Davuilevu, a landmark on its own.
This church was built by early Methodist missionaries and still stands beside the river banks. This place is significant to Rosie, as this is where she spent most of her time with the girls from Dilkusha School. Rosie taught some of these young ladies with the assistance of Deaconess Olivia Natalela.
Ironically, this is where Rosie met her husband and fell in love with him.
Like many traditional weddings, the engagement began with feasting, lovo food to be exact, followed by many other functions.
There was lots of dancing and merry-making and of-course the "clowns" of the ceremony kept everyone on their toes. There were various meetings between the two families to plan the wedding. This in itself is a long process but just fine-tunes things to make the wedding perfect. On the day of the wedding, the traditional ceremonies began early in the morning with the arrival of the groom's family with foodstuff and mats for the various functions.
As with many celebrations, there is always fun and fashion statements made.
The guests mostly came out in their best of Bula wear. Of course, the brighter, the better seems to always rule.
After the morning ceremonies, the parties returned to their homes to prepare for the church ceremony, which would be the most important function.
Rosie Torika's dress was of white bridal satin with lace trimmings and fully lined. The pattern was the bride's choice and the fabric was sent from New Zealand, along with the beautiful head piece of gold metallic designs and teamed with matching jewellery.
Rosie chose a very plain long veil to balance off the full detailing on the dress and tone down the elaborate head piece and elegant jewelry.
Her gown was an off-the-shoulder top bodice with little sleeves boasting lace trimmings and decorated with matching pearls. The detailing on the gown was all hand-sewn and took a while to piece together.
The bottom half of the gown was plain satin all the way down until a few inches before the hemline, where the designs took a bit of a jagged edge turn.
Layered lace trimming all around with pearl and sequin detailing added more class to the bridal gown.
Again her bridal gown had an under-lining which provided a layer of tulle or white netting, stiff in nature to give more character to the layers.
Some brides even wear a "hoop" skirt with layers of frills with wiring to give it that full flared look. Of course the bridal bouquet completes the picture of sheer elegance.
Rosie's was of simple white orchids and ferns.
The bridesmaids and little flower girls looked elegant in their blue satin gowns, complimented with jewellery and light make-up.
Hairstyles, makeup, footwear were all carefully put together .
The groom and his group wore matching blue shirts and ties with navy blue suits.
The picture was perfect.
After the formalities at the church, everyone went home for lunch and more merry making.
---