From Fiji Times Online (29 July 2007)
Kepone Fiu: Bagasau boy brings band
This item has been transferred to the Life Stories section of the website.
---
From Vilsoni Hereniko, recently returned from Rotuma (26 July 2007)
Below is a picture of Bulou Ni Ceva, I am most concerned that this eyesore is still at the Oinafa wharf, with no plans for its removal. The boat ruins the beauty of Oinafa beach and there is an urgent need to have it removed. If we don't do anything, I think it will sit there for a very long time, probably forever! What can we do to provoke those who can do something about it to take action?
---
From Fiji Times Online (25 July 2007)
Sumasafu Vilsoni believes in himself
This item has been transferred to the Life Stories section of the website
---
From fijivillage.com (23 July 2007)
Interim Minister for Transport Manu Korovulavula has confirmed this afternoon that he has removed Fiji Islands Maritime Safety Administration Board chairman David Lucas from his post.
According to Korovulavula, they have decided to make the changes to bring in Victor Fatiaki to take up the post as he knows the outer island travelling better than Lucas.
---
From RadioFiji.com (23 July 2007)
Kadavu Holdings Hold negotiations with Tongan Vessel Owners
The Kadavu Holdings Company is holding negotiations with the owners of the Tongan vessel the Pulupaki to continue servicing Kadavu.
Company Managing Director Ratu Sela Nanovu said that villagers are facing difficulties to travel to and from the island.
The Kadavu Provincial Council has given the Kadavu Holdings Company five years to replace the Bulou Ni Ceva which is still anchored at Oinafa Jetty in Rotuma.
He says that in the meantime, they need to bring in the Puluoaki to cover for the Bulou Ni Ceva while the company starts work on finding a new boat for the province.
Ratu Sela confirms the interim government has offered assistance to tow the Bulou Ni Ceva out of Rotuma following a request by the Rotuma Island Council.
The dispute on the payment of the vessel insurance is still in court.
---
From Toktok Pasifika in Auckland (18 July 2007)
Our postgraduate research for this month comes from the School of Population Health [University of Auckland]. Ofa [Panapasa] Dewes is of Tongan and Rotuman descent. She is a doctoral candidate at the Section of Pacific Health. Ofa's doctoral research is part of a bigger research project, referred to as the OPIC or "Obesity Prevention in Communities" study. This larger study looks at identifying solutions for implementing obesity prevention programs and policies for Pacific families in church settings.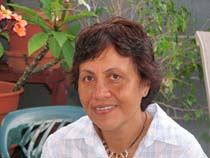 Ofa Dewes
Ofa notes that "the OPIC study is helping to generate evidence to inform public and community health action as well as fill the knowledge gap on community-based intervention programs on obesity prevention for Pacific communities".
Face to face consultations were held with leaders of 20 Pacific Christian Churches in South Auckland. Obesity, diabetes and heart disease were identified by the study as the main health issues affecting these 20 congregations. Over 50 Church leaders and representatives attended a community fono in March 2006 to examine the church environment, home environment, knowledge and behaviours. Ofa's doctoral research draws on qualitative data from this OPIC study.
Ofa is supervised by Associate-Professor Robert Scragg and Professor David Thomas.
Ofa presented on the above project at the Global Public Health Conference recently held in June 19-21 at the East West Centre in Honolulu, Hawaii. She will also be reporting her findings for this project at the Pasifika Medical Association (PMA) conference to be held in September this year, in Samoa.
So for those of you hoping to do some conferencing overseas, find a research project like Ofa's with money to take you overseas. We wish Ofa all the best in her research and her travels. If you are interested in Ofa's work you can email her on: o.dewes@auckland.ac.nz.
---
From Fiji Times Online (15 July 2007)
Freddy Fesaitu: Back in the fold
This item has been transferred to the Life Stories section of the website
---
From Jioje Konrote in Fiji (3 July 2007)
An update concerning political, economic and social conditions on Rotuma.
---
From Fiji Times Online (3 July 2007)
Dr Aisea Rafai: Veteran medic still delivers
This item has been transferred to the Life Stories section of the website
---