From Fiji Times Online (22 November 2007)
Young artists show talent
YOUNG artists who contributed to the annual Fiji Arts Council art exhibition raised the level of competition, said local artist Craig Marlow.
"With more young artists joining in to exhibit their work, it has really improved the level of competition and the level of artwork that are on display," Mr Marlow said.
He made the remark before he announced the winners of the exhibition....
In the indigenous category Alfred Ralifo scooped honours for his painting Fup akiag ne agero.
Mr Ralifo said he was inspired by a Rotuman legend which tells of how angels used spilled sand from two baskets to form the island of Rotuma....
---
News from Sanimeli Maraf in Rotuma (20 November 2007)
I just celebrated my 70th birthday on 1 November. Vevalisi Fagmaniua of Fesi turned 66 years old so we celebrated together.
This month all the talk is about the Christmas holidays. The C.M.B. just left this morning for Suva with our copra and forau and plenty of watermelon and pineapple to be eaten on board. She will be back at the end of this month or in early December.
Captain Voi Garisau of the Blue Lagoon tourist boat Lycianda wrote to the Council regarding Christmas season trips to Rotuma (see information below).
We have a new administrator for the Rotuma Council. He is Mr Penamino Tavo of Pepjei. He replaces Mr Jioje Pene of Malhaha.
The Government is sending three army guys to Rotuma to sound out ideas for "The People's Charter." A meeting will be held in each district, beginning next week. I do hope people will express their feelings, exchange ideas, etc. I believe there's a Rotuman guy among the three.
As from now it sounds like by early next year Tuvalu and Rotuma will be close knit regarding friendship and communication; more news to come.
Fara time is around the corner and people are looking forward to that and are eating pineapple and watermelon before Christmas arrives. I wish Rotumans all around the globe a very Merry Christmas and a prosperous New Year. Be kind to each other.
---
From the Kunau family in Suva (20 November 2007)

At sunset on10 November 2007 in Point Lowly Lighthouse, Whyalla Australia, Jione & Fia exchanged their wedding vows and sealed their love for each other. Congrats to you both Fia & Jione Kunau!! Our blessings are with you both all the way!
---
From Luisa Finiasi in Sydney (8 November 2007)
My brother Susau Finiasi and his son Gregory went to Rotuma last Saturday, 5 November and came back on Thursday, 8 November. He took these photos of the Bulou ni Ceva when visiting our family home in Ututu, Noa'tau. Our global Rotuman community should be aware of what a sore site the people on Rotuma have to face every day, especially people from Oinafa.
---
From Fiji Times Online (8 November 2007)
Voter figures on the rise
THERE is an increase of 9392 people eligible to vote in the next election, compared to the 479,674 registered voters for the 2006 general election.
Bureau of Statistics Census Commissioner Timoci Bainimarama said there was a total of 489,066 persons of voting age enumerated during the national census.
"The number of voting age included Fijians increasing by 6141 to 262,155 while Indians decreased by 251 to 204,219," he said.
He said Rotuman voters increased by 762 to 6135 and other races increased by 2740 to 16,557.
In the central division, he says, there is a total of 199,445 voters with 117,851 Fijians, 69,237 Indians, 3549 Rotumans and 8808 Others.
In the eastern division, there is a total of 20,917 voters, of which 18,887 are Fijians, 376 are Indians, 1150 are Rotumans and 504 are of other races.
"In the western division there are 193,487 persons with 85,655 Fijians 102,839 Indians, 1305 Rotumans and 3688 Others," he said.
"In the northern division there were 75,217 persons with 39,762 Fijians, 31, 767 Indians, 131 Rotumans and 3,557 others."
---
From Fiji Times Online (7 November 2007)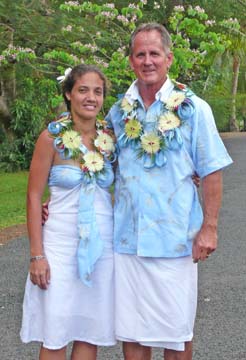 Patricia and Ken Lucas
Lucas rings blessed
NADI couple Ken and Patricia Lucas celebrated their Blessing of the Ring at Wailoaloa beach in Nadi last month.
They could not have asked for anything more than the presence of their family and friends.
The Blessing of the Rings ceremony done by Father James Ross at Mount St Mary's Church, Nadi was a beautiful testament that reflected the simplicity and down to earth nature of the couple.
The celebration was warmly witnessed and shared by all who came.
A true Rotuman style day of fun, laughter and family togetherness spilled over and wrapped all who were present. There was a wonderful buffet of Rotuman food including fekei and entertainment was provided by a live band.
---
Blue Lagoon Cruises announces sailings to Rotuma in December 2007 (1 November 2007)
F$299 per person one way
Travel in comfort and luxury on the M.V. Lycianda departing weekly from Lautoka to Rotuma and back. Rate includes all meals, air conditioned cabins with private facilities, all taxes and fuel surcharges. Luggage is limited to 50kgs per person. Freight charges apply to any excess. Sailings as follows:
Mon 3rd Dec: Depart Lautoka 0600, Arrive Rotuma Tue 4th Dec 1800.
Wed 5th Dec: Depart Rotuma 1800, Arrive Lautoka Fri 7th Dec 0600.
Mon 10th Dec: Depart Lautoka 0600, Arrive Rotuma Tue 11th Dec 1800.
Wed 12th Dec: Depart Rotuma 1800, Arrive Lautoka Fri 14th 0600.
Mon 17th Dec: Depart Lautoka 0600, Arrive Rotuma Tue 18th Dec 1800.
Wed 19th Dec: Depart Rotuma 1800, Arrive Lautoka Fri 21st Dec 0600.
Mon 7th Jan: Depart Lautoka 0600, Arrive Rotuma Tue 8th Jan 1800.
Wed 9th Jan: Depart Rotuma 1800, Arrive Lautoka Fri 11th Jan 0600.
Mon 14th Jan: Depart Lautoka 0600, Arrive Rotuma Tue 15th Jan 1800.
Wed 16th Jan: Depart Rotuma 1800, Arrive Lautoka Fri 18th Jan 0600.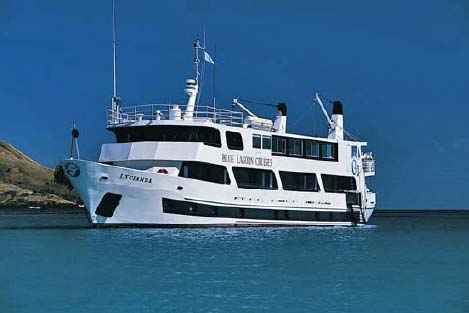 For bookings and enquiries, please call Reservations 666 3938 or 666 4366
E-mail: reservations@blc.com.fj
---