From Radio Fiji (31 December 2007)
Well wishes for Rotumans
The chairman of the Rotuma Island Council Tarterani Rigamoto has extended his best wishes to all Rotumans living in Fiji and all over the world a positive and fruitful 2008.
Rigamoto says 2007 has been a challenging year for every family.
"Today has been the last day for 2007 I hope the New Year will be a prosperous new year for all Rotumans living in Fiji and abroad."
---
From Fiji Times Online (31 December 2007)
Skys the limit for Sauhani Fatiaki
This item has been transferred to the Life Stories section of the website
---
From Radio Fiji (30 December 2007)
Quarantine measures in place
Inspecting Officer for Quarantine service Waisale Luveniyali says they have strategies in place to handle fruit flies on Rotuma.
He says fruit flies have been a major concern for islanders for many years. Luveniyali says as a result fruits and vegetables cannot be taken exported from Rotuma.
"The HTV machine is one of a kind where fruit flies are treated before they exported to various export market and this includes pawpaw, egg plant and those are few to name."
Luveniyali says the treatment machine will enable the exportation of fruits in the near future.
---
From Seforana Kauata in Suva (30 December 2007)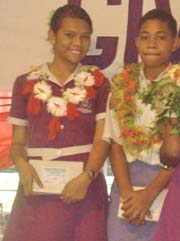 Pauline at the prize-giving with her prize wearing a

tefui
Congratulations to my sister Pauline and brother Collin for their achievements. Our parents are Alfred Kauata of Malhaha and Kiji Alfred of Itu'muta in Rotuma.
Pauline Alfred attended Dudley Intermediate School (Class 801) where she was the Head Girl in 2007. At the prize giving ceremony she received three prizes: (i) 1st in her class, (ii) Head Girl and (iii) highest mark in Religious Education in her class. She will continue her education at Dudley High School.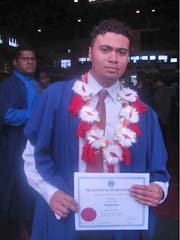 Collin with his certificate after graduation
Collin Alfred graduated with a Diploma in Architectural Engineering at Fiji Institute of Technology on 7 December 2007. He is now employed as an AutoCAD operator in engineering at Irwin Alsop Pacific Ltd.
I graduated with a Trade Certificate in Light Motor Vehicles in Automotive Engineering on 9 December 2005. I am now continuing my education in Information Technology at New Zealand Pacific Training Centre in Suva.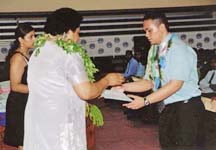 Myself receiving my certificate on graduation day
I would like to thank God and my parents for helping us to achieve our goals, and for the love, support, hard work and sacrifices which guided us to reach where we are today.
Lots of hanisi from the Alfred Family at Rakua Street, Suva to relatives in Rotuma, Fiji and abroad in New Zealand and Australia.
---
From Radio Fiji (27 December 2007)
Rotuma airstrip to get face-lift
The Prime Ministers taskforce team has shown priority to upgrading of the Rotuma Airport following a tour of the island early this week.
The Commissioner Eastern Tomasi Tui says the Prime Ministers task force team that recently visited Rotuma will be submitting its report prior to the second sitting of the Interim Cabinet on 22 January.
He says priority on their report is the issue of upgrading the Rotuma Airport.
Airport Fiji Limited says it is ready to upgrade the airstrip and maximize the service of domestic flights to the island.
The budget allocation for the Rotuma airport this year was $415,000 and AFL manager Vilimoni Caucau says a total cost of $1 million dollar is needed for the completion of the upgrading works.
He says this includes the purchase of a new fire vehicle. Caucau says the onus is on the Ministry of Finance as their budget allocation is not only focused on the Rotuma airstrip but also the management of 13 airstrips around the country.
He says the work is ready to start in late January or earlier February.
---
From Fiji Times Online (26 December 2007)
Major development plans for remote island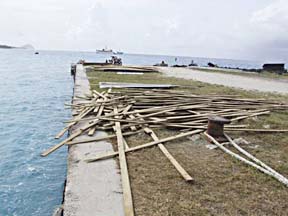 This is the jetty at Oinafa which is earmarked to be an international port of entry at Rotuma
A GOVERNMENT team returned from Rotuma on Monday with a better idea of how to conduct major development works on the island.
Led by the chief administrative officer in the Prime Minister's Office, Viniana McGoon, and Commissioner Eastern Tomasi Tui, the team will submit a paper to Cabinet for consideration in January.
Mr Tui said the paper would include details of the kind of work to be done, cost and a definite time frame within which to complete the projects.
Some of the major projects include the upgrading of the island's only airstrip at Malhaha, upgrading of roads and the construction of a jetty that is likely to be declared an official port of entry for international ships.
Mr Tui said the taskforce had a fruitful meeting with elders of the Rotuma Island Council.
The council was represented by chiefs of the seven districts and included influential individuals such as former government minister Jioji Konrote, former senator Dr John Fatiaki, Mua Taukave, Alfred Lilino and the president of the Suva-based Fiji-Rotuma Association, Hae Rigamoto.
The taskforce comprised close to 50 government officials representing various ministries, departments and statutory bodies.
The interim Government is considering establishing an international port of entry on Rotuma.
Included in the taskforce was the national manager for border control at the Fiji Islands Revenue and Customs Authority, Tej Ram.
Mr Ram said there was a possibility Rotuma could be declared an international port of entry but he said a few pre-requisites had to be met.
He said one of the requirements was the construction of a suitable jetty to adequately cater for bigger boats.
The jetty at Oinafa district, Mr Ram said, would need to be extended or relocated to another spot conducive to international trading ships.
Another pre-requisite is the establishment of proper quarantine facilities to protect the agricultural industry in Rotuma and its trading partners.
Mr Ram said all the requirements for the declaration of a port of entry would be submitted for Cabinet's consideration next month.
---
From Fijilive (24 December 2007)
Major development expected in Rotuma
A major development is being considered for the island of Rotuma.
Commissioner Eastern Tomasi Tui confirms that a Government taskforce arrived in Rotuma this morning and they plan to submit a paper to Cabinet for its consideration in their next meeting.
Some of the major projects include the upgrading of the island's only airstrip located in the district of Malhaha, the upgrading of the roads and the construction of a jetty that is likely to be classified as an official port of entry for international ships.
Tui said the task force had a very fruitful meeting with the Rotuman Island Council which was represented by the chiefs of the seven districts.
---
From Doreen McManus in Brisbane (23 December 2007)
Twins Celebrate their 70th Birthday - July 2007
It was a typical chilly Christchurch day when family guests started arriving at the restaurant for mid-afternoon celebrations for Kautane (Emily) and Raumua (Ann) - eldest daughters of the late Elia Hoerder (Motusa) and Emeli Mua (Oinafa). The last time the girls celebrated their coming of age (5th July) was at the age of 21 and their father, Elia handed over their keys. Both ladies have lived a contented life in New Zealand for the past 42 years where there has really never been a dull moment. Kautane married (the late) Stuart List and settled in Nelson, NZ and with their three daughters - Doreen, Moira and Barbara enjoyed a happy life. Emily as she is known to Nelsonians lives her life to the fullest as she has joined up with many community groups. Raumua married George Stonehouse and also had three daughters - Aileen, Maureen and Torika. All three daughters still remain in the Canterbury region and assist with the parents needs, especially now that George is not well at all.
Twins with youngest sister, Kijiana (Kitty).
(From L to R: Kautane, Kijiana, Raumua)
---
From Fiji Times Online (21 December 2007)
Rotuma eyes trade links with Tuvalu
THE Rotuma Council will look at possible trade links with Tuvalu if their island is declared a port of entry.
Council chairman Dr John Fatiaki said the island had been waiting for port of entry status for years.
"It's good to see it finally coming to fruition," he said.
"Rotuma is obviously problematic in the areas of transportation and communication."
He said the council wanted to make improvements in these areas.
A Tuvalu government ship has been contracted to run a service between Rotuma and Suva.
And a government taskforce is on Rotuma to look at the possibility of declaring it a port of entry.
Now the council is looking at supplying root crops to Tuvalu with a service between the two islands.
A task force is looking into the possibility of declaring Rotuma a port of entry to allow for trade with Tuvalu.
Travel between Rotuma and Fiji takes 36 hours. Ships can travel from Rotuma to Tuvalu in 12 hours.
"We are fully behind (trade between Rotuma and Tuvalu) because presently there's difficulty in transport and communication and there was little growth," Dr Fatiaki said.
"Farmers have rootcrops, vegetables and given that Tuvalu sends a ship to Fiji on a monthly basis, we will try and get them to come to us.
"Looking at the travelling times, it makes sense for Tuvalu to come to us and this would be an opportunity to make some cash and boost income generation," he said.
A statement from the Department of Information said the government task force team would travel to Rotuma to look at the jetty, airports and roads.
It said taskforce members would look at how infrastructure could be improved to help the island achieve port-of-entry status.
Once Cabinet's approval of the port of entry status is given, cruise ships will be able to call at Rotuma without first having to clear Customs in Suva and that is expected to boost income for the island's 3000 residents.
The taskforce will assess work plans and submit proposals for upgrading works that may be required.
---
From Fiji Times Online (20 December 2007)
Port of entry to generate Rotuman income
PLANS by a government task force to visit Rotuma to ascertain whether the island can be declared a port of entry is something the Rotuman Council has been waiting for.
Council chairman, Dr John Fatiaki said there was obviously a problem with transportation and communication for the island.
He said declaring Rotuma a port of entry would definitely boost the island's income generation.
---
From Fiji Times Online (20 December 2007)
State eyes new port of entry
A government task force will decide this week whether Rotuma should be declared a port of entry.
The task force is travelling to Rotuma to look at its jetty, airport and roads.
Task force members will see how the infrastructure can be improved to help the island achieve port-of-entry status.
If Cabinet approves port of entry status, cruise ships will be able to call at Rotuma without first having to clear Customs in Suva. That is expected to boost income for the island's 3000 residents.
The task force will assess work plans and submit proposals for upgrading works that may be required.
Officials from Fiji Ports Corporation Limited, the Civil Aviation Authority, Fiji Islands Revenue and Customs Authority and the Council of Rotuma will arrive on the island today. The task force is led by the Commissioner Eastern, Tomasi Tui.
The task force has been convened by the Office of the Prime Minister, which has responsibility for the Rotuma Act, a Ministry of Information said.
Suva, Lautoka, Nadi, Levuka and Savusavu are ports of entry.
---
From Pam Nataniela in Suva (16 December 2007)
On the morning of December 16, Tanu Petero of Saukama, Juju, Rotuma, husband of Katarina Aterana, passed away in his sleep. He is survived by wife Katarina, sons and daughters Pene, Nataniela, Petero, Vamarasi, Tomniko, Iosefo, Paurino, and Atfoa. The eldest daughter, Fesaitu passed away in 2004. He is also survived by grandchildren and great-grandchildren, both in Fiji and abroad. He was a kind, wonderful, sober, hard-working man, and will be sorely missed by family, including inlaws.
---
From Fiji Times Online (16 December 2007)
Rotuma police chase ends fatally
A POLICE chase on Rotuma on Friday night ended fatally when a teenage passenger was killed.
After receiving a complaint that a vehicle was being driven in a dangerous manner, police followed up and tried to stop the car but gave chase when the driver failed to stop.
The vehicle veered off the road and crashed into a tree killing the passenger instantly.
Police believe those in the vehicle had been drinking.
The post mortem report revealed the victim died as a result of severe brain injuries.
A passenger and the driver are still admitted in hospital.
The incident happened around 10.30pm on Friday night on Rotuma Coastal Road.
---
From Fiji Times Online (15 December 2007)
$70m facelift for airport
by Ashwini Prasad
The Nadi International Airport will undergo a major infrastructure and communications upgrade next year, estimated at $70million.
Airports Fiji Limited board chairman, Digby Bossley said it had been a tough year for the company after encountering some mismanagement problems and continuous changes to the board.
On its priority plans for next year, he said, the costs for major upgrading works at Nadi International Airport will be partially paid by the company and the rest will be borrowed from some commercial lenders.
He said these upgrading projects are necessary due to the compliance to safety standards mandated by Civil Aviation Authority of Fiji (CAAFI) in order to meet international standards.
Mr Bossley said the Rotuma airstrip is another concern for the company and is scheduled for repairs early March next year.
"According to media reports during wet weather, the airstrip gets covered with soap stone making it difficult for planes to land," he said.
"So that is another priority project for AFL to carry out major upgrading and infrastructure works costing the company over $1million."
Mr Bossley said the interim Government will financially assist the Rotuma project and the rest will be paid by the company.
"Once the Rotuma airstrip is fully upgraded and safety compliant, it could serve as a small international airport for people making onward travel to Tuvalu, etc.
Another project earmarked for January next year is the Savusavu airport.
---
From Fiji Times Online (14 December 2007)
Students learn how to look after paradise
by Ashwini Prabha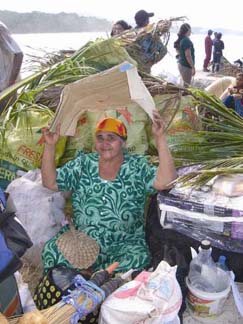 A passenger takes shelter on the Kafita Jetty on Rotuma yesterday
THE first ever environmental awareness eco-camp was held on Rotuma from December 10-12, with 60 campers taking part.
The camp was organised by the Laje Rotuma Initiative and had 50 students from four primary schools Motusa, Christ the King, Papatea and Malhaha primary schools as well as students from Rotuma High School.
The remaining 10 participants were adults.
Alfred Ralifo of LRI said the camp dates had been set for December 4-6 but had to be deferred because of the weather and delay in offloading goods from the Cagi Mai Ba.
As a result, he said the deferment saw participant numbers fall from 200 to 60.
The camp and awareness activity was supported by the Vodafone ATH (Fiji) Foundation, GEF small grants program and donations from the Rotuman community.
Mr Ralifo said artists and instructors at the camp were Pelu Fatiaki, a choreographer and dancer with the Oceania Dance Theatre at the University of the South Pacific, Craig Marlow, a local artist and one of the founding members of the Pacific Art Alliance.
Mr Ralifo, a high school teacher and winner of the 2007 Fiji Art Council's Indigenous Art Award, was the third instructor.
Participants took a coral reef monitoring trip, the third such trip since LRI started monitoring coral reefs around Rotuma in 2002.
See also Fiji Times report of 15 December
---
From Fiji Times Online (12 December 2007)
Rotuma flights back
by Monika Singh
FLIGHTS to Rotuma resumed yesterday after a break of six weeks.
An Air Fiji flight landed on the airport at Malhaha after good weather dried the airstrip and allowed flights to resume.
Officials said $5million was needed to upgrade the airstrip for it to remain open during bad weather.
Air Traffic Controller at Rotuma Antonio Muaror said constant rain in the past four weeks made the runway slippery.
Air Fiji operated two flights to Rotuma yesterday at 8am and 1pm.
Mr Muaror said flights to the island were constantly being cancelled by the company because of the unsuitable condition of the runway.
"This has been a problem for people on the island especially during this festive season because many people come to the island for Christmas."
He said the Rotuma Council made a submission to Cabinet in May to approve funds to upgrade the runway.
"We are aware of government's financial status so we only asked for an upgrade."
Yesterday's first flight to Rotuma carried 14 passengers and the afternoon one had 11.
End of story
---
From Fiji Times Online (12 December 2007)

Heavy seas swamp relief food supplies
by Ashwini Prabha on Rotuma
FOOD supplies bound for Rotuma on the inter-island ferry Cagimaiba were damaged as the ship ploughed through the edge of Cyclone Daman.
The ship was originally scheduled to leave Suva for Rotuma on December 1 but was delayed and finally left the capital city at 12.30am on December 4.
The Cagimaiba reached Rotuma during Cyclone Daman but instead of offloading the 120-plus passengers and cargo at Oinafa Jetty, people were asked to disembark at Hapmak.
A relative of one of the passengers said family members were asked to get off the ship and board a punt which took them ashore.
Most of the women and children disembarked but some men remained on board.
"During the night it was low tide and the punt had to stop at the reef where waves crash and women and children got out first with a few men and were asked to walk on coral in dark toward lights from the last house near the beach which luckily had electricity.
"One of my nephews and few others assisted a few old women in the dark and suffered cuts from the coral," she said.
She said the ship then moved to Hapmafau late on Friday and those who did not leave the ship on Thursday night were taken back to the shore by the punt.
"They must have been terrified. Saturday evening the weather was fine the ship moved to Oinafa but didn't unload the supplies until Monday," she said.
Supplies that were on the ship included soap, toilet paper, soap powder, flour and trays of eggs, which all were damaged.
One shopkeeper who wished to remain anonymous for the fear of being victimised by the shipping company said the constant delays in the ship's service were a concern to them.
Calls made to the District Officer Rotuma Nicholas Ting yesterday revealed that the cargo was unloaded from the ship yesterday.
Monifa Fiu, coordinator of the LajeRotuma Initiative which is the largest and the only environmental group on the island, said they had to postpone their week-long environmental camp because their luggage could not be unloaded from the ship.
"Due to the delayed departure of the Cagimaiba a major activity scheduled for the week of December 3 was postponed for a week and participation from the people was reduced," said Ms Fiu.
"The LRI Eco-camp was further delayed by the delay in offloading of luggage by the company," she said. "We recognise the weather was bad, however, the offloading and lack of notice from the company incurred LRI extra cost and reduced the awareness outreach of the campaign," she said.
---
From Fiji Times Online (11 December 2007; originally published 5 December)
Editorial
Unsafe Airstrip Robs Rotuma of Air Service
SUVA, Fiji (Dec. 5) - It is unacceptable for the people of Rotuma to be without aviation services for six weeks. During that time at least two people in desperate need of medical attention have died because they could not access hospital care.
The fact that they could not leave the island was not for lack of trying or the non-availability of a fare. It was, rather, because the airline servicing the Rotuma-Suva route was unable to land on the island's airstrip.
Air Fiji claims the airstrip has not been maintained and is dangerous to operate from the island. Poor drainage and failure to cut the grass on the airfield are two reasons the airline has given for not landing on Rotuma.
For any operator, the safety of those on board is paramount. Air Fiji cannot be faulted for refusing to schedule flights to such a dangerous destination.
The question which must be asked is: Why has the state of the Rotuma Airstrip been allowed to reach a level which renders it inoperable?
Airports Fiji Limited must shoulder much of the responsibility in this regard. This State-owned entity is tasked with the maintenance and operation of aviation facilities throughout the nation.
It receives funding from the Government to maintain rural airfields and ensure acceptable levels of safety at these facilities. This means regular maintenance of the landing strip, fences and where they exist terminals and fire fighting appliances. From initial reports it is obvious that Airports Fiji has allowed the Rotuma airfield to fall into disrepair.
How soon can we expect the conditions at other island airstrips to deteriorate?
The Rotuma Airport was built at a huge cost to the taxpayer in order to provide an essential service to the public. It also provided a way to deliver emergency supplies or evacuate seriously ill patients.
Despite the high cost of tickets, passengers have continued to fly the route and Air Fiji has maintained its service. This is unlike smaller airfields like Dama in Bua and Ono in Lau where costs are prohibitive to airlines and passengers and services have ceased.
The people of Rotuma deserve to know when flights to their island will resume and who is responsible for the disrepair of their airfield.
---
From Fiji TV One (10 December 2007)
The Blue Lagoon Cruises management says they are in the process of retrieving their vessel the Lycianda, which ran aground on Oinafa Reef in Rotuma last week.
Operations manager Alan Griffin said they sent a tug-boat over to Rotuma yesterday and they expect it to tow the Lycianda back by Thursday afternoon or Friday.
Griffin said that they have been informed that the boat has been able to detach itself from the reef and it's floating by itself at half tide.
The Lycianda ran aground due to strong winds caused by Hurricane Daman.
---
From Fiji Times Online (9 December 2007)
Salvage plan for stricken ship
Arrangements are being made to salvage the cruise ship MV Lycianda that was run aground in Rotuma by Cyclone Daman.
"We are now getting in touch with the tug companies to give us quotes and once that's done we will wait for the weather to clear," said Blue Lagoon Cruises Limited director sales and marketing Joe Tuamoto.
"When the weather has cleared we will dispatch a vessel to go out and bring the Lycianda back.
"It will probably take a day to reach there and two days to get back.
"Our aim is for them to come back as soon as possible."
Mr Tuamoto said the MV Lycianda was in Rotuma on its way back to Lautoka on Wednesday night when the tropical cyclone ran it aground.
He said the vessel was trying to come out of the shelter when strong winds forced it on to Oinafa Reef.
"The vessel was blown on to the inner reef inside the harbour at Rotuma at the height of Tropical Daman passing over Rotuma," he said.
"The ship suffered no damage to its hull, only minor damage to its rudder and propellers.
"There was no injury to the crew."
Mr Tuamoto said only the crew was on board during the time of the incident.
He said the boat was to have picked up passengers when it got caught in the cyclone.
---
From Fiji Times Online (8 December 2007)
Rotuma goes on with the fara
THERE has been no major damage on the island of Rotuma, says District Officer Nicholas Ting.
"There was a heavy downpour this morning but for the past hour the sun has been shining," he said shortly after lunch yesterday. It was sunny in the day and cloudless at night.
"No homes have been destroyed, in fact there has been no damage apart from some fallen coconut trees," Mr Ting said.
"The people are prepared. Each village has an evacuation centre. On December 1, they stopped working on their farms and started the Christmas celebrations, which is their tradition.
"The celebration has not stopped the fara continues."
---
From Fiji Times Online (8 December 2007)
Tuisawau: No grant for airstrip
THE interim Governments failure to allocate a grant to Airports Fiji Limited for capital developments has resulted in lack of maintenance to the Rotuma airstrip, says its chief executive Timoci Tuisawau.
He said the interim Government did not allocate an annual grant of $500,000 for the 13 outer island airports around the country.
A grant of $500,000 is given by government for capital developments to the 13 outer island airports in Fiji on an annual basis, he said.
AFL has not received the grant for 2007 and was not able to fully maintain required standards in Rotuma and a few other airports. The short term goal for Rotuma is to repair and reinstate the runway and by doing that to remove the current issues.
Mr Tuisawau was reacting to criticism from former senator Doctor John Fatiaki about the airlines failure to abide by its contract of providing weekly flights to the island 450kilometres north of Viti Levu.
Dr Fatiaki said there had been only two flights on one day in the last six weeks and the problem of infrequent flights had gone on for far too long.
I went to the airport (yesterday) morning and watched a grown man cry, he said.
The man had waited for hours before being told that the flight had been postponed, again.
---
From Fiji Times Online (7 December 2007)
ABOUT 70 passengers onboard the Cagi Mai Ba which arrived in Rotuma on Wednesday had to spend the night on the ship as rough conditions hampered offloading operations.
Western Shipping Company Limited's Operations Manager, Captain Sailasa Ratu said his crew only managed to offload a little more than half of the 150 passengers that traveled to the island.
He said the rest of the passengers were kept onboard and offloaded with personal cargo early yesterday morning.
He also confirmed that the vessel was now sheltering at the island, waiting for conditions to improve to offload all other cargo.
Western Shipping operates the Cagi Mai Ba and Bawaqa which usually services inter island routes.
---
From Fiji TV One (6 December 2007)
Cruise Boat hits reefs due to bad weather
Adverse weather conditions caused by tropical cyclone Daman resulted in a passenger ship belonging to Blue Lagoon Cruises onto reefs in Rotuma.
Blue Lagoon says the cruise ship was pushed onto the inner reef inside the harbour after nine last night.
There was no injury to crew members on board the ship.
The ship however suffered minor damages to the rudders and propellers.
Officials are now working on dispatching a tug to Rotuma to get the ship off the reef and tow it back to Suva for repairs.
The company has also confirmed that its next trip scheduled for Monday December 10th has been canceled.
All passengers booked are advised to contact the office.
---
News from Rotuma (6 December 2007)
Although Tropical Cyclone Daman apparently did no serious damage on Rotuma, strong winds resulted in the grounding of the Blue Lagoon Cruises vessel Lycianda going aground on the reef that connects the Oinafa Wharf with Houa Island. A request was made to the captain of the vessel Cagi Mai Ba which is also presently in Rotuma to assist in trying to pull the vessel off the reef. Apparently there are no passengers aboard. The vessel's launch apparently capsized in heavy seas also.
The status of the Cagi Mai Ba is that it arrived in Rotuma on Wednesday afternoon and because of heavy seas at Oinafa could not come to the wharf. Children and older adults were ferried ashore before the vessel took shelter on the southern, lee side of the Island. Many passengers from Suva were still aboard. They are presently attempting to land the remainder of the passengers and cargo at Oinafa, weather permitting.
This development will obviously affect those who have made travel plans to visit Rotuma by Lycianda. They will probably need to make other arrangements.
The Westerland now plans to depart for Rotuma from Lautoka at 12:00a.m. on Friday, 14 December, instead of Saturday as originally published.
Air Fiji is still not operating to Rotuma due to the wet condition of the airstrip.
---
From Fiji Times Online (6 December 2007)
Airline blames island airport
THE poor state of Rotuma Island's airstrip is why domestic carrier Air Fiji cancelled flights there for the past three weeks, says company acting chief executive Malakai Nawai.
He was responding to criticism from ousted senator Doctor John Fatiaki about the airline's failure to abide by its contract of providing a weekly flight to the island 450-kilometres north of Viti Levu.
He said there had been only two flights on one day in the last six weeks.
Dr Fatiaki said the problem of infrequent flights had gone on for far too long.
"I went to the airport (yesterday) morning and watched a grown man cry," he said. The man had waited for hours before being told that the flight had been postponed, again," he said.
Mr Nawai said Air Fiji had raised the deteriorating state of the runway surface in the past with Airports Fiji Limited but little had been done.
"Algae has covered the runway surface and is now a major risk to our aircraft on landing and take off under rainy conditions," he said.
"Air Fiji had in the past raised the deteriorating runway surface condition of the Rotuma airstrip with the appropriate authorities and it appears there has been very little effort focused on its maintenance."
"The safety of our passengers is paramount," he said. "We cannot subject our operation if we feel that the prevailing condition at our destination is going to jeopardise safety."
Airports Fiji Limited chief executive Ratu Timoci Tuisawau was in a meeting yesterday and did not respond to questions sent to him.
Interim Transport Minister Manu Korovulavula said the runway was overdue for maintenance and he had approved $500,000 for the necessary work.
---
From Fiji Times Online (4 December 2007)

Tuvalu boat to service Rotuma
A Tuvalu government ship will operate the Suva-Rotuma route after local ship-owners failed to show interest in providing the service.
But the Fiji Ship Owners Association has demanded that the maritime authorities state whether the foreign vessel will be subject to income tax or not.
Association president Leo Smith said local shipping laws demanded that ships on domestic routes be registered first in Fiji.
He asked whether the Tuvalu government had met the requirements.
Interim Minister for Transport Manu Korovulavula defended the decision to allow the Tuvalu operator in, saying the Nivaga II would provide a much-needed service to the islands.
He said the interim Government intended to improve the level of service to the people and this mandate required "swift and decisive action".
"The interim Government has taken this step after we invited the local shipping industry to register their interest in servicing the Rotuma route," said Mr Korovulavula.
"Unfortunately, for reasons best known to persons such as Mr Smith, no local shipping company responded.''
But Mr Smith said it was time the interim Government increased the freight rates.
He said low freight rates contributed to the high cost of servicing routes around the country and made it hard for the ship owners.
---
From radiofiji.com (2 December 2007)
MV Bulou ni Ceva to be towed from Rotuma
Kadavu Holdings Company manager Ratu Sela Nanovo says the MV Bulouniceva is now set for towing from Rotuma.
According to Ratu Sela, the government has made a deal with a company in Lautoka to tow the boat from Rotuma and in exchange the company takes over the vessel ownership.
However, the case on insurance claims is still in court.
The people of Rotuma had sought government help in removing the boat from their waters to avoid damage to their 'Marine life'. Details about the company to tow the vessel have not been disclosed and it's not clear as to when the operation will take place.
---
From Rejieli Paulo in London, England (1 December 2007)
I wanted to write and let you know that I have been selected as one of the final 12 for the Royal Opera house auditions.

At 12:50pm on the 2nd of December I will enter the main stage of the Royal Opera House and sing for the Artistic Director of the Young Artists Programme, David Gowland, Assistant, Siri Hansen-Fischer, Peter Katona- Casting Director, Elaine Padmore- GM of ROH, Accompanied by David Syrus and Antonio Pappano- Music Director of ROH- what a line-up...I can't wait and thank you all for your support, prayers and well wishes.

I look forward to letting you know how it all goes.
---
Update (2 December 2007)
Well the Royal Opera house Young Artist Programme auditions have come and gone for another year.
As I stepped out onto the stage to sing to the panel, I once again felt at home and the auditorium felt smaller than past years. The sight is absolutely breathtaking, to perform on the stage is even better and I feel so very privileged to have had the opportunity again this year.
We were told that 11 people sang today and that they selected 4 singers; unfortunately I was not one of them. I am disappointed at the result, like everyone involved, I would have loved to be part of the Young Artist Programme. It was the most relaxed and prepared audition I have ever done and a great example for a lifetime of auditioning. I do believe that God has perfect timing and although this was not the outcome I was hoping for, I trust that everything will work out for the best.
I would like to sincerely thank each of you for your continued love, prayers and support--without it I truly believe I would not have achieved so much. Your encouragement is worth so much and I am so grateful for your assistance.
I wish you all a very Merry Christmas and the very best for 2008! I am sure I will be in touch with more good news in the future.
---