From Fiji Times Online (23 May 2008)
High prices disrupt island service
by Timothy Naivaluwaqa
THOUSANDS living on outer islands face the possibility of isolation as a shipping company revises its schedules to cope increasing fuel prices.
People living in the Lau and Yasawa groups along with those on Rotuma may have their transport link severely disrupted as Western Shipping Company Limited plans to cut back on trips to the areas.
Company operations manager Captain Sailasa Ratu said the fuel price hikes over the past five months has had a huge impact on the cost of operations.
Captain Ratu said the cost of carrying out its regular shipping schedule was too expensive to continue in light of the price hikes.
Western Shipping Company Limited owns the Bawaqa and Cagi Mai Ba that services the Yasawa Group and the Lauan Group and Rotuma, respectively.
Captain Ratu said they were currently revising the schedule and changes would be made by next month.
He said the review could result in the slicing of its normal shipping service by half.
"These fuel price hikes is really killing business. All the money that we make is just used up to pay for fuel."
"We are now reviewing our shipping schedule and there should be some changes made soon," he said.
"For areas like the Yasawa Group where we provide four trips in a month, we will be looking at the possibility of cutting this service by half. But before any changes are made, there has to be a lot of consultations.
"We really have to think of ways to salvage the business because it is very expensive to continue with our regular schedule. Our fuel bill for running a trip to Rotuma alone stands at more than $23,000 and this will rise further," said Captain Ratu.
"The fuel bill for a trip that left for Lau today (yesterday) stands at $22,700 while a regular trip to Yasawa is about $3000. This is too much," he said.
Captain Ratu also said they were exploring the option of only servicing routes when the demand arose and it proved economical to bear the high fuel costs.
Captain Ratu said unless there was dramatic change to shipping schedules, it was very hard to maintain the business' viability.
---
From Fijivillage (26 May 2008)
Road Conditions a Concern
The Minister for Works and Transport Timoci Natuva said the Interim Government is trying to fast track infrastructural developments to ensure that all citizens in the Maritime provinces have access to better Government services.
In a statement, Natuva commented on Rotuma being declared a Port of Entry, he said from his tours to the Lomaiviti, Kadavu and Lau Groups, a major problem he noticed that roads in the islands need major improvement adding that 15 graders will be purchased by the ministry with one to be given to Rotuma.
Natuva said they have allocated $70,000 to the Roads Supervisor for the maintenance of the roads, where a loader and two timber trucks to be in the inventory for the Rotuma depot.
Meanwhile, Natuva said that he has asked the Rotuma Council to allocate three to four acres of land for a proper depot.
---
From Fiji Times Online (23 May 2008)
Better times ahead for Rotuma: Ricketts
Interim Trade Minister Tom Ricketts has indicated that better times and opportunities lie ahead for the island of Rotuma.
He said with the declaration of Rotuma as a port of entry recently trade between Rotuma and the neighbouring island of Tuvalu will be a prominent feature.
"I see great potential for Rotuma because not only will they send their fruits to Tuvalu, they will also be able to send their fruits to the main island of Viti Levu," Mr Ricketts said.
"Rotuma's had a problem with exporting fruits from the island and theres a unit thats been set up to test these fruits for fruit flies."
---
From Jan and Alan in Honolulu (22 May 2008)
We were privileged to celebrate Rotuma Day with the Seven Stars Rotuman Association from the Bay Area in California and members of the Hugag'esea group from British Columbia in Roy Washington on 10 May. It was a wonderful event attended by Rotumans as far away as Fiji, New Zealand and the midwestern United States. The food, including koua pig, fekei, palasami, a'ana and other delicacies was ag lelei.
Each of the two groups performed a tau'toga with great spirit and some terrific dancing. It was lovely to see so many of the youths participating, not only in the dancing and singing, but in taking on leadership roles.
See Photos [videos added to second set]
---
From Fiji Times Online (22 May 2008)
Security mode for new ports of entry
FIJI Ports Coorporation Limited is looking forward to assisting the new ports of entry in the country.
Ports chief executive Chris Marshall said the assistance would be in the area of port security at the Wairiki port in Bua and Oinafa on Rotuma.
He said first, the two ports would need to be upgraded in order to meet international standards.
"The two rural ports will have to comply with requirements under the International Shipping and Security Code," said Mr Marshall.
"They will need to be upgraded to comply with the International Marine Organisation and International Ships and Port Facility Security Code."
He said the upgrading would need to be implemented before the ports started operating.
"Since the ports will trade directly with overseas countries, it will be mandatory to have these regulations in place."
The interim Government declared the two ports as international ports of entry because of their strategic locations and therefore, the ports are expected to stimulate economic growth and in the process improve the living standards of the locals.
The Wairiki port will facilitate the direct exportating of pine chips from Bua to overseas markets, mainly Japan, while Oinafa port will boost agriculture trading with neighbouring island countries such as Tuvalu and Kiribati.
Mr Marshall said other authorities such as the Customs, Immigration and Quarantine departments would need to provide assistance to the new ports in their respective areas of responsibility.
Fiji Ports is expected to generate some revenue from its services to the ports the same way it has been generating to ports in the country.
"There is a cost factor involved so we will charge a nominal fee to recover our costs," Mr Marshall said.
The marketing and shipping manager for Carpenters Shipping, Ilaisa Labaibure, said it was a great opportunity for them to operate at Wairiki specifically on shipping chips.
Neptune Shipping marketing manager Jona Dumaru said it would be great if they had the opportunity to operate in Rotuma.
---
From Fiji Times Online (21 May 2008)
Islanders want better shipping services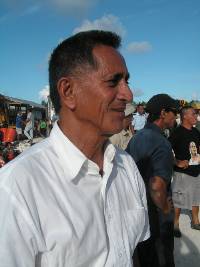 The chairman of the Rotuma Council, Tarterani Rigamoto
THE Rotuma Island Council hopes to improve shipping services to the island by increasing the number of franchise trips to and from the main island.
Council spokesman John Fatiaki said Rotuma Island had experienced shipping problems for a long time.
The problem was made worse after the Bulou ni Ceva was grounded in Rotuma last year.
He said so far, there was only one trip every month and the islanders would like to increase the trips to two every month.
"Rotuma has had problems with shipping for a long time," Mr Fatiaki said.
"We hope to improve the shipping services to the island by increasing the number of trips from once a month to twice a month.
"We would also like to receive regular government shipping to the island."
Mr Fatiaki said the Cagi Mai Ba was the only boat that provided services to the island under the franchise scheme but the boat made only one trip to Rotuma in a month.
"To improve the services we need to get an extra ship to help lessen the problems and for the carrying of cargo and of course, the passengers."
Mr Fatiaki said in the long term, the Rotuma Island Council hoped to acquire a ship that would help in providing services to the island.
He said that was their plan, for Rotuma to buy a boat to service the island once or twice a month.
He said it would make life easier for them.
---
From Fiji Times Online (15 May 2008)
$5000 for Rotuma school upgrade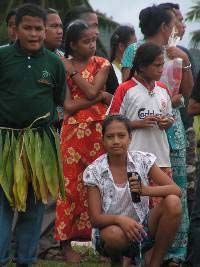 With last weeks Rotuma Day, the status of the islanders has been given prominence
THE Ministry of Works and Transport has set aside $5000 for the upgrading of Rotuma High School.
Ministry liaison officer Sainiana Waqainabete said they also plan to submit a paper for government ships to fill in the gaps on the routes taken by franchise shipping companies.
These are part of plans the ministry has in place for Rotuma.
They include the completion of phase-one work on the airstrip at Malhaha which cost the Government about $300,000. The work has converted the airport runway into an all-weather strip.
Ms Waqainabete said that AFL had submitted costs totalling $6million.
Meanwhile, work is continuing to refloat the Bulou ni Ceva which is stuck at the Oinafa jetty.
Divers are expected to refloat the ship before it is towed out to sea by the Iloilovatu, to be sunk and tied down to the ocean floor at a depth of 100 metres, about one and half miles away from the island.
The Rotuma Island development committee taskforce had submitted that the operation to remove the ferry belonging to Kadavu province about $60,000.
---
From Fiji Times Online (15 May 2008)
Flooded cabins make salvage work hard
by Fred Wesley in Rotuma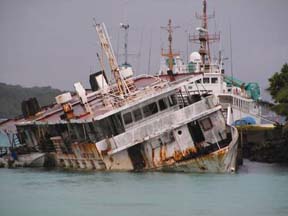 Work continues on the Bulou ni Ceva. The Iloilovatu is in the background at Oinafa jetty.
SALVAGE work on the stranded Kadavu Provincial Council vessel, the Bulou ni Ceva, continued at the Oinafa jetty in Rotuma yesterday with no indication that it had been refloated.
Uraia Roko of Island Barge and Tug, from Lautoka, which was hired to remove the vessel from the side of the jetty, said work would have to be extended another week.
The Rotuma Island Development Committee taskforce had proposed a $60,000 figure to cover the removal and sinking of the vessel by the Government before Rotuma Day celebrations.
This was revealed in a meeting of interim Cabinet ministers, senior government officials and members of the Rotuma Council of Chiefs this week at Ahau.
Divers yesterday continued to cover up holes on doors and windows of the vessel.
"There's just so much water in the vessel," Mr Roko said yesterday.
"The cargo hold, engine room, cabins, crews quarters are all flooded.
"We've been trying to pump out sea water but at this rate, we can't see ourselves finishing work by tomorrow. If we cannot drain the water out by this afternoon, we eventually might have to wait for next week.
"We might have to use balloons to get the ship up."
The Bulou ni Ceva was swept by strong waves and currents on to the reef near Oinafa.
It was later pulled to the jetty where it was left stranded.
The vessel is expected to be refloated, pulled out more than one and half miles to sea before it is sunk and weighed down at a depth of about 1000 metres.he boar had sunk last year.
---
From Fiji Times Online (15 May 2008)
Chamber welcomes State's move
THE Fiji Chamber of Commerce welcomes the interim Government's announcement that Rotuma is now a port of entry, saying it will encourage more employment and investment into the country.
This follows interim Prime Minister Commodore Voreqe Bainimarama's announcement of major development programs for Rotuma.
It includes the upgrading of the air and sea ports' infrastructure including the roads and the establishment of the Rotuma and Tuvalu trade link and bio-security protocols. It also included the exploration of potential export markets under the Pacific Islands Trade Agreement as part of the Pacific Plan. In response yesterday, chamber president Swani Maharaj said the development programs would hugely benefit Rotuma and make it a more attractive destination for tourists and international businesses.
Mr Maharaj said locals would now have more employment and income generating opportunities.
---
From Fiji Times Online (14 May 2008)
Rotuman Islanders have access to the world
by Ameeta Narayan
IN its attempt to bridge the digital divide between the rural and urban areas, Telecom Fiji and its subsidiary Connect Internet Services opened a new internet cafe at Ahau, Rotuma.
The establishment of the internet cafe in the Post Fiji building on Ahau coincided with the Rotuma Day celebrations that started yesterday.
"We are very pleased that we can work with our subsidiary company Connect to extend internet services to far-reaching and remote islands such as Rotuma," said TFL acting chief executive Taito Tabaleka. The provisioning of internet services to the remote island was not an easy feat, considering the distance and resources available in Rotuma.
Despite the challenges, TFL through its VTSat (satellite) services was able to provide the link to set-up the internet cafe on Ahau.
"This is the first Connect internet cafe we set up with the use of our satellite services, VTSat.
"This is a very exciting development because it means that the people of Rotuma now have access to the internet digital super-highway which gives them a wealth of information at their fingertips," said Mr Tabaleka.
The Connect internet cafe at Ahau has two terminals and will open from 8am to 1pm on weekdays depending on the availability of power.
"The provisioning of power supply at our remote sites has always proved challenging for TFL.
"However, regardless of the challenge, we are continuously working to improve power supply to the sites.".
Post Fiji staff are presently being trained to man the Connect internet cafe at Ahau. In addition, Telecom Fiji, in partnership with Connect, is working to provide access points which will allow internet services to customers beyond Post Fiji.
This will mean an extension of internet services to customers, which should be available in the near future.
Mr Tabaleka said they were focussed on bridging the digital divide across the nation.
He said they would strive to ensure that the people of Fiji have access to some form of digital communication which will make life easier and provide them the world, at the click of a mouse.
---
From Radio Fiji (14 May 2008)
Own EEZ for Rotuma underway
Rotuma could be on its way to have its own Exclusive Economic Zone. Interim Prime Minister Commodore Voreqe Bainimarama made the announcement while opening the Rotuma Day celebrations in Ahau in Rotuma yesterday.
He says the development program that has been undertaken by the interim government includes the declaration of the 30 miles E-Z zone.
"The recognition of two fishing license for Rotuma, the upgrading of airport and sea port infrastructure and the establishment of high treatment plant for agriculture produce for export."
Commodore Bainimarama says Rotuma is strategically positioned for potential export markets.
---
From Fiji Times Online (14 May 2008)
Grow more food, islanders urged
by Fred Wesley at Ahau, Rotuma
THE people of Rotuma have been urged to grow more of their own produce to combat rising food prices.
Interim Prime Minister Commodore Voreqe Bainimarama said this when he opened Rotuma Day celebrations at Ahau yesterday.
Commodore Bainimarama was part of an early morning flag raising ceremony at Lihava, in Motusa.
That was followed by a brief enactment of the cession of Rotuma to Great Britain, and a reading of the Deed of Cession.
Students of Rotuma High School then sang the national anthem before the interim PM's entourage left for Ahau.
Rotuma was ceded to Britain on May 13, 1881. "I know that here in Rotuma, you are feeling the impact of rising oil and food prices," Commodore Bainimarama said.
"There is no quick fix to this challenge as we are largely dependent on imports of petroleum and related products and food grains such as wheat and rice.
"Government has undertaken some initiatives by way of tax and duty relief.
"The only sustainable solution to combating rising food prices is to grow more of our own produce.
"I am pleased to see in this regard an abundance of food staples in Rotuma.
"I encourage you to continue working hard, grow as much produce as possible, create surpluses for sustainable export."
---
From Arnold Jacob in Lautoka (14 May 2008)
Rotuma Day has become an annual event for Rotumans the world over as the day marks the cession of our island to Great Britain in May 1881. The Lautoka community celebrated the day on Saturday, 10 May at Natabua High School. Tomasi Penjueli and Noa'tau District, which held the Itu Hifu chairmanship for the past year, organised a fun-filled day for everyone. After beginning the celebration with a church service led by Fekau Viliame Fatiaki, free medical check-ups were provided by Sister Vika Varea, Misau Pranjivan and a team from the local Health Centre.

Team Itu'ti'u were victors in the mixed volleyball competition this year replacing Team Pepjei, which held on to the winner's trophy for the past two years.

The youth and sunday school tautoga took centre stage with a colourful and fine performance of our traditional Rotuman dances and songs. Fai'aksia to Noa'tau and the Itu Hifu committee for organising the koua lunch and to Sister Vika Varea, Misau Pranjivan and the medical team for the free check-ups.
---
From Fiji Times Online (14 May 2008)
Rotuma backs proposed charter
by Sakiasi Nawaikama
ROTUMA has declared its support for the proposed People's Charter.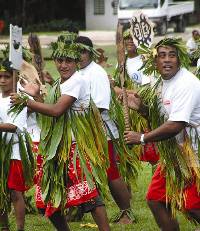 Villagers of Juju and Pepji, on Rotuma, perform the koloa dance for interim Prime Minister Commodore Voreqe Banimarama at Ahau during Rotuma Day celebrations
Rotuma joins Kadavu which, according to provincial council chairman Ratu Josateki Nawalowalo, also supported the charter and the Great Council of Chiefs mandate.
Rotuma's acceptance of the charter was conveyed to the delegation by Fiji's former Ambassador to Australia and council representative to Fiji, Major-General Jioji Konrote.
Mr Konrote said there was a need for a system of good governance, among other things, to be put in place that will bring about peace and harmony to all people in the country.
"There is no way we can express our gratitude and appreciation for the Government except for us to offer our prayers, well-wishes and active participation in moving the country forward," he said.
Rotuma and Kadavu's acceptance of the charter is a major boost to the interim Government and the National Council for Building a Better Fiji's effort to create a new direction for Fiji.
Ratu Josateki said the charter and the GCC taskforce mandate was endorsed by all villages.
"There are a some provinces who will accept and some chiefs who will be part of the council," he said.
The Kadavu Provincial Council meeting is schedule for next Thursday at the Jubilee hall in Toorak where the bose vanua will also be held.
Ratu Josateki said a separate presentation would be made to the chiefs of Kadavu at the meeting.
Tailevu Provincial Council chairman Josefa Seruilagilagi said the charter team and GCC taskforce would make presentations at their council meeting at Ratu Cakobau House in Nausori tomorrow.
Mr Seruilagilagi understands the bose vanua was held on the island of Bau.
So far, the provinces which have rejected the charter include Nadroga, Namosi, Naitasiri, Rewa, Lomaiviti and Cakaudrove.
Lau, Kadavu and Bua provinces are expected to hold their council meetings by the end of the month.
Meanwhile, Commodore Bainimarama and a government delegation are on a week-long government tour of Rotuma.
---
From Fiji Times Online (13 May 2008)
Interim PM reaffirms commitment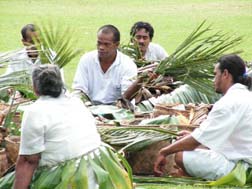 Rotuman villagers with gifts for the Interim PM and his delegation
Interim Prime Minister Commodore Voreqe Bainimarama has reaffirmed the interim Governments commitment to develop the island of Rotuma and its people.
"May I assure the chiefs and people of Rotuma that the interim Government is committed to further developing Rotuma," Commodore Bainimarama said in response to the traditional ceremonies of welcome the islanders accorded to him and members of the Government delegation on a week-long tour of Rotuma.
He was honoured with the ceremonies and greatly encouraged that the islanders maintained their customs and traditions.
"This is an indication that your culture is still intact even though you may have been exposed to external influences," said Commodore Bainimarama.
---
From Fiji Times Online (13 May 2008)
Internet Cafe opens in Rotuma
Telecom Fiji and its subsidiary, Connect Internet Services, have opened a Connect Internet cafe in Ahau, Rotuma.
The move is a step further in bridging the digital divide between the rural and urban areas.
The establishment of the Connect Internet Cafe in the Post Fiji building in Ahau, Rotuma coincided with the Rotuma Day celebrations.
We are very pleased that we can work with our subsidiary Connect, to extend internet services to far-reaching, remote islands such as Rotuma, says TFLs Acting CEO, Taito Tabaleka.

---
From Fiji Times Online (13 May 2008)
Oinafa's official port of entry
by Fred Lesley
Interim Commerce Minister Tom Ricketts, interim Health Minister Dr Jiko Luveni, interim Works Minister Timoci Natuva and interim Prime Minister Voreqe Bainimarama at Ahau for their official welcome ceremony yesterday.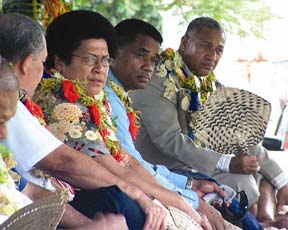 Interim Commerce Minister Tom Ricketts, interim Health Minister Dr Jiko Luveni, interim Works Minister Timoci Natuva and interim Prime Minister Voreqe Bainimarama at Ahau for their official welcome ceremony yesterday.
OINAFA has been declared Rotuma's official port of entry.
Commissioner Eastern Tomasi Tui yesterday confirmed the decision by a Cabinet team led by interim Prime Minister Commodore Voreqe Bainimarama which met with members of the Rotuma Council of Chiefs at Ahau.
No financial figures were given yesterday, but Mr Tui believes the declaration will benefit the island economically.
"It will harness shipping services," he said.
His comments were echoed by the chairman of the council, Tarterani Rigamoto. "We are quite happy with the outcome of the meeting," he said.
"All our submissions went through which was a positive factor."
He said the declaration of the port of call would boost efforts to kick start trade with neighbouring island country, Tuvalu.
"It obviously will change the lifestyle of the people here," he said.
"It will boost the economy."
Cabinet approved that Oinafa be declared Rotuma's port of entry with minimum requirements on March 8 and that the airport at Malhaha to be declared port of entry, with upgrades to meet international standards.
Airports Fiji Limited had released a $5million figure for upgrading work five years ago, but, according to Mr Tui, it would work on plans before new figures could be confirmed.
---
From Fijivillage (13 May 2008)
Rotuma Day Celebrations Kick Off On Rotuma
The Rotuma Day celebrations kick off this hour on the Island of Rotuma.
Speaking from Rotuma, Island Council Member Major General Joji Konrote said this is a very important day for Rotuma as this is the day when Rotuma was ceded to Britain.
Konrote said the celebrations will begin this hour with a re-enactment of the deed of cession followed by merrymaking and other activities.
Present at the celebrations is Interim Prime Minister Frank Bainimarama, Interim Transport Minister, Lesi Natuva, Interim Tourism and Commerce Minister Tom Ricketts and Interim Health Minister, Dr Jiko Luveni.
---
From Fiji Times Online (13 May 2008)
Jokapeci finds joy in helping others
This item has been moved to the Life Story section of the website
---
From Fiji Times Online (11 May 2008)
Rotumans Celebrate Big Day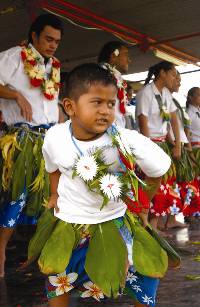 Five-year-old Aidam Ravai, of the Pepjei district, performs a fara dance during Rotuma Day celebration in Suva yesterday
ROTUMANS around the country marked Rotuma Day with a two-day celebration held in Suva.
Fiji Rotuman Association secretary Sagaitu Kauata said Rotuma Day was celebrated to commemorate their ancestral island being ceded to Great Britain.
Celebrations at the Marist Brothers' High School grounds, in Flagstaff, Suva, started on Friday, with cultural events.
Ms Kauata said Rotuma Day was May 13 but it is always celebrated over the closest weekend.
She said the idea of the two-day event was to teach the young generation about their culture and traditions.
"They get to know their traditional dances and value it," she said.
With the theme education for this year's celebration, Ms Kauata said the young generations were told to have better education for a better living.
---
From Fijivillage (10 May 2008)
Rotumans Celebrate Rotuma Day
Rotumans around the world and even in the country will today be ending two days of celebration marking Rotuma Day which falls on the 13th day of the month of May.
The date marks Rotuma's cession to Great Britain in 1881 before they became a dependency of Fiji in 1970.
The celebration is being held at the Marist Brothers High School grounds where song and dances depicting the history of the event are being held.
Speaking to Fijivillage, Marist Brothers High School Principal Brother Susau Managreve said he was approached by the organizing committee for the celebration to be held and added this is the only time where Rotumans living away from the island will get to know each other.
---
From Radio Fiji (9 May 2008)
Funds raised to help Rotuma students
Funds raised during the Rotuman Day celebrations will go towards helping Rotuman students who fail to further their education due to financial constraints.
The Fiji Rotuma Association (FRA) says the education funds will help those particularly who cannot afford to pay their school fees pursue their dreams.
Chairman of the FRA -- Hae Rigamoto says the fund will also look after Rotuman students who fail to secure scholarship.
"Especially tertiary education -- the fund is to help them pursue their education in what ever field they have decided and to make sure they graduate they graduate with a diploma or a degree or a certificate at the end of their school year."
The two day event of the Rotuman Day celebration will be held at the Marist Brothers High School grounds today and tomorrow.
---
From Fiji Times Online (7 May 2008)
Interim PM to tour Rotuma
INTERIM Prime Minister Commodore Voreqe Bainimarama will lead a delegation to Rotuma to celebrate Rotuma Day next week, the Prime Minister's Office said yesterday.
He is also expected to be part of the team that will visit project sites and discuss development issues with some of the seven districts on the island, his Permanent Secretary Parmesh Chand said.
Part of the delegation which includes three other Cabinet ministers will leave on Friday by boat and the second part of the group is expected to charter a flight on Monday, he said.
"We are working on issues including upgrading the roads, airport, salvaging the Bulou ni Ceva and the declaration of Rotuma as a port of entry.
"The trip coincides with Rotuma Day celebration on May 13," Mr Chand said.
Mr Chand, who will join the team, said they return on May 17.
Interim Minister for Works Timoci Natuva and interim Minister for Primary Industries Joketani Cokanasiga are part of the delegation which will include senior representatives from relevant Government ministries, Mr Chand said.
Commodore Bainimarama was expected to sail with the team on Friday, he said. It remains unclear whether Commodore Bainimarama's wife Mary would accompany them on the trip, Mr Chand said.
The trip follows an invitation by the Rotuma council of chiefs after an earlier visit by interim Defence minister Ratu Epeli Ganilau visited the island to address the possibility of declaring the island a port of entry, he said.
Mr Chand said members of the Rotuma council followed up with a visit to Suva recently in pursuit of further discussion over the development of Rotuma as a port of entry.
"Ratu Epeli identified a number of areas of work and further discussions between him and the Rotuma council ranged from health, environment and community development," he said.
The Government team will be broken up into groups that will visit each of the seven districts, Mr Chand.
---
From Fiji Times Online (7 May 2008)
Following a submission from interim Works Minister Timoci Natuva yesterday, the interim Cabinet endorsed the purchase of the graders which will come duty-free.
Mr Natuva said the reasons why roads in Fiji were in deteriorating condition was best explained by the lack of graders....
One grader will be allocated for Rotuma, being one of the most remote islands in the Fiji group, Mr Natuva said
"Shipping it to and from Rotuma is quite expensive so one grader will be stationed there," he said.
He is part of a Government team that will leave for Rotuma at the end of the week.
The graders will be purchased from funds approved in the Department of National Roads' capital budget.
---