From Fiji Times Online (30 June 2008)
Coconut oil for island growth
THE National Strategic Committee on Bio-fuel intends to install coconut oil plants in the outer islands of Fiji this year as a way to develop sustainable economies in the islands.
Committee chairman Viliame Yabakivou said 80 per cent of the production of coconut was in the province of Cakaudrove and 20 per cent in the outer islands including Rotuma. Oil plants have been installed at Cicia and Lakeba in the Lau Group, with another two to be installed in Gau and Rotuma later this year.
As part of the bio-fuel developments in the country, Mr Yabakivou said the committee was also working on projects in the islands.
He said coconuts were available in the islands which were being processed for copra which had not fully benefited islanders because of the irregular shipping services to the islands.
"Sometimes the boat doesn't come and the quality of copra deteriorates," he said.
"For oil we can keep it a longer time than copra. This is why we're going towards this market."
Mr Yabakivou said issues relating to copra were raised at the district and provincial council meetings.
"The committee has already approached Copra Millers to buy oil from them, but what is needed is government assistance in terms of subsidy or a stabilisation fund to raise the price of oil from $1.30 to $2 a litre.
"$1.30 is not good enough. The recommended price would be around $2 to make it profitable. If that can be done the flow of oil from the islands will improve.
"The problem now is the down-stream processing of oil so we can move to soap making and also edible oil.
"This addresses policies regarding imports and substitutes for imports because we have been importing all these.
"In the island a bar of soap is $5.50 but if we can produce oil in the island the price will be a lot cheaper and the money will remain in the islands."
---
From Fekau Jare in Lautoka (29 June 2008)
I was so fortunate to be part of this most worthy trip to the Island together with the Marine Reach Ministry Team. Marine Reach is the Marine Medical arm of the worldwide Mission Organisation called Youth With A Mission (YWAM). I am writing this because of our appreciation for The Rotuma Island Council, The Medical Officer (Dr. Susana Pene) and the medical staff, all my relatives in Oinafa for hosting us at the mamasa and for the duration of our stay and the various church groups and individuals for their support and hospitality that made our stay and work so memorable and fulfilling. Noa`ia `e hanisi am `Aitu la hanis ma la Alalum`ak ma kikia `os `atmot ta! Here is an extract from the report prepared by the Marine Reach office in NZ:
With 49 people aboard, the M/V Pacific Link departed Suva on May 22nd to the most enthusiastic send-off we've ever had. Sister missionary ship M/V Doulos was moored adjacent to us and a large number of their 350 crew stood on the dock waving us off with flags from their 50 represented nations. About 30 years ago YWAM made a donation to Operation Mobilization to help buy the M/V Doulos. Moments before we departed, their captain and director came aboard with a cash gift to return the blessing from so many years ago.
Several years ago Rotuman Pastor Jare had a vision of a large wave crashing over the island bringing change from one end to the other. He spent the last few years persuading Marine Reach to bring the M/V Pacific Link to his island. At the same time the leaders of a YWAM base in Matamata, New Zealand have prayed for years to bring a team to deliver a Rotuman language Bible to every home on the island. With flights from Fiji to Rotuma costing more than from New Zealand to Fiji, partnership with the M/V Pacific Link made sense. Having completed our mission to the island there is no doubt that a wave of neighborly, Samaritan love has washed over Rotuma.
In seven days the team from Matamata distributed 550 Rotuman language Bibles reaching every household. During those same seven days our primary healthcare team saw 622 patients, the optometry team performed visual acuity tests on 654 people and provided 383 pair of eyeglasses, and the ophthalmic operating team performed a total of 36 cataract and pterygium surgeries.
When John the Baptist sent his followers to ask Jesus if He was the Messiah, Jesus sent them back to John to report what they saw, "The blind receive sight, the lame walk, those who have leprosy are cured, the deaf hear, the dead are raised, and the good news preached to the poor." Matthew 11:5
I also wish to thank George Konrote and Dr. John Fatiaki for their timely support.
We prayerfully look forward to a similar trip in the future with the intention to offer free dental services.
For more details, you can log onto www.marinereach.org
For additional details about the trip and fotos, feel free to contact me on jare_margie@yahoo.com.au or call me on 6668637/ 9746920.
hanisiof se te' ne `aus `atakoa ma alalum!
---
From Fiji Times Online (29 June 2008)
Supplies ready for remote isle
FRESH supplies and about 32 drums of fuel will be shipped to Rotuma tomorrow to help normalise life on the island after ferry services stopped six weeks ago.
District officer Rotuma Nicholas Ting said the Rural Electrification Scheme needed about 12 drums (200 litres) of fuel a month while another 20 drums for the pumps to supply water to the island from the reservoir.
The island's four schools closed on Thursday because there was no water and school buses did not run because of the fuel shortage.
Mr Ting said water supply was also affected and families relied on rain water.
He said the Cagi Mai Ba usually visited the island once a month but it had been six week now since the last trip.
"The shops are empty but their houses are stocked up with rations," said Mr Ting.
Aisake Tivao of Malhaha said the three shops in the district had been closed for three weeks and they had been without electricity for two weeks.
Lily Fonmoa, a relieving post master at Ahau, said they needed salt, cooking oil and kerosene.
A State delegation leaving for Rotuma on Monday will also take supplies.
---
From Fiji Times Online (28 June 2008)
GCC team optimistic of Rotuma visit
THE Great Council of Chiefs taskforce team is optimistic of a positive outcome when it visits Rotuma on Monday.
GCC taskforce head Ratu Josateki Nawalowalo said following the visit to Rotuma, the team will then prepare its final report to present to the interim Prime Minister on the work they have undertaken and the responses from the 14 provinces.
He said that since the Lau Provincial Council has come on board, the team now has 29 names to be submitted to the relevant minister for the membership of the new look GCC.
He said the acceptance of these names would depend on whether they met the criteria.
"We have already started work on the final report and as it is now, everything is looking well," said Ratu Josateki.
He said he expects Rotuma to come on board the new look GCC.
---
From Fiji Times Online (25 June 2008)
Island short of food, fuel
SHOPS and supermarkets on Rotuma have run out of food supply and fuel because there have not been any shipping services to the island this month.
Samuela Kafoa, who called from Oinafa Village on Rotuma yesterday, said children walked up to 10-kilometres to school.
He said this was because buses were not running as there was no fuel on the island.
"On Rotuma we rely on ships to bring us our fuel and food supply and because there has been no shipping service since last month, we have run out of fuel and the shops are empty," he said.
Mr Kafoa said on Monday staff at the Rotuma Hospital had to discharge patients and send away others because there was no water.
"Post Shop Fiji is the largest supermarket on the island and it has run out of food supply and the smaller shops just have Rewa Life milk and powdered milk left," said Mr Kafoa.
He said the water supply department on the island needed fuel so it could operate generators to supply water to homes.
"We have no water supply on the island because there is no fuel and so the generators are not working," he said.
He said the people of Rotuma could only urge the interim Government to listen to their plea.
Interim Transport Minister Timoci Natuva has agreed to send a government vessel to Rotuma with food and fuel next week.
This is after complaints and concerns from people on the island on shortage of fuel in the the past three weeks.
Former parliamentarian and Rotuma Council advisor George Konrote said he met with Mr Natuva on Monday to discuss the possibility of sending a government vessel to the island with supplies.
"Shipping services to Rotuma is only provided by Cagi Mai Ba because they have the government contract but the ship has not been to the island because it was being repaired," he said.
---
From Rejieli Flexman in Sydney (23 June 2008)
This morning I received a lovely email from Rev Geraldine Varea in Rotuma through the Rotuma Internet at Ahau. How wonderful it is to know that Rotuma can now be easily reached.
Geraldine is the Methodist minister with the Malhaha Circuit. Her late mother Kiji Faga was a dear friend to me when we were at Teacher's College together. Three years ago, when I found out that she was going into ministry training at the Davuilevu Theological College, I approached the Sydney Mission Support Group of the NSW Synod in which I am a member. The Group agreed to support Geraldine for the three years she was in training. Last year she graduated with Honors and shared Dux of the College. I was quite humbled and very proud of her achievements. She was a role model student to Overseas Aid Groups.
---
From Fiji Times Online (22 June 2008)
Biscuit SQuad krump on
by Geraldine Panapasa

We have seen it done in movies and local groups like Troop 10 and Latterain have shown us a bit of what it is all about. Krumping is the word and it has become the latest dance style to hit the shores of Fiji.
According to Dancejam.com, krumping started on the streets of Los Angeles in the US. It was an alternative past time to violence. Krumping competitions and face offs normally defined the pecking order of a krump community or group. This was usually done or portrayed in a krump competition or dance battle scenario.
However, for local hip hop group Biscuit SQuad or B Squad, the definition of krump is far from the normal encyclopedia version. To them, the feeling of being able to express oneself in the form of dance and music has been an exhilarating and motivating factor for the group.
Although they officially started in 2007, they have been working on keeping their moves and lyrics original. When krumping, they are known as BSQ Victimz of Krump and when they are busy recording music or songs for their upcoming album, these young studs are known as the BSQ Cracker Alliance.
Group member George Wasile believes they have what it takes to be the best. He said krump was not only about showing anger and frustration as people thought. It is more about expressing whatever one is feeling whether angry, happy or sad.
"There are 12 of us in the group now but we initially started off with six members. We were called Biscuit/ Blood Squad first because all six of us were closely related, all cousins. Then we changed it to BSQ for short. Krumping came after we saw people in the clubs and street partys dance or krump. We came up with our own moves and we have been working on new moves.
"For us, krumping is a different style of dancing altogether. It is more about expressing emotions. Most people think the dance is only about anger. It isn't. The dance moves depend on the person, the character. If you are a happy person, your dance will express that happiness or that anger. It is a new hip dance that can be aggressive, rugged and at times out of control."
However, learning krump was another story. They had to start from scratch to learn what krumping was all about.
This meant researching on what krumping was really about. George said their first time to perform at a competition was nerve wrecking but once they got on stage to do their thing, everything else fell into place.
"Our first performance was at Suva on Sale last year organised by 2Day FM. We were nervous at first but surprisingly enough we were confident in our talent and we won the stomp competition. Our second performance was at the Hibiscus Carnival's Stomp Nite where we came second.
"The next stomp competition was organised by MHCC this year. Although we did not win a prize, we were asked to feature in Sammy G's video clip for his Suva City hit. He was one of the judges at the MHCC stomp competition," he said.
With the youngest member of the group only in Class Four, BSQ recently released their first album titled Tunes from the Tin which has a mix of rap, hip hop and island sounds.
The catchy words and Pacific humour is enough to make one appreciate the hidden talents in our Pacific Island youths.
The lads are dubbed Rotuma's krump princes.
They are slowly changing the face of Polynesian contemporary dance and culture.
Four members of the group will perform at the Pacific Arts Festival in American Samoa under contemporary dances.
For fifteen minutes, they will give other Pacific Islanders a taste of what can happen when local talent becomes reality.
See "The Birth of Krump" in Mai Life
---
From Fiji Times Online (22 June 2008)
GCC team to visit Rotuma
THE Great Council of Chief's Taskforce is expected to visit Rotuma after the Lau provincial Council meeting next week.
Taskforce chairman Ratu Josefa Nawalowalo said they would be able to confirm the visit soon after the council meeting.
The Lau Provincial Council meeting is scheduled for June 25 and 26 at the police academy at Nasova in Suva.
Ratu Josefa said hopefully they would be able to travel by a naval ship.
Lau and Rotuma are the two provincial councils that have yet to hear the presentation of the taskforce on the newlook Great Council of Chiefs introduced by the interim Government
Macuata has approved the recommendations of the taskforce while most other provinces have either rejected them or asked to wait for the outcome of the suspended Great Council of Chiefs challenge of the legality of the interim regime.
---
From Elizabeth Benz in Sydney (16 June 2008)
On Anzac Day, 25 April, my nephew Cameron Alexander Gibson died at Lautoka at the age of 45. Cameron had a good brain, was well schooled and qualified, and did a lot of good work for his community in Fiji. He will be greatly missed.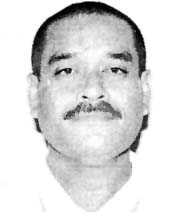 Late Cameron Alexander Gibson
From his funeral memorial booklet (funeral service held at the El-Elohey Chapel Mission Hill, Marau, Lautoka on 30 April, 2008):
Cameron was born on 9 September 1962 to Frederick and Vasiti Gibson, the 5th of seven children in Suva,

Educated at Motusa Primary School, Rotuma, Nausori Primary School, St Theresa at Ba, and Natabua High School, Lautoka.

Graduated from Auckland University with B,E, (Civil) in 1984. Worked for FEA, Kinhill Kacimaiwai, Bignozzi, before providing consulting and project management services for a large number of projects and firms throughout Fiji, including Erasito Consultants, Robert Stone NZ, Design Engineering amongst many others.

At the time of his passing away, he was consultant to Masco Engineering in Lautoka.

Survived by his adoring wife, Ulamila.

Missed by his mother, Vasiti, and his siblings and their families, and by the many, many relatives, friends and associates.
---
From Fiji Times Online (15 June 2008)
Laid back lifestyle
Arnold Payne believes Rotuma has the potential to be self reliant.
The former Australian dairy farmer now lives at Motusa Village in the district of Itu'ti'u with his Rotuman wife.
Arnold, 56, moved over from Tasmania more then two years ago and says he enjoys the laid back lifestyle on the island.
He believes the soil on Rotuma is good for farming. Arnold has a small farm behind Ahau where he plants vegetables for his family. He says there is a lot of unused land on the island suitable for farming. Arnold makes regular trips home to Australia.
---
From John Bennett in Suva (12 June 2008)
News of developments on Rotuma: The airstrip is supposed to be sealed by the end of the year; the Internet Cafe is indeed up and running at the Post Shop with the charge being F$6.00/hr.; the Bulou-Ni-Ceva should be removed from Oinafa Beach before the end of the month. Our interim Prime Minister wants Fiji to be well into alternate energy by 2012, so it's full speed ahead for Rotuma on the biofuel and wind generator projects.
Grading of the airstrip on Rotuma
---
From Fiji Times Online (10 June 2008)
Ship firm struggles to cope
A SHIPPING company is struggling to maintain normal services to islands because of increasing fuel prices.
Western Shipping Company Limited is operating its normal service to gauge the full extent of costs brought on by rising fuel prices.
However, company operations manager Captain Sailasa Ratu said they would eventually be forced to revise their schedules because the costs were too high.
Captain Ratu said once the full costs of operations would be determined, they would cut back on certain routes.
Western Shipping Company Limited owns the Bawaqa and Cagi Mai Ba that services the Yasawa Group and the Lauan Group and Rotuma, respectively.
Last month, Captain Ratu said the review could result in the reduction of shipping services by 50 per cent.
"This fuel price increase is really killing business. All the money that we make is used up to pay for fuel," he said.
"For areas like the Yasawa Group, where we provide four trips in a month, we will be looking at the possibility of cutting this service by half. But before any changes are made, there has to be a lot of consultations."

---
From Lavinia Tivaknoa in Suva (2 June 2008)
Vera and Metusela's Wedding
Families and friends gathered in Suva on Saturday 5 April to witness the marriage of Metusela Mema'ofa (son of Munue & Akanisi) to Vera Ida Chanel Andrea (daughter of Jiurie and George Andrea, granddaughter of Fagmaniue & the late Tomasi Inia). The wedding service was conducted at the New Beginnings Church of the Nazarene by none other than Vera's granduncle Pastor Tifere Inia who gave the opportunity for the couple to say their own vows expressing their love for each other.
The atmosphere was filled with warmth, harmony and love as the youth choir sang choruses and hymns throughout. To sum it up, the church service was glorious.
The reception was held at Vera's family home. The food and drink were excellent and for the entertainment there were dance items performed by Metusela's sisters and the cameraman for the day while the others made merry.
All in all, the day was just super!
Gagaj Aitu la a'alalumak omuar kaunohoag ta e tene ava.
---
---