From Rowena Langi in Tidworth, England (31 July 2008)
Bruce, Lani & baby Kia'a
On Sunday 13th July, we celebrated the christening of Kia'a Rotuma Graham Tizard-Varcoe at the Trinity United Reformed & Methodist Church, Sutton, Surrey. Kia'a is the first born to Bruce & Leilani, ma'kiga to Loraine & Richard and Fekau Irava & Marie Fatiaki (Rotuma/Fiji). Following the christening, friends and family gathered at Aunty Loraine and Uncle Richard's place in Belmont for a bbq feast.

The weather prior to the christening day was overcast & showery but we were blessed with sunshine and a gorgeous sundown, which has a lot of meaning to Kia'a's name.

Kia'a is truly showing that he may follow in his sigoa Graham's footsteps as he makes incredible development in the weight division ... an international rugger!
---
From Andrew Tinker, Director, Workboats Fiji, in Suva (29 July 2008)
Update on progress to date of the Bulou ni Ceva
The crew left at 2am for Rotuma on the Westerland. They arrived on Monday afternoon and finished unloading at 2am Tuesday morning. The vessel is in same state it was in when left.
Dives around the vessel fixed up the patches and ply covers over the portholes and doors. The front chain locker is empty of water as is the steering compartment. The engine room is half full of water below the outside level. The cargo hold is at the same level as outside as a result of water coming over the hatch cover.
The double plate in the floor of the crew's quarters in the bow of the ship was off; it was patched with plywood, sponge and timber. The crew will repair the cargo hatch cover with special made ply plates to prepare for pumping. The crew will attempt to pump the front area of the vessel tomorrow; the back part of the vessel has been blocked off.
The back part of the vessel is okay for floating. It was floating last time we were there and the vessel has moved towards the shore. Once the front is lifted the boys will maintain the vessel until Peter Malycha arrives on a charter flight. We have booked our Salvage Master Peter Malycha on a charter flight on Monday, 4 August at 10.30am to finalize the last stage of floating and then sinking the Bulou ni Ceva.
I understand that the IloIlovatu is going to Rotuma next week but it has not been confirmed.
---
From FijiVillage (29 July 2008)
Schools Resume Classes
Schools in Rotuma that were closed due to water problems have resumed classes as of yesterday.
In a statement, the interim Education Minister Filipe Bole said approval to reopen schools was granted after talks with the health officials.
Bole said head teachers, principals and management should ensure that students are provided with clean drinking water. He has urged teachers to ensure that the lost studying hours are recovered before the examinations.
Meanwhile, Health Ministry Media Officer, Vasiti Ritova said the health officers had to put in some measures and the health ministry, PWD and Education Ministry worked together to rectify the problem.
She has reiterated that all drinking water must be boiled before drinking.
---
From Fiji Broadcasting Corporation (29 July 2008)
Rotuma School reopens
It'll be a six-day week for students in Rotuma between now and upcoming exams - as they make up for the three weeks that the island's schools have been closed.
Rotuma Island Council chairman Tertarani Rigamoto says students and teachers will be using Saturdays as well for studies, following an announcement by government that the islands five schools re-opened yesterday.
Rotuma has a secondary school and four primary schools all of which were closed because of water supply problems caused by a shortage of fuel.
Speaking from Rotuma this morning Rigamoto says the fuel shortage was caused by poor shipping services.
Interim Minister for Education Filipe Bole says the approval to re-open the schools was given after consultations with the Ministry of Health.
Bole has reminded heads of schools and managements to ensure children are provided with clean drinking water.
---
From Fiji Broadcasting Corporation (28 July 2008)
Council in the dark
Rotuma Island Council Chairman Tertarani Rigamoto says the council is still waiting the removal of the Bulou ni Ceva from the island.
Rigamoto told Radio Fiji News this morning that Interim Prime Minister Commodore Voreqe Bainimarama had told the Council during his visit to the island the Government will be working on removing the boat.
Ministry of Works Officials that visited the island last month on the government vessel Dausoko had told the Council the boat Sealink was to arrive on the island between the 16th and 18th of this month to tow the Bulou ni Ceva away.
Rigamoto said till today there is no sign of the Sealink and the council has yet to be updated on any developments on the removal of the Bulou ni Ceva.
He says the people of Rotuma want the Bulou ni Ceva removed from the island as soon as possible.
---
From Amoe Filipe in Suva (27 July 2008)
Telecom Fiji has plans to introduce Easytel telephones to Rotuma by the end of August. Easytel is a wireless technology and new facilities like messaging and caller ID will be introduced. Land acquisition has been completed and four sites have been identified at Mt Satarua, Mt Fauta, Mt Paho and Ahau government station. Telecom Fiji had to charter MV Westerland after Cagi mai Ba could not service Rotuma because of defects. MV Westerland left Suva yesterday night and is scheduled to reach Rotuma on Monday carrying equipment and contractors for the project.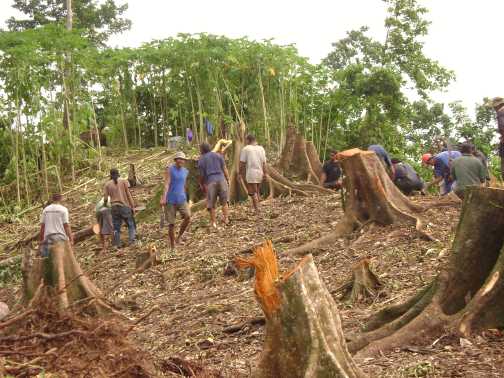 Noatau group clearing site for base station at Mt Satarua. Each base station will work independently off each other using satellite links back to the Yaqara Earth Station in Fiji. Therefore Rotuma will have four links backhauled by satellite to Fiji.
---
From Rowina Haukoulua in Pago Pago (22 July 2008)
Noa'ia 'e mauri
Here in Pago Pago, American Samoa, we have a small group of Rotumans. We are so happy and proud to meet the Rotuman group that came with the Fiji delegation for the10th Pacific Arts Festival to represent Rotuma. There are some other Rotumans individually selected from various categories in this delegation. Kafoa Pene is leading this Rotuman group.
On Saturday, 19 July 2008, the Fiji community here in American Samoa hosted a welcome ceremony (sevu sevu) for the Fiji delegation. We performed a tautoag fa to entertain the crowd and it was a first time experience for most of our young boys. Our performance ended with a Samoan song where everyone was invited to join in. Our Rotuman group from Fiji performed as well.
The Festival was officially opened on Monday 21 July 2008 with a presentation of gifts from all participating.
Fiji's delegation presented a tanoa from the Fijians and a tofua from the Rotumans, which was taken by Mar'ana.

The Rotuman delegates gave their first performance on Friday night, 25 July at the stadium. Kafoa Pene gave a brief introduction about Rotuma before they performed.

Their second performance was on Saturday, 26 July at 6:00pm, again at the stadium. That night the Fiji delegation hosted a dinner at the Tradewinds Hotel.

Monday night, 28 July was their third performance, this time at the pavilion, and on Tuesday, 29 July at midday they gave their fourth and final performance, at the Shoreside Stage in Utulei.

The official closing ceremony for the festival was on Wednesday, 30 July at 5pm.
The delegation flew back to Fiji on Friday morning, 1 August. On Thursday evening we prepared a koua and had a farewell dinner together with all our Rotuman delegates. We also celebrated birthdays for three young members of the delegation, Hezron 13, Rowena 19 and Daniel 21.
A hafa, tautoag fa, siva samoa & fara were performed. It was a fun and emotional night. The celebration ended with a prayer by Rotuman group leader Kafoa Pene.

We Rotumans here in Pago Pago are very proud of what these Rotuman delegates presented during this festival, and we would like to say
Fai'aksea 'e mak keleag lelei ma hanisi se Rotuma. Tape'ma se os hensosiag rotuam ne leum 'e maj tutu ne festival te'is. Aus noa'ia 'e maka ma garue lelei.
---
From FijiVillage (10 July 2008)
Tuvalu explores trade links with Rotuma
A government delegation from Tuvalu will travel to Rotuma in Fiji to explore trade links from the island to Tuvalu.
A total of six officials led by the Tuvalu Minister of Communication, Transport and Tourism, Taukelina Finikaso will be leaving this week for Rotuma, located north of Fiji, to assess the range of possible exportable crops, formalise trade routes and consider quarantine risks when trade starts.
Trade talks between Tuvalu and Rotuma began early last year and progressed to a fact finding visit by a delegation from Fiji to Tuvalu early this year.
Amongst the Fiji delegations were representatives from the Rotuma Island council and the visit has been facilitated and sponsored by the Secretariat of the Pacific Community (SPC) through their Land Resources Division.
SPC Land Resources Division was invited on board to provide technical assistance to Fiji Quarantine Service on bio-security arrangements and to draw up a market access plan and to conduct relevant import risk analysis technical requirements necessary to initiate trade between two trading partners.
The Rotuma Island Council showed keen interest to export its abundant staple crops and fresh produce, and exporting to Tuvalu was appealing because of the short distance to a viable market.
Distance from markets and lack of good transport infrastructure are two main disincentives to commercial farming in Rotuma, where food crops are abundant and the island population declining because of a lack of opportunity.
Rotuma is only eight hours boat ride to the southern most island of the Tuvalu group of islands.
Traveling by boat from Suva to Rotuma would take almost 2-days and a weekly flight is intermittent and unreliable.
Growing conditions for food crops are not favourable on Tuvalu, an atoll with acidic soils and deficient in nutrients and presently imports frozen staple root crops at much expense.
Possible targeted items for trade include staples taro, banana and cassava and fresh vegetables.
Rotuma is relatively free of taro beetle.
Tuvalu spends a significant amount of foreign exchange on food imports mainly from Fiji or via Fiji.
The Tuvalu delegation on the trade mission is being assisted by SPC Land Resources Division.
Once trading begins Rotuma will then become an international port.
---
From Fiji Times Online (8 July 2008)
Medics on island stint
by Dr Mark Rudel
It was about midday when we saw land on the horizon after seeing nothing other than the vast ocean for two days.
We were getting very excited as most of us had never been to Rotuma, our destination, where we were planning to stay for the next 10 days to screen the island's population for eye problems and to perform free eye surgery.
A happy cataract patient with eye surgeon Dr Rudel and the team in Rotuma
Rotuma is about 400 miles north west of Fiji and is the most isolated island of the Fiji group.
The island is part of Fiji, since being ceded to Britain in 1881.
Due to its relative isolation it has developed a population and culture which is very distinctive and unlike any other South Pacific island.
It is only nine miles long and three miles wide, and can be easily circumnavigated in around an hour on its white sandy road. There are about 2000 people living at the moment on Rotuma.
Our marine vessel Pacific Link from the NGO Marinereach was going to be home for the 45 volunteers from all over the world and many of them were assisting in the eye project.
The volunteers came from as far as Australia, New Zealand, the United States of America and Denmark.
The ship, from New Zealand, has its own theatre on board which is fully furnished with all the latest equipment to perform modern phaco cataract surgery.
In modern cataract surgery the cloudy part of the lens is removed with ultrasound through a tiny incision (less than three mm long) and then a foldable lens implant is inserted.
There is normally no need for sutures and recovery time is very fast.
The patient normally feels no pain after surgery and can perform normal activities within a few days.
On Rotuma the team, which included the support and help of the friendly hospital staff from Rotuma, screened the eyes of 660 people. 390 pair of glasses was donated and close to 40 eye surgeries were successfully performed on board the Pacific Link.
The team was glad to be assisted by staff nurse Marieta, also a volunteer from the Suva Private Hospital, during our stay on Rotuma.
Being from Rotuma, Marieta also introduced the team and me to the exceptionally friendly and genuine culture of this magnificent island.
Members of the team had volunteered their service.
- Dr Rudel and his team were on Rotuma last month.
Dr Rudel who was the volunteer eye surgeon, successfully performed 40 eye surgeries on board the Pacific Link.
---
From Radio New Zealand International (8 July 2008)
Growing trade links between Fiji and Tuvalu
A new bilateral trade agreement between Fiji and Tuvalu could be fully operational by the end of the year.
A state delegation from Tuvalu is in Rotuma, Fiji, on a fact-finding visit following the initiation of talks over trade links by the Rotuma council of chiefs earlier this year.
Rotuma was declared an international port of entry and exit in May.
Tuvalu's permanent secretary for Communications, Transport and Tourism Tapugao Falefou says they will assess Rotuma's ability to provide a consistent supply of crops.
He says they understand the need for infrastructural development and the provision of human resources before Rotuma can be fully recognised as an international port of call.
Biosecurity is another concern.
"We don't want to establish a shipping link, agree to start trading between Rotuma and Tuvalu and yet this security, food security hasn't been addressed properly so that's another issue that we would like to make sure we address before we go ahead with our trading."
The Secretariat of the Pacific Community's Land Resources Department is facilitating the process.
---
From Radio Fiji (7 July 2008)
Rotuma and Tuvalu to discuss trade
A Tuvalu government delegation will arrive in Rotuma today to discuss trade between the two islands.
The delegation is led by Tuvalu's High Commissioner Tine Luelu.
Rotuma Island Council chairman Tertarani Rigamoto says the efforts to boost trade with Tuvalu will help the people of Rotuma.
Rigamoto says the deal will encourage Rotumans who have left the island - to return and help meet the quota of exports to Tuvalu.
The deal covers trade in dalo and coconuts.
---
From Fijivillage (6 July 2008)
Rotuma Supports New GCC/Charter
The Rotuma Council has given its full support to the new regulations of the Great Council of Chiefs and also the process of the People's Charter in moving the country forward.
This was confirmed by the Fijian Affairs Secretariat after presentations made by the GCC Taskforce and officials from the NCBBF in Rotuma last week.
Fijian Affairs Spokesperson, Kini Rarubi also confirmed that from the six districts in Rotuma, three nominees were appointed to represent Rotuma on the GCC.
The delegation returns from Rotuma tomorrow.
---
From John Taito in Navua (1 July 2008)
Navua Rotuman Farmers Annual Food Show - 2008
Background
The Navua Rotuman Farmers Foodshow first began in 2002. The objective of the foodshow was to:
• ensure unity amongst the Rotuman Community
• allow the farmer to showcase their crops & skills
• share ideas and knowhow on the best ways to utilize their land
• provide a true spirit of competition against each other
The competition is amongst the individual farmers who must be of Rotuman descent or married to a Rotuman residing within the Navua area. The farmers compete individually and by ho'aga. The ho'aga is determined according to the location of the farmers within the Navua Area as follows:
• Nasasa
• Viwawa
• Rovadrau
• Navua
Foodshow Competition 2008 was held on Saturday, 14 June at Mary & Wesley Konrote's residence.
Competitors 2008
Nasasa Hoaga – Lili Somone
Viwawa Hoaga – Jione Kaitu'u & Tausia Amoe
Rovadrau Hoaga – Freddy Wesley & Jioje Aisea
Navua Hoaga – Sam George & George Fonmoa
The Fiji Group experienced heavy rain during the week up to the morning of competition day. The many prayers for a fine day were answered with brilliant weather for most of the day with light showers in the afternoon after the competitors had retired to the tent to await the results of a year's hard work.
The program commenced at 8:30 am upon the arrival of the chief guest, Mr. Kafoa Muaror and his family (Mrs. Akanisi Muaror - wife, children, mother - Mrs. Mue Muaror and cousin - Mr. Aisake). The chief guest's family and elders present were garlanded followed by the devotion by Mr. Kaitu'u Solval. He reminded the competitors to keep up the good work of toiling whatever land they had, not only to provide for their daily family consumption but also to compete in good spirit annually against each other. The elder reminded everyone that although the country experienced Cyclone Gene earlier in the year this did not dampen spirits as evident in the food crops that were showcased by the farmers.
After the devotion, the Chairman of the Farmers Association, Mr. Freddy Wesley, welcomed and thanked the chief guest's family for accepting the invitation extended to them during trying times and briefed them on the objectives of the annual foodshow. The emcee (Mr. Fauoro Manueli) then handed over the floor to Mrs. Mue Muaror who after a short speech in which she conveyed the chief guest's apology as he was overseas; hence his representation by the family. She dwelled on the importance of utilising available land and the hard work that Rotuman Men are known for before declaring Food-Show 2008 open. Mr. Muaror Junior, with a helping hand from his mother, Mrs. Akanisi Muaror, handed an envelope containing $1,000.00 to the Chairman. The emcee then requested all the competitors to stand by their crops as the chief guest's family was shown around to meet the competitors (by their crops) who were already challenging each other. Judge for the day was Mr. Metuisela with Mr. Wesley Konrote & Mr. Mala Kaitu'u at the scale and Ms. Mary Kaitu'u and her hard working team as scorers. Mr. John Taito also assisted with emcee duties.
The competition proper commenced at 9:00 a.m. Invited guests, friends and relatives from all walks of life were there to cheer the competitors as the crops were weighed and measured for weight & length. Rev M. Muaror, who has been a regular guest every year, was also present in this years food-show. Morning tea was served at 10.00am to everyone with lunch at 12: 30 p.m (lovo - buffet style) which was enjoyed by all. By noon, the competition was not only amongst the fathers but ho'aga members and the little ones also as they sized each other with their group's taro's, yams & temafa. The last item was weighed at 3:00 p.m and the hard-working scorers were quick to provide the assistant emcee with the points summary for the taros, yams, temafa, ho'aga and overall champion. A good island spirit prevailed as each announcement was received with loud applause from the crowd.
The following competitors won:
Tausie Amoe - heaviest yam 2008 (Bougainville)
Jioje Aisea - longest taro 2008 (Navua)
Freddy Wesley & Lili Somone - champions temafa 2008 (Draw)
Jioje Fonmoa – champion taro 2008
Freddy Wesley – champion yams 2008 & overall champion 2008 (3rd year)
Viwawa Group – champion ho'aga 2008

Overall champion 2006, 2007, and 2008 Mr Freddy Wesley of Lopta
Rev Muaror delivered a prayer remembering the day before he departed for Davuilevu.
Speeches by:
Mrs. Mue Muaror – thanked the competitors and the Rotuman Community in Navua for a successful function.
Mr. Sam George on behalf of the Chairman and fellow competitors thanked the chief guests, friends and family members for making the event a success. Mr. George also thanked Mr. Apao Erone & family, Mr. Malakai Kaitu'u & family and to all those whose names were not mentioned but have contributed financially to the food show. In his conclusion Mr. George, on behalf of the Navua ho'aga, offered a challenge to the current overall champion and fellow competitors for next year's competition.
The prayer at the end of the food show was conducted by Pastor Nataniela Kamilo of Pacific Harbour Wesley Church and a former competitor from the Nasasa ho'aga.
At 4:30 the assistant emcee gathered the little boys & youths for the "end of game" cheers.
Dinner was served with the menfolks now onto phase two -- 'i'om kao ma sua maka' into the night as everyone slowly dispersed.
A thanksgiving church service was held the following afternoon, Sunday 15 June 2008 at 5.00 p.m at the competition venue (Konrote residence) in which all the competitors took part (personal testimonies).
Monday, 16 June was Queen's birthday (a public holiday) with the Rotuman community gathering again for the farmers' review of the year & the competition program followed by a lovo lunch and lots of entertainment and refreshments for all.
Mr. Freddy Wesley was again unanimously elected as Chairman with Mr. Jione Kaitu'u as assistant.
Family members and friends wishing to donate to our Foodshow 2009 may contact: Mr.Freddy Wesley: freddyw@wg.com.fj
Ms. Mary Kaitu'u on: MKaitu@colonialfiji.com.fj
Hanisiof se te' ne aus otomis kainag ne noh e Rotuma, Fiti ma te ne 'ut tutu ne ren te -- omus hunsiosig rotuam ne noh e Navua, Fiti.
---