From John Bennett in Suva (28 September 2008)
The Status of Transportation to Rotuma
The Tabusoro has further delayed its trip to Rotuma even though it has begun loading. It may not depart until the end of the week or early next. Among other things there is building material to erect a temporary hospital facility while they tear down the old hospital and in its place build a new two-story building. This is a real pity as Safu Manueli, who was previously the resident doctor on Rotuma, pushed vigorously to have the old hospital preserved. There is so much history in the structure with hundreds of Rotumans having been born there and many who spent there last days there. Architecturally it reflects early colonial architecture and still has a lot of life left in it. Several years ago the Rotary Club from Fiji and Australia raised $30,000 and actively participated in renovating the structure so it is in reasonable condition.  
Cagi-Mai-Ba is still in need of carrying out engine repairs and is awaiting parts from overseas. It is unlikely to depart for Rotuma until later next week.
The barge intending to go to Rotuma to pick up excavation equipment for the Digicel project may not leave for another week due to the rainy weather on Rotuma which has hampered progress on establishing an access road.
Air Fiji remains overbooked and they don't put on extra flights to accommodate the passengers so the backlog of people wishing to travel back and forth is exacerbated.
Water supply at the moment is intermittent due to inadequate fuel supply. Fuel earmarked for the water pumps gets misappropriated, and the Water Supply Dept. has a limited budget.
Shop food is beginning to run out again. Hopefully this will encourage people to plant more.
Bligh Water Shipping is intending to send their vessel Westerland to Rotuma, leaving Lautoka on Friday. It's a 30 hour trip from there. This boat usually does the Lautoka - Savusavu run but is being chartered by Easy Tel, I believe, to take up and return some equipment. They want the Rotuma franchaise to do regular runs.
The attached photo is the Nivaga II, which visited Rotuma earlier in the year to formalise export of Rotuman root crops and fruit to Tuvalu. It was to have started regular trips to Rotuma from October but to my knowledge there hasn't been any genuine follow-up in Rotuma.
---
From Fiji Times Online (27 September 2008)
Telecom Fiji Ltd. (TFL) has expanded its CDMA (Code Division Multiple Access) Network to Rotuma, linking it with the rest of Fiji. Plans are underway within TFL to release the EasyTel range of services to Rotuma where customers can enjoy such conveniences as SMS (Short Message Service, that is, text messaging), Telephone Calls both locally and abroad, and Internet Access.
Call rates are the same as calling Suva to Lautoka or Suva to Labasa. Earlier this year, TFL in conjunction with Connect and Post Fiji, opened an Internet Cafe in Rotuma, allowing people to browse the Internet at high speeds.
This week the EasyTel Handi went on sale for F$49, with an added bonus of F$60 talk time with each purchase.
---
From Alan & Jan in Honolulu (27 September 2008)
We were fortunate to be in Fiji last week to attend two memorable events, one at the University of the South Pacific (USP) in Suva, the other on the western side of Viti Levu.
Makareta Mua's presentation
Makereta Mua during presentation
On Tuesday, 16 September, we attended a formal presentation at USP by Makereta Mua, concerning her research into the descendants of Rotuman migrants to the Torres Strait islands in the late nineteenth century. Makereta described her experiences meeting part-Rotuman Torres Strait (PRTS) Islanders for the first time and the enthusiastic welcome she received there. She played videos of a Torres Strait dance called "taibobo" that was introduced by the Rotuman pearl divers. It was fascinating to see how much the Rotuman dance movements have been preserved, and how Rotuman-sounding the singing is. The Torres Strait Islanders sing these songs without understanding the lyrics, and although the sounds have changed somewhat, Elisapeti Inia, along with other Rotuman elders, was able to reconstruct the Rotuman lyrics to some of the songs.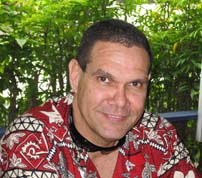 Danny Morseu
Three PRTS Islanders came to the presentation from Australia, including Danny Morseu, his sister Noritta Morseu-Diop, and their uncle Thomas Sevasio. Danny works as business manager for the Indigenous Services Branch of the Australian Government and is based in Canberra. He was a nationally prominent athlete in rugby and basketball, and played for the Australian national basketball team at the 1980 Summer Olympics in Moscow, where Australia finished 8th, and at the 1984 Summer Olympics in Los Angeles, where Australia finished 7th, their best Olympic result to that date. He was the first Torres Strait Islander to represent Australia at the Olympic Games, and also played twelve world cup matches for Australia. Danny was inducted into the NBL Hall of Fame in 2002, the first indigenous basketballer so honoured, and was inducted into the Victoria University Sport Hall of Fame in 2007. See online biography of Danny Morseu.
Danny gave a brief talk at Makereta's presentation, telling how moved the PRTS Islanders were to have Makereta visit and help them reconnect to their Rotuman roots. Danny was introduced by Dr. Robin Mitchell, who had met him earlier in the context of international sporting events.
Noritta Morseu-Diop
Danny's sister Noritta is no less impressive. She is an Indigenous Therapist and Cross-cultural Educator based in Redland Bay, Queensland. As a social worker and researcher, she has been doing research into the mental health status of indigenous people in prison in Queensland. Noritta is a PhD candidate at the School of Social Work & Applied Human Sciences, University of Queensland in Brisbane. She has been an articulate spokeswoman for indigenous causes internationally and throughout Australia.
Danny, Noritta, and Thomas sang a song from the Torres Strait, and at the end Danny led an action song for the audience to join.
Thomas Sevasio
We might note that Makereta's contributions go well beyond her thesis, which is titled "Saunoan Ka 'Eagke Maoan (Forgotten but not Lost): Rotuman Migration to the Torres Strait." She not only personally established a connection between the PRTS Islanders and their Rotuman kin, she has also traced particular genealogical connections between the two, enabling both sides to locate their contemporary relatives. The reunions have been heartwarming and have brought much happiness all around. Several PRTS Islanders have now visited Rotuma and their relatives in Fiji, and more visits are planned.
Danny, Thomas and Noritta singing a Torres Strait Island song
Makereta is to be congratulated not only for her outstanding research project and a fine thesis, but also for all that she has done to bring people together.
We had the additional privilege of attending a lunch hosted by Makareta's father, Dr. Tukaha Mua, at the Old Mill Cottage in Suva, which was attended by Danny, Noritta, and Thomas. Later in the afternoon Makereta took the three of them to visit Elisapeti at daughter Betty's home. There was an immediate bonding between Elisapeti and the three PRTS Islanders. We spent three days with Betty and her husband, Isimeli, which gave us a great opportunity to spend time with Elisapeti as well.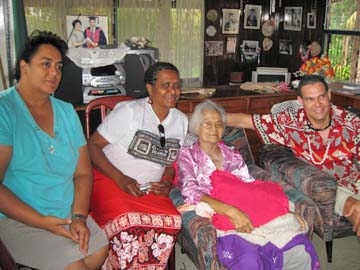 Makereta, Noritta and Danny with Elisapeti Inia
The Wedding
On Friday we flew to Nadi to attend the wedding of Hifa Flexman, son of Rejieli and Shane Flexman, and Melissa Lindsay, which was held in the magnificent Narewa Village Church on Saturday, 20 September. Rev. Emotama Pene performed the ceremony. The reception was held in the grand ballroom at the Westin hotel on Denarau Island. It was a lovely event, with plentiful delicious food and great music, supplied by "The Sisters" band (the musicians are mostly from Tuakoi in Rotuma). Dancing went on until midnight.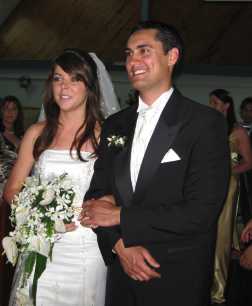 The bride and groom
The next day we were invited to amaha (breakfast) at Rejieli's sister Ramisese's home in Nadi. It was good to see Dr. Faga Panapasa and his wife, Saverina (grandparents of the groom), who are on an extended visit to Fiji from their home in Lopta. Semesi David, Sapenafa Fonmon, and many others from the groom's side came from Australia for the event.
We also had an opportunity to spend some time with Melissa's parents, Tom and Janet Lindsay. Tom owns the Simple Simon PieMaking Equipment Company in Sydney, where Hifa works. The company has won many local and national awards for excellence. Members of the bride's family came from as far away as New York and Los Angeles to complement the contingent from Australia.
We are grateful to the Flexmans for the invitation to the wedding and for their gracious and generous hospitality. It was truly a memorable occasion for us.
---
From Rina Antonio-Jang in Suva (22 September 2008)
The University of the South Pacific's Laucala Campus Graduation Ceremony
The University of the South Pacific had its second Laucala campus graduation ceremony on 12 September 2008 at the Vodafone Arena; it coincided with the 40th anniversary celebrations of USP.
Parents, families, friends, well wishers, students and alumni joined the celebration to make it a memorable, enjoyable and successful one. Kafoa Pene, who was one of the first graduates of 1971, was also part of the celebration.
Pasirio Furivai, Edwin Aisake, Rosarina Rafai, Adi Tui Marseu, Janetta Sokra'a Archary and Rina Antonio-Jang were among the 767 graduates.
Awards were as follows:
Edwin Aisake - Masters in Business Administration
Pasirio Furivai and Rosarina Rafai - Masters in Education
Makereta Mua - Masters of Arts in Sociology
Adi Tui Marseu - Bachelor of Arts degree in Journalism and Literature/Language
Janetta Sokraa Archary - Bachelor of Arts degree in Official Statistics and Economics
Rina Antonio-Jang - Postgraduate Diploma in Management and Public Administration
The graduates would like to personally thank their families and friends for their support and encouragement during the years of their studies. May god bless you all!
---
From Fiji Times Online (19 September 2008)
Fight over island rights
DOCTOR John Fatiaki says he and Major General Joji Konrote are still mandated to speak on behalf of the Rotuman people unless the Prime Minister's Office states otherwise.
Dr Fatiaki and Mr Konrote were the subject of a letter written by the Council of Rotuma chairman Tarterani Rigamoto to interim Prime Minister Commodore Voreqe Bainimarama regarding recent comments by Mr Konrote regarding electoral reforms.
Children listening to an elder on the island of Rotuma. There has been a lot of debate over talk rights on behalf of the people of the island
In his letter, dated September 5, Mr Rigamoto writes said both Dr Fatiaki and Mr Konrote were never given the mandate by the council to make public comments regarding the draft People's Charter.
He said the council's views on the charter were relayed to Ratu Josateki Nawalowalo and his team, who visited Rotuma on July 2. Mr Rigamoto expressed the gratitude of the people of Rotuma regarding development undertaken by the interim Government as the island had been often neglected.
He apologized to Commodore Bainimarama for what he terms are 'media outbursts by two politically motivated individuals'.
But Dr Fatiaki said he and Mr Konrote were appointed to act on behalf of the council. The letter is dated February 2007 and signed by the PM's permanent secretary Parmesh Chand. "That letter has not been rescinded to my knowledge," said Dr Fatiaki.
He said Mr Konrote had been invited to make a submission on the proposed electoral reforms to the charter team visiting Rotuma.
---
From Fiji Times Online (18 September 2008)
Airline moves on routes
by Amelia Vunileba
PACIFIC Sun, the domestic arm of Air Pacific, has applied for a licence to operate more domestic routes.
A notice of application by the airline was advertised in yesterday's edition of The Fiji Times.
The Air Transport Licensing Board said the Board would meet when the 21-day objection period lapsed.
Pacific Sun lodged its application with the Board on Monday.
Pacific Sun general manager Manoa Kamicakamica said the operational costs would be determined by each route based on the distance and time taken to run the service.
"As we are operating into Suva already, the only added costs would be the airport handling and landing fees at the various ports applied for," he said.
Mr Kamikamica said he expected the Licensing Board to take a month or two to process the airline's application.
He did not wish to speculate on the prices for the eight routes.
The eight routes the airline is bidding for include Suva-Savusavu, Suva-Kadavu and these are to be begin immediately should the licence be approved.
These two routes will have daily services.
The other six routes are Suva-Levuka, Nadi-Levuka, Suva-Vanuabalavu, Nadi-Vanuabalavu, Suva-Rotuma and Nadi-Rotuma.
The Levuka trips are also on a daily basis, the trips to Vanuabalavu thrice weekly and Rotuma trips are twice weekly.
These routes will take three to six months to set up upon approval by the Board.
The application comes as Air Fiji Ltd workers vote for strike action in support of claims for better working conditions.
Air Fiji chief executive Sialeni Vuetaki said 72 per cent of the 86 workers took part in a secret ballot and voted in favour of strike action.
---
From Fijilive (5 September 2008)
New system 'will marginalise' Rotumans

People on the tiny Polynesian island of Rotuma will be marginalised if Fiji adopts a new voting system proposed by the interim Government, says a political scientist.
The interim Government wants the country to do away with the current race-based voting system and take on the Open Listing system before the next elections.
This would mean that Rotuma would lose the single seat reserved for its people in the 71-member Lower House of Representatives.
University of the South Pacific-based Dr Alumita Durutalo said the Government should note that the Polynesian island is a Fiji protectorate.
"Rotuma has a special place in Fiji and we have to act as guardians in this matter."
Dr Durutalo said Rotumans must be feeling insecure at the prospect of their communal seat being converted to an open seat.
"There is an apparent fear of exploitation as the person chosen to represent Rotuma may not be familiar with the way things happen on the island," she said.
"Converting to open seats poses the risk that popularity could decide who gets the seat as it happens in the USA.
"The change from communal to open seats has to be gradual. Any sudden change of such a magnitude will have an impact on anybody."
A prominent member of the Rotuman community has written to the interim Prime Minister Commodore Voreqe Bainimarama expressing their concerns on the electoral system proposed in the draft People's Charter.
Rotumans have suggested that they be given special consideration and that they get to keep their seat in the new Parliament.
Dr Durutalo has cautioned that if the Rotumans were to be reserved a Parliament seat it would spark an outcry from provinces or minority communities who may want special recognition as well.
A co-architect of the Fiji's current Constitution, Dr Brij Lal, says Rotuma's bid is "flawed'.
Echoing Dr Durutalo's warning, Dr Lal asks: "where does one draw the line".
The interim PM has yet to respond to questions he asked to be sent to his office.
---
From Fiji Daily Post Website (5 September 2008)
The minorities lose [an editorial]

EARLIER in the year, the far flung island of Rotuma proudly celebrated its declaration as one of Fiji's port of entry.
Many of the leaders on the island saw it as a milestone in the country's 120-plus years of association with Fiji and heaped praise on the interim Government.
The interim Government was on the island to promise Rotumans that apart from the port of entry initiative, they would not be abandoned.
The islanders responded in typical Rotuman fashion with merrymaking and feasting as a glimmer of hope for a bright future swept like a tropical storm from some 460 kilometres south.
Months later and the implications of the interim Government's Peoples Charter for Change and building a better Fiji is beginning to dawn on our northern cousins.
The proposed electoral system under the draft Peoples Charter for Change is causing a lot of unease with the Rotumans and already the very same leaders who welcomed the interim Government with open arms are now worried.
The charter's proposal to rid Fiji of so-called communal politics by abolishing communal voting has the Rotumans worried.
The new arrangements mean Rotuma will no longer have its guaranteed representation in Parliament.
This is because by some statistical and mathematical juggling, such an insignificant number of islanders lose out on direct representation.
The communal voting system was introduced after much debate and compromise amongst Fiji's competing ethnic interests.
And through the years many have blamed our ethnic-based voting system as divisive and politically destructive, with references to the country's coup culture that began under Sitiveni Rabuka in 1987.
While trying to accommodate the interest of the major ethnic groups and minorities, some say our voting system has creating this major unintended consequence.
However, there is another, but a more positive unintended consequence that hardly gets the attention of political opinion makers and the anti-communal voting lobbyist.
Our communal voting system has given Fiji's minorities communities guaranteed representation and avoid being politically annihilated by the two major races.
The new proposal now threatens the Rotumans and the General Voters from losing out their guaranteed seats in Parliament.
The sentiments of former Rotuma Member of Parliament and decorated soldier, Joji Konrote, reflect a sense of loss.
In his plea to interim Prime Minister Frank Bainimaram, Konrote alludes to "a very sad and unfortunate chapter in our short history as a developing democratic nation, particularly for a minority ethnic community like ours..."
The removal of the communal voting system appears to be one of the National Council for Building a Better Fiji's major proposals in its attempt to address ethnopolitics and the coup culture.
A European Union observer during the 2006 General Election commented "you Fiji citizens are among the luckiest in the world because you have two votes."
He was true. We are among the luckiest democratised citizens having two direct representatives in the parliament.
But that honour is most likely to be lost as the planners of a "better Fiji" deem it necessary to fiddle with the numbers and get rid of our communal voting system.
For our Rotuman brothers and sisters, the party appears to be coming to an end.
---
From Sylvia Mitchell Rigamoto (3 September 2008)
Dr Robin Mitchell, son of Dr Iane and Sylvia Mitchell, was at the Beijing Olympics with his wife Dr Rosemary Mitchell, daughter Johanna and her partner David Philip, and grandchildren Tiarana and Macarlo. Attending the Olympics on behalf of the International Olympic Committee, the family had a great time sharing in the spirit of the Olympics and the great hospitality of the people of Beijing. They are now looking forward to the London Olympics in 2012.
---
From John Bennett in Rotuma (2 September 2008)
Cagi-Mai-Ba arrives today from Suva, its first trip to Rotuma since May. She has been waylaid due to a protracted annual marine survey. She should return to Suva this evening. It is not taking copra as Punjas is overstocked with copra at the moment, probably due to the high value (F$850/MT) of copra now. This means a quick turn around for the boat here.

Bulou-Ni-Ceva now resides in Davey Jones Locker, 1.8KM off Hua at Lopta in 30 metres of water. As well as being an accessible dive site a F.A.D. (fish aggregation device) was attached to her before she sank so hopefully this will aggregate pelagic fish in the area such as yellow fin and skipjack, for local fisherman. This project could not have been performed without the efforts of Dr. John Fatiaki and George Konrote working behind the scenes to coordinate the undertaking. Dr. Fatiaki also provided his gamefishing launch Lady Saele to tow the vessel out to sea. Without this contribution the exercise could not have been completed with such success.

East Tel continues to work on their towers to provide an alternative communications service to Rotuma in future. Digicel is also setting up a communications system on Mt. Solele, which is part of the crater lip of Kugoi. A barge with their equipment departs for Rotuma this afternoon from Walu Bay. They hope to have their system up and running by November.
| | |
| --- | --- |
| | |
| Bulou-ni-Ceva before being sunk at sea | On way to Davy Jone's Locker |
Photos courtesy of Andrew Tinker
---