From Akata Hodgkinson in New Mexico (26 December 2008)
Letter to the Editor of the Fiji Times:

My name is Akata and I am from Rotuma and now live in the United States. I own Grass Shack Boutique (AkatasGrassShack.com) and sell hundreds of items exclusively from Fiji. One of my largest selling products is Fiji Kava. Now with the ban on kava being exported from Fiji, my business is suffering greatly. Also with the huge unemployment and critically depressed economy under the interim government, I have difficultly obtaining all sorts of items from Fiji - espcially handicraft products. This isn't only hurting my business, but is has a dire effect on the livelihood of many Fijian people who normally find employment through all sorts of manufacturing and jobs in retail. Isa lei Fiji!
---
From Mai Life Online (24 December 2008)
Rotuma - Paradise in isolation
THEY say getting to Rotuma is hard.
Getting to the island takes a minimum of two-days by boat or an hour and 45 minutes by plane. This is on the MV Westerland.
Some trips have been known to take more than three days. And the boat ride is not a merry affair. Remember Rotuma is over 460 km away from Viti Levu and getting there means traversing across the open ocean where 10 foot waves are a normal sight...
---
From Fiji Times Online (19 December 2008)
Data mission for disabled
By Unaisi Ratubalavu

A NINE-member team from the Fiji National Council for Disabled Persons will compile statistical data next year on people with disabilities.
The team will be led by project officer Sainimili Tawake.
Its first assignment is to visit Rotuma and other islands in January.
"We have six months to carry out this mammoth exercise and hopefully finish off by June next year," Ms Tawake said.
"We are going to collect, collate and analyse all the information in regards to people with disabilities in Fiji and Rotuma."
This is the first time the council is compiling data and conducting a census of disabled people.
The team will also focus on women and girls - their condition and status and accessibility to paid jobs, health services and legal assistance.
Although the project is called "Making Women with Disabilities Visible", the work will cover all people with disabilities.
Donor agencies and the interim Government have provided $89,356 for the project. UNIFEM donated US$5000 for counselling.
The project was launched this week by Australian High Commissioner James Batley who said the research would bring facts to the attention of the interim Government and the public.
"We might say such women are invisible," he said. "And I guess that's why this research project is titled Making Women with Disabilities Visible.
"It's a good title because it reminds us why the research is important.
"It will make information visible that was previously invisible.
"It will bring facts to the attention of decision-makers and the public.
"It will strengthen the hand of groups such as your own, who are fighting for the rights of people with disabilities."
---
From Mark Vaurasi in Auckland (16 December 2008)
5O Years Wedding Anniversary Celebration & Holiday
Tivaknoa and Mua Viki from Malhaha and Oinafa were married on the 8th March 1958 and celebrated their 50th wedding anniversary in Fiji on 8 March 2008, with family and friends.
As some of their children [Vamarasi (Vama), Sydney & Kautane (Tina)], and grandchildren live in New Zealand. Tina & Mark decided to bring Tina's parents for a holiday and celebrate their golden anniversary in New Zealand. They have both been to NZ on separate occasions but this is the first time they have travelled together as husband and wife and boyfriend/girlfriend.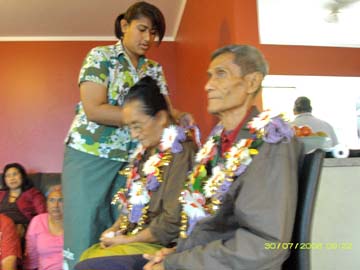 Tivaknoa and Mua honored with tefui
Tivaknoa & Mua (T&M) arrived in New Zealand on Wednesday, 12 November 2008 and stayed with Tina & Mark Vaurasi in the North Shore, then to Sydney and Fei's family in Wellington before returning to Auckland to Vama and Lillyann. After spending the last night's sojourn with Tina & Mark, T&M returned to Fiji on Friday, 12 December to celebrate Christmas & New Year with the rest of the family in Nasivi, Vatukoula.
There were many enjoyable, hilarious and memorable moments during T&M's holiday, like the visit with Tina & Mark to the Waitangi Treaty grounds, staying in a holiday batch by the beach in Pahi and ten pin bowling in Takapuna. While in Wellington with Syd & Fei they received visits from their Samoan relations, including Filipo and Leveti, (pastor of Syd & Fei's church), who had previously spent a Christmas with T&M's family in Vatukoula. Other visitors included from mapigas Kirsty, Danny & daughter Kea, Jesse & Ravai. Highlights of their Wellington visit included a BBQ at Keresi & Sela Manueli's family and a surprise to see Jiare (Sela's father) who is also on holiday from Fiji. On T&M's return to Auckland they visited the Waihi Gold mines with Vama.
The traditional koua and celebrations were organised by Vama & Lillyann and attended by family friends in South Auckland to celebrate this milestone of 50 years' of marriage. There were also many family and friends from Vatukoula who are now living in Auckland. The following day, Mua Taito (sigoa), wife Viniana and their daughter arrived from Hamilton to visit T&M and offered their congratulations and gifts.
On behalf of Tivaknoa & Mua, we wish to acknowledge and thank everyone for giving up their time and joining us in celebrating T&M's 50th wedding anniversary and making their holiday in NZ a special and enjoyable one. Thank you also for all the presents and kind donations.
Special thanks to Fei, Lillyann, Tom, Savika Oakley & family, Keresi & Sela, Maria Blore and Samoan relatives.
We wish you all a Merry Christmas and a safe Happy New Year.
---
Newlyweds
From Sefo Tausie in Fiji (16 December 2008)
Congratulations to Melenie Pene and Elijah Mario, who were married on Saturday, 1 November at a church service held at St. Joseph the Worker, Lakeba Street in Tamavua, Suva.
A reception was held at Noble House, Flagstaff, Suva.
Melenia is the daughter of Fonmoa, who is from Itu'muta, and Rejieli, from Tuakoi, Itu'ti'u.
Elijah is the son of Peni Mario and Marsefo Tausie, both from Juju.
---
From Alan Howard in Honolulu (15 December 2008)
Congratulations to Walter Aitu, son of Aisea Aitu and Katarina Kauata, upon his graduation with a Bachelor of Science degree in information systems from Brigham Young University–Hawaii (BYUH). The commencement ceremony took place on Saturday, 13 December, in the university's gymnasium. Walter's sister Yvonne, also a graduate of BYUH, flew in from California to attend the ceremony, much to her brother's surprise.
Hiagi Wesley, who has been teaching in the Education Department at BYUH, has recently been appointed head of The Jonathan Napela Center for Hawaiian and Pacific Islands Studies at the University. The program has two degrees, a B.A. in Hawaiian Studies and in Pacific Islands Studies.
Walter, his wife Rachael and one-year old daughter, Akata, will be moving to California, where they will stay with Yvonne and husband Pita for a while before moving to Rachael's home in Pennsylvania. Walter intends to return to Rotuma in order to use his knowledge to help upgrade information systems on the island.
| | |
| --- | --- |
| | |
| Walter, Rachael and Akata Aitu | Yvonne, Hiagi, Walter, Alan & Jan |
---
From Fiji Times Online (14 December 2008)
Lasting memories
by Geraldine Panapasa

Love is doing both the possible and impossible to keep each other happy and together.
For 27-year old Sam Junior Mario, watching his bride make her way to the altar was a sight that filled his heart with happiness and bliss.
The couple tied the knot on November 22 at Saint Joseph the Worker Catholic Church in Tamavua.
Sam is originally from Rotuma. His father is from Kalvaka while his late mother hails from Toa'koi.
His bride, 26-year old Rengeena is of Indian and Rotuman decent. Her mother is from Lopta in Rotuma while her father is a colonel in the military.
She wore a stunning white strapless V-line dress over a lacy inside camisole.
Beaded designs along the train of her dress made Rengeena simply gorgeous, elegant and daringly beautiful. According to a close friend, the two met when Geena, as she is commonly called, was working as a bartender for O2 club in 2006.
"They felt really, really happy and were so lucky and very blessed to have each other," says the friend.
"Even though Geena's family are staunch Methodists, the couple finally sealed their love in the Catholic Church witnessed by their very close family, friends and colleagues.
"It was extremely crucial that they have God's blessings as that is the foundation of their being, love and future."
Geena is an employee services assistant with Air Pacific in Nadi and has two brothers.
Second youngest in a family of 12, Sam is an air condition and electrical technician with Sisters Aircool Services in Lautoka.
His two older brothers, Ben and Robert own the air condition company.
The bridesmaids, Stephanie Managreve and Shehana Hussain were dressed in simplicity as they stood graciously beside best men, Peter Mario and Jairah Pene in their turquoise green strapless dresses.
The man of the moment wore a black suit to complement the bride's rich silk gown.
"Geena chose turquoise green because green is her favourite colour in any shade," said the friend.
"For her wedding, she wanted to have a sort of greenish theme. Sam and Geena got this figurine which has two dolphins entwined.
"One dolphin is turquoise green and the other is aqua blue. Her turquoise green orchids were natural especially treated to give out that unique colour.
"Marriage is their commitment not only to each other but also to God. With the Lord's grace, they will be able to love each other whole heartedly because with love, anything is possible."
The wedding reception was held at the Tradewinds entertainment centre where friends' and family danced and celebrated in honour of the special occasion.
The publication of their wedding was a surprise by close friends of the couple and friends tried their utmost best to surprise the couple with their wedding pictures.
And while Sam and Geena's journey has only begun, national sevens halfback Emosi Vucago and wife, Cynthia already have something special to celebrate today - their first wedding anniversary.
They tied the knot at Nadali Village Methodist Church in Nausori last year.
Friends and family in Fiji and abroad conveyed their well-wishes to the couple who will spend their anniversary at Plantation Island resort.
---
From Fijivillage (11 December 2008)
Outer Islands Have Reason To Be Happy

People living in Rotuma, Savusavu, Taveuni, Rakiraki and Levuka have a reason to be happy as they will be able to access their birth certificates in their own area before this Christmas.
Through a partnership with the Ministry of Justice and Post Fiji Limited, a Memorandum of Understanding was signed yesterday afternoon between the two parties where people will now pay $5 in 58 post shops around Fiji to get hold of their Birth Certificates.
Acting Chief Executive Seveci Tora said they have managed to finally sign the deal and have trained their staff to be ready by Christmas.
---
From Fiji Daily Post Online (2 December 2008)
Paulo finds a niche in seaweed farming

Kaurosi Paulo is a middle-aged man from the village of Itumuta, which is a 15-minute drive from Ahau where the government station is situated on the far-flung island of Rotuma.
The 45-year-old Rotuman islander has welcomed the revival of seaweed farming undertaken by the Fisheries Department in Rotuma since May.
Many of the islanders looking for a good source of income have been delighted and somewhat reinvigorated at the prospect of farming the weed.
"I am really happy with the revamping of the seaweed farming in Itumuta, especially when there is an abundance of seaweed in the bay," said Paulo.
"Seaweed farming offers another opportunitiy not only for me but for the rest of the commuters at Itumuta."
"It would be a source of income to many of us so we just want to thank the Government for its continuous support especially to people like us living in remote and rural areas," he said.
In early 1999, Itumuta which is renowned for friendliness of its villagers pioneered the establishment of seaweed farming on Rotuma, which somehow suffered a natural death because of lack of support and neglect.
When the group of fisheries officials led by Aminio Raimuria visited the island, it did not strike their mind that this trip would result in a revitalisation of the seaweed farming.
Raimuria being Senior Fisheries Officer Eastern discovered the abundance of seaweed in particular at Itumuta bay which made them rethink the potential of revamping farming of seaweed there.
"We will try our best to teach these people on how to go about seaweed farming. In particular, we'll teach them about the drying of seaweed," said Raimuria.
Seaweed farming is an initiative of the Capture Section within Fisheries Department aimed at providing self employment to those who were willing to take up the opportunity.
This is what as Paulo explained a prime example of a Government programme that adds value to the peoples lives in Itumuta in extra earnings and generating more revenue for the local economy.
"The rural sector is considered as one of the poorest sectors of our economy, yet its resources are bountiful and underutilised with potentials to earn millions of dollars.
Paulo openly declares his appreciation to the Department of Fisheries for this Government's initiative.
"Our association with the Government was quite helpful and it has taught us a lot of things," said Paulo.
However, Paulo is aware the the people of Itumuta have a long way to go.
Raimuria said the abundance of seaweed and its market potential would take the people of Itumuta to new heights provided they followed the right steps on their seaweed farms.
He noted confidently that the current 400-500 people involved in seaweed farming nationwide could increase as the Fisheries Department introduces it to other places in Fiji especially on Vanua levu.
Other places in which seaweed farming has already began includes Lau, Kadavu and at the moment Rotuma.
"This project if utilised properly by people of Itumuta would help them sustain village life as the money earned from selling the seaweeds belonged to them.
Raimuria said that much interest has been shown by the wider community where seaweed farming has been introduced, so the Fisheries Department is looking at developing sea weed farming from a project level to an industry level.
Marketing is not a problem as the buyer, Island Tropical Seafood has assured the fisheries department and seaweed farmers that transportation costs (freight) would be paid by the buyer.
The seaweed is sold for 70 cents a kilogramme, which is equivalent to $700 per tonne.
So this should be an encouragement to the people of Itumuta and all those planning to embark on seaweed farming.

Mareta Tawake, Department of Information
---
From Fijivillage (1 December 2008)
Pacific Sun To Service Outer Islands

Those living in the outer islands will now enjoy the services of the Pacific Sun airline after the airline company was given the approval to service more outer island routes.
Marketing manager Lona Eden confirmed the approval saying they will begin servicing the Savusavu/Suva and return routes within the next two weeks.
Eden goes on to say that other routes will follow in the new year namely the Suva-Kadavu, Suva-Levuka, Nadi-Levuka, Suva-Vanuabalavu, Nadi-Vanuabalavu, Suva-Rotuma and Nadi-Rotuma return flights.
The airline had applied twice to the Air Traffic Licensing Board to service these routes but was only successful the second time.
---