From Roger Oakley in Auckland (2 February 2009)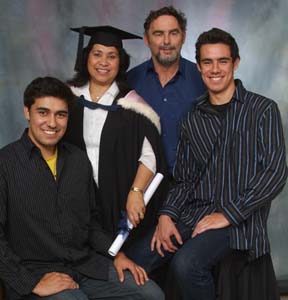 Savika and Roger Oakley with sons Scott and James
Savika Munivai Oakley graduated in November 2008 with a Bachelor of Arts degree majoring in Sociology through extramural study at Massey University, Palmerston North.
It was challenging being a mother and working fulltime—a great achievement—and the children and I am very proud of her.
Her success has inspired our two young sons to do better. Scott is in his third year study at Auckland University doing a Mechanical Engineering degree and James, a rugby enthusiast, wants to do law when he finishes high school.