From Barbara Lombardo in New Zealand (25 October 2009)
A Graduate Student's Sweet Success
Part-time study paid off and Doreen (Reenie) McManus can finally jump for joy, knowing that she has vindicated herself after being told by a school headmaster back in 1979, in Nelson, NZ, that she "better pull up her socks if she wanted to be university accredited." Upset after having missed out on the university entrance exam and the camps that followed, she was determined to make good. Well, she has done that and more.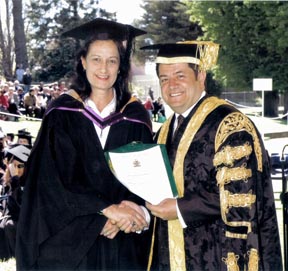 Doreen (Reenie) McManus with Chancellor, Dr Richard Torbay MP
In July this year, she was awarded a Bachelor of Arts/Bachelor of Teaching (Secondary) in Linguistics (TESOL) and German at the graduation ceremony at University of New England, Armidale, NSW on 20 October 2009. Doreen said it was "extremely emotional for her, yet nerve-racking in the sense that she did not know what to expect on the day," as she resides with her family in Brisbane and had to travel down the day before.

Yet her sweet success has sparked off a new hunger in education and she is far from finished. As a mature student in her late 40s, she was accepted last year into Griffith University, Brisbane, to begin studies toward a Master of Fine Arts (film production) degree. Doreen had taken an interest in film while attending Auckland University, but there were no undergraduate courses in film production at the University of New England, which she attended after moving to Australia. This degree would give her another teaching field as well as fulfill a life-long interest in film production.

Doreen's present aspirations include the possibility of a teaching role overseas. To jet away with her two younger, school-aged children, along with hubby, to a school in UK, Germany, or China would be an incredible experience. Not many careers offer the opportunity to work and travel overseas.

Doreen is the eldest daughter of Emily Kautane (nee HOERDER) from Oinafa and the late, Stuart N. List from Napier, NZ. Her siblings are Moira Wilson and Barbara Lombardo. All three, now with their own families, live in Australia, while their mother, Emily, remains in Nelson, NZ, where she has lived for some 40 years after leaving Fiji. Emily has siblings close by in Christchurch, including her twin sister Anne (Raumua) and Kitty (Kijiana). They are the daughters of the late, Elia Hoerder of Motusa and Emeli Mua of Oinafa.
---
From Fiji Times Online (24 October 2009)
Road works for Rotuma
THIRTY Public Works Department workers leave for Rotuma today to oversee the completion of road and infrastructure projects.
Ministry of Transport spokeswoman Sainiana Waqainabete said during the Rotuma Day celebrations last year, the Government gave a commitment to complete a number of projects.
"These upgrade projects are expected to be completed by December 1 and the trip to Rotuma by PWD workers is to oversee its completion," she said. "Some of the projects include upgrade works at Oinafa jetty, widening of the road around the island and routine maintenance."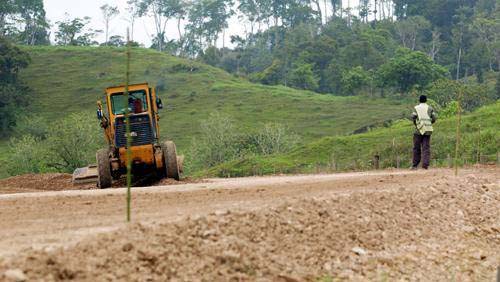 Road upgrading works are expected to be completed on Rotuma soon
Ms Waqainabete said other government projects include upgrading drainage systems and the building of a new PWD depot in Rotuma.
"The necessary works carried out on the island are assisted by a group of engineers and officers from the RFMF," she said.
Ms Waqainabete said government staff would be transported to the island on MV Suilven, hired under the Shipping Franchise Scheme.
She added the shortage of vessels servicing the island was an issue for relevant shipping companies to look into.
A contributor to the Rotuma website, Henry Enasio, said the quarantine building on the island is near completion.
"The Tuvalu market is yet to be up and running. The remaining materials and machinery for the quarantine building are expected to arrive from Suva on a Government boat," he said in his post.
Mr Enasio added that fruits during the festive season were plentiful but if the dry weather continued, all produce planted for the Tuvalu market would be badly affected.
---
News from John Bennett in Suva (23 October 2009)
Bligh Water Shipping's vessel Suilven departs this evening for Rotuma from Suva. I would say this is probably the largest vessel with the biggest payload of cargo along with passengers to ever sail for Rotuma. 
Passengers will be enjoying the comfort of a large, safe vessel with all the amenities. 
The vessel will arrive Monday morning at Oinafa to the delight of all aboard along with families on Rotuma anxiously awaiting their arrival.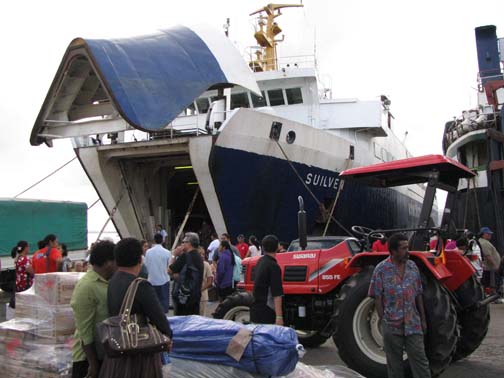 ---
From Radio Fiji (21 October 2009)
Shortage of ships in Fiji

Fiji Shipping Corporation Ltd is concerned with the shortage of vessels engaged in servicing the outer islands under the Shipping Franchise Scheme.
Corporation chairman Captain Victor Fatiaki says in the last few weeks they have not been able to renew franchise contracts with some vessel operators.
He says the Corporation is going to encourage the Rotuman Community to consider setting up its own shipping arm to specifically address shipping problems to and from Rotuma.
"They should not rely entirely on the government because there are a lot of places around Fiji since it's a maritime country," said Captain Fatiaki.
"We have about 300 islands scattered all over the place and we shouldn't rely entirely on government but we should take the initiative to buy their own ship especially Rotuma," he said.
"Rotuma is the furthest away from Suva and the Rotumans need to have a vessel of their own to so they have control on it," he added.
"We can't rely on the vessels provided by the government or rely on other shipping companies. In order to iron this problem here we need to get our own vessel."
The Corporation has managed to secure the MV Suilven to make a one-off franchise trip to Rotuma departing this Saturday.

Fiji Broadcasting Corporation
---
News from John Bennett in Suva (17 October 2009)
Last weekend Fiji celebrated Independence Day and this long weekend we celebrate Diwali, the Hindu "Festival of Lights." Rotuman youths enjoyed using the Suva Grammar School grounds on Saturday for a range of activities, including a sports competition.
Last Thursday afternoon the Gov't. vessel Vatulawa departed for Rotuma with fuel and provisions. It should be at Oinafa Wharf by Monday morning.
Much to the relief of many Rotumans, Bligh Water Shipping posted its schedule for the departure of its vessel MV Suilven to Rotuma next Thursday, 22 October. This vessel provides the opportunity for all Rotumans wishing to depart for or leave Rotuma to do so as the vessel has the capacity for abundant passengers and cargo.
---
From Henry Enasio on Rotuma (17 October 2009)
The Fiji Day celebration in Rotuma last week was very low key compared to that of previous years, partly because the officials enroute to Rotuma for the celebrations on the Government vessel didn't make it, due to problems reported earlier. There has been no boat for weeks and Rotuma has run out of basic commodities, including corned beef, cigarettes, and fuel.
The water supply in the island will be shut down within a week if no fuel is received soon. People will be inconvenienced, for there are only a few of us on the island who have water tanks to rely on in such times.
Furthermore, life on Rotuma is just getting back to normal after the tsunami warnings. Except for Ahau, all the villages around Rotuma were deserted as people fled to the hills and higher ground inland. The Ahau community accommodated the people of Motusa.
Rotuma is currently awaiting the arrival of Mr Fatiaki Misau and his LRC team from Suva, but the Council has yet to finalise its submission due to the complexity of the issue. They want to get it right, as this will affect all Rotumans. The Itu'ti'u District Representative has held pocket meetings at each village in the district. The people of Itu'ti'u district, who make up 37% of the population on the island, have unanimously agreed:
to maintain the current description of who is a Rotuman in the Rotuma Lands Act
to request that bilinear land ownership rights, based on both maternal and paternal sides, which were in force before 17 April 1959, be honored.
to set up a separate Council of Chiefs, with similar functions to that of Fiji's Great Council of Chiefs, to oversee Rotuman Affairs, with the current Rotuma Island Ccouncil administering the day-to-day operations and development plans of the island, with well-credentialed young people.
Last week we mourned the sad lost of Joe Managreve of Juju. A dear friend and the elder brother of Mr Susau Managreve, the Principal of The Marist Brothers High School in Suva and a nephew of that late, but well known Rotuman, Mr Mama'o Managreve.
Also, the people of Itu'ti'u District, Losa, the Ahau Community and all of Rotuma were saddened by the passing away of Gagaj Tarau, the High Chief of Losa who was one of the two agricultural officers in Rotuma stationed at Ahau. He had put in a lot of effort for the preparation of the Tuvalu market and was actively involved with the Council, Itu'ti'u District, Losa village and the Ahau community.
The Tuvalu market is yet to be up and running. The quarantine building is near completion with the remaining materials and the machinery expected to arrive from Suva on a Government boat this week. The weather's been very dry and should this continue for another two to three weeks, all produce planted for the market will be badly affected. However, fruits for this time of the year are plentiful and are beginning to ripen for the Christmas season.
---
From Sefo Avaiki in Nanaimo, B.C. Canada (16 October 2009)
Just thought I'd forward you the front page article from the Merrit Herald about a fund-raiser we had last weekend. I am so thankful to the performers who came and made it a huge success. The Hugag'esea Club youths, Samoan, Tongan, Niuen and Fijian Dancers made it an unforgettable evening for those who attended.
Merritt has never seen anything like it. This town of lumber mills, copper mines and cattle rangers is also known as the country music capital of Canada, so to be able to witness cultural performances from the South Pacific in their own backyard is way beyond their wildest dreams. I am humbled by the willingness of the Pacific Islanders who gave their time and energy and answered my call for assistance without hesitation. To them a hugh faiaksia, vinaka vakalevu, thank you and may God bless you all abundantly. Tamara is Sandra and Konousi Aisake's (Fapufa, Rotuma) daughter.
---
From the Merrit Herald (16 October 2009)
Merritt lovo a huge hit

Tamara Aisake of Surrey, B.C. performs a traditional Polynesian dance. She was one of several performers present at Merritt's first Fijian Lovo on Oct. 10. The evening was a South Pacific journey in aid of the Merritt Secondary School Girls' Rugby Team, which is planning a trip to Fiji in 2011. Five different Polynesian dances were featured during the evening.
Photo by Ian Webster
---
From John Bennett in Suva (6 October 2009)
This evening we celebrated Olovie Vilsoni's 95th birthday at her daughter Vamarasi's home in Laucala Beach. Brothers Samo (86) and Alfereti Pene (89) were also there to enjoy this special occasion.
Olivie has 9 children, 24 grandchildren, 38 great grandchildren, and 6 great great grandchildren, many of whom were able to be there for the great hospitality shown by Olivie's immediate family.
---
From John Bennett in Suva (6 October 2009)
The government vessel Raiyawa left for Rotuma on Saturday afternoonwith a view to arriving on Monday afternoon. Halfway to Rotuma it was noted that the vessel was leaking, thus necessitating a hasty retreat to Yasawa-I-Rara, the northernmost island in the Yasawas. The vessel was able to return to Lautoka by this afternoon where passengers were offloaded and returned to Suva by their own means. The vessel will return to Suva during the week with a view to carrying out repairs and making another attempt this weekend.
Rotuma has been without a vessel now for over seven weeks.
---
From Bruce Tizard-Varcoe in England (3 October 2009)
Family and friends gathered at Avenue Baptist Church in Southend-on-Sea, England on Friday, 7 August 2009, to witness and celebrate the marriage of local girl Charlotte Clancy to Jerry Pranjivan (from Motusa).

Later at the reception, the traditional 'of sope ceremony took place (perhaps the first ever performed in the U.K.), followed by a buffet meal, cutting of the cake, speeches, first dance and dance performances.
Photos by Bruce Tizard-Varcoe, Charlotte Pranjivan, official photographer, wedding guests
---
From Rejieli Flexman in Sydney (2 October 2009)
On Wednesday, 23 September a red dust storm blanketed Sydney, but thank God it all cleared up by mid morning for two Rotuman students, Seforosa Sanimili Michael and Shannon Aitu Flexman, who graduated from the University of Western Sydney with degrees in Engineering. Seforosa is the daughter of Wilson and Jane Michael of Lautoka. She graduated with a Bachelor's degree in Electrical Engineering, while Shannon obtained a Bachelor of Engineering in Robotics and Mechatronics. It was a very proud moment for us parents and the families and relatives who attended the ceremony, which was held at the Parramatta Campus. Wilson and Jane came over from Fiji for their daughter's graduation. However, their joy was short lived as they all had to return to Fiji the next day for the funeral of their father/grandfather, Desmond Michael, who passed away in Lautoka.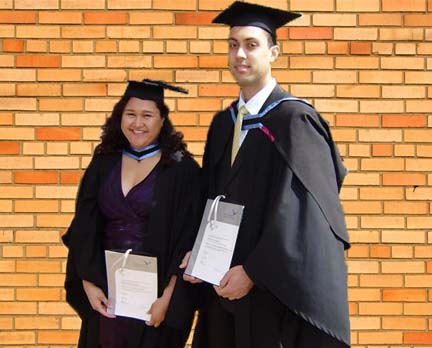 Seforosa Sanimili Michael and Shannon Aitu Flexman with degrees
The week before the graduation, Shane and I took went on holiday to Queensland along the coastal Pacific Highway and returned through the interior New England Highway. We attended the wedding in Brisbane of Margaret Lima, daughter of Terani and the late Rev Lalomilo Lima. It was a Saturday morning function that finished before 5pm, which enabled us to drive on to Toowoomba. We stayed with my two nephews Tuilakepa Fakraufon (sister Molly's son) and Sokoagaitu Panapasa (brother Muaheahea's son). There is no Fiji shop in Toowoomba so we took a whole bag of taro, some Pacific Palm puatkau and two tins of biscuits for the two families. On Sunday, several Rotuman families cooked lunch and joined us at Sokoagaitu's home. It was lovely meeting relatives and other Rotumans, all of whom seem very happy there. There are about 20 Rotuman families in Toowoomba; the men work at the tannery and most of the wives have jobs at the local hospital and other factories. They are a growing and close-knit community. Most of them have been there for more than three years, which qualifies them to apply for permanent residency. Several of them have had their applications approved already. This labor scheme has been a great success with our people and it's due to their hard work and dedication to their jobs. It's a joy to know that they are very grateful for the opportunities that they have been given bearing in mind the difficulties back in Fiji. Toowoomba is a beautiful city and our people seemed very happy and comfortable living there. A home away from home.
---
From Radio Fiji (1 October 2009)
We contacted Rotuma this morning to get the update and they mentioned to us that they've seen the receding of the waves way past the area that normally dries, so its an indication that something was happening, but fortunately nothing happened. We're still awaiting reports but in the meantime they have gone back to their normal work in Rotuma.
---