From Fiji Times Online (22 January 2010, posted 27 January)
Hopes high for healthy hearts
by Monika Singh

FOUR children will get a chance to have a healthier life when they fly to India on Sunday for vital heart surgery....
Grateful family ... Berrie Taukave in Suva with his parents, Kelera and Faisiriroa.
The Foundation hopes these children's surgeries will be as successful as Berrie Taukave's.
Berrie, 11, was in the last group of beneficeries. The Motusa Primary School student's quick recovery since his return from surgery last September has astounded his family.
"He had the operation to fix the hole in his heart on a Friday and by Monday he was doing exercises recommended by his doctor there."
"Before the surgery he was always weak and had a very poor appetite, preferring tea and rice mostly, but since we got back to Fiji, he's been eating a lot of dalo and tavioka, vegetables and meat and getting very cheeky! He's climbing the mango trees and playing all the time," she said.
Berrie had travelled from Rotuma in July and weeks later, he was being treated at the state-of-the-art Frontier Lifeline Hospital in Chennai, India. The Foundation has so far helped 31 children who were sent to India for heart surgery and are now living normal lives.
---
From Fiji Times Online (27 January 2010)
Company out to improve services
Bligh Water Shipping Limited is doing all it can to improve its services and all complaints are investigated says company chief executive officer Abraham Simpson.
Mr Simpson was responding to concerns raised by passengers onboard MV Westerland who travelled to Rotuma last month.
One of the issues raised was he inconsistent freight charges by freight officers and the muddy water from taps.
"Bligh Water has engaged an agent to do this work so this should improve," said Mr Simpson. "The muddy water is regretted and shall be looked into. We carry bottled water on board though.
"We have a complaint forms board and all complaints are investigated."
Mr Simpson said freight charges were applied according to rates provided by Prices and Incomes Board. He said PIB was responsible for monitoring freight charges to make sure bags were correctly weighed and appropriate prices were charged for passengers' cargo.
"Please not that PIB rates have not increased since 1987 which is why local shipping services is becoming viable," he said.
A passenger, Paul Vaurasi, said freight officers themselves were not clear about the charges.
"The officers were blaming each other and asking each other to go and check the right charge," he said.
Mr Vaurasi said shower facilities and proper sanitation for women and children could be better.
---
From Rejieli Flexman in Sydney (25 January 2010)
Last Saturday, on 23 January, families, relatives and friends gathered at the Denistone East Bowling Club in the evening to celebrate the 40th wedding anniversary of Rev Syd and Vuti Taito. It was a beautiful and enjoyable occasion organized by their two children, Osea and Fesaitu. They did a very good job with the organization of the function. The catering included a variety of delicious dishes which was enjoyed by all. Vuti's cousin Kini and her husband from Wollongong prepared the desserts. Syd's brother Rigamoto and his wife Kathy, who now live in Sydney, were present. His eldest sister Vamarasi, daughter Debbie and their families came down from Armidale. Another dear friend from Temora in the country where Syd and Vuti used to be in placement, flew over for the celebrations. Also in attendance were some of Syd's colleagues in ministry from Wesley Mission.
Fesaitu, their daughter, who is quite an accomplished musician, played the guitar and sang a beautiful song. There were other items of entertainment performed but the best was that of Syd and Vuti dancing to an island beat. It was lovely to see them relaxed and enjoying themselves with everyone. To round up the evening's celebrations, a beautiful anniversary cake with their photo on it was cut and shared with the guests. It was a day that we celebrated in thanksgiving to God for 40 yrs of marriage of Syd and Vuti Taito. We wish them many more happy years with God's continued blessings on their lives and their ministry.
Vuti, Syd, Vamarasi, Rigamoto and wife Kathy

The Anniversary Cake

Syd's brother Riga, sister Rosi and cousins
---
From FijiSun (13 January 2010, posted 23 January)
Firm wants Rotuma route

Bligh Water Shipping Limited is hoping the Government gives it the franchise to service Rotuma this year.
Yesterday, Bligh Water's flagship vessel, MV Westerland left for Rotuma to bring back passengers it took there on in its last franchise trip to the island at the end of last year.
The vessel ended its service to the island mid-last year after it experienced mechanical problems.
"We were given the Rotuma route at the beginning of last year but were unable to complete it because the vessel encountered problems," the company's logistic manager Roberta Lepper said. "We have applied for that route again this year after our vessel became operational again," she said.
Another Bligh Water vessel MV Suilven is servicing the Nothern Lau route, which covers Cicia and Vanuabalavu.
Ms Lepper said another trip had been planned for January 23.
"We hope to transport text books to these islands on that trip," she said.
Bligh Water's decision to serve the Lau Group has been hailed by islanders there as the was the way of solving their transport problems.
---
From www.fiji.gov.fj (20 January 2010)
Tuvalu wants to trade rootcrops with Rotuma
The government of Tuvalu is ready to open its arms to Fiji through trade with Rotuma.
Those were the words of Tuvalu's Deputy High Commissioner to Fiji Mr Uale Taleni when asked if Tuvalu was prepared to trade via Rotuma.
Mr Taleni said they were awaiting final details before the two island nations can begin a closer working relationship.
"We are ready and are only awaiting word from the Fiji Government on when to start," Mr Taleni said.
Since Tuvalu is an atoll, there is insufficient land to cultivate and this gives Fiji farmers another market to tap on.
"There is not much good soil on Tuvalu and we want to start trade with root crops from Fiji," Mr Taleni said.
"We want to start importing the three root crops that Fijians have in abundance here."
"We want to import dalo, cassava and sweet potatoes (kumala) that our Fijian farmers are so good in planting."
Currently Fiji farmers sell their produce at various municipal markets and also export overseas to countries like the United States of America, Australia, New Zealand and Canada.
Tuvalu's total population is about 12,000 with fishing and subsistence farming as their primary economic activities. The Tuvaluan diet (on Tuvalu) consists of seafood, bananas, breadfruit, coconut, and pork.
---
From Fiji Times Online (15 January 2010)
Students receive Pacific excellence awards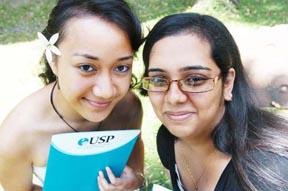 Simply the best ... Sharlene Wong, left, and Rajnita Singh were offered a three-year scholarship at the University of the South Pacific in Suva yesterday.
IN an effort to promote academic excellence, the University of the South Pacific yesterday awarded the Pacific academic excellence award scholarships to two students.
The university sets aside $4.05million from its general allocation towards the scholarship program for two students from each of the university's 12-member countries.
Indian College high achiever Rajnita Singh scored the highest mark in the Fiji Seventh Form Examination 2009. She scored 370 marks out of 400 and was oblivious that her achievement would get her a free ride into university...
USP Foundation's golden girl Sharlene Wong was overwhelmed to receive the scholarship.
The former St Joseph's Secondary School student topped the foundation program with a grade point average of 4.45 or an A+ average.
[Sharlene is David and Sanimeli Wong's eldest daughter, and the grand-daughter of Maria Teresia Ragafuata (known as Matesie). Matesie's parents are Petero Vera (from Islepi - Juju & Tuakoi) and Pipiena Lusia (from Noa'tau). Her husband, Fiu Mausio, is from Pepjei & Juju (Haga village; his father was Riamkau Lusio).]
"It's a whole new experience coming out of high school to enter university life," she said.
"My parents and friends have been very supportive and influential. I thank God also for this great opportunity and the USP for recognising my hard work."
Both students enrolled for the Bachelor of Commerce degree program.
Ms Singh plans to further her studies in accounting and finance while Ms Wong has her sights set on accounting and information systems.
Each student will get $1000 a month for 10 months for other expenses.
In addition, each student will also receive $1000 for books in the year, paid fees and free accommodation.
---
From Fiji Times Online (7 January 2010)
Best in the West
by Nandani Vandhana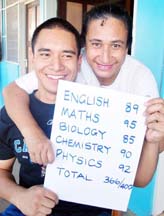 Sefton Rigamoto Pene and mum Teli Pene with his Fiji Seventh Form Examination marks
DO your best and leave the rest to God is the motto of the highest scorer in the Fiji Seventh Form examination for the Western Division.
"I expected my mark to be this much and to know that it's the highest mark makes me very happy," said Sefton Rigamoto Pene.
An only child and the Head Boy for Xavier College of Ba, he plans to secure himself a schlorship and pursue his dreams of being a doctor at the Fiji School of Medicine, now part of the Fiji National University.
Sefton achieved a mark of 366/400 last year's external examination and scored the highest mark for Xavier College in the Fiji School Leaving Certificate the previous year, getting full marks in mathematics.
He said being a student leader did not affect his studies but it was a challenge. That he has succeeded is evident in his marks, as he scored the highest in biology, chemistry and physics.
"I want to thank my parents and Brother George (Palackal, the principal) for all their support," said Sefton.
He said proper time management and the support from his parents were the main reason for him getting the highest mark.
He said his father was an engineer with Fiji Water while his mother stayed at home.
This is the ninth consecutive year Xavier College has achieved a 100 per cent pass rate in the Fiji Seventh Form examination.

---
From Sanimeli Mafaf in Rotuma (6 December 2009, posted 7 January 2010)
At this moment only the government boat is servicing Rotuma, but the Bligh Waters Co. M.V. Sullivan comes once a month. It's a much bigger boat, with comfortable rooms ranging from F$260-290; freight is also expensive. It can carry 500 passengers.
The government boat will be over here on December 13-15 bringing officials to open two buildings at Ahau. The army fellows who were here for five months have left, but the PWD men are building their garage and houses under the (jao joro) in Ahau. The big mango tree has been chopped down.
The road around Rotuma is cleared three yards away, which is good, but it is hot walking on sunny days.
Another group of men are working at the wharf in Oinafa, repairing and extending it. They live at the Oinafa hall.
They also built new police quarters at Ahau...the station is llking good and clean. We have extra policemen staying there.
The airstrip is supposed to be widened next year. More people now want to come here to do business.
The chairman is still Tarterani Rigamoto from Oinafa. Gagaj Kausiriaf is still there but cannot do much. There was no election this October; maybe there will be one next year (2010), or maybe it will be like Fiji with no election until 2014.
The land owners disagree to have a new wharf at Paolo in Lopta, so the wharf at Oinafa is being extended instead.
The agricultural officer is a Fijian man, Ruvuama; he is a good person, I hear, and doing more than his predecessors.
The people of Noa'tau have been diving for rori (sea cucumber) for the past five months. The license was for six months, but it has been stopped for good on the advice of LäjeRotuma Initiative. It's a good thing to stop it because it was turning our people to chaos. The money is good for our people, but the middlemen get double when they sell it overseas.
Our men are planting extra for the Tuvalu trade, which will be ready to begin in 2010. Immigration and customs officers will be here to inspect the quality of goods to be shipped abroad. So there will be jobs for our people. The flights will open again when the airport is finished. When will that be? Only God knows!
---
From Pene & Lily Vafo'ou in Sydney (5 January 2010)
We celebrated the marriage of Etta Maria Managreve to Vitori Tokoara on 26 December 2009 in the Saint Agnes Catholic Church at Nabua, Suva, Fiji. Mass was conducted by Father Tamati (residing priest from Samoa), marriage counselling by Catechist Furivai Ferei (originally from Tuakoi, Rotuma) and hymns sung by the St Agnes Rotuman Catholic Choir. It was a sunny day with a cool breeze and we witnessed a beautiful wedding ceremony and reception. Many thanks to the family and friends who contributed their time and money to make that day a peaceful and happy experience for the couple.
More than 300 family members and friends from Sydney, Hawaii, Fiji and Rotuma attended the wedding reception from 6-10 pm at the Vineyard Palace in Suva. There were graceful Hawaiian hulas and tamures performed by family members from Hawaii and live music by the Hahia band.
---