From Matt Bray in Canberra (26 February 2020)
Rotuman Community of Canberra wows crowds at the National Multicultural Festival 2010
Each year in Canberra, a weekend in summer is set aside for the National Multicultural Festival, an opportunity for the local organisations and communities of migrants to come together and share their cultural heritage in food, dance and music with the broader Australian community. A highlight of the programme is always the Pacific Island Showcase where the various groups from the Pacific come together hosting stalls, showcasing their traditional food and performing traditional and contemporary dance and musical numbers.
After many years of watching from the sidelines, this year for the first time the local Rotuman community participated in holding a stall and performing a traditional hafa on the weekend of February 5th and 6th. After months of taumaka learning the songs and dances expertly put together by our purotu Gina Pene and Ma'piga Lora Fatiaki, and sleepless nights preparing fresh tefui and titi, the day had finally arrived. After some typical Tuakoi rain, Friday night saw the youths running a stall selling sausage sizzle and ever-popular curry-roti parcels, which sold out so quickly we required an extra batch to be cooked up!
On Saturday the Lord blessed us with perfect weather for the big day ahead. At 11.30am the crowd was suddenly a lot larger and abuzz with curiosity at the next item on the program: "What is Rotuma?" many in the crowd murmured. With that a thrilling sight took to the stage: Canberra's proud hafa bedecked in the Navy Blue and Aussie Gold colours of the Nation's Capital (and the Brumbies!) stunning tefui by Violet Bray (nee Fatiaki) and titi constructed by the other women including Sa'a Mose, Lisa Uafta, Fiona Antrea, Nicole Alexander, Rina Gaskill, and Lavinia, Danielle and Laura Fatiaki. From the mak täktäk through to the tipa, the dancers, supported by a strong hȧ' sang in beautiful harmony about our new home in Canberra and our pride to be sharing our culture with its people. We were especially proud of our younger and first time performers, including Danny Morseu and Glent Sebasio, two Torres Strait Islanders with Rotuman ancestors. Their enthusiasm for a culture they were only just reconnecting with was heartwarming.
For the remainder of the day we sold a very popular "Polynesian Family Feast" of delicious koua and traditional Pacific foods as expertly prepared by the Pene and Antrea families. Pacific islanders and famor fifisi alike devoured our exotic fare and soon enough our stock ran out and a tired but extremely satisfied Rotuman contingent called it a day.
To shouts of 'Marie' and 'Malie' from our Polynesian friends, gracious nau te by our Rotuman families and whoops and showers of applause from our Aussie audience, the Rotumans truly made their mark on their first outing to the National Multicultural Festival. We look forward to more opportunities to uphold our cultural heritage and share it with the broader community, affirming our uniqueness and strengthening the bonds in our small but very proud community here in Canberra.
---
From Fiji Times Online (24 February 2010)

Island fuel
PEOPLE living on Rotuma the and outer islands pay as much as 23 cents more than urban dwellers for fuel. A litre of motor spirit costs $2.13 in urban Viti Levu but costs $2.34 on Rotuma; a litre of diesoline is $1.78 in Suva but is $1.98 on Rotuma. Fuel prices increased last week.
---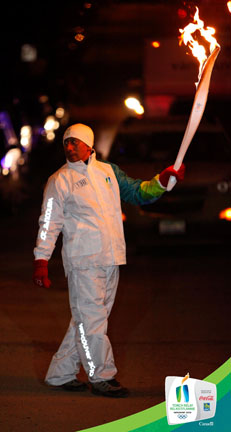 Eriki Filipe carrying olympic torch
From Vancouver B.C. (14 February 2010)
Canadian Rotuman carries the Olympic Torch
Eriki Filipe a Rotuman who once lived in Vatukoula, Fiji and then immigrated to Canada in the mid 70's, had the opportunity of a lifetime to carry the Olympic Flame during Canada's Olympic Torch Relay prior to the 2010 Winter Olympics that started on February 12th at Whistler Vancouver, British Columbia.

The 2010 Olympic Torch Relay is a 45,000 kilometre trek across Canada that visited over 1000 communities and was 106 days long. Filipe carried the Olympic Torch for about 300 metres on Day 86 at Nelson, British Columbia, on 23 January at 6.15 p.m. Pacific Standard Time.
It was a milestone in the making for a Rotuman who only dreamed of such an undertaking, but his childhood dream was fulfilled on making Olympic hstory.
---
From Radio Fiji (11 February 2010)
First export shipment to leave Rotuma

Rotuma's first export shipment to Tuvalu is expected to leave the island on the 22nd of March.
The Chairman of the Board of Directors of the Rotuma Export and Marketing Co Ltd, Wilson Epeli says the Quarantine Department has already approved the shipment.
The first shipment contains produce like dalo, tavioka and kumala.
Epeli says the company is now negotiating to export coconuts to New Zealand and they also have plans to expand their exporting business to Kiribas and Nauru.
---
From Fiji Times Online (7 February 2010)
Fatal plunge
by Mereseini Marau
A farmer of Motusa in Rotuma plunged to his death as he fell from a bottom of a cliff and right into the sea on Friday afternoon.
Waisale Onisimo, 26, was on his way back home from pig hunting when he fell off the cliff.
The father of one was buried yesterday afternoon in his village in Paptea after his body was found by relatives who combed the beach searching for him.
Police spokesman Sergeant Suliano Tevita said the man was returning to his village with two of his relatives when the incident happened.
"He fell off the cliff and right into the sea," he said.
Sgt Tevita said police with the help of his relatives searched for him on Friday and continued to yesterday.
A family friend from Motusa, Sakiasi Erasito said when they left home for pig hunting near a hill in Kelega, they never knew they would return without Wise (as he is known by).
"We joked, we yarned that afternoon, we didn't have a clue that would happen," he said.
Mr Erasito said the rest of the group were on top of the hill while Wise and another two went to the bottom of the cliff.
"Around that point, the waves were very huge and strong," he said.
Mr Erasito said Wise was hit by a wave which pushed him into the sea.
"He managed to talk to the two men after he fell into the sea. They told him to swim around to the other side of the cliff where they would be able to help him," he said.
But he never made it to where the men were, he said.
"The men alerted us and we searched for him the whole of Friday," he said.
Mr Erasito said the search continued yesterday morning until his body was found floating in the sea near to where the boat always anchored in Motusa.
According to some relatives from Motusa, a group of dolphins were circling his body.
Wise is survived by his wife and an eight-month-old son.
---
From the Stawell Times-News in Victoria, Australia (5 February 2010)
Uniting Church welcomes scholarship recipient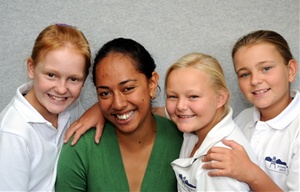 The Stawell Uniting Church Parish has welcomed the eleventh recipient of the Alan Howells Memorial Scholarship, Rina Solomone, to Stawell. Rina, from Fiji, attended Stawell West Primary School on Tuesday and is pictured with students Casey, Holly and Mauve.
Stawell Uniting Church has welcomed Fijian Rina Solomone to Stawell as the eleventh recipient of the Alan Howells Memorial Scholarship.
Rina arrived in Stawell on January 19 and will be spending another two weeks as a guest of the church.
The 24 year-old from Rotuma in Fiji, has just completed three years at the University of Fiji, majoring in geography. Also boasting a Bachelor of Arts, Rina is studying languages and will be graduating in April.
Rina is currently thinking about Ministry, but that will be a long way down the track for her.
During her two weeks in Stawell to date, Rina has experienced a shearing shed and attended Stawell West Primary School for the entire morning on Tuesday.
She was also able to experience flying in a glider with John Anselmi and next week, will be visiting Swan Hill.
Rina, who spoke at the church morning service last Sunday, will be in Stawell until February 15. From here, she will travel to Dandenong to spend time with the Fijian congregation and the Dandenong Uniting Church for two weeks, before flying back to Fiji on March 1.
Dawn Scott, from the Stawell Uniting Church, said Rina had enjoyed her stay so far.
"While in Stawell and Australia, Rina is eager to learn all about our culture and meet as many people as she can,'' she said.
"She is a lovely girl and is fitting in well with our culture. She has already come to meet a lot of people and is looking forward to meeting a lot more.''
The late Alan Howells was a lay preacher in the Methodist and Uniting Church for more than 40 years and was an active leader in the Stawell parish.
He was one of the instigators of the Stawell - Footscray work party which undertook to serve the wider church in a work party every two years.
Alan was an organiser and leader of the May 1992 Fiji work party which undertook the internal renovations and repainting of the Dilkusha Methodist church and extension of the Vuci Methodist school.
The link between Victorian lay people and the Dilkusha church stems from the construction of the original church. That Alan died while working on that project and living with a family of that community, was of great significance to the Dilkusha church.
---
From Fiji Government Ministry of Information (1 February 2010)
Rotuma airport open soon
The airport on Rotuma will open soon to cater for flights to the island, says the Deputy Director for Civil Aviation Mr Joeli Roko.
Mr Roko said work is progressing well and probably be complete by the first quarter of 2012.
"Work is progressing well and Government has allocated another $4 million towards the project this year," Mr Roko said.
"We have $6 million for the project to be used until the end of the year, but Government has promised funding until the completion of the project."
Government initially started the project with a $2 million-allocation.
Currently Government has big plans for Rotuma and has lined up trade with regional neighbours to begin once infrastructure on the island is complete.
"We are looking at asking the government more money next year to complete the terminal as we are giving more priority to the runway this year," Mr Roko said.
He added that Airports Fiji Limited is looking at putting out tenders.
"We know Rotuma has border control offices and other facilities. AFL is putting out tenders that will kick-start upgrading works."
Meanwhile, he said the Department of Civil Aviation through AFL were working on upgrading island airstrips and airports.
The resealing of the airport in Kadavu and chip-sealing of the Lakeba airport is expected to be carried out this year.
In Vanua Levu, Government's airport upgrade plans will begin in Savusavu this year.
---