From Radio Fiji (30 June 2010)
Police curb homebrew drinking on Rotuma

Disturbances on the island of Rotuma has eased as Police have successfully curbed homebrew drinking on the island.
Rotuma Police Inspector Semi Waqavonovono says even this year's Rotuma Day celebration was quiet, whereas it was tough for Police in the past with the amount of homebrew consumed by locals.
Waqavonovono says they have come down hard on people mixing homebrew and this has paid off.
Those caught mixing homebrew have to pay a $200 fine while selling or distributing incurs a $5,000 fine.
Residents told the Inspector this was the quietest and most peaceful celebrations thanks to the absence of homebrew.
---
From Radio Fiji (29 June 2010)
Plans to speed up Rotuma kumala farming

The Ministry of Agriculture wants to accelerate the farming of kumala on Rotuma as the island prepares to trade with Tuvalu in August.
Rotuma Agricultural Officer Akariva Vesavesa says kumala farming is struggling to take off on Rotuma, with only five farmers planting the crop, despite the potential.
Vesavesa says they expect dalo, cassava and kumala to be among the first crops to be exported to Tuvalu from Rotuma.
While dalo and cassava crops are thriving, they are lagging behind with kumala.
A kumala farming programme has been set up and the advantage is the crop takes only three months to mature.
Meanwhile discussions will be held soon about starting the trade in November rather than August so that farmers prepare better, and have a consistent supply.
---
From Radio Fiji (29 June 2010)
Extra $9.7m for Rotuma Airport

An extra 9.7 million dollars will be pumped into funds put aside for the development of the Rotuma airport.
This was revealed to the Rotuma Island Council by senior officer at the Prime Ministers Office Atalaite Qaranivalu.
Qaranivalu says the 9.7 million dollars will bring the total funding to upgrade the runaway lights and fence at the airport to 15.9 million dollars.
Tomasi Tui also a senior official at the Prime Ministers Office says the upgrading works at the airport will allow planes as big as an ATR 72 to land.
Tui says the runaway will be cemented the lighting system will be upgraded and the fencing of the airport will be up to standard.
---
From Rosie Catherine in Suva (27 June 2010)
Below are some pictures taken in Lami at a thank you dinner for the crew of the Uto ni Yalo.
The voyage of the Uto Ni Yalo was part of a joint effort by seven Pacific islands groups to preserve and develop their traditions of ocean voyaging in double-hulled canoes - Fiji Voyaging Island Society (FVIS). FVIS also co-ordinated the Uto Ni Yalo's vaka voyage.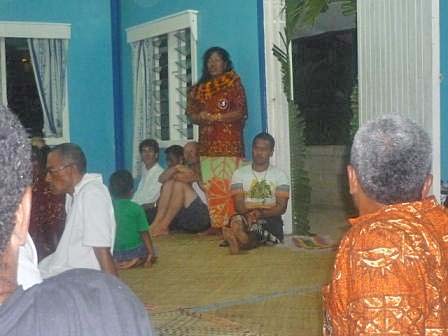 Aunofo says vinaka to Uto Ni Yalo team, a friend of Paul's sister Anne who lives in Va'vau, Tonga
According to Monifa Fiu, the main objectives of this society is to lead the revival of traditional canoe building with its associated customary practices, including sailing and navigation which are integral to our Fijian and Rotuman cultures, promoting customs and protocol that reconnect communities with their surrounding ocean and island home environment. Central to these voyaging activities is the promotion of conservation messages and ocean literacy to remote and maritime islands in the Fiji group.
Paul (aka Vaitoga) Bulileka was aboard the Uto ni Yalo. He comes from Tuai, Juju; Paptea, Oinafa; and Feioko & Ter'matau, Noa'tau. His grandmother is Havatonu Penjueli. He was the only Rotuman sailor on board the Uto Ni Yalo vaka.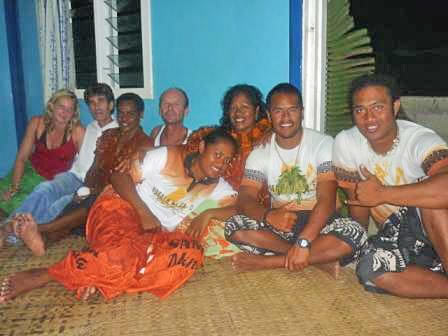 Paul, Titaua (Raivavae - French Polynesia), Aunofo, Una, Salome & Crew Support
The Uto Ni Yalo crew, led by Colin Phillips, Manoa Rasigatale and Jonathan Smith, were hosted and welcomed for dinner by the community of Naivikinikini, Lami on Saturday, 26 June.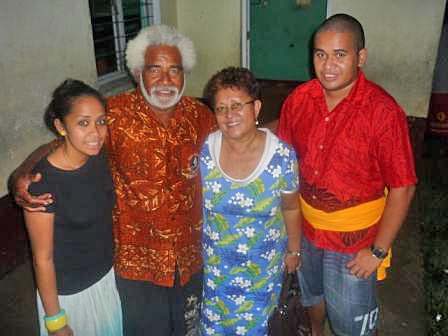 Manoa Rasigatale with his wife Nesi (whose mother hails from Tuai, Juju & Salvei, Itu'tiu) & Mata'utu - Uvea (aka Wallis)
Personally I believe that it is always important to reconnect and strengthen relationships with our friends and families across the Pacific. From my readings of Rotuma and general knowledge passed from my families, I have found that we have evolved so much, interacted and intermarried with so many Pacific Island ethnicities. Nevertheless, in my experience, families from other Pacific Island countries value and miss the connections, particularly after long periods of separation and very little communication. Additionally it is also important to continue to share significant information on the conservation of our ocean and land.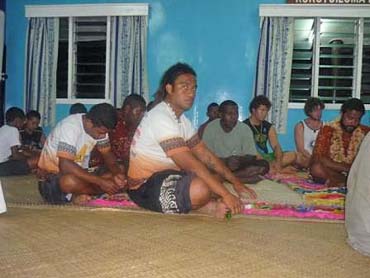 Paul and crew at formal ceremony and greetings at Lami
---
From Radio Fiji (24 June 2010)
Rotuma islanders refuse to change diet and lifestyle

An insistence on maintaining their traditional diet and lifestyle is seeing a high rate of non-communicable diseases on the island of Rotuma.
Rotuma island doctor Dr. Simione Nadakuitavuki says it is difficult changing the mindset of the islanders when it comes to eating and living a healthy lifestyle.
FBC news reporter Apisalome Coka is in Rotuma and filed this report:
"Dr Simione Nadakuitavuki says a lot of deaths on the island are due to non communicable diseases [NCD].
Dr Nadakuitavuki says the biggest problem they face in trying to fight NCD is the people—they will not change their mindset.
He says they will not move away from the type of food they eat and argue that this is how their ancestors live and they cannot move away from it as it is traditional.
Changing the mindset in Rotuma is a barrier in an effort to fight NCD."
---
---
From Radio Fiji (23 June 2010)
Lift fruit ban, Rotuma farmers urge

The people of Rotuma have urged the Ministry of Agriculture to lift a ban on sending fruits from the island.
The ban is in place due to the fruit fly danger on Rotuma. However farmers on Rotuma say selling fruits to Viti Levu can be a source of income to them.
FBC news reporter Apisalom Coka is in Rotuma and filed this report:
"Rotuma Island Council adviser Fatiaki Nisau urged agriculture officials to lift the total ban on sending fruits to Viti Levu – as some fruits do not host fruit flies.
Nisau during a briefing with government officials says banning fruits that don't have fruit flies is meaningless.
He says the agriculture department must identify the fruits with fruit flies and allow the transportation of the rest to Viti Levu.
A Quarantine Station Officer told Nisau that border control is a very important issue.
The officer told the council a new species of fruit flies was just found in Vatoa Island in the Lau Group.
He says termites that invaded the Western Division will cost government $5 million to destroy.
The officer says they could not accept the request or take the risk in transporting fruits that do not host fruit flies to Viti Levu."
---
From Radio Fiji (22 June 2010)
Farmers frustrated with delays in Tuvalu and Rotuma trade

Farmers on the island of Rotuma are beginning to lose interest in the proposed trading arrangement with Pacific Island neighbor Tuvalu due to constant delays.
The Agriculture Department in Rotuma says delay in implementation is frustrating farmers.
FBC Reporter Apisalome Coka is in Rotuma and filed this report:
"The Agriculture Department in Rotuma has informed the Rotuma Island Council of challenges in implementing the Rotuma and Tuvalu trade agreement.
Agriculture Officer Akariva Vesavesa told the Council they have issues with the lack of farming equipment, the impact of climate change, and farmers losing interest.
He told the council they had targeted more then 300 farmers but the lack of interest due to the delay has resulted in only 60 farmers registered to market their produce for trade.
He says the trade was scheduled to start in August 2009 but this has yet to start almost a year on.
Vesavesa called on authorities to speed up work in establishing the Rotuma and Tuvalu trade agreement, and they are working hard to revive the interest of the farmers."
---
From Radio Fiji (21 June 2010)
Government delegation arrives in Rotuma

A government delegation has arrived in Rotuma to inspect development work on the island.
Infrastructure developments are taking place in Rotuma ahead of trading relationships between the island and Kiribati and Tuvalu.
FBC News journalist Apisalome Coka is with the delegation and filed this report:
"The government delegation led by Atelaite Qaranivalu from the Prime Minister's office has just arrived here a few hours ago due to bad weather after leaving Suva on Saturday afternoon.
The trip is a field assessment for government departments who are carrying out development works here in Rotuma before the launch of the Rotuma-Tuvalu trade which is expected to be launched by August.
During the two days here on the Island government departments will be holding workshops for the Rotuma Island Council meeting.
Also on the trip are officials from the ministry of information who are here to carry out the public service broadcast survey on the Island."
---
From Alan Peacock in Darfield, New Zealand (17 June 2010)
George Harry Stonehouse passed away at Christchurch, New Zealand on Christmas Day 2009, dearly loved husband of Anna Raumua, one of the twins from Oinafa, and brother-in-law of Emily List of Nelson, Kitty Palmer of Christchurch, and proud father and father-in-law of Aileen and Alan Peacock, Maureen and Carey Clark and Torika and Stan DeRooy. George was much loved and is sadly missed.
---
From Sanimeli Maraf in Rotuma (16 May 2010, posted 14 June)
Our Rotuma Day celebration was held on 13 May. We congregated at Lihava, the original site of Cession. The police raised the flag and the Motusa circuit choir sang the national anthem. The Rev. Mario Rigamoto said the prayer; he is Chairman Tarterani's and Fakrau's son. The Deed of Cession was read by Gagaj Tamanau, who served as emcee for the kato`aga, and "Atumotu Helava" was sung by all.
The chief guest was Major General Jioje Konrote (ret.) who was decorated with all his medals and looked so outstanding, so handsome. At the Ahau pavillion, after the garlanding, our Methodist Superintendent minister, Rev. Emotama Pene, led a spiritual devotion. Pepjei district did the sikfono for the day of the kato`aga.
Our Rotuma Women's Association had a good handicraft display. Jiurie Taki is our coordinator to the Fiji Women's Association. Juju district, under Gagaj Tuiporot, performed a traditional hafa. Itu`muta district men, under Gagaj Osias, performed a tautoag fa. The Iti`muta ladies performed a Fijian vakamalolo dance. Music was provided by the Lumhaua Boys and Lijiana and Fesaitu's band from Sal Jirava, Motusa. All of the entertainment was excellent. The elders played draughts and card games.
The second day, 14 May, was devoted to sports for the youths, mostly volleyball.
Gagaj Maraf Solomone is the only elder among the chiefs, now that the title of Kausiriaf has been passed on to a younger man, Gagaj Taipo of Lopta. Gagaj Maraf ta nina ia (annointed him) in April.
I was told that the airport work will start in July and hopefully will be ready by December. The airfare used to be 355 Fijian dollars, one way, and it may increase. The Bligh Water Shipping's boat the Westlander got the franchise to service Rotuma from Lautoka. The fare is 150 Fijian dollars, with children under 12 half price. There are a few double rooms that cost more.
Representatives from Tuvalu are scheduled to arrive on the government boat Iloilovatu. They will discuss again the foodstuff trading between Rotuma and Tuvalu and soon it will happen. Rotuma will be a port of entry for shipping, and the customs, marine, and quarantine people will have offices here. The farmers' REMCOL (Rotuman Export Marketing Company Ltd.), headed by Garisau Epeli, will also have an office. They formed a "think tank" forum to support the functioning of a strategic plan. They invited Jioje Konrote to be part of it, so it should run smoothly.
Yesterday, the PWD started clearing our feeder road. It starts here in Maragteu, Noa`tau, and goes all the way to Sal Jirava in Motusa. They are clearing and widening it to make it easier for the farmers to collect and transport their agricultural products.
Hanisiof se te` ne os kainaga e hanua sousou ne rạh te`is. We remember you in all our prayers. May God bless us all.
---
From Radio Fiji (14 June 2010)
Government's Rotuma trip cancelled again

The government trip to Rotuma has been re-scheduled again now for the third time.
The boat MV Iloilovatu was to have left Suva yesterday however the trip was cancelled again.
Commissioner Eastern Colonel Iferemi Vasu says they will have to wait till the Iloilovatu is fully repaired.
FBC News understands the boat was not allowed to leave the Wharf two weeks ago as one of generators developed problems.
Colonel Vasu says after the repair work is done then the boat will be allowed to leave.
A government delegation led by the Senior Official at the PM's Office Tomasi Tui is to leave on the MV Iloilovatu to oversee development works carried out in Rotuma.
---
From Fiji Times Online (10 June 2010)
Rotuma's link with French Polynesia
by Colin Philp (aboard the Uto ni Yalo)
Ratu Manoa and I met Robert Roland Tauaroa on Raiatea at our welcome ceremony. During the welcome lunch we happened to sit with Robert and he told us he had links with Rotuma.
Robert went on to sail on the Marumaru Atua to Rarotonga and visited us one evening at the St Joseph Hall to drink kava and share his story about Rotuma.
He told us how a royal prince from Rotuma named Te Fatu visited the Society Islands and married the royal princess, Te Ura from Vavau in Porapora (Borabora).
They had twins named Te Maro Tetini and Te Maro Tauaroa. There is a marae on Borabora named Marae Farerua that was dedicated to the twins.
Robert is a direct descendant of Te Maro Tauaroa and if you looked at Robert you would swear he was Rotuman.
Kupe, the famed navigator who sailed to Aotearoa and back again, was a descendant of Te Maro Tetini. Kupe's remains have only recently been discovered on Maupiti in the Society Islands.
Matua Hekenukumai (Hector) Busby visited Maupiti last year to research this as Aotearoa have a close link with Kupe.
We plan to sail Uto ni Yalo to Rotuma later this year and Robert will accompany us to try and retrace his ancestors.
If anybody has any further information on the link between French Polynesia and Rotuma, please visit our website www.fijivoyaging.com and send us a message as we would like to learn more about this fascinating link.
I can also put you in touch with Robert in Tahiti.
Moce!
---
From Mark Vaurasi in Auckland (8 June 2010)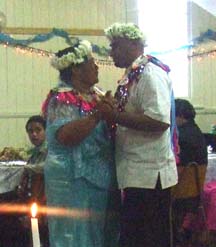 The bride and groom
A gorgeous bride, a handsome groom, beautiful flowers, a glorious day and the reliable iconic Kingsland Trinity Methodist Church venue–Patricia Strickland and Joe Mose (also known as Sosefo Kautani) had everything in place for a picture-perfect wedding. What they did not plan for is the large 'Rotuman Family' and friends from Auckland and around NZ that attended. The Church was jam-packed, but thanks to the MC (Sopapelu Samisoni), extra seating was provided in the aisles and hallway.
From the flawless church ceremony conducted by Rev Doctor Lynne Frith, to the reception that followed in the Church Hall, the rituals of speeches and toasting the newlyweds, cutting of the wedding cake, their first dance, every step of the couple's big day was filled with wonderful moments. One of these moments was the beautiful song composed by Jioje Fatiaki–"Hanisi 'e Huag Aire" and sung at the end of the wedding service, by the Fatiaki family (Jane, Thomas, Jioje & Fereti) and Kautane Vaurasi with Kauata playing the piano.
Like most traditional Rotuman weddings, there was plenty of food and drinks; the delicious koua, pigs, chickens, fupagmasi, fekei (3 types–mara ma'a 'an, niufo'ou and Rarotongan Island 'Poke') puatkau, roti & curry, salads, seafood and a variety of other dishes, followed by dessert.
Pat and Joe would like to acknowledge the contributions of the following families and friends in making their wedding day a perfect day to remember.
Jioje and Fereti Fatiaki family for the bridal & groom parties' attire;
Susau Strickland family–Te Rito Peyroux, Naomi, Ben; Lillyan, Vamarasi and family friends for the catering;
Kautane Vaurasi for the wedding cakes;
Anneke Hayman, Te Rito and the Youth Group for the Hall decorations;
Grace, Kon &

ö'hönta

Susana for the beautiful floral decorations in the church;
Rosie Ackland & Family;
Fonmanu Iane and family for photography coverage (we look forward to the videos/dvds);
Sopapelu and Jane Samisoni family;

Hiagi and Lusia family;

Palesiu and Victoria Vea family;
Rotuman Methodist Kingsland Congregation Church members, United Rotuman Church group members, Hillside Church group members, other Church Groups and also the Auckland Rotuman Community at large.
Apologies if we have missed others.
It was a symbolic day not only for Pat and Joe's wedding but it was also an excellent reunion and opportunity to outreach to all Rotumans in Auckland, which augurs well for planned community and church activities, such as the 21st Day Celebration of the Rotuman Methodist Church on 27 June and the Annual New Zealand Rotuman Fellowship Community meeting, which will be hosted by the Auckland Community Group from 23-24 October.
---
From Michelle Alfred in Richmond, California (7 June 2010)
On 15 May, the "Mainland Fijian Band" performed at a Friends of Fiji Gala Fundraiser at the National Rural Electric Co-operative Association in Arlingtion, Virginia. Over 120 friends attended the Fundraiser, a biennial celebration of the warm relationship between the US Peace Corps and the Island nation of Fiji. The Fiji Embassy paid for all six band members' fare and accommodation. The band includes three Rotumans: Poni [Penesio] Alfred (bass), Sefeti Tivaknoa (vocal), and Arone Samuela (keyboard). The other members are: Ratu Meli Tunisau (band leader, lead guitarist, vocal), William Amputch (drums), and Nacanieli Vakatawa (vocal).
Winston Thompson, Fiji's Ambassador to the U.S. made introductory remarks; Jesoni Vitusagavulu, former Ambassador was also present.
---
From Alan & Jan in Honolulu (4 June 2010)
We were privileged to attend the Rotuma Day celebration of the Hugag'esea Club in Victoria, British Columbia, held over the Victoria Day weekend. The kato'aga took place at the Velox Rugby Club Hall on the evening of Saturday, 22 May, and the group's meeting was held the next day at the home of Noah and Janet Molia.
Entertainment at the kato'aga was provided by the Tradewinds band, a hafa by the club members, and island dances by separate men's and women's groups. The music and dancing were inspired and left us all wanting more. As always food was plentiful and delicious, including a'ana, koua pig, and fekei (marama'ana) along with a variety of other dishes. Around 300 people, mostly non-Rotumans, attended the affair. The party lasted until the wee hours of the morning.
The group meeting on Sunday was a chance for the club members to spend time relaxing together, eating left-overs from the night before ('amah), and enjoying the sunshine. All-in-all it was a wonderful weekend, made possible by the hard work and great hospitality by the Hugag'esea members. They have done the global Rotuman community proud!
---
---