From Sanimeli Maraf in Rotuma (21-23 June 2010, posted 27 July)
21 June — The government boat, MV IloIlo Vatu, finally will be arriving this morning after being postponed for several weeks. It has been very windy out there these past few days, so let's hope everything runs smoothly at the wharf. On board are assessment and awareness teams for education and library services, agriculture, cooperating energy and water, and other department representatives.
After a traditional welcome at Ahau, there will be a Fijian meke by the Itu'muta ladies. Each district will have a koua ma fon 4, plus the niu and tefui that goes with them for the day's celebration. After lunch the teams will go to their visiting programmes for the day. They will be here for three days.
At this very moment it is very windy outside, so it will be rough seas, so let's hope it will be calm at the Oinafa wharf by the time the boat arrives. The last boat, the MV Sullivan, anchored off shore and had to wait for a chance to unload the trucks and cargo it had on board. It had to stay an extra day.
I believe people from the Bank of the South Pacific will introduce a bank here. At times the Post Office runs out of money and we can not cash cheques or TMOs and have to write FAXCO Ltd. "Western Union" for money transfer orders.
23 June — Because of bad weather and a northwest wind (lag toag ta), the MV IloIlo Vatu was 6 hours behind time so our kato'aga was late and the koua was cold. The vakamalolo by the Itu'muta ladies was enjoyed by everyone; talk about style and comical (kistonu) 'amalum. It was very nice. That big lady, Mantatau Esapeti stole the show. Gagaj Maraf gave the welcome speech.
Mrs. Atelaite Qaraneivalu came from the Prime Minister's Office, where she and Tomasi Tuibau look after Rotuman affairs. Mr. Tuibau couldn't come, but he telephoned the Chairman yesterday to confirm that Rotuma now has a boat donated by the Chinese government. It is 65 meters long and carries 250 passengers.
Report on the progress of development on Rotuma
Milestone #1. The existing ramp at the wharf at Oinafa and the causeway bridge have been repaired. A passenger clearance shed and boarding storage shed have been erected and the jetty is illuminated by two solar-panelled lights and five street lights. An ablution block, fencing and a security booth are for border control. The ablution block awaits a much needed water supply. Today, a big cement water tank was built at the back road opposite the wharf. With the flood lights working at night is no problem. A 100kwt generator was installed at the jetty to light and electrify the border control agency facilities. Before entering the wharf a Ministry of Work & Transport notice board reads: "Operation garue helava" (It looks so beautiful with Haua in the background). "Proposed floating dolphin sites at the Oinafa Jetty" (left side toward Lopta).
Milestone #2. Grid extension (Ahau to Malhaha), which is stage one for airport requirements, and purchase of a 150kwt generator and 100kwt step down transformer at Malhaha airport. Pine poles from Ahau to Malhaha airport. Power lines from Ahau to Rotuma High School.
Milestone #3. Installation of wiring for various government buildings at Ahau. The completion of the HTFA (High Temperature Forced Air) plant-shed, requested by the Department of Quarantine. It is a combination freezer for root crops and a cooling room at HTFA. These cost a lot of money. There is also a fruit-packing shed, a confererence room, and kitchen area.
The PWD has relocated its depot to Hapmak to make way for the HTFA plant site. An office building and two staff quarters, Grade 5 and Grade 6 quarters have been built. The landmark mango tree is gone and the PWD workplace is situated on the inland side of the road. Now you can tell how much flat land there is at the back and how rich the soil is.
Department of Agriculture, Crop Extension. 324 farmers want to take part in Tuvalu trading involving a land area of 4,720 hectares. Two staff quarters for two staff members and an office have been dedicated at Ahau for the project. They will share a vehicle with the Bio-security Authority Quarantine. Two technical staff have been in Rotuma since May. They are working closely with the farmers and other stakeholders to implement the agricultural programme and carry out surveys to update the field data. Dalo, tapioca, kumala, etc. will be planted for export. Other agricultural commodities will be programmed for planting once the Rotuma Island Export and Marketing Co. Ltd. confirms the details. Building the human resource capacity and upskilling has been considered a priority and a critical issue for the success and sustainability of this project.
The Department of Forestry is introducing the planting of sandalwood here in Rotuma. People are jumping at the chance to plant the seeds brought by the agricultural officers, but the trees will take years to mature and are really for a future generation. These trees will be worth a lot of money.
The police force in Rotuma has been increased and provided with new quarters, and a new block building is ready and waiting for inspection, to be opened as "Rotuman Customs." We have a station officer (Fijian); a Rotuman sergeant and corporal; and a Fijian crime officer. The rest of the policemen are Rotuman.
---
From Monifa Fiu in Suva (25 July 2010)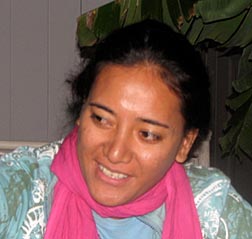 Monifa Fiu
I have been invited to participate in a leadership program supported by the US Department of State designed for officials of ministries of environment and energy, local government officials, reps of NGOs, academics, and journalists.
I will be in the US on an understanding tour as I like to call it but with specific goals:
to analyse scientific models on the effects of global warming and
climate change
to examine federal, state and local government responses toward
mitigating the effects of global warming and climate change;
to identify and explore strategies adopted by the public sector,
businesses, NGOs and grassroots organisations to moderate the influence of CC on American communities;
to investigate the impact of media outreach and public awareness
campaigns on alleviating the effects.
The tour starts in Washington DC where I will give a presentation of our work in the South Pacific, most especially on the Global Environmental Facility (GEF) mangroves project.
The second week will be in Miami, Florida visiting the Florida Keys National Marine Sanctuary where I am planning to participate in a volunteer cleanup drive and then spend a day at the Everglades National Park. (I have been warned not to dip my feet in the waters because they have dangerous animals!) From Florida, the tour travels to Denver and Boulder Colorado for a program at the Corporation for Atmospheric Research and a visit to Rocky Mountain National Park.
The final leg will be in Honolulu, Hawaii, where we will gain insight into the future of renewable energy, including innovative techniques and development programs like the wind farm on Oahu with zero imported energy and a social investment program funding sustainable renewable energy efforts. There will also be an opportunity to snorkel at the Hanauma Bay Nature reserve, and I will have an opportunity to reconnect with the The International Pacific Marine Educators Network (IPMEN) friends who were just here for the Outrigger Conference.
---
From Fiji Times Online (19 July 2010)
Culture classes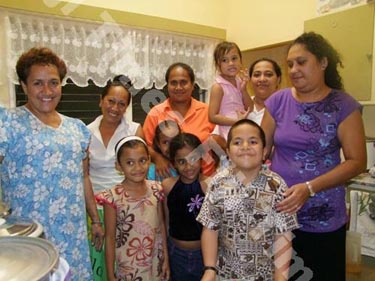 Labasa Rotuman community with secretary Haemeri Taito.
photo by Serafina Silaitoga
THE Rotuman community in Labasa have embarked on a mission to hold Rotuman language classes for their children in order to keep alive their culture and language.
The group, that started this year after a year's lapse, believe it's important that their children remain tightly linked to their island home.
Group president Paul Pesamino said the purpose of the group's existence was to protect their culture and language.

"That is important because of intermarriages, our children speak English also which is okay but we, as parents, need to ensure that they know their own Rotuman language and culture," he said.
"We met early this year and planned to have a Rotuma day which was held in May and we decided to continue to meet for this purpose of keeping alive the culture of our island among our children.
Group secretary Haemarie Taito said they have started planning Rotuman language classes for their children.
"We have started with sessions of always telling our children the history of our island and the first Rotumans that arrived on the island, of our link with Fiji,"Ms Taito said.
"We need to teach them our culture and ensure they still know how to speak the Rotuman language."
She said the group met monthly.
---
From Mark Vaurasi in Auckland (19 July 2010)
The 21st Anniversary Day celebration of the Auckland Rotuman Methodist Fellowship (ARMF) Church was marked by a service at the Trinity Church in Kingsland, Auckland, on Sunday, 27 June, with a dedication of an inert 4.5 inch cartridge case mounted on a wooden base. Engraved on it is the following:
In memory of REV DR JIONE LANGI

Who established the Auckland Rotuman

Methodist Church and the NZ Rotuman Community, in Aotearoa.

"Blessed are the pure in heart: for they shall see God."
The celebration was attended by Rev Dr Lynne Frith, Superintendent of the Auckland Central Methodist Parish; Rev Norman Brookes, who assisted the late Rev Dr Jione Langi in finding a permanent place of worship in the Trinity Methodist Church in Kingsland; Trinity English-speaking congregation members; members of outreach churches; Catholic family members; and various members of the Rotuman community.

The church celebration began with the singing of hymns and arrival of the official guests, in particular Mrs Rigamoto Langi.

Susau Strickland, QSM and Church Steward, delivered the prologue, acknowledging the guests and congregation, in particular recognising the foundation members who started the ARMF Church and NZ Rotuman Fellowship Community.

During Mark Vaurasi's brief, he reflected on the sacrifice of the foundation members and the late Rev Langi, who between 1986 and 1989 commuted at his own volition from Wellington to Auckland on a regular basis, either by bus or train, in his mission to establish a Rotuman Fellowship in New Zealand and in particular, in Auckland. Mark concluded by saying, "For those like us who had known Langi since his arrival in New Zealand in the 1980s until the Langi family's departure from New Zealand, Rev Dr Langi's death left a great vacuum which was felt in various Rotuman communities in New Zealand--not only a loss to the Methodists Church but to all Christian denominations because he was a visionary leader, and to Rotumans because of the principles of good leadership he stood for."
We produced a brief history of the Auckland Methodist Rotuman Church and Langi's journey while in NZ. In so doing, we acknowledged with gratitude Alan Howard for all the information that was available on the Rotuma website about Langi.

Our guest speaker, Mrs Rigamoto Langi, delivered an oral history which described some of the challenges experienced by all in the early beginnings of Langi's quest for unity and Rotumanness.

There were various emails and messages of congratulations and well wishes from Nigel Hanscamp, Director Mission Resourcing; Rev Ashley Sedon, former Auckland Central Parish and Mission Superintendent 1992-2000; David Bell, Principal of Trinity Methodist Theological College; John Murray; Rev Teofilo Ioane, Rotuman United Church; Rev Dr John Salmond and Rev Dr Susan Adams; and Fonmanu Kitione (former NZ Rotuman Fellowship Community Chair).

A highlight of the day was the singing of two special numbers/anthems in English and Rotuman (Zion City of God - Sioni Hanua Helavat & Mesaia) by the ARMF Church Choir. Special thanks to Jane and Sopapelu Samisoni for organising and leading choir practices.

Another highlight of the Anniversary was the Lighting of 21 Candles and Cutting of the Cake by Rigamoto Langi, Susau Strickland, and Rev Dr Lynne Frith.

Background
The 21st Anniversary Day was a great time to reach out to those who had left the Fellowship. This was a time for healing and restoration, especially for those like us who have had a very close association with Rev Langi in his mission to bring together all Rotuman Communities in New Zealand, including both the ARMF Church and the NZ Rotuman Fellowship Community (NZRFC).  

Some of the Highlights of the Auckland Methodist Church History (1989-2010):
In 1989 Rev Langi started the fellowship at Waiuku for approximately 12 months before relocating to St Stephens in Onehunga. Then, after approximately 10 months, the Fellowship moved to Mt Eden temporarily while still looking for a permanent place of worship.

Recognition of our foundation members:
Jione Langi (deceased), Rigamoto Langi and family (NZ, Australia), Sukamanu Etika (deceased), Tivaknoa Kaitu'u (deceased), Maryrose (deceased), Selina Eason (deceased).
Overseas: Voi & Doreen Muaror family (Rotuma & Fiji), Erick & Colleen Fatiaki family (Australia), Maryrose's Family (Australia).
Auckland: Jio Kaitu`u, Savika & Roger Oakley family, Voi Lagi family, Tina & Raki Khan family, Atu family, Ravai & Rebecca Rennell family, Visoni & Maria family, Terotume Etika, Toma & Fesaitu Vaurasi family, Rejieli Cullen & family, Susau Strickland & family, Jieni & Vai family, Fonmanu & Frank Hellesoe family, Kauata Wesley and Lillyan Viki.

Recognition of Ministers/Pastors.
Rev Dr Jione Lange – Founding Pastor
Susau Strickland – QSM, Current Lay Preacher and Church Steward
Rev Dr Lynne Frith – Superintendent of the Auckland Central Methodist Parish

Emcees: Mark Vaurasi & Sopapelu Samisoni  

Planning Committee: Susana Makrava, Joseph Mose, Te Rito Peyroux, Jane Samisoni, Sopapelu Samisoni, Hiagi Samisoni, Lusia Samisoni, Patricia Strickland Mose, Susau Strickland, Grace Tonu, Konrote Tonu, Kautane Vaurasi and Mark Vaurasi (Chairman)
There was a huge amount of effort put in by the planning committee in a very short time of just five weeks. Their input, feedback and willingness to work towards the Auckland Rotuman Methodist Church in Kingsland are a good sign for the future.
I would like to acknowledge and thank the planning committee and congregation members for their invaluable assistance in making our 21st Church Anniversary Day a most joyous and blessed occasion. We cannot name all of you, but God knows who you are. May He richly bless you all.
---
From Fiji Times Online (10 July 2010)
Bravery rewarded

by Iliesa Sokia


James Fanifau - IMO's Award for Exceptional Bravery at Sea for 2010
A 30-YEAR-OLD Fiji seafarer has been given one of the highest international awards for bravery at sea.
This after the Council of the International Maritime Organisation (IMO) endorsed the decision of a panel of Judges that the 2010 IMO Award for Exceptional Bravery at Sea should go to Fourth Engineer James Fanifau of Fiji.
The panel of judges said that the Rotuman, Mr Fanifau, displayed extraordinary bravery and humanitarian concern and had gone far beyond the call of duty.
Exhibiting little regard for his own personal safety, Mr Fanifau went over the side of his container ship, into very rough seas, to pull the two exhausted elderly men from the water and carry them to safety during a rescue operation.
Mr Fanifau, currently a crew and an electrician (seafarer) by trade on board the merchant vessel MV Danny Rose run and operated by Neptune Shipping, was nominated by Australia for his part in the dramatic rescue of two survivors from the sunken yacht Sumatra II in May 2009.
The rescue occurred amid severe weather conditions in the Tasman Sea when Mr Fanifau was sailing on the MV Scarlet Lucy.
On May 22 last year, the Australian Maritime Safety Authority's Rescue Coordination Centre (RCC) was contacted by the United States Coast Guard and informed that a 16-metre yacht, Sumatra II with two people on board, had activated their US registered 406 MHz distress beacon.
The yacht was approximately 350 nautical miles east of Brisbane, was taking on water and sinking. RCC Australia made contact via an onboard satellite phone and established contact with the two men. They were advised to remain with the yacht as long as possible and be prepared to evacuate the yacht when required.
RCC Australia co-ordinated five fixed wing aircraft to assist in locating the yacht's position, and a broadcast to shipping was issued with the merchant vessel Scarlett Lucy responding and diverting to the distress position.
The weather conditions in the area were very poor with rough seas, up to eight metres and low visibility. The distance offshore meant that a rescue helicopter could not be utilised.
When Fanifau's ship, the MV Scarlett Lucy, arrived on the scene, they faced an enormous task of rescuing the two men.
While other crew members felt reluctant in their attempt to rescue the survivors, brave Mr Fanifau placed himself in great danger by going over the side into very rough seas to help the two exhausted elderly survivors of the Sumatra II.
One of the rescued men, a 72-year-old United States national, had drifted in the water for some 45 minutes when Mr Fanifau utilised the life rings to attempt to bring him on board.
It took persistence and tremendous bravery for him to eventually rescue the man from the water.
The IMO Award for Exceptional Bravery at Sea was expected to be presented by the Secretary-General at IMO Headquarters on the occasion of World Maritime Day or another major IMO occasion, as appropriate, taking into account the availability of the recipient Mr Fanifau.
A total of 31 nominations from 16 IMO member states were received and considered by an assessment panel consisting of experts nominated by various international non-governmental organisations.
The Council of the International Maritime Organisation decided on the award going to Mr Fanifau, and of the other nominees, that four would receive Certificates of Commendation and five would get Letters of Commendation.
Mr Fanifau has been sailing since 2005 on various trade and merchant ships such as Captain Cook, Captain Wallis, Scarlett Lucy and is now on board Danny Rose, a ship that brings wheat to Fiji.
Fiji Maritime and Safety Authority (FIMSA) acting director Joe Tagi expressed joy and excitement after hearing that one of Fiji's licensed seafarer had won an international award and in the process set a benchmark for all sailors, but in particular one that local mariners, current and aspiring, could emulate.
He said FIMSA organised and co-ordinated seafarer's short courses for rescue and survival techniques.
One of FIMSA's licensing criteria was the fulfilment of basic survival and rescue techniques.
Basic component like survival course, first aid, occupational health and safety (OHS) and basic firefighting were central to the course.
Mr Tagi said all seafarers must fulfil this component before they could be issued with their Seaman's Record Book which basically gave them the green light to sail.
He said Mr Fanifau went through the same basic survival and rescue techniques as per FIMSA requirement and his bravery act was a credit to the country.
See also Sail-World.com.uk article and Fiji Village for additional details and photos. An updated article appeared in the Fiji Times on 19 November 2010. Also see International Maritime Organization's report of the award ceremony.
---
From Radio Fiji (6 July 2010)
Only 60 registered farmers for trade
Only 60 farmers have registered in Rotuma to engage in the soon to be launched Rotuma and Tuvalu trade agreement, island agricultural Officer Akariva Vesavesa has confirmed.
Vesavesa says only registered farmers on the island will take part in the historic trade between the two islands.
He says they have informed other farmers on the island they will not participate in the trade unless they register and go through the farming programme conducted by the agriculture ministry.
Vesavesa is confident the 60 farmers registered so far will fill the quotas being asked for by Tuvalu.
The trade is scheduled to start in August.

Report by Apisalome Coka
---
From Radio Fiji (3 July 2010)
Rotuma hospital does not need mortuary

There is no urgent need to have a mortuary on the island of Rotuma because of transportation problems.
Rotuma Island doctor Simione Nadakuitavuki says having a mortuary on the island will be very costly.
He says relatives of the deceased would prefer their relatives away from the island to attend the funeral which could cause hiccups due to difficulties faced with transportation.
After confirming deaths on the island, he informs close relatives to conduct the burial within 12 hours.
Meanwhile he told FBC News they are now working on getting a blood bank for the hospital as it is more important than getting a mortuary on the island.
Report by : Apisalome Coka
---
From John Taito in Navua, Fiji (2 July 2020)
Navua Rotuman Farmers Foodshow 2010

Saturday, 12 June was an event of note for the Rotuman Community in Navua. Family members and friends came from Suva and even as far as our beautiful island of Rotuma to support and participate in this years Foodshow celebration. The program commenced with a prayer by Mr Kaitu'u Solval and a welcome address by the Chairman of the Farmers Club, Mr Lili Somone. He acknowledged everyone and addressed the audience on the significance of the Foodshow, with emphasis on working in unity whilst encouraging the younger generation to maintain, develop and support the initiatives of the event: "Omis la mane'a tela'a se avat Fa fakmur ta ala e."
The judge for the Foodshow, Mr Aisea Antonio of Suva, is a gifted speaker. In his short address he thanked the Navua Rotuman Farmers Club for inviting him to be part of their event and encouraged the competitors to continue to keep up the good true spirit of competition: "Fai'eksia e hao te keleag leilei ma aus la na vahia ma sasap se rere hete ka ena mene'a tela'a, te on Fa," and he would try his utmost best to be fair, moderate and just in his role.
The chairman led the audience, players and judge on an inspection of the crops that were on display whilst the Score Mistress, Mrs Akanisi Manueli and ring-side team leader Wise Fonmoa, finalized their team preparations.
The competition proper commenced at 9.15a.m. with the assorted yams (12 varieties), the temafa and ended with the taro (19 varieties) category. Most of the crops were measured for weight and length.
Notably present during the Foodshow were Messrs Sakimi Inia of Melsa'a, Rotuma; Furserani Inia of Suva; Henre of Haga, Rotuma; Mako Chute & Tofiga Veu from Suva; Fai and Sarote of Pepjei, Rotuma; Nofaga and son Jione of Losa, Rotuma; Mojito Pranjivan of Motusa, Rotuma; Petero Jione of Vakabalea, Navua; Samisoni Kafoa of Makosoi, Deuba; Mrs Faimanu Inia of Suva; and Mrs Maraea Wise of Navua.
A tea break at 11.00a.m. saw family and friends treated to an assortment of tasty sandwiches, freshly baked pudding and pastries—fai'eksia to the womenfolk of the various hoagas. At 1.00p.m. everyone tucked into a wonderful spread of island koua lunch including several varieties of Chinese and Indian dishes.
The competition drew to a conclusion at 2.30p.m. The score mistress and her team were busy at work tallying and finalising the respective scores. The latter part of the afternoon had live entertainment provided by the local PRO-AM Band.
Messrs Furserani Inia, Kaitu'u Solval and Aisea Antonio were given the honor to present the different category and overall Foodshow Champion 2010 awards.
Mr Aisea Antonio addressed the competitors and thanked them for maintaining the true island spirit of competition. He encouraged everyone to keep up the good work and offered an apology in the event that anyone disagreed with any of his initial decisions.
Mr Furserani Inia, in an emotional speech, mentioned that he grew up together with the overall champion, Mr Jione Kaitu'u, in the beautiful village of Maftoa, Itu'muta and the fact that his 69 year old comrade prevailed was a challenge to the younger farmers. Mr Inia thanked the Navua Rotuman Community for displaying 'togetherness—hugag'esea—and urged everyone to keep up the good work.
The overall champion, Mr Jione Kaitu'u, was humble in victory and thanked everyone who donated or supported the event in any way and also reminded everyone of the aim of the Foodshow. The champion highlighted that they were all affected by the two cyclones MICK & TOMAS and acknowledged the other competitors for their efforts, as it took him seven long years since 2003 to win the overall champion's trophy and that the passing of the award from one to another was a clear indication of the level of competitiveness amongst the farmers.
The M.C., Mr John Taito, intuned the Rotuman Anthem, 'Atumotu Helava La Kele, which was sung beautifully by everyone present—a sense of pride of being a fellow Rotuman Islander was evident during the singing of the anthem. Mr Malakai Kaitu'u delivered the benediction; he thanked the Almighty Lord for a successful program and wonderful day.

The Navua Rotuman youths and the M.C. delivered the 2010 end of foodshow competition cheers to the delight and laughter of the audience.

The Foodshow Results:
Taro Category: 1st Jione Kaitu'u, 2nd : Fauoro Manueli and 3rd: Jioje Fonmoa
Temafa Category: 1st Fauoro Manueli, 2nd: Jione Kaitu'u and 3rd: Francis Varea
Yam Category: 1st Tausia Amoe, 2nd: Francis Varea and 3rd: Lili Somone
Heaviest Yam: Filipine ta - 83.4kg, Francis Varea, previous record 2005 Filipine ta - 57.9kg, Francis Varea
Longest Yam: Filipine ta - 88cm, Sam George, existing record 2005 'Uh Fit ta' - 105cm, Jioje Fonmoa
Heaviest Taro: Mogke ta - 5.9kg, Francis Varea, existing record 2005 Navua - 7.9kg, Freddy Wesley
Longest Taro: Navua - 75cm, Jione Kaitu'u, existing record 2005 'Pulou ne Hoi ta' - 98cm, Tausia Amoe
Heaviest Cassava: 'Uli Mia ta' - 29kg, Fauoro Manueli, existing record 2005 'Soko-bale' - 71.9kg, Freddy Wesley
Overall Champion 2010 - Jione Kaitu'u
Ho'aga Champion 2010 - Viwawa Group
Ho'aga Groups:
Viwawa: Jione Kaitu'u of Itu'muta, Francis Varea of Pepjei & Tausia Amoe of Losa, Itu'tiu
Nasasa: Lili Somone of Oinafa & Fauoro Manueli of Noa'tau
Navua: Sam George of Feverere, Itu'tiu & Jioje Fonmoa of Savlei, Itu'tiu represented by sons Christopher & Wise under mapiga Kaitu'u Solval's guidance.
Rovadrau: Freddy Wesley of Lopta, Oinafa & Wesley Konrote of Feverere, Itu'tiu

Big fai'eksia e hanisi to the following guests, friends and family members for their contributions:
Mr Furserani and Mr Sakimi Inia of Suva and Rotuma

Mr Aisea Antonio of Suva

Mr Mako Chute of Suva

Mr Tofiga Veu of Suva

Mr Fagmaniue Pene and family of Navua

Mrs Maraea Wise of Navua

Mr Petero Jione of Vakabalea, Navua

Mrs Kiti of Navua

Mr Robert of Waikalou, Deuba

Mr Mani and family of Waikalou, Deuba

Mr Samisoni Kafoa of Makosoi, Deuba

Ms Asenaca of Lepanoni, Deuba

Mrs Moira Robinson and family of Lautoka

Mrs Luisa Deo and family of Pacific Harbour, Deuba
On Sunday, 13 June, a thanksgiving church service was hosted by Mr Jione Kaitu'u. The Queens Birthday holiday, on Monday, 14 June, had everyone gathered at the Manueli residence for a post Foodshow meeting where the Nasasa Ho'aga handed over the club leadership role 2010–2011 to the Navua Ho'aga in which Mr Sam George accepted on behalf of fellow Ho'aga member Mr Jioje Fonmoa. A new inclusion is Mr Firipo Kamilo of the Nasasa Ho'aga. He hails from Mea, Itu'tiu. This year's champion, Mr Jione Kaitu'u, in his address thanked the Nasasa Ho'aga for a job well done and encouraged all the farmers to prepare well for next year's competition as the trophy is with him to stay: 'Ip heta la fup va' e on na-ag heta ma kop la iso'a leilei het la hau'a ip heta'. A koua lunch followed and entertainment for the rest of the day. Mr Sakimi Inia, in his short address, thanked the farmers and the Navua Rotuman Community for displaying a true island spirit of unity—hugag'esea—and encouraged everyone to maintain such good practices.
Hanisiof se te ne aus otomis hunsiosiag Rotuam ne te' e Rotuma, Fiti ma hanua Fifisi—omus hunsiosiag ne noh e Navua, Fiti.
---