From Fiji Times Online (24 August 2010)
Pacific Sun Rotuma flights to resume
by Netani Rika

FLIGHTS to Rotuma are expected to resume before the end of the year.
Pacific Sun CEO Jim Samson said at the weekend that the airline planned to make an announcement soon on services to the island some 400 kilometres from Nausori.
His announcement came as the airline took delivery of its second ATR42-500 aircraft after mandatory servicing in Tahiti.
Flights to Rotuma ended with the closure of Air Fiji two years ago. Later, runway conditions prevented other carriers from servicing the route. Money allocated for runway maintenance and upgrading on the island this year was diverted to the relief effort after Hurricane Tomas.
The Aviation Ministry had planned to resurface the runway to allow the 44-seater ATR42 to service the island.
But under current conditions the airfield can only take a De Havilland Twin Otter carrying five or six passengers and cargo.
The aircraft cannot carry the maximum 18 passengers it usually carries because under civil aviation rules it must be loaded with enough fuel for the return flight.
Air Fiji serviced Rotuma with the Harbin Y-12, the Chinese version of the Twin Otter.
---
From Fiji Times Online (24 August 2010)
No ride to the island
by Reijeli Kikau

MORE than 100 passengers bound for Rotuma had to return to their families and await the next trip to the island after Fiji Islands Maritime Safety Authority officers only allowed 244 passengers on board the Westerland yesterday.
Members of the Catholic Womens League watch Bligh Shipping workers load cargo for Rotuma yesterday.
Picture: Leca Vunibobo
Bligh Water Shipping chief executive Abraham Simpson said they had to comply with FIMSA rules and regulation and only 244 passengers with their vehicles and cargo were allowed on the boat.
"'We have agreed to take the Catholic Women League members who have a conference to attend on the island and other passengers and villagers have been asked to leave in the next two weeks," he said.
He said the passengers had an option of leaving after two weeks for Rotuma or they could get their fare refunded.
Ministry of Works, Transport and Public Utilities principal media liaison officer Sainiana Waqainabete said Bligh Water Shipping had applied to Government through FIMSA for a special life-saving appliance survey for the Suva-Rotuma trip.
"The requested survey was conducted by the FIMSA marine surveyor on Monday and the maximum allowable number of passengers for Rotuma was determined. In compliance with the minimum requirement within near-coastal waters, a maximum of 244 passengers was approved based on the calculation of berth and un-berth spaces on board the vessel," she said.
Close to 400 people were to board the ship.
Ms Waqainabete said they advised Bligh Water Shipping to identify other options to accommodate the remaining passengers.
The company was told to ensure there was adequate space on the vessel and that passengers were comfortable and at ease with movement on board.
"The survey was completed at 12.30pm yesterday and FIMSA requirements were met and a survey certificate was prepared for the trip.
"Government, through FIMSA, is tightening up on the calculation of the maximum number of passengers allowed for a vessel. There are penalties for carrying excessive passengers or overloading," she said.
Ms Waqainabete said the sinking of the Princess Ashika on its maiden voyage in Tongan waters should be an example to everyone.
The Princess Ashika had more passengers than required for the trip. She said it should be a lesson for everyone.
The Westerland left the Suva wharf after 5pm yesterday.
---
From Radio Fiji (23 August 2010)
Transport ministry stops Westerland from sailing

The Ministry of Transport stopped the MV Westerland from sailing to Rotuma this afternoon because it did not meet a number of requirements.
Ministry spokesperson Sainiana Waqainabete says a survey carried out by the ministry found that the vessel did not comply with a number of shipping regulations, including the number of passengers on board.
She told FBC news that the vessel was supposed to transport women from all over Fiji to attend the Catholic women's league conference in Rotuma this week.
'In this respect we advised Bligh Water Shipping that it is impossible for us to approve this requisition that is the maximum number of passengers is 244 not 400.This has been communicated with Bligh Water shipping in terms of options that they could pursue in respect to provide another vessel or reimburse fares to those who have already paid".
Waqaibete says that the lives of passengers are very important to them
'What we would like to reiterate here is government has a very serious responsibility of ensuring lives of passengers is safe at all times."
Ministry of Transport and Energy spokesperson Sainiana Waqainabete.
Report by : Savaira Tabua
---
From Fiji Times Online (22 August 2010)
Air service back
by Riteshni Singh

REGIONAL airline Pacific Sun has resumed normal services between Nadi, Suva and Labasa after the return of its second ATR42-500 aircraft from maintenance.
The aircraft was sent to Tahiti for maintenance work.
Pacific Sun general manager Jim Samson said the airline intended to roll out more services in the coming month as it moved to stamp its mark in the Fiji aviation market.
"This will include a new service for Vanua Levu and the company has already secured a government subsidy to fly to Cicia Island in the Northern Lau Group," he said.
Mr Samson said Rotuma was their next focus and the airline was hoping to make an announcement soon on air services to the island.
He said flight frequency between Nadi International Airport and Luvuluvu in Nausori would revert to the usual three to four flights in the mornings and four to seven flights in the afternoon from this weekend.
"Flight frequencies to Labasa's Waiqele airport from Nadi and Suva will revert to normal, which is twice-a-day during weekdays and three flights-a-day during the weekends," Mr Samson said.
He said ATR42 aircraft will be used on the direct Nadi-Labasa daily service as well.
"Since we reintroduced ATR into domestic aviation in 2006, our customers have been enjoying the pleasures of flying in spacious and pressurised cabin with in-flight services," Mr Samson said.
---
From Fiji Times Online (16 August 2010)
All it takes is one person
By Geraldine Panapasa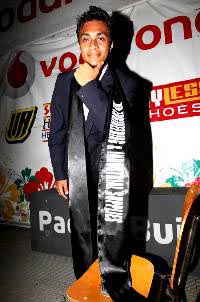 Kings and queens... Mr Engineering and Industrial supplies Jonathan Penjueli
WE have all had our fair share of differences and hardships.
But sometimes it takes just one person to make a difference, says Vodafone Fiji Hibiscus Festival king contestant Jonathan Penjueli.
Mr Penjueli is sponsored by Engineering and Industrial Supplies as Mr Engineering and Industrial Supplies at this year's event at Albert Park next week.
"I joined the festival for greater self-awareness about what's happening around me and I want to boost my confidence levels," he said.
"We, the contestants, are given the opportunity to give back to the public, meet people who I never thought I'd meet, make new friends and given the change to create networks with business people."
Mr Penjueli's father is from Rotuma and his mother from Ra. He is a civil engineering student at the Fiji National University.
"My message is to believe in yourself," he said.
"We must understand that even though people may not agree with you initially, if you believe in it then no matter the circumstance just go on.
"That portrays the qualities of a leader. Being a king, queen, lady, teen does not mean you need to be special because we are all the same."
Mr Penjueli enjoys rugby, hockey and volleyball.
He says spending time with family and friends, writing music and playing video games are some of his favourite pastimes.
---
From FijiVillage (12 August 2010)
25yr old father sentenced to 3 years

A 25 year old father of two was sentenced to 3 years imprisonment by the Suva High Court this morning after he pleaded guilty to manslaughter.
Vamarasi Motofaga of Rotuma admitted assaulting a 25 year old fellow villager during a drinking party on 10th September last year resulting in his death.
The two were drinking homebrew at Motofaga's house when the deceased got angry and started punching the wall and table inside the house.
The court heard that Motofaga got up and tried to control the deceased and in the process he punched him.
Later he further assaulted him several times until another person intervened and stopped him.
He was taken to Rotuma hospital but was pronounced dead upon arrival.
A post mortem was conducted and it was revealed that he died due to injuries sustained to the brain.
High Court Judge Justice, Daniel Gounder while sentencing Motofaga took into account that his intention was not to kill the deceased but to stop him from damaging his property.
As a result he used excessive force resulting in fatal injuries to the deceased.
The Judge also took into account that Motofaga is a single father with two sons aged 4 and 2 years old.
Judge Gounder while sentencing him said that the offence was committed using excessive violence, resulting in a tragic loss of a human life.
He was sentenced to three years imprisonment with a non-parole period of 2 years.

Story by: Shalvin Deo
---
From Bruce Tizard-Varcoe in England (4 August 2010)
On Saturday 24 July 2010, Sergeant Fereti (Fred) Semesi took part in the 1st Regiment Royal Horse Artillery, Operation Herrick 11, Medals Parade,
to celebrate the return of the regiment from its tour to Afghanistan and to present those soldiers who deployed with their operational medals.

This was followed by Families' Day—a thank you from the regiment to family members and friends for their support.

Also in attendance were the Fatiaki family, the Tizard-Varcoe family, and Fonmoa Faga with his son Saunerani.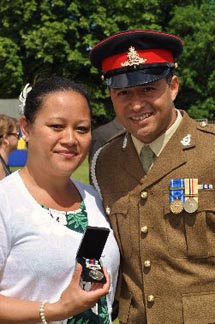 Fred and Rowena
Message from Fred
"Nonoj la 'ua'ua'ak a'ti' se hanis on Gagaja 'e matmata' ne os maur tutu 'atakoa. I would like to take this opportunity to thank our families here in the UK, Germany and back home (Rotuma, Fiji, Australia and New Zealand) for their endless support and prayers during the six long months of service. A special thank you to my wife Rowena for all the love and encouragement she continuously gave throughout the duration of my deployment. We continue to pray and support our Rotuman brothers who are currently out on operation for their safe return.
I would like to dedicate this medal to my wife Rowena and both mums, Faga Semesi and Rigamoto Langi."
---