From Fiji Times Online (22 September 2010)
Tattooed body parts

By Geraldine Panapasa

Think tattoo, think pain. Think traditional Samoan tattoo for men and pain becomes an almost unbearable word to utter.
Considered to be the most important Samoan tattoo for men, the tatau or pe'a, as it is commonly known, is dense tattooing completely covering the lower body from waist to knee.
Symbolic as it may be to the Samoan community, other Pacific Islanders have opted to absorb this unique tattoo design. Rotuman Joseph Howard who lives in American Samoa is one of four cousins with the tattoo. For him, the tattoo meant more than just fancy ink marks and lines.
"It means respect and love. I was first told of the tatau by my grandmother and later I did research on its significance," said Howard who hails from Malhaha.
"After a while, I asked my in-laws about the tattoo because my wife is Samoan but they didn't say anything.
"The four of us had to find our own way of getting the tattoo. Maybe they didn't think I would be able to go through with the tattoo because I wasn't Samoan ... who knows."
Itumuta-born Josefa Haukoulua, an industrial refrigeration and air-conditioning technician in Pago Pago said he spoke to a 'tufuga' tattooist during the Tisa Tattoo Festival in 2007 about the significance of the tatau. "The first time I saw someone with the pe'a was when I came to American Samoa," he said.
"I know that this tattoo has to be done in pairs so when my brother Kerese Elaise
called saying he wanted to get a pe'a, I decided to have it as well and be his pair."
Haukoulua and Kerese were the first to get their pe'a done in December 2007 while Howard and his cousin-brother Faga Mario completed their pe'a in June 2008.
The pain. Unbearable? "Pain is something that anyone can take but a strong heart makes a big difference," said Howard. "To me, it all depends on your inner strength and how you adjust yourself during the process. During the tattoo sessions, there was music playing and it helped me not to think more of the pain," said Haukoulua.
Enduring this tattoo art three hours a day for nine days, Howard and Haukoulua shared similar sentiments when their tattoo was completed.
"I felt proud after the tattoo was completed. I feel like I've earned respect after going through the process," said Howard.
"The tufuga and the family including those that came during the process were very happy that we completed the pe'a," said Haukoulua.
"They did not expect us to finish it because they thought we could not endure the pain. They also had not seen or heard of any Rotuman with the pe'a." The tattoo markings on certain parts of their waist also symbolize their family life. According to Haukoulua, they were able to link similarities between the pe'a and their Rotuman identity. While they may not be full-blooded Samoans, their pe'a is a symbol of their respect and appreciation of Samoan culture and heritage.
From left: Josefa Haukoulua, Kerese Elaise, Faga Mario, Joseph Howard
---
From Freddy Kafoa Crocker in Honiara, Solomon Islands (16 September 2010, posted 27 September) 
Rotuman Girl Performs in Solomon Islands
This years 2010 Queen Pageant competition got the whole family involved in supporting our company Queen (Miss Daltron). Daltron is a leading provider of IT services in the area of software development, web design and development, database solutions and financial management.

My daughter Krystal Victoria Crocker did Rotuma proud by performing during the crowning night.
She performed to our Rotuman songs including Suamea e Vaka, Manmanu Hag`hag ia and a few more.
To our surprise most people did not know where our beautiful Rotuma Island is until a formal introduction was announced.
 

The photos are from the Solomon Islands 2010 Queen Pageant where Daltron, whom I work for, sponsored a queen. She were crowned first runner up but we stole the show with our items on the night. The winner, Miss Lia's Giftshop, was sponsored by our friend, a Samoan business woman's gift shop. She gets to represent Solomon Islands in next year's South Pacific Pageant in Papua New Guinea.
 
The costumes Krystal wore were locally made from what is available in the Solomon Islands.
 
Alalum Rotuma.
 
Freddy Kafoa Crocker
Country Service Manager
Daltron Solomon Islands
---
From Fiji Times Online (22 September 2010)
Ban list for Rotuma

by Felix Chaudhary

THE Biosecurity Division has announced a list of prohibited items for people travelling to and from Rotuma.
This comes as biosecurity officers conduct mandatory inspections on all cargo departing Fiji for Rotuma and all vessels entering Fiji from Rotuma.
The prohibited items are taro corms, banana and pandanus plants, planting materials, untreated timber products, furniture, poultry manure, soil (including soil in plant pots), second-hand machinery and live animals.
Also included in the list are flowers, cut flowers, foliage, used agricultural and horticultural containers such as taro sacks, bags and poultry manure bags.
"Unless any of these items are certified by biosecurity officers at Lautoka and Suva, they will not be loaded on to any vessel bound for Rotuma," said divisional biosecurity officer West, Lemeki Ratucicivi.
Prohibited items on cargo travelling from Rotuma to Fiji include all fresh fruit, vegetables and home-dried fruit which have not been dried to commercial standards. Watermelons and citrus fruit are forbidden from being taken aboard any vessel bound for Fiji. The only items allowed into Fiji from Rotuma include coconuts, nuts, fresh fish, marine products, dairy products, meat products, root crops and processed foods.
---
From Fiji Times Online (21 September 2010)
Pest check on inter-island Rotuma ferries

by Felix Chaudhary

BIOSECURITY officers will now conduct inspections on all ships travelling between Rotuma and Fiji.
According to bio-security spokeswoman Rosa Dalituicama, this is being done to ensure the control of pests between the two destinations.
"Previously only ships coming from Rotuma underwent inspection, but after consultation with stakeholders, we have decided that inspections need to be carried out at both ends."
"This is being done to ensure that the taro beetle in Viti Levu, which is not in Rotuma, does not find its way there.
"Likewise, the fruit fly in Rotuma is not found on Viti Levu and it is our hope that by carrying out these inspections, we can control these pests," she said.
Divisional bio-security officer West Lemeki Ratucicivi also said that all timber products or raw timber departing Fiji for Rotuma would now need clearance certificates from the Biosecurity Division before being loaded on to any vessel bound for Rotuma.
"At present, there have been no reports of termite infestation in Rotuma. The clearance certificates will only be issued once biosecurity officers are satisfied timber bound for Rotuma are termite -free. This is part of our off-shore security measures which are being implemented across the country," he said.
Mr Ratucicivi said Rotuma was engaged in the trade of dalo and kumala with Tuvalu and the inspections were also designed to ensure termites from Fiji did not find their way to neighbouring termite-free island nations.
---
From Fiji Times Online (20 September 2010)
An island challenge

by Geraldine Panapasa

PUBLIC health nurse Tawita Maibintebure believes taking child care health awareness out to communities in rural areas is an effective way to ensure children are well-looked after.
Originally from Ocean Island, the Rabi Island resident has been posted to Rotuma Hospital for one and a half years as a public health nurse.
"In 2009, I was posted to Rotuma and was transferred to do public health," he said.
"On Rotuma, its quite challenging because you're looking after the school students, mothers and family planning.
"When you look at the island, its a very rich island. There are a lot of local foods and produce.
"But they have to know when to give it, how to give it and which one is best for their children.
"They need nutritional education. We are there now to talk about health."
The 26-year-old says regular visits to the seven districts on the island have boosted health awareness programs.
He said some families could not afford to travel to the hospitals daily for health check-ups so taking the service out to the community was very effective in delivering health messages.
"We extended the health screening for the rheumatic heart diseases. We identified a lot of cases and refer them to Colonial War Memorial Hospital.
"They are back and on treatment. I normally go out into the different districts.
"We take the hospital services out to the community. We also want to teach them that they must take responsibility for their health.
"Most of them are thinking of the treatment but what they can do is think about what causes them to have the sickness."
He said education was the main tool in public health. He said early detection of children illnesses is very important.
---
From Fiji Times Online (17 September 2010)
Place to run

by Frederica Elbourne

VILLAGERS on Rotuma have built a second home as part of preparations for future tsunami warnings, it has been revealed.
Professor Vilsoni Hereniko, who is the director of Oceania Centre for Arts, Culture and Pacific Studies at the University of the South Pacific, said the development followed previous false tsunami warnings where villagers had nowhere to flee.
Speaking at the Oceanic Conference for Creativity and Climate Change this week, he said islanders were simply told on three occasions to flee their coastal homes because of an imminent tsunami.
"Through the so-called coconut wireless, news spreads like wildfire on Rotuma at times corroborated or contradicted by the official account that sooner or later policemen provide as they travel from one village to another proclaiming impending disaster.
"The advice given is minimal it is to flee from the coastline. Residents are usually left to figure out where to flee to, and what to take," he said.
Subsequently, villagers have built their second homes inland.
"They're building thatched houses in the bush for the next tsunami," the Rotuman native and director of the film The Land Has Eyes said.
The move is a bid to do away with the image and perception that they are pitiful people, Professor Hereniko said.
"They want to be seen as smart and wise. Some are even enjoying their second home," he said.
"Having a house to run to for shelter demonstrate preparedness on their part and will spare them the embarrassment and might even enhance their reputation in the eyes of other Rotumans," he said.

The jetty at Oinafa. People on the island of Rotuma have been advised to build inland homes in case of tsunami strikes
---
From Sanimeli Maraf in Rotuma (26 August, posted 11 September)
The Westerland arrived at 8:30 last evening, but according to the police the wharf was closed and wouldn't open until 8am the next morning, so our forau only came ashore this morning. The Westerland carried 300 passengers, mainly for the Catholic Women's League" meeting in Sumi. They chartered the boat and will be here for three days.
The good news is that the boat brought two buses with the passengers which were used to transport the people to Sumi. I believe the buses belong to thr Maharaj Co. of Nausori. The connection with Rotuma was Mr. Venesio of Juju, Gagaj Tupua`rot's father, who has worked for this company for quite a long time. It's good news for all of us as it costs us $30 (for four people only) to hire a transport from Noa`tau to Ahau. If we hire a truck with a roof it costs $100. Who can afford that? The Council buses are sitting in Hapmak rotting away not far from Mr. Hereniko's place. I recall an Indian driver wanting to buy the two busses and take them to Suva and have them repaired but the D.O. and Chairman of the Council wouldn't allow it. Now they are allowing it but it is too late; who wants to buy such rotten looking transports.
All branches of the Methodist Church Division has a la`asi to Sumi at 4pm today. It's our Rotuman way. I baked a carrot cake and will bring it.It says "Ladies a baked of anything umef te funu."
I believe Pacific Sun will start flying to Rotuma at the end of September, but the airport is still the same . . . no work done on it yet.
---
From Fiji Times Online (3 September 2010)
Group frets over future
by Monika Singh

CONSERVATION of the environment is one of the main aims of the Rotuma Women's Association, says President Marieta Tuihea.
Mrs Tuihea was at the Catholic Women's League annual conference held in Sumi, Rotuma, last week.
She said their association, which was formed in the early 1960s, had more than 30 members who hel-ped each other in education and awareness on issues affecting them and their community.
"We work with the LajeRotuma Initiative whereby we managed to make cloth bags, which could be used by people for carrying their shopping instead of plastic bags," she said.
Mrs Tuihea said the initiative was funded by the British High Commission and assisted by the LajeRotuma Initiative, which also worked with the WWF.
"We made some traditional coconut water bottles which could be used by children in school for water and juice instead of plastic bottles. Our island environment and its resources have to be protected from harmful substances," she said.
Mrs Tuihea said there were some women who were still reluctant to be part of the organisation.
She said the women on the island were content with their lives and questioned the role of the organisation in their lives.
"The women who are part of the association have learnt many new things about their rights, the environment and how to teach and keep their children away from trouble."
---
From Fiji Times Online (3 September 2010)

From sports to farming

Masina Fatiaki Paka took up farming after retiring from bodybuilding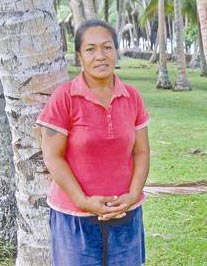 Masina Fatiaki Paka
SHE used to be a bodybuilding star but now she helps take care of her family and works on her family farm in Motusa Village on Rotuma.
Masina Fatiaki Paka has a farm on which she has planted pineapples, yams, cassava and dalo.
"The farm is our main source of income and I help my husband on our farm. Most of the people on the island are gearing up for trade between Rotuma and Tuvalu, which is expected to start soon," she said.
Mrs Paka said she planted more than 400 pineapples on her farm, which would mature in the next few weeks.
"We just got a new fruit picker which would be used by farmers on the island and it would be a great help to us," she said.
Mrs Paka said they sold dalo and other root crops from their farm on the island but they planned to sell their crops to the market in Suva when the airport was operational.
She said there was talk of direct trade between Rotuma and Tuvalu and that was why most of the farmers planted pineapples, dalo and other root crops to be sold.
"We plan to increase the size of our dalo plantation so that we are able to meet local and export demand," she said.
Mrs Paka said people on the island were optimistic that the new airstrip would mean development in terms of access to market for their crops and for more visitors.
"Life here is very good because we have readily available resources," she said.
---
From Fiji Times Online (3 September 2010)

Father tends to his flock
by Monika Singh

Father Emiliano Lasaqa tends to his flock of sheep at the mission in Sumi
WE arrived in Sumi in Rotuma on Thursday morning after spending three nights and two days at sea and the first thing that greeted us was the flock of sheep running merrily on the school playground.
Although we had seen sheep before it still was important to take some snapshots of them and after that exercise one of the Sisters at the mission said the sheep belonged to the priest.
Father Emiliano Lasaqa is a Catholic priest based at the mission in Sumi and his responsibilities include taking care of the people and his flock of sheep on the island.
Although he was busy with things he had to do to take care of the guests who were at the mission for the annual conference of the Catholic Women's League, he took time out to talk about his sheep and farming on the island.
Fr Lasaqa joined the parish in Sumi six years ago and now he speaks fluent Rotuman and is considered a part of the community.
"I came here six years ago and I found out there were about five sheep already at the mission," he said.
"This was more of a hobby but now it also helps us get some additional income for the mission's use."
Fr Lasaqa said he had 70 sheep at the mission, which were of the Fiji Fantastic breed from the Ministry of Primary Industries.
"I usually sell them when they are four months old and I sell the male sheep only. They are mostly sold from $80 to $120 each," he said.
He said the mission also had some cattle and a farm where they planted dalo, yaqona and vegetables.
"Most of the people on the island are gearing up for commercial farming after the Government encouraged people to grow more local food.
"They are shifting from subsistence to commercial farming and there are agriculture and quarantine officers who visit farmers regularly to teach them what is required of their produce," he said.
Fr Lasaqa said prior to the Government's encouragement for dalo exports, people mostly planted bele, yaqona and some cash crops. He said now farmers were planting dalo and kumala for export.
"This is a big change for the farmers on the island but they are trying to change their attitude," Fr Lasaqa said.
He said the island had coconuts in abundance and that was why copra was one of their main income earners. But the monthly shipping services meant that people could only sell a certain quantity of copra to Suva.
"A group of farmers will attend a bio-fuel workshop in Suva where they would learn how to make bio-fuel out of copra for use and sale," he said.
Fr Lasaqa said the mission joined the farmers on the island and planted dalo for export.
---
2 September 2010
Major General Jioje Konrote (ret.) has sent for posting on this website several documents relating to current development activities on Rotuma. Konrote is Rotuma's last elected parliamentarian and is the Council of Rotuma's special representative with the Interim Government of Fiji. The documents are in pdf format and can be downloaded for viewing and/or printing. They are:
---
From Fiji Times Online (2 September 2010)
Ministry gives sewing machines
by Monika Singh

EIGHT sewing machines have been given to the Catholic Church in Rotuma to help in the economic empowerment of women on the island.
Luisa Pesamino Viliame, who works with the mission on Sumi, said the machines were donated to them by the Ministry of Women at the request of the Catholic Women's League.
Mrs Viliame said the machines would help the women who did not have any means of income for their family. She said they would be taught how to sew and then they would be able to earn some money from their tailoring business.
"This year we are focusing on craft work for the ladies and they have attended classes for baking and other craft work.
"It is not that these women do not know how to bake or sew but the aim is to learn new techniques and recipes so that they are able to start up a small business for themselves," she said.
Mrs Viliame said the Ministry of Women also gave them three bake ovens which would be used by the women to learn how to bake. "We are trying to make use of the resources that is available here on the island and that is one reason why we are also focusing on making Virgin Coconut Oil," she said.
Mrs Viliame said VCO was a fairly new product which was in great demand both local and overseas and they planned to create a market for their product.
She said Rotuma did not have any shortage of coconuts.
---
From Fiji Times Online (2 September 2010)
Island drug threat
by Monika Singh

MOTHERS and grandmothers at the Catholic Women's League conference in Rotuma were warned about the dangers of illicit drugs and substance abuse rise among children in Fiji.
Sergeant Christopher Kustau from the Criminal Investigations Department drug unit spoke to the women on the use, manufacture and smuggling of drugs in Fiji on Friday.
Sgt Kustau said despite being a small island nation Fiji was in the list of names of drug manufacturers and smugglers in the world.
"When we talk about children and drug and substance abuse in Fiji the first thing which comes to mind is glue sniffing which is increasing," he said.
Sgt Kustau said the Ministry of Education and Ministry of Defence was working together to set up a legislation against sale of glue to children and against glue sniffing in Fiji.
"The police force cannot fight the battle against drugs and that is why we need the support from the community and the vanua to help us in this fight," he said. Sgt Kustau said with the maintenance of the airstrip on Rotuma and the wharf would mean more people coming to the island and a port of entry for all forms of criminal activities.
"It is the responsibility of the people on the island, especially you mothers to educate your children on the island about the dangers of drugs," he said.
He said date rape drugs were also increasingly being used by people who had access to them.
"We have come across cases whereby young girls and women have been victims of this drug. There are also cases whereby some women have been blackmailed for money by such men who drugged them and took pictures of them and posted them online," he said.
He said mothers were the pillars of the community and family and they could encourage their sons and daughters to stay away from drugs.
CWL representative, Asela Naisara said it was important for police stations to be women-friendly.
Mrs Naisara said most women who were victims of domestic violence were not comfortable at police stations because they were not treated in the manner which they should be.
Meanwhile Officer in charge Ba Police Station, acting Assistant Superintendent of Police, Bereta Naisua encouraged the women to work with the police force in making Fiji a crime free nation by 2012.
She said the force was focused on building its relationship with the community which would help them get more information on the crimes committed.
"Through our contact with the communities we have been able to determine that the main cause of the problems is unemployment," she said.
She said they wanted to encourage those people who were unemployed to return to their villages and work hard on the land available.
She said that would ensure that the unemployed had some form of work to do and they could earn money from selling the crops they grew.
---
From Fiji Times Online (2 September 2010)
Two denominations stand united
by Monika Singh

THE Catholic Women's League conference in Rotuma brought members of two denominations together.
This happened when members of the Methodist Church in Rotuma paid a visit to the CWL members who were at the conference.
More than 400 CWL members from all the divisions in Viti Levu, Vanua Levu and Rabi were at the three-day annual conference which was held at the Catholic Mission compound in Sumi last week. It was an emotional scene as the Methodist church members brought forward food and other items as gifts for the Catholic Church members.
Bundles of dalo, baskets of cassava and breadfruit were loaded off trucks and later presented to the president of the CWL, Susana Evening and the chief guest, Adi Finau Tabakaucoro.
Speaking through a translator, Methodist Church pastor, Mario Rigamoto thanked the women who came from all over Fiji to be part of the conference on Rotuma. Mr Rigamoto said the members of the CWL had spent three days at sea and travelled great distances to hold their meeting on the island.
He said the gesture was of love and unity among the people of the two different church denominations.
The three-day annual conference of the CWL started on Thursday and ended on Saturday midday with the members presenting their sevusevu to the people of Rotuma.
In her message to the women at the opening of the conference, Adi Finau encouraged them to support the State in achieving the various pillars of the People's Charter.
Adi Finau said the charter was aimed at bringing equality and prosperity among the people.
She said the food security aspect of the charter was one of the most important features.
"The Government is encouraging people to grow their own food so that we could reduce our food import bills.
"We import $40million worth of rice from overseas when we could save that money by growing rice locally."
She said there were so many unemployed people in the country who were dependent on social welfare assistance.
"There is so much land available which could be used to plant crops which could then be sold in the local market," she said.
Meanwhile, a craft fair was organised by the members of the league where each district displayed the items they had designed and made.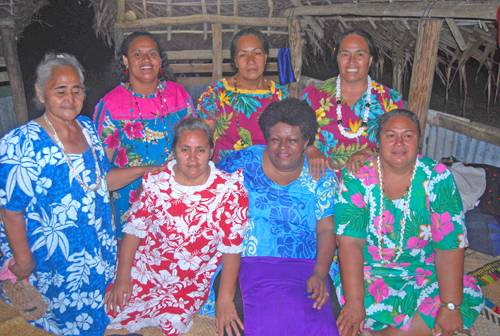 Members of the Rotuman Catholic Women Association
---
---