News from Randolph Bentley in Nadi (30 November 2010)
Pacific Sun this afternoon advised all Travel Agents in Fiji of their new Scheduled Service to/from Rotuma effective 03 Dec. 2010 as follows:
Flight Nbr                  Dep Nadi        Arr Rotuma      Flight Time         Stopover     
FJ 181       Fridays      6:45 AM         9:15 AM       2 Hrs 30 Mins        30 Mins       
 
Flight Nbr                  Dep Rotuma   Arr Nadi           Flight Time               
FJ 180       Fridays      9:45 AM         12:15 PM       2 Hrs 30 Mins    
Ticket prices from Nadi - Rotuma return are FJD 1196.30 and FJD 598.20 one-way.
---
Please note our Nadi Office has 2 Consultants who speak fluent Rotuman. For bookings and fare quotes please call Pan Pacific Tours a fully licensed IATA Travel Agency with 2 offices located at:
 
Shop 4 Bulaccino Plaza Main Street Nadi Town
Phone: 679-6702930 / 6702543
Mobile: 679-9920406 / 9920414
Contact: Randolph Bentley 
Email: randolph@panpacifictours.com.fj             
 
Shop 7 Vanua House Arcade Victoria Parade Suva
Phone: 679-3317270 / 3317280
Mobile: 679-9920700 / 9920400
Contact: Agnes Maikin 
Email: travel@panpacifictours.com.fj
 
Pan Pacific Tours are also agents for Qantas Airways, Air New Zealand, Air Pacific, Pacific Sun, Korean Airlines, Continental Airlines, Air Vanuatu, Air Calin, Solomon Airlines and Air Niugini. Our experienced Travel Consultants are fully qualified to handle Domestic and International bookings, E-ticketing , Visas and other Travel Arrangements. 
 
Randolph Bentley
Manager / Travel Consultant - Nadi
---
News from Mika Taito in Stockton California (29 November 2010)

Last Friday we gathered at the residence of Makereta & Pedro Rigamoto in
Stockton, California for our family Thanksgiving. We were fortunate this year to have Aunty Anne & Uncle Faga Sova from Motusa, Rotuma. A koua was made and the food included turkey, ham, roast pig, fresh yams, and 'a'ana plus deserts of fekei & pie.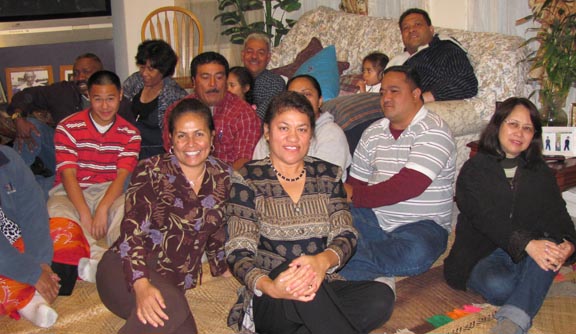 A Rotuman Thanksgiving in Stockton, California
---
News from Mark Vaurasi in Auckland (22 November 2010)
The Annual New Zealand Rotumans' get together and Annual General Meeting was held during Labour weekend from Friday, 22 October until Monday, 25 October 2010 at the Kelston Girls College in Auckland. The weekend was a success, thanks to the Auckland Group's planning committee of Joe & Patricia Mose (chairman & accommodation), Jane &  Sopapelu Samisoni (culture & emcee), Lillyan & Vama Viki (catering), Konrote & Donna (sports, including banner and tee shirts), Te Rito Peyroux & Colleen Sokra'a(administration), Kautane & Mark Vaurasi (communications & emcee), and ably supported by all Auckland Group members and families.

The following members were elected at the AGM to the New Zealand Rotuman Executive Committee:

Chairman – Mark Fesaitu Vaurasi
Assistant Chairman – George Aptinko
Secretary – Te Rito Peyroux
Assistant Secretary – Darlene Inia
Treasurer - Tieri Carswell
Assistant Treasurer – Rejieli Cullen
Youth Leader – John Munivai
Assistant Youth Leader – Robert Samisoni
On behalf of the Chairman and members of the Auckland Group, I would like to thank Creative New Zealand for their financial support, our Rotuman guest speakers; Ngaire Fuata (Coley) from Television New Zealand - Tagata Pasifika, Anne Johns from the Royal New Zealand Airforce, Surava from Massey University Pacific Liaison, Dr Rafoi from Fiji, and the wider New Zealand Rotumans who attended the weekend.
Once again thanks to Ngaire and Television NZ (Tagata Pasifika), we (Rotumans) got a small mention at the top of the show about the weekend's get together – the rest will be included in a special next year. Ngaire is planning her first ever visit to Rotuma this Christmas and Tagata Pasifika is going to document the journey back – which will be a half hour special next year. If anyone can assist with Ngaire Fuata's plans please contact me or Ngaire, directly.
We look forward to the next Annual New Zealand Rotumans get together which will be hosted by the Waikato-Mairani Group during the Queen's Birthday weekend in June 2011. The reason for the earlier shift of date to June 2011 from October 2011 is due to the Rugby World Cup 2011, which will be hosted in New Zealand.
For those not aware or are new to New Zealand, one of the aims of the NZ Rotuman Fellowship, Incorporated is; "To bring together Rotumans, their spouses and families and other interested persons thus reinforcing their Rotumaness by promoting the preservation and perpetuation of Rotuman language and culture." If you and your families are interested in becoming a member and supporting the wider NZ Rotumans, please feel free to contact your local community leaders; Lorelena Kulatea (Wellington), George Aptinko (Waikato-Mairani), Joe Mose (Auckland) or Mark Vaurasi (Chairman)

The next Executive Committee meeting will be held at Mark and Kautane Vaurasi's home on Saturday 4 December 2010 at 0.930 am.

Hugag'esea, Haihanisiga, ma Garue Lelei-Feeni tae la sikia famor Rotuma se rere.
---
From Fiji Sun Online (20 November 2010)
New centre for women in Rotuma
Women in Rotuma will further enhance their capacity and capabilities with the opening of a training centre on the island.

The Tuibau Women Training Centre was officially opened on Thursday by Rotuman Think Tank representative Misau Fatiaki under the presence of Commissioner Eastern Lieutenant-Colonel Iferemi Vasu.
Rotuma Provincial Council representative [Major-General, ret.] George Konrote said the centre would make a positive contribution to the island.
"This is where they will learn to improve on their sewing, cooking and other handicrafts," Konrote said. He said the centre had been running for years but the new complex is expected to boost and enhance the knowledge of the local women.
Konrote also thanked government for their contribution.
"This centre is made possible through the assistance from government and I must thank them for their continuous support," he said. The centre was initially planned to be opened by the deputy secretary in the Prime Minister's office.
---
From Fiji Sun Online (20 November 2010)
State hails Rotuma's support

The support for government by the people of Rotuma has been acknowledged by the Commissioner Eastern, Lieutenant-Colonel Vasu yesterday.
In opening the new Public Works Department depot on the island, he said, that Rotuma's continuous support will only benefit its people.
"I would like to thank the people for supporting the Government as this will benefit all people of Rotuma," Lieutenant- Colonel Vasu said.
Rotuma Provincial Council committee member Colonel George Konrote said there was a need to expand the depot.
"There are lots of developments taking place on the island so there were many machineries that needed to be kept well," Colonel Konrote said.
He said the work on the new depot was done at first by PWD before it was completed by the military.
---
From Fiji Times Online (16 November 2010)
Westerland okay to sail

By Geraldine Panapasa

THE suspension on shipping services by inter-island vessel MV Westerland to Rotuma has been lifted, says Fiji Shipping Corporation Ltd chief executive officer Simon Narayan.
Mr Narayan made the comment yesterday after it was made public that the services were temporarily suspended following complaints from the Rotuma Island Council that the vessel had flaws.
"The suspension has been lifted by the Minister (of Transport)," he said.
"The Rotuma Island Council had earlier written to the minister that the vessel had some flaws in terms of the passenger safety.
"But the Fiji Islands Maritime Safety Administration (FIMSA) has cleared that, saying the vessel is safe to go.
"As much as government has a social obligation to look after the island communities, government also wants to ensure passenger safety," he said.
Mr Narayan said the MV Westerland would resume servicing the Rotuma route because of its ability to carry large cargo.
He said the vessel would now cater for routes between Suva, Savusavu and Taveuni.
Mr Narayan said this route was normally serviced by Bligh Water Shipping's MV Suilven, which was grounded at Mosquito Island in Suva last week as a result of entangled fishing line on the propellers.
"MV Suilven is under maintenance so MV Westerland will cater for that route until the MV Suilven comes back," he said.
"Blue Lagoon's vessel Nanuya Princess will also be doing a trip from Lautoka to Rotuma.
"They anticipate leaving on November 27."
Meanwhile, Deputy Secretary Rotuma Affairs in the Prime Minister's Office Tomasi Tui said government ship MV Iloilovatu was expected to depart for Rotuma today.
---
From Sanimeli Maraf in Rotuma (13 October 2010, posted 3 November)
At long last they will start work on the airport following a meeting of the landowners last week. The meeting went well and everyone in Malhaha agreed. The Government wants to widen the airstrip by 20 meters on both sides and to build accommodations for the workers to live close to the airport. It will be called "Bainamarama Rotuma International Airport." It's a blessing for us and for you folks overseas as well. You will be able to make direct bookings. The present Government has done a lot for Rotuma.
There are people who want to come and do business in Rotuma, and the Council will have to control that. There is a very prominent man by the name of Robert Thomas from Labasa who works for Wee Kong Marine Products & Export in Suva. He came on the last boat to introduce cottoni and spinosum lumu farming. Most people were excited about the possibility because they can make good money. Although some districts want to start right away, Noa'tau and Malhaha want to wait until the okay is given from knowledgeable people from Fiji, including Monifa Fiu. She got her Master's in marine biology and gave Rotumans advice regarding beche de mer, etc. This Robert Tomasi lives with his mother, Kanagsau, in Kalvaka and intends to harvest both beche de mer and lumu.
The new nurses' home in Ahau is just about ready. The building looks very nice and modern. Today the Council members got together and took some foodstuffs etc. to say thank you to the Fijian men who helped build it. It's our Rotuman custom to thank them to show our appreciation. Some will return to Fiji on the next boat, which is supposed to arrive next week on the 20th—if the boat arrives!
I would like to mention that we were very, very sad to lose our 'öhön ne Rot Uasle e Rotuam, Mrs. Akanisi Pene. She and Fekau Pene Emotama went on the last boat, which took three days from Rotuma to Lautoka—too long. Jioje Konrote also went on that trip and he said that the boat, MV Westerlander, is not safe and asked that the Council send a fax to the P.M. requesting for the Sullivan or another type of transport safe for Rotuma. What next I cannot say.
I would like to mention that Mua Taukave, the son of Dr. Taukave and Tupou, has started a business called "Lihava." They're doing copra harvesting, garage repairs, importing goods, etc. as well as doing bookings for Bligh Waters Shipping. I believe there a couple of guys who have a share in the business. Next, ice cream and frozen stuff will be arriving. They will also have tea rooms. They also have welders, builders, engineers with them who help our Rotuman people repairing their cars, etc. and save us a lot of money because we don't have to send things to be repaired in Fiji. The boat fare to send a car to Fiji is very high.
A biofuel project will be starting in Motusa by Pat Faktaufon and others, but I believe the Government intends to bring the biofuel business to Rotuma after they help establish it in Lau, Fiji.
We enjoy travelling by bus to Ahau to do our business. It costs only costs $2.00 each way. Buses go every day, one on the Maka side and the other on the Faguta side. People are much happier because of this transport. Three of the Council buses are sitting rotting on the roadside in Hapmak.
The police are busy doing their job. They are now involved with people watching out for the home-brew makers, marijuana drugs, etc. They also are present at meetings to remind them of the laws. It's good for the people, especially around fara time at Christmas, which is just around the corner.
Comments by Yvonne Aitu SuniaMafile'o, Betty Kuna'u, Alan Howard and
Timote Rupeni
---
From Fiji Times Online (3 November 2010)
Our first female aircraft engineer

by Felix Chaudhary
Maria Munivai at work on an Air Pacific Boeing 747 engine.
Picture courtesy of Air Pacific
A LONE Rotuman lass has broken what was once the stronghold of males—and in the process, created history by becoming Fiji's first female licenced aircraft mainatenance engineer.

Maria Munivai Wilson recently acquired her AME Licence from the Civil Aviation Authority of the Fiji Islands, three years after joining the avionics workshop at Air Pacific's Engineering & Maintenance Department as a tradeswoman.

"This is a dream come true for me. As a young girl growing up in Savusavu, I knew that one day I would be working on aircraft engines. I constantly worked towards this goal and finally obtaining my engineer's licence and wearing the Air Pacific colours is a dream come true," the Malhaha lass shared.

Congratulating Ms Wilson for the historic achievement, Air Pacific's managing director and chief executive officer Dave Pflieger said the national airline was extremely proud.

As an accredited engineer, Ms Wilson is now part of the Air Pacific team that maintains the air-worthiness of Air Pacific's fleet of two Boeing 747s, one B767aircraft, its three narrow-bodied 737s and Pacific Sun's two ATR42-500 turboprops.

Maintenance work includes carrying out scheduled aircraft maintenance at Air Pacific's Nadi Airport Hangar, as well as aircraft checks on line when the aircraft transits or overnights.

"It's great to be part of a team of such highly motivated and skilled group of engineers," said Ms Wilson.
"I am indebted to the engineering team of Air Pacific for their confidence and support."

Ms Wilson is in her late 20s and is the daughter of Siriroa Simo and Luise Elena Gabriel.

Her father was an electrical engineer with the Fiji Electricity Authority and due to the nature of his work, the family moved around a fair bit resulting in Ms Wilson attending primary schools in Wainunu, Savusavu, Nausori and Nadi.

She attended Nadi Muslim College where she completed her secondary education and obtained a diploma in electronics/electrical engineering from the Fiji Institute of Technology in 2006.
---