News from Sanimeli Maraf in Rotuma (12 June 2011, posted 29 July)
The Tuvalu people left our shores yesterday at Oinafa wharf on their boat Nuvaga. The whole crowd stayed at Paptea at Ella & Tausia's place. The Paptea neighbouring families came over to help with the cooking and to look after the Tuvaluan people—there were 55 of them. The Council had a la' asi plus different districts, friends & relatives. I believe they had a lovely stay here in Rotuma and we enjoyed having them. We learned a lot about their culture. One man said, "When we go back it's rice today, rice tomorrow and through the week." They went back with an oso of taros and tapioka. Because they're from a different country, many things from Rotuma are restricted, especially fruit which may contain fruit flies. And they cannot take things to plant.
There are a couple of weddings in the air, so I believe, and one of them stayed back. They invited us for their celebration on 23 April and some people would like to go, but we have to have passports and fares are not cheap either. They use Australian currency in Tuvalu.
We hosted a couple of men here in Noa'tau—Chief Suka Taupale and Kaitu Nakisi (O'brian on his mother's side). Both men are in their late 50s and are from Funafuti. Suka brought his fishing net for ka'iri. There is an art to throwing the net to catch fish, which some men here want to learn. In Rotuma, when I was young, I watched Tafaki throwing his net in a similar fashion. He really knew how to do it.
We sure miss these people. Thanks to the Council for providing them with bus transport. The captain of the Nuvaga and his family, the custom officer and her family plus the crew came on shore Friday night and joined their Tuvalu friends and they had a lovely party of dancing at Paptea—no sleep.
We thank our Lord for the wonderful meeting up with these Tuvalu people and for all the things that we learned from them. For example, the girls lined up with bowls of water for washing your hands before eating, and after you ate the young boys brought the bowls for washing your hands. I think this is in order to keep clean, especially when using your fingers to eat with. Every la' asi they made their fekei out of hara. It was quite nice, but we're not used to eating fekei hara.
We have a new machine installed at Ahau by this guy from Hawai'i who came from Queenstown, New Zealand. His name is Mr. Williamson. Because we have fruit flies, fruit must go through a processing to kill the bugs before it can be exported. It's all computerised and it's amazing how the machine works.
The airport work has not started yet. Once it starts the flights will stop for a while. The agricultural people are working around the clock. Some of them are introducing the making of perfumed soap out of coconut oil, but care must be taken when using caustic powder. Still, for our women it's like a new toy.
The three subsections of the Rotuma Council are 1) Rotuman Investment, 2) Remcol Rotuma Export Marketing Co., and 3) Biofuel. These are all under the Rotuma Council. Fishing is another thing coming. We need good leaders; honesty is the number 1 thing!
---
From John Taito in Navua (25 July 2011)
9th Annual Rotuman Farmers Foodshow 2011

Saturday, 11 June was the height of activity for the Rotuman Community in Navua. Family members and friends came from Suva, Valelevu, Davuilevu, Waila, Nadi and even as far away as Rotuma to support and participate in this year's foodshow celebration. The program commenced with the garlanding of the Chief Guests, Fuata & Maria Jione and their family, along with guests and competitors. This was followed by a short devotion by Pastor Robert Powell of the Pacific Harbour Wesley Church. The welcome address was delivered by the Chairman of the Farmers Club, Mr Sam George, who acknowledged the Chief Guest and his family and thanked them for their kind support in accepting the association's invitation to open this year's foodshow. He thanked everyone and addressed the audience on the significance of the foodshow, with emphasis on working in unity whilst encouraging the younger generation to maintain, develop, and support the initiatives of the event.

In his address, Chief Guest Fuata Jione thanked the Navua Rotuman Farmers Club for their invitation to his family to be part of their event; he expressed his support for the aim of the event.

The chairman, upon receiving an envelope containing $1,500, thanked the Chief Guest and his family for their generosity, followed by a big applause from everyone.

The Chief Guest, Judge Aisea Antonio, and other guests inspected the crops of the six competitors that were on display whilst the Score Mistresses: Ms Mary Kaitu'u, Mrs Akanisi Manueli, Ms Katarina Fonmoa and Ms Janet Manueli and the Scale Master Mr Malakai Kaitu'u and the Ring-side team of Mr Joeli Erasito, Mr Fai Erasito, Mr Roger Kaitu'u & Mr Tui Toga finalized their team preparations.
The competition proper commenced at 10.15amwith the taro category (19 varieties), assorted yams (12 varieties) and ended with the temafa category. Most of the crops were measured for weight and length.

Notably present at the foodshow were Messrs Fatiaki, Robert Misau & son (Suva), Tui Semesi (Suva), Rev Mataere & Mani Muaror (Nausori), Eleni Mausio (Suva), Marieta Rigamoto (Navua), Tu'e Faktaufon (Nadi), Maraea Wise (Navua) & Betty (Malhaha, Rotuma), Mojito & Rejieli Mua (Suva), Jioje Faga & Fiu (Waila), Semesi Kauata & Kevin Paka (Valelevu), Tifanue Nataniela (Suva), Mako Chute (Waila), Tofiga Veu (Suva), John Mcgoon (Navua).

A tea break at 11.00am had family and friends treated to an assortment of tasty baked pastries—fai'eksia to the womenfolk of the various ho'aga. At 1.00pm everyone tucked into a wonderful spread of an island koua lunch, including several varieties of Chinese and Indian dishes.

The competition resumed at 1.45pm with the Chief Guest's farewell address at 2.20pm, in which he thanked the farmers for the true island spirit he and his family had witnessed and also assured the farmers that the overall winner 2012 champions trophy will be brought from Brisbane by his family. The emcee specially mentioned the presence of the Waila foodshow champions, Fiu and his uncle Jioje, and three times Juju foodshow champ, Joeli Erasito, who was in Navua to visit family members. The competition concluded at 4.15pm. Whilst the scorers were busy tallying and finalising the respective scores and payouts, the emcee had the six competitors dance to the tune of a lively Rotuman number followed by the competitors' end of competition cheers! The latter part of the afternoon had more live entertainment provided by the local PRO-AM Band.

Judge Aisea Antonio addressed the competitors and thanked them for displaying a true island spirit. He encouraged everyone to keep up the good work and offered an apology in the event that anyone disagreed with any of his initial decisions. The farmers were reminded of an old saying "Mene'a tela'a te on fa."

Messrs Jioje Faga, Mojito Mua, and Semesi Kauata were given the honor of presenting the awards for different categories and the overall Foodshow Champion for 2011.

The overall champion for 2010, Mr Jione Kaitu'u, who was gracious in defeat, thanked everyone who donated to or supported the event in any way and also reminded everyone of the aim of the foodshow. The veteran admitted he thought the trophy would be his again, but it had taken a better 'iso'a to take the trophy off him. He congratulated his cousin Sam George, the overall champion 2011, but warned him that he better brace himself for the tenth annual foodshow in 2012.

The overall champion for 2011, Mr Sam George, jubilantly admitted that victory was achieved through months of hard work and, taking note of the former champ's remarks, said that it would have taken a chain saw to cut the roots of this champion's trophy, much to the laughter of everyone "Kop la chain saw leilei het la mut ia va'a ne la fup e ip heta."

The emcee, Mr John Taito, played the Rotuman Anthem – Atumotu Helava La Kele, which was sung beautifully by everyone present. A sense of pride in being a Rotuman Islander was evident during the singing of the anthem. Pastor Robert Powell delivered the benediction; he thanked the Almighty Lord for a successful program and wonderful day.

The Navua Rotuman youths and the emcee delivered cheers to end the 2011 foodshow program.

The Foodshow Results:

Taro Category: 1st: George Fonmoa, 2nd : Sam George and 3rd: Fauoro Manueli
Temafa Category: 1st: Fauoro Manueli & Sam George, 2nd: Jione Kaitu'u and 3rd: George Fonmoa

Yam Category: 1st: Wesley Konrote, 2nd: Sam George, 3rd: Jione Kaitu'u
Heaviest Yam:

Filipine ta

– 78.95kg, Jione Kaitu'u, previous record 2010 Filipine ta – 83.4kg, Francis Varea

Longest Yam:

paroi ta

– 98cm, Wesley Konrote, existing record 2005 'Uh Fit ta' – 105cm, Jioje Fonmoa

Heaviest Taro: Navua (

hen roa ta

) – 7.55kg, Jioje Fonmoa, existing record 2005 Navua (

hen roa ta

) – 7.9kg, Freddy Wesley

Longest Taro:

pulou ne hoi ta

– 76.5cm, Sam George, existing record 2005 '

pulou ne hoi ta

' – 98cm, Tausia Amoe

Heaviest Cassava:

uli mia ta

– 33kg, Fauoro Manueli, existing record 2005

soko-bale

– 71.9kg, Freddy Wesley

Overall Champion 2011 – Sam George

Ho'aga Champion 2011 – Navua Group

Ho'aga Groups:

Viwawa: Jione Kaitu'u of Maftoa, Itu'muta.
Nasasa: Fauoro Manueli of Noa'tau
Navua: Sam George of Hapmafau, Itu'tiu & Jioje Fonmoa of Savlei, Itu'tiu.
Rovadrau: Freddy Wesley of Lopta, Oinafa & Wesley Konrote of Malhaha

Big fai'eksia e hanisi to the following guests, friends and family members for their contributions:
➢ Mr Fuata and Maria Jione & family of Brisbane, Australia
➢ Mr John George & family of New Zealand
➢ Mr Aisea Antonio of Suva
➢ Mr Mako Chute of Waila
➢ Mr Tofiga Veu of Suva
➢ Mrs Maraea Wise of Navua
➢ Mrs Farema Taito Naga of Germany
➢ Mr Jioje Faga & Fiu of Waila
➢ Mr Mojito & Rejieli Mua of Suva
➢ Mr Collin Suliana of Suva
➢ Mr Semisi Kauata of Valelevu
➢ Mr Tifanue Nataniela of Suva
➢ Ms Lavenia N of Navua
➢ Mrs Lavenia Mcgoon of Navua
➢ Ms Theresa Tavo of Nadi
➢ Mr Joeli Erasito of Juju, Rotuma
➢ Mr John Mcgoon of Navua
➢ Mr Lili & Fonmanu Somone of Navua
➢ Mr Fatiaki & Robert Misau of Suva
➢ Mr Tui Semisi of Suva
➢ Mr Nataniela & Paka Kamilo of Lopta, Rotuma
On the Queen's Birthday holiday, Monday, 13 June, everyone gathered at Jione Kaitu'u's residence for a post foodshow meeting, during which the Navua Hoaga handed over the club leadership role for 2011–2012 to the Rovadrau Hoaga. Wesley Konrote accepted on behalf of their Ho'aga. The new Chairman, Freddy Wesley, thanked the farmers for the spirit of this year's competition and called on all to work together for the success of next year's foodshow. New inclusions are Lili Somone of the Nasasa Hoaga, who hails from Oinafa, and Jioje Aisea of Lopta, Oinafa, who joins the Viwawa Ho'aga. In his address, Jione Kaitu'u thanked the Navua Hoaga for a job well done and encouraged all the farmers to prepare well for next year's Foodshow. A koua lunch followed and there was entertainment for the rest of the day.

Hanisiof se te ne aus otomis hunsiosiag Rotuam ne te' e Rotuma, Fiti ma hanua Fifisi—omus hunsiosiag ne noh e Navua, Fiti.

---
From Fiji Times Online (23 July 2011)
Workshop for inmates

by Parijata Gurdayal

BEING confined is not the end of the road, youth officer for the Central Division of the department of youths and sports Philip Hereniko says.
He made the statement while addressing 40 prisoners, participants of a three-day Seed of Success workshop at the Suva Corrections Centre that started yesterday.
"The intention is that the program changes the mind-set of these inmates and that they realise that confinement is not the end of the road for them," Mr Hereniko said.
Facilitated by the Rehabilitation Unit of the Fiji Corrections Service and the Department of Youths and Sports, the workshop constitutes four aspects of personal development.
Mr Hereniko said the program covered the spiritual, mental, economical and social aspects of life.
Mr Hereniko said program was aimed at increasing youth's self-esteem, creativity, productivity and help provide ownership of their lives' decisions. "It is an empowerment program that we normally present to youth groups all over Fiji and this is the second time it is being held with inmates," he said.
The first workshop of such nature was held at the Naboro corrections centre and upon request; a second, said Mr Hereniko, was being held at the Suva Civic Auditorium.
Mr Hereniko said participants would ideally realise that being a prisoner should not stop them from dreaming of better things.
Mr Hereniko said the training provided a platform for sharing experiences among participants. He said there had been cases where some of the participants had actually stood up and shared how their moral levels improved and their lives changed as a result of the workshop.
The workshop is designed to encourage prisoners to share their experiences with other participants and from there, their weakness and strengths were identified and "strengthened" respectively.
Note: Philip Hereniko is the son of Mue Josefa Hereniko and Luise Fanifau, and the nephew of Vilsoni Hereniko.
---
From Fiji Times Online (23 July 2011)
OLD newspapers, paper cuttings, shower curtains, shopping bags, wrappers of dutyfree alcohol bottles, discs and tarpaulins were brought to life by local designers and displayed in a catwalk at the Crest Agriculture Fashion Show in Suva on Thursday night.
Participating designers also portrayed various outfit designs with the use of umbrella materials, garbage bags, painted sticks and pieces of gauze wires, among others, under the Recycle Category.
Models also took to the catwalk to show-off unique designer touch to garments incorporating local prints and designs indicating the existence of raw talents in Fiji.
More than 10 designers participated in four categories - Organic, Recycle, Fabric Printed and Amazon Queens.
Budding designer Aisea Konrote scooped the first prize of $1000 each for the Organic and Recycle categories.

---
From Fiji Times Online (15 July 2011)
Contestants call for crowd support
by Felix Chaudhary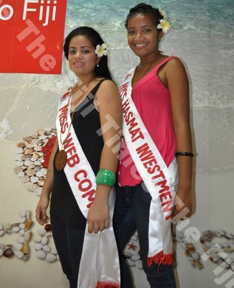 Up for the challenge ... Miss Web Com Jokapety Irau, left, with Miss Hasmat Investment Sereana Cama in Nadi.
Picture: Baljeet Singh
SEREANA Cama and Jokapety Irau are calling for the people of Nadi to come out in numbers and support the Vodafone Bula Festival which starts tomorrow at Koroivolu Park.
"Be a part of something special and give back to the community and the underprivileged by coming out this weekend and next week," said Miss Hasmat Investments, Sereana Cama.
The 19-year-old Fiji National University student believes she has what it takes and is up for the challenge in the activities in the lead-up to the crowning night next Saturday, July 23.
"I will be speaking on the importance of taking time out for people in our community, especially little children," she said.
"With so much going on around us and distractions like movies and the Internet, people spend less time with children and this needs to change."
Fellow contestant Miss Web Com Jokapety Irau will advocate women's rights during the week-long festival.
"I believe there is an urgent need to highlight the importance of treating women equally and also that domestic violence is wrong," the 20-year-old University of Canterbury student said.
Ms Irau is taking a break from studies and works at the Hard Rock Cafe at Port Denarau.
"One of my hobbies is meeting new people and working at the Hard Rock Cafe gives me that opportunity every day," the Rotuman lass said.
The Vodafone Bula Festival begins tomorrow with a float procession and march through Nadi Town to Koroivolu Park.
---
From OzFiji.com (13 July 2011)
Photos from Drumoyne Rotuman Congregation's celebration of Christmas in July, 2011
---
From Bruce Tizard-Varcoe in England (11 July 2011)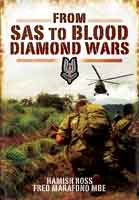 Book Cover
After 2 years of work, on a bright sunny Summer's evening in London, the book launch of From SAS to Blood Diamond Wars took place at the Victory Services Club, near Marble Arch, on Thursday 30 June 2011.

Proceedings began with the chairman Peter Penfold CMG, OBE (former British High Commissioner to Sierra Leone), giving an introductory speech followed by speeches from Hamish Ross and Fred Marafono.

As well as the business of signing copies of the books, there was plenty of time for old friends to meet up and reminisce, and new ones to get acquainted.
From the inside cover:
Even by SAS standards this is the story of an outstanding warrior.
On the point of being demobbed from the SAS, Fred Marafono was recruited by David Stirling for his private security company. After Stirling's death, Fred found himself in the midst of Sierra Leone's Blood Diamond wars, and formed an unbreakable bonding with the country's champion of democracy, Chief Hinga Norman, whose leadership and tragic death are integral to the story.
Fred was recruited by Simon Mann for the finest of all private military companies in Africa, Executive Outcomes. Fewer than two hundred of them defeated the rebels in their strongholds. Through political weakness, Executive Outcomes were made to leave the country, and chaos ensued. Committed men like Hinga Norman and British High Commissioner Peter Penfold realised that only the threat of force would defeat the rebels and restore democracy. In the absence of military support from the west, highly professional former soldiers spearheaded the fight, and Fred was at the spear's tip, as ground force commander and gunner in a helicopter gunship. His final action was supporting the SAS in their brilliant hostage release, Operation Barras.
Peter Penfold sums it all up in the book's foreword, writing of the, 'confidence, trust and admiration I have for this remarkable man.'

Published by 'Pen & Sword Military', the book can by purchased online at www.pen-and-sword.co.uk, as well as from other website sources and book stores.
---
From Mark and Kautane Vaurasi (10 July 2011)

The New Zealand Rotumans' Annual General Meeting (AGM) was held at the Te Aroha Race Course over the period from Friday evening, 3 June, to Monday 6 June 2011. The AGM was moved forward from its usual October Labour weekend due to the Rugby World Cup (RWC) finals that is scheduled for that weekend. It is anticipated that we will either be watching the finals of the RWC live at Eden Park, Auckland or at various homes on TV, cheering for the All Blacks.

Thanks to the Mairani Group members and families for being such wonderful hosts and making the weekend a success. In addition to the planned activities we also celebrated the 1st Birthday of Darlene and Jone Inia's daughter, Eden. Special thanks to the Inia, Penjueli, Ratusau and Carswell families for the birthday celebrations, food, and entertainment. Commentary was provided by the mafua, Sopapelu Samisoni - heȧk ne koua ta.

The Saturday night's group items and performances were of a very high standard and congratulations to the respective groups' organisers: Wellington (Tony Tuatoko & Gabe Penjueli), Auckland (Sopapelu & Jane Samisoni and Patricia Mose), Mairani (Rosarine Penjueli & Ema Carswell), and the Youth.
It was very pleasing to see and catch up with some old acquaintances/families and friends and reminisce about the old days when the Rotuman group was initially formed (thanks to the late Dr Rev Langi's vision); ö'fata Espasio Fuata (uncle Fu) & Marion, ö'hönta Selina Eason, Kerry and Fonmanu Kitione, ö'hönta Rosarine Penjueli, Aggie and Kit Kulatea, Ema & Paul Carswell, and Keti. We also welcomed new families and friends who have recently moved to NZ; Rita & Vamarasi Furivai, Pat and Susau, Tui Pesamino and Vika and daughter Pesamino. My apologies if I missed any one else.
Once again thanks to Ngaire Fuata and Nikki Siulepa from Television New Zealand's Tagata Pasifika, for providing the documentary "Salat Se Rotuma—Passage to Rotuma." It certainly provided an insight into the lives and lifestyles of the Rotuman people, especially for those Kiwis who had never been to Rotuma or heard of our remote and beautiful Island.
On Sunday, the following members were re-elected/elected at the AGM to the New Zealand Rotuman Executive Committee:
Chairman – Mark Fesaitu Vaurasi, re-elected
Assistant Chairman – George Aptinko, re-elected
Secretary – Gabe Penjueli
Assistant Secretary – Rita Furivai
Treasurer – Sonia Kupuri
Assistant Treasurer – Rejieli Cullen
Plus existing group leaders in attendance:
Wellington – Loralena Kulatea
Mairani – Iane Ratusau
Auckland (designated) – Patricia Mose
Youth – John Munivai
We look forward to the next Annual New Zealand Rotumans AGM which will be hosted by the Wellington Group, in Wellington, during the usual Labour weekend in October 2012. The Wellington chairperson, Lorelena Kulatea, advised that her planning committee had already started planning for this weekend and encourages the Auckland and Mairani groups to make plans in advance to come down to Wellington for the AGM.
For those not aware or new to New Zealand, one of the aims of the NZ Rotuman Fellowship, Incorporated is "To bring together Rotumans, their spouses and families and other interested persons thus reinforcing their Rotumaness by promoting the preservation and perpetuation of Rotuman language and culture." If you and your families are interested in becoming members in support of the wider NZ Rotumans, please feel free to contact your local community leaders: Lorelena Kulatea (Wellington), Iane Ratusau (Waikato—Mairani), Joe Mose/Konrote (Auckland), Mark Vaurasi (Chairman), or any Rotuman Group member.
The next Executive Committee (EC) meeting will be advised by Mark Vaurasi once details of the EC's availability, date/venue-skype are confirmed.
Hugag'esea, haihanisiga, ma garue lelei-fe'eni tae la sikia famor Rotuma se rere.
Mark ma Kautane Vaurasi
---