From Fiji Sun Online (28 August 2011)
Golf for the needy in Rotuma
by Litia Mathewsell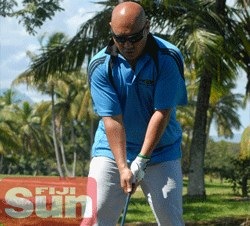 Tony Tua'toko teeing off at the inaugural Rotuma Golf Open
The inaugural Rotuma Golf Open teed off in Nadi yesterday with 32 players at the Denarau Golf and Racquet Club.

There were prizes for nearest to the pin and longest drive in the men's stroke play and women's stableford.
Tournament organiser Arthur Shaw said the tournament was a fundraiser for people with disabilities in Rotuma who need assistance and equipment.
''The tournament went really well and everyone enjoyed themselves. It was a great success and we might look at having another one,'' he said.
Overall winner of the tournament was Woo Martin, followed by the men's overall net winner Bijon Nat. Kelera Watling claimed the overall net winner in the ladies division followed by Anne Dunn.
Nadi Youth perform tautoga to thank participants in golf tournament
---
From Fiji Sun Online (28 August 2011)
Women display craft skills
by Litia Mathewsell
A group of Rotuman women in Nadi had the chance to display their craftware at the Denarau Golf and Racquet Club at the weekend.

The group of eight women was invited by the organisers of the inaugural Rotuma Golf Open Tournament and welcomed the chance to rake in some extra cash for their families.
"Many people have been coming to the club for golf so our sales have been great. The past two days have been busy for us all,'' said Ma'ana Vamarasi, one of the sellers at the craft fair.
The stunning display attracted interest from golfers and visitors to the club, who flocked to get a piece of the skillfully-woven baskets, table mats, garlands, nets, jewellery, hats, hair pieces, tofua (waist mats) coconut and shell ornaments and other beautifully-crafted home decorations on sale.
Among the women was Masina Paka from Malhaha, Rotuma, who brought products over from the island to sell, including Rotuman virgin oil prepared by the Maryrose Women's Club.
"There are several women's clubs in Rotuma who gave me their crafts to sell, which is also a way to represent them all. We are also selling koko'anta (traditional chiefly food holders),'' Mrs Paka said.
"We were also fortunate to be able to sell some of our things at the Agriculture Show,'' added Ma'ana Vamarasi, who said it had been a fun-filled two days.
Golf tournament organiser Arthur Shaw commended the group's enthusiasm.
"The craft fair has been going really well and is a source of income for them, especially for women in Rotuma who don't have many avenues to showcase their skills," he said.
---
From Gina Pene in Canberra (23 August 2011)
Rotuman language classes in Canberra commenced on Sunday 7 August. 27 enthusiastic people attended the first class. Everyone was given the opportunity to introduce themselves, in Rotuman, and provide a brief summary of what they hoped to achieve through these classes. One common expectation is to learn to speak Rotuman fluently. It was obvious that some already knew the language and perhaps looked to refresh their vocabulary and develop their knowledge whilst others were keen to learn the basics and get to a comfortable conversational level.

Whatever one's reason is for learning the language, it is encouraging to see that there is a huge interest from our fellow Rotumans in wanting to learn and know how to speak Rotuman. Dr Marit Vamarasi, a linguist married to Muaheahe'a Vamarasi ,has been studying the Rotuman language for more than 10 years and has written several papers about the language. She has put together some language lessons and is very useful to anyone interested in learning how to speak Rotuman (also see language lessons on this website). The Rotuman alphabet chart is also posted on this website and I find the material and resources very helpful in teaching Rotuman to our Canberra Rotuman community.

Thanks to scholars like Marit, Alan and Jan and the late Elisabeth Inia, a lot of work has been put into developing resources which are readily available on the internet and it is up to us Rotumans to ensure that our language is not lost. In her manual "Learning to Teach Rotuman: A Manual for New Teachers," Dr Vamarasi rightly points out that language and culture go together. If one disappears, the other one goes down with it. That's why, when people say "It doesn't matter if a language is lost," they are wrong. It does matter. According to Dr. Marit Vamarasi
"Linguists estimate that one of the world's languages become extinct every two weeks. That means it has no more speakers . . . . Rotuman is not in immediate danger of dying; there are still thousands of speakers. But the trends are not favourable . . . .


As more and more people leave the island, where Rotuman is in daily use, they are scattering across a wide area - Fiji, Australia, New Zealand, the U.S., and Canada. In each one of those places, the language is running up against English. And English, for the most part, is winning. This is why your participation is so important to the future of the Rotuman language and culture. This is not just my opinion. UNESCO, which is the agency of the United Nations whose goal is to preserve the earth's cultures,
classifies the Rotuman language as "unsafe."


Remember that Rotuman is your language; it does not belong to anyone else. And once it is gone, you can't get it back. Preserve it, maintain it, honour it, and fight for it."
We have held three language classes todate and it is wonderful to see the progress that the group is making. This is our contribution towards ensuring that our language is not lost.

---
From Fiji Times Online (15 August 2011)
From desert sands to Fiji

By Frederica Elbourne


Dubai-based immigration lawyer Lavenia Emberson, left, with friends at the St Joseph's Emerald Jubilee celebrations last month.
Picture: Courtesy of Rosie Semisi
HAVE an attitude of gratitude and appreciate the fact that education is a luxury some countries can't afford, Dubai-based immigration lawyer Lavenia Emberson says.
Ms Emberson, an immigration manager for the visa section of the New Zealand consulate in Dubai, made the comment on a recent visit to reunite with old friends and family in Fiji.
"In some countries we deal with, education is an absolute luxury especially for women. Current students should make the most of the opportunity you have to go to school, to choose what career path you want to follow," she said while in the country to celebrate St Joseph's Secondary School Emerald Jubilee.
The former student of SJSS said some women in other parts of the world had no choice but to be married off at the age of nine years.
Other less fortunate were punished for wanting to learn and stoned for daring to walk to school, she revealed.
Her job in the cosmopolitan setting of Dubai has taken her to Saudi Arabia, Egypt and London but working in a strict Muslim society has its challenges, she said.
"It's a laugh when some clients ask me to speak to the boss because the expectation is it is a man or when they think they can intimidate me. But I understand that is how they see the world. I try and meet them half way by learning their culture and language. My Arabic is as rudimentary as my Fiji-Hindi or Te Reo Maori but I try," Ms Emberson said.
From the red hills of Waiyavi, Lautoka and Suva's Flagstaff to the white sandy beaches of Malhaha in Rotuma, Lavenia Emberson has advanced to the desert sands of Dubai in the United Arabs Emirates.
She was just another old girl glad to be home again, her sister, designer Rosie Semisi said.
"We are the receiving office for 14 countries the Middle East for example including Iran, Saudi Arabia and Pakistan but we deal with 60 nationalities including Fijians residing in Lebanon, Iraq and Afghanistan."
The recent uprising in the Middle East has made her more appreciative of the peace and tranquility that Fiji and the Pacific offered, Ms Emberson said.
"It's certainly an interesting time to be living in the Middle East," she said. Being back home and catching up with the old girls was like "we never left those corridors of school at Waimanu Road".
---
From Fiji Times Online (13 August 2011)
Generation of issues
by Geraldine Panapasa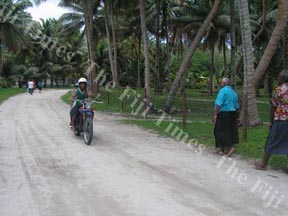 Easy rider on the island
Picture: Geraldine Panapasa
DECREASING human resources have plagued many remote and outer islands. The move from small and isolated islands to the mainland or overseas in search of a better life has attracted a vast number of people, leaving nothing but a generation gap to sustain life, culture and the environment.
Rotuma is no exception to this urban drift or migration pattern with a population decline of 1383 over a span of 41 years from 1996 to 2007. The issue of depopulation is not new to the table.
In W.J.E Eason's A Short History of Rotuma, the population of Rotumans on the island dropped from 2491 in 1881 to 2450 in 1883. Around this time, it was believed that some 300 were absent overseas. The population decreased further to 2219 in 1891. The years that followed saw a positive rise in the population until 1946 when the census figure was 3313.
Eason's book also revealed many Rotumans travelled to Fiji to spend their money and often to find employment. This was evident in the census figure of Rotumans in Fiji which increased from 5797 in 1996 to 10,335 in 2007, an increase of 4538, according to the Bureau of Statistics.
Word from the Prime Minister's Office was that the population even reached 6000 at one stage during the 1970s-80s but took a deep dive 20 years later to record 2080 people left on the South Sea Island today.
This, says Deputy Secretary Rotuma Affairs in the Prime Minister's Office Tomasi Tui could be linked to more than $2.2 million in investments injected to the island to boost development. While a statistical breakdown of the generation gap could not be obtained, Mr Tui says a mix of children, youths and the elderly exists on the island "multiplying of course".
Recent developments
Rehabilitating an island paradise is never easy especially when located about 500 kilometres from mainland Viti Levu. Considering the cost to transport raw materials for development, stock and supplies for businesses and households, recent developments on the island are growing at a steady pace.
"We've put in place some projects and programs to enable the islanders to participate in the economic activities for rehabilitating the island's economy, particularly trade with Tuvalu," Mr Tui said of the latest on the island.
"We've put in place a Hot Air Treatment Plant to treat fruits that are hosts for fruit flies like oranges and other fruits. After the treatment of these fruits, we'll be able to export to Tuvalu and Kiribati; at the same time, we've negotiated to export dalo.
"The first shipment (of dalo) was five tonnes at a cost of about $11,000; the second shipment was $14,000. We've been to Kiribati for negotiations and they are ready to buy food crops from Rotuma.
"We've put in place hot air treatment facilities at a cost of $17,000, upgraded roads on the island at $350,000, reallocated the Public Works Department depot to another site for $500,000 and did some upgrading at the airport (Elsi'o airstrip in Malhaha) for over $500,000. There is a plane flying to the island every week.
"Upgraded port facilities at Oinafa cost over $500,000, extended power to the airport and school cost over $500,000 while upgraded water supply cost approximately $140,000."
Water and electricity supply on the island are a constant demand although Mr Tui has assured that the intermittent supply of these two sources have "improved to some extent. If there are intermittent cuts, it's underground".
I vividly remember the supply of these two sources working on a schedule, switched on and off at a certain time of the day and night.
My uncle, on a recent trip there, said generators have come in quite handy especially during the grog sessions after 10pm when lights are out. He also said life on the island continues to be a slow drive, with islanders even putting off farming for a grog session at midday.
Renewable energy
Going through the public discussion forum on the site Rotuma.net, it was clear that suggestions to turn to nature for energy seemed to have fallen on deaf ears, almost seven years since forum contributors mentioned alternative solutions to Rotuma's energy problems.
Says one writer, Henry Enasio from Sydney Australia in 2004: "Rotuma is blessed with an abundance of sun a natural resource that is free to all and can be harnessed through the use of solar panels. I believe that solar power is the way to go, but the choice is to be made by the individuals and the community. The current factor underlying Rotuma's energy problem is transport.
"Many of our folks in Rotuma are fortunate to have the use of electricity especially those living near the government station at Ahau. The cost of electricity is considerable and has been the deciding factor for many families but there are still those folks who are undeterred by cost.
"These are the bold ones who have taken steps forward to improve their living conditions. As a result we now see many private, village, district electrification projects in Rotuma. A very noble investment indeed."
Of course, another pending problem is boat services to the island once a month in fact under Government's franchise scheme. Discussions on securing a boat to be operated by the Rotuma Council or seven districts (Rotuma.net) have not seen the light of day despite the millions being poured into the island through remittances.
While many would depend on the fuel drums being transported on the boat, Mr Tui says diesel generators could use biofuel instead of waiting days on end for fuel from the mainland.
"Sometimes the boat takes a while to reach the island, so they can use biofuel to generate light and use it for their cars. We are encouraging them to buy from the biofuel depot," Mr Tui explained.
"Climate change can be a threat on the island but it can be contained that is part of the development plan for the island, to conduct an environmental impact project. Some organisations have visited Rotuma to talk about environmental issues like Laje Rotuma Initiative. They are very helpful in that regard taking awareness to grassroots and school level."
Tourism plans
Pristine waters and white sandy beaches, palm fronds swaying to the cool ocean breeze; indeed the potential to promote Rotuma as a tourist destination site is huge and the Rotuma Council has finally opened up to the idea but have turned their preference towards small-scale tourism development.
"They're trying to do small backpackers accommodation while eco-tourism at Tuakoi is still in its planning stages. We had a meeting in May and they (Rotuma Council) are eager to start. We have identified sites to enable us to put in place some kind of tourism development plans on the island," said a positive Mr Tui.
"The focus is on the (cruise) liners to visit the (island). We are trying to improve the infrastructure so the islanders could have an environment conducive to this."
Of course this idea is not new to the table. The public forum on Rotuma.net on tourism development had grabbed the attention of many islanders since 1998.
The debate continues on whether tourism or any other kind of development would provide the islanders with much-needed income to cater for rising costs of living or risk intensify issues like land and cultural disputes, exploitation of resources and people, and environmental impact.
Says an anonymous forum writer on tourism development on the island, 1998: "Although I think it will be a very good way of providing an income back home, there really is no foolproof way of going about it; hence the idea has not been seriously taken up.
"We all know that no matter how careful one plans in the beginning, once the bucks start rolling in, who is to stop people developing their land for further profit. I think we should seriously consider the consequences on society as a whole.
"We are pretty strict with our ways and culture. Many of the young are already starting to see things differently and this could be a threat to us."
Despite the many more issues that continue to plague the island and its people land disputes, sovereignty and independence, investment, gender empowerment, economic development and investment, climate change and cultural identity in light of modernisation the onus is on the island community to decide whether or not change is necessary for sustainable livelihood.
---
From Fiji Sun Online (5 August 2011)
Family important to Fonmoa
by Fonua Talei
Rotuma lass Zackly Fonmoa hopes to promote family values during this year's Vodafone Hibiscus Festival. The 19-year-old is representing the Fiji Red Cross Society. She is a first year student at the Fiji National University (FNU).
Family values, according to Miss Fonmoa are of importance in the upbringing of children.
"Teaching of values start at home and it is what moulds children to be what they become later on in life," Miss Fonmoa said.
"With the current technology revolution, family time at home is easily swayed with adults too busy to teach values to their children."
She describes herself as friendly, ambitious and family oriented.
Her hobbies include gardening, dancing, swimming and watching rugby. She feels her participation at the festival will provide her with an avenue to stress the importance of family values in the homes.
She recalls that her sister was the one who asked her to audition for the Hibiscus queen category.
"It was not my decision at first to be a contestant but because of my sister, I am glad I have been given this opportunity. My sponsors have been really supportive and I would like to thank them for being behind me all throughout."
Miss Fonmoa hopes the festival will give her exposure and a learning experience.
The 2011 Vodafone Hibiscus Festival is from August 19-27 at Albert Park in Suva.
---