From Sanimeli Maraf in Rotuma (4 October 2011, posted 28 October)
The celebration for Fiji Day will be on 10 October. Mr Tomasi Tuibua from the Prime Minister's office will be our chief guest. He arrives on the Friday flight. By the way, the fare now is up to $625 per person one way. It's silly as there is no toilet and no refreshments. This kind of flight was meant for within Fiji; oh well,"beggars can't be choosers!" Every Friday flight is full. We hope for better boat service to Rotuma.
Today the Council is having a meeting to discuss the business of trading with Tuvalu. Mr. Forete will now run Remcol and Dr. John Fatiaki will manage the biofuel project. These two men have high hopes for improving the business environment.
The primary schools will celebrate World Food Day at Ahau on 20 October. The schoolchildren will do a tautoga. The women will display handicrafts and there will be a cooking competition of Rotuman style only dishes, nothing bought from the shop. We look forward to that day.
The agricultural officers have helped the Rotuman ladies a lot with such things as soap making, planting green vegetables, planting coconut trees, etc.
At this moment a man by the name of Maurice Nicholsen, a European professor I believe. He's explaining the Book of Revelation to us. We had the discussion at the Noa'tau hall; next week he goes to Motusa. Gagaj Osias of Itu'muta also opened his hall to Dr. Maurice.
The little market here in Ahau is still running. Now it's the time for vegetables and good cabbages sell for $2.50 a bundle; in other places it's $3 a bundle.
---
From Radio Fiji (21 October 2011)
Rotuma awaits approval for 3rd dalo export
Friday, October 21, 2011

Rotuma is still awaiting approval for its third shipment of dalo to be exported to Tuvalu says Deputy Secretary of the Prime Minister's office Tomasi Tui.
Tui says Rotuma has already exported 8 tonnes of dalo in their first shipment and 7 tonnes were exported in the second shipment.
He says government has alligned itself to develop Rotuma's economy.
"Hopefully the farmers in Rotuma would increase their livelihood in terms of income that derived from all the export promotional programme .We are mindful of the fact that Rotuma being far away and we have been trying to also sell to Viti Levu 2-3 tonnes per trip everymonth and that has been continously done."
Tui says developments in Rotuma is geered towards making it self sufficient in terms of food technology, food security and meeting export demands to small island states within the micronesian region.
Report by Savaira Tabua
---
From Fiji Times Online (21 October 2011)
Death by hammer

by Timoci Vula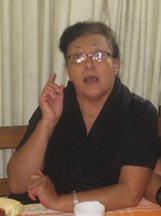 Katerina Alexander
A FORMER Fiji resident is dead and a man is to face the courts in Brisbane with a murder charge after he allegedly bashed her with a hammer.
Katarina Alexander, 62 died at the Royal Brisbane Hospital on Tuesday night from severe injuries she sustained from the alleged incident at her Zillmere home on Monday this week.
The woman's younger brother, Walter Alexander, told The Fiji Times that his sister was on life support system that was turned off on Tuesday.
"I was in Natovi (Tailevu) heading to Levuka when I was told of the news so I had to make plans to come back (to Australia)," Mr Alexander said.
"I was devastated," he told this newspaper from his Bray Park home in Brisbane yesterday.
"Right now, we're awaiting the coroner's report and outcome of the police investigation before we can finalise funeral arrangements.
"It may take a week and a half to get the coroner's report."
In the meantime, Mr Alexander, 60, said they would inform relatives of his sister's death while at the same time draw up plans for the funeral.
"We are getting a lot of support from friends and relatives and the Rotuman community here, both spiritual and in monetary terms so it's good," he said.
Meanwhile, the Courier Mail reported that 69-year-old Lawrence Alfred Gaskell appeared in the Brisbane Magistrates Court on Tuesday charged with attempted murder.
On Wednesday, media reports revealed that charges against Mr Gaskell was upgraded to murder following Ms Alexander's death.
Mr Gaskell is now scheduled to reappear in the Brisbane Magistrates Court on November 14.
Originally from Motusa, Rotuma in Fiji, Ms Alexander moved to Australia in the early 70s.
She is survived by her four children and a grandchild.
---
From Fiji Times Online (17 October 2011)
Local group wins Pacific Break

by Samisoni Nabilivalu

AFTER five months of receiving original music from unsigned artists right across the Pacific, judges have chosen BSQ from Fiji as 2011's Pacific Break winners with their entry, the "Rue Ele Ele Remix".
A statement from the head of marketing for Radio Australia, Mark Hemetsberger, said BSQ's win was an outstanding accomplishment.
"Pacific Break is an enormous challenge to operate as it spreads from Palau and Guam all the way across to the Cooks and Tahiti," he said. "It's the first time an act from Fiji has won Pacific Break; last year unsigned Fijian artists Milkshake came 2nd."
The winning song was a remix of an older version and featured a guest artist, Lautoka hip hop artist Nemani Borando who's also known as DJ Money. The song was first recorded in 2009.
Group member Walter Wasile and featured artist DJ Money are based in the West and have both been made aware of the win.
"Rue Ele Ele is Rotuman for 'Stop dancing half-heartedly and get into it'," said BSQ member George Wasile when The Fiji Times visited him and fellow BSQ member Vernon Wasile at their Flagstaff home.
"It was a rough tune we used to strum in 2008 when we'd hang out," he said.
"In 2009, we decided to record the song. Prior to that Ellen Stevens of radio station 2Day FM had told us to take part in Pacific Break but we never really took the suggestion seriously until this year."
---
From Radio Australia Website (14 October 2011)
BSQ wins Pacific Break 2011
Ladies and gentlemen… We have a winner! After much deliberation, Fiji's BSQ has been crowned the winner of Pacific Break 2011!

The five-piece group from Suva took the prize for their infectious dance track 'Rue Ele Ele Remix feat. NeMoney.' Now, they'll be bringing that energy to thousands of music fans when they take the stage at Fest'Napuan, Vanuatu's four-day music festival.

Selecting a winner from this year's 56 entrants was no easy task. This year's judges — triple j presenter Sarah Howells, music journalist Seth Jordan and Tongan-Australian orator and musician SistaNative — struggled to choose just one victor from the incredible depth and variety of musical talent from across the region.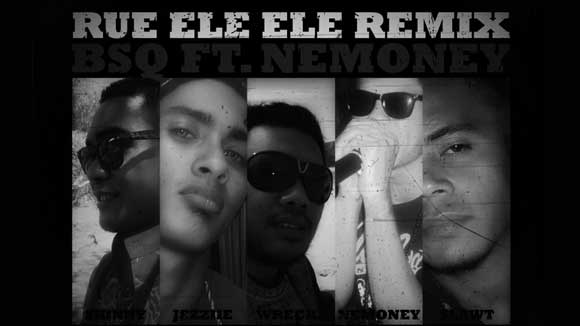 "I did notice a lot more different kinds of music [compared to last year]," Sarah Howells said. "There's a lot of reggae, which is awesome, but also a little bit of an R&B feel to a lot of the music."

Some of the others entries that caught the judges' ear were the hard-rocking anthem 'Fire' by the Solomon Islands' Red Star Unit, the grooving reggae track 'Right Teachings' by Vanuatu's Masamp Crew, and the captivating harmonies of 'Foki Mai' by Tongan duo Jamie DJ Simz.

Eventually, though, it was the funky strains of BSQ that had the judges all bopping their heads in agreement.

"This is the song that made the island girl in me just turn it up and dance around the house," said SistaNative.

BSQ vocalist George Wasile, interviewed this afternoon on Radio Australia said, "My message is never give up — if you have a dream you need to pursue it. We weren't looking to win, we just love music — so this one goes out to all the local musicians out there."

BSQ are now the fourth Pacific Break winners, following previous winners III Kings from Honiara, Solomon Islands in 2010, Emmanuel Mailau from Sabama, Papua New Guinea in 2009, and 26 Roots from Santo, Vanuatu in 2008. Fest'Napuan kicks off on November 9th. The festival's theme this year is "Unite and Fight Against Corruption" inspired by winners of the Anti Corruption Fair Play Youth Voices competition and Pacific Break 2010 & 2011 entrants, Young Life from Vanuatu.

Download the winning song, "Rue Ele Ele Remix feat. NeMoney" MP3
Note from Brooke Fatiaki: BSQ (Biscuit SQuad) is composed of George Wasile, Walter Wasile,Vernon Wasile, Shorrosh and Wilson Fatiaki, and Sitaleki Fatiaki, all Rotumans. They are grandsons of the late Rev. Aiveni Fatiaki and Aliti Jioje Semesi from Oinafa. They are also nephews of Rotuman artists Sopapelu Fatiaki and designer Fumaru Fatiaki. Their love of music and singing began around family devotions and they had a lot of coaching from their late 'Apingka & grandpa, Aiveni, also a lyricist and composer. Their passion didn't just revolve around music writing and singing—the boys are are also dance fanatics. Since 2008, Shorrosh, Sitaleki, and Wilson joined the Tafaghanua Dance Group in Nadi, whilst George Wasile continued to compose and produce his own music at home. Now and again, he would get his brothers and cousins to record numbers in Rotuman & hip-hop. BSQ is the musical arm of Aitu Mua, also owned by George Wasile and his wife Renee. 'Rue 'Ele 'ele' is a remix featuring DJ NeMoney.
---
From the Canberra Times (14 October 2011)
Rethink urged over kava ban

By Peter Jean and Ewa Kretowicz

Hosts Elleni and Lipou Prescott have a backyard Kava ceremony
Photo: Karleen Williams
Kava could be back on the menu at next year's Multicultural Festival after the ACT Government asked Commonwealth drug regulators to relax restrictions on the use of the plant for cultural purposes.

Pacific Island community members were instructed by police to stop serving a traditional kava drink to the public at the festival in February.
The incident sparked a campaign by Pacific Island communities through the Australian Kava Movement for the law to be changed.
Kava was declared a prescription-only drug in 2004 because of concerns about substance abuse in some Northern Territory indigenous communities.
An exemption was made for aqueous kava extracts used for cultural purposes but revoked in 2008.
Drug scheduling decisions made by federal authorities are automatically adopted under ACT law.
The ACT Health Directorate has now formally asked the national scheduling committee to relax restrictions to allow kava use for cultural purposes.
''There is disparity between Commonwealth and territory laws complicating this issue,'' a spokeswoman for Chief Minister and Health Minister Katy Gallagher said. '
'Specifically, persons may import up to 2kg of the raw kava root for personal use under Commonwealth Customs law. However, its use is restricted under territory medicines law.''
Gina Pene says kava is important at cultural events
Photo: Graham Tidy
Rotuma representative to the ACT Pacific Islands United Council Gina Pene said kava was an important part of some cultural events.
''We use kava in weddings and funerals, in welcoming visitors - we even use it after someone comes out of hospital; we have a special ceremony where we use kava - it's an essential part of that ceremony,'' Ms Pene said.
She moved to Australia from the Polynesian island near Fiji in 2000 and advocates the responsible use of kava for cultural and ceremonial purposes.
Fiji Day was celebrated on the weekend and if there hadn't been a ban ''we would have had kava, but not excessively'', she said.
Ms Pene said people from Rotuma had their own culture and language and it was important for those traditions to continue.
Canberra Tongan community leader Siosiua Lafitani Tofua'ipangai said he had also made a submission to the scheduling committee and hoped the issue would be resolved by early next year.
Mr Tofua'ipangai praised Ms Gallagher, her officials and the ACT and federal Greens for supporting the use of kava for cultural purposes.
He said kava was used for cultural, medicinal and even political purposes in Pacific Islander communities.
''It's very important in social and cultural terms and also in terms of the political structure here and also economically,'' Mr Tofua'ipangai said. ''We use kava circles for raising funds to help migrants here who are in financial difficulty and also people at home.''
---
From Fiji Times Online (11 October 2011)
Alana lives her dream

by Frederica Elbourne

SHE may pass as the least assuming lady in the crowd but Alana Erasito, a professional make up artist and stylist has been and still is going places.
She will join Style Fiji for a December fashion show as she puts forth her speciality in media make up, fashion, film and print, Style Fiji said.
Erasito studied at Elite Academy in the United States after starting out with make up for fashion shows.
Her work has been demonstrated at upcoming clothes designer shows in San Francisco and has featured in commercials on film, print campaigns, as well as Melbourne Fashion Week, Style Fiji said.
The freelancer is based at Vanity, a L'oreal salon in Melbourne Australia, where she has been working as an artistic director for the past three years.
The Style Fiji fashion show aims to raise as much as $100,000 for Nadi Hospital.
The fundraising effort was initiated by Project Bula Mai comprising professionals and representative of Fiji's multi-racial and polyglot community, who have given their personal time and resources to raise money for a good cause.
"It is expected that Style Fiji 2011 will attract 400 guests who will be treated to a fashion event never seen in Fiji before," the project's chairman Adrian Sofield said.
The December 3rd show at Nadi's Sofitel Resort and Spa will feature some of the world renowned fashion designers, hair stylists, make-up artists and international sporting icons, he said.
---