From Fiji Times Online (25 November 2011)
Centre to launch play by Vilsoni Hereniko for adult audience

by Samisoni Nabilivalu

THE University of the South Pacific's Oceania Centre for Arts, Culture and Pacific Studies says Fine Dancing, a play written and directed by Vilsoni Hereniko and produced by the centre, will open on December 1.
The play explores a month in the life of a tired wife in Honolulu, Hawaii, who abandons her children for a rendezvous with the Polynesian Moon Goddess who teaches her how to "fine dance' with her abusive husband and his lover.
Starring Allan Alo, Ateca Ravuvu, Glen Lord and Sadrishan Velaidan, the play is strictly for adults and takes audiences on an emotional journey into the dark world of domestic violence and explores dance as a metaphor for life itself.
According to a USP statement, the play is not all dark and that like life itself, there will be plenty of lighter moments which are sure to see audiences laughing even as the tears roll down their faces.
The statement said it was not surprising that the dance is a powerful element in fine dancing and that the new artistic director for the centre, Peter Espiritu, had done a superb job of choreography with the actors and supporting dancers.
Opening with a gala cocktail function on Thursday, December 1, the show will also run on December 2, 3, 8, 9 and 10, with a special half price university students only showing on Wednesday, December 7. University student night tickets cost $10 and a regular show $20.
A ticket to the gala opening night cocktail costs $50. Tickets are available at the centre, the USP Book Centre, the Kahawa Cafe, the Guava Cafe and the Holiday Inn.
---
From USP News Release (22 November 2011)
USP Law students amongst the best in the world

USP law students have done it yet again.
USP Emalus campus organized two international Moot competitions this year and came out on top. The International Moot Competition plays a prominent role in enhancing relationships across Australian, New Zealand and South Pacific Universities.

The Campus Director and Head of school of law Professor Eric Colvin was all smiles and said the win was great moment for the Pacific region, and a testimony in itself that we produce the best in the world.

In August this year, USP hosted an International Moot Competition during the Law & Culture Conference where the University of Auckland, University of Otago and USP competed. There were four teams from Auckland, Otago, Laucala (USP) and Emalus (USP). The Mooters from the USP Emalus Campus came out victors against the Otago Moot team in the final. This was historic as it was the first time for USP to win the Trophy from Otago University.

The USP Emalus Moot members were Ms Robyn-Ann Mani, MsTupoutua'h Baravilala, MsJacqueline Wi-Kaitaia and Mr Joeli Ditoka.

The Pan Pacific Moot Competition was held from the 13th to 15th October in Port Vila, Vanuatu this year. The Universities which took part in this competition were USP Emalus Campus, University of Waikato (NZ), & Queensland University of Technology (Australia). Each University had 4 students participating in a team of 2. So there were 2 teams of 2 students per University. Each team mooted twice in the preliminary rounds. The moot problem was based on issues relating to human rights and custom.

The final Moot was between the QUT appellant team, Mr Damian Riggal and Ms Liana Marteus and the USP respondent team of Mr Joeli Ditoka and Ms Tupoutua'h Baravilala. Also mooting for USP were Robyn-Ann Mani and Jacqueline Wi-Kaitaia. The USP Emalus moot team won the Sibley Hill Trophy after winning the finals once again.

Professor Colvin took this opportunity to thank the Honorable Chief Justice of Vanuatu, Honorable Justice Lunabek for his continuous support to the International Moot Competitions and his panel of Judges, Honorable Justice Spears and Honorable Justice Fatiaki for judging the Moots and providing feedback to the Mooters of the region. Other Judges thanked were Professor Rhona Smith, of International Human Rights at the University of Northunbria in the UK, Mr. Jeremy, Visiting Lecturer, Mr. Bill Bani, the President of the Vanuatu Law Society, Mr. Edward Nayal local practitioner, Mr. Gideon Shapiro, Ms Siobhan, Professor John Dawson, University of Otago, and all other staff of the USP School of Law who contributed towards these Moot Competitions.
Whilst presenting the certificates to the participants professor Colvin acknowledged the hard work and effort of the Moot Committee comprising of Law Lecturers, Mr Joseph Fokouna, Ms Sofia Shah, Mr Michael Blaxell, Ms Carolyn Penfold and Mr Paul Mae to make these International Moot Competitions possible.
Note: Robyn-Ann Mani's parents are Susau (deceased) and Maureen Mani. She is the granddaughter of the late Hare and Sauhani Mani.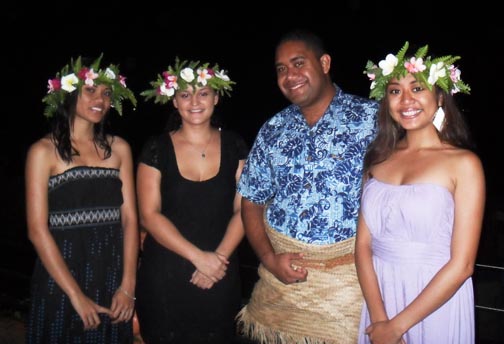 The winning USP team; Robyn is on the right in purple dress
---
From Fiji Times Online (19 November 2011)
Renewable energy gains ground

by Felix Chaudhary

AN Australian renewable energy company hosting Fiji operations out of Lautoka is focused on making the Western Division go green.
Solar Link, a subsidiary of Engineer Procure Construct (Fiji) Limited, has recently completed 12 volt solar lighting projects for 15 homes on Yasawa Islands and Project Engineer Zoheb Khan said rural dwellers are taking to renewable energy with vigour.
"Solar Link's commitment is to develop the most innovative, cutting edge renewable energy technology and taking it to rural and outer islands, where conventional power from Fiji Electricity Authority is not available. The reason villagers in the Yasawas and other areas around the country are taking advantage of this is because the solar lighting systems are not expensive because they're only used for lights, charging phone batteries and for powering small radios," he said.
Mr Khan said next year Solar Link would be moving out of the western division and developing projects on Koro island, the Lau Group, Kadavu and as far away as Rotuma. "We also have plans to supply energy to FEA in the future and are currently doing feasibility studies on this. "
Among some of our bigger achievements this year is the work that we have done on 132 kilowatt transmission line works at Nadarivatu for FEA and a few hybrid systems combining solar and wind energy," said Mr Khan.
---
From Fiji Times Online (14 November 2011)
The darker side of teenage life

by Samisoni Nabilivalu

HE wants people to know that the two designs he entered in the Fiji Fashion Week 2011 Secondary School Students Fashion Show were inspired by the darker side of teenage life.
Andre Marseu, the 15-year old Malha'a native from Rotuma, is a Form Three student at Marist Brothers' High School and is still coming to terms with his "unexpected win" in the student category on Saturday afternoon.
Marseu entered a "little black dress" on which the many crossovers represented the complexities and challenges of teenage life while the headdress represented negative influences teenagers fall prey to and the second a more upbeat and colourful piece under the name "Wild Imaginations".
Marseu said teenagers today were being affected by so many issues; issues their own parents did not have to deal with in their young days which in turn left youths being misunderstood.
His designs were inspired by the dark side of a teenager's life: drug abuse, child abuse, peer pressure, isolation, poverty and neglect.
"All these things contribute to that dark side of teenager's lives and I believe my dresses send out a message to people that life always comes with challenges and that in order to beat them you have to face them.
"I wanted to open the eyes of people to our (teenagers) lives, what we're up against, so they can understand why sometimes we're so hard to handle."
Marseu spent much of his younger days in Suva but also travelled throughout the country, at one stage spending a year in Viseisei where he said observing the i-Taukei and their way of life made him realise how much he had missed out on learning about his own culture.
His foray into fashion was a culmination of a journey which he described as an attempt to get back to his own Rotuman roots and which saw him perform traditional dance items for his village in Rotuma Day celebrations in 2010 even though he had never been there.
As a winner of a number of fashion shows in the past two years, the youngster admitted the "cutting edge quality", professionalism, and platform for local and international exposure that Fiji Fashion Week offered was what attracted him.
---
---