From Alan Howard in Honolulu (19 January 2012)
Walter Aitu, who is serving with the United States Army in Afghanisan, was selected Soldier of the Month for December from a pool of a couple a hundred soldiers from different units. It is an award that everyone works very hard to get. Walter wasn't aware of his nomination until his unit commander told him about it.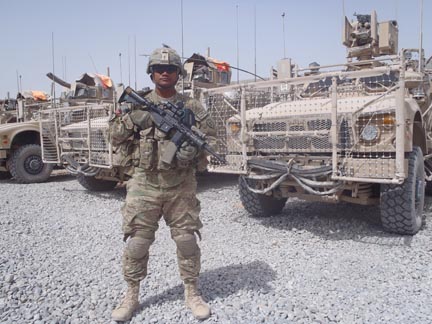 Walter Aitu in Afghanistan
---
From John Bennett in San Diego (18 January 2012)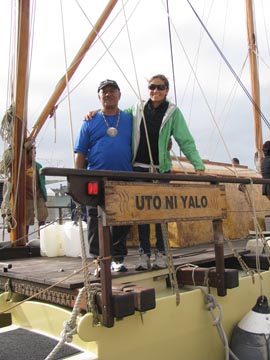 Mausio Samuela and Kim Bennett aboard Uto Ni Yalo
The Fiji double-hulled canoe Uto Ni Yalo is moored at the Shelter Island Yacht Club with other Pacific Voyaging Society canoes (see www.pacificvoyagers.org and www.fijivoyaging.com) ready to embark on a Pacific voyage beginning the 24 January. They will sail down the length of Latin America before heading to the Galapagos Islands and from there on to French Polynesia. Mausio Samuela and Kim Bennett represent Rotuman members of the crew aboard.
The expedition has a blogspot so those interested can be kept up to date with their progress.
---
From Biofuels Digest (6 January 2012)
According to the Fiji government, biofuel and trade with Tuvalu are the only commodities on Rotuma, and may not be enough to keep the farmers from moving to the mainland to seek employment. The government is exploring the prospects of extending trade services to neighboring islands around Tuvalu and seeking additional investment in agriculture, including biofuels.
---
From Fiji Times Online (5 January 2012)
Hobby hits success
by Geraldine Panapasa
Cousins ... Jennifer, left, and Elise Jione, proud partners of online retail business Pink Biscuit
What started as a hobby for two cousins soon turned into a business venture that has befriended more than 2500 people on Facebook and kept many clients coming back for more fashionable accessories and products.
Pink Biscuit is the name and they've brought a whole new meaning to the word "retail".
Cousins, Elise and Jennifer Jione are based in Fiji and source their products men's and women's clothing, jewellery and accessories from Australia. The duo set up operations in Fiji in October, 2010.
"In comparison to other online retailers, when a customer orders from overseas, they may be required to pay by credit card. We understand that not everyone has access to this and provide cash on delivery or accept direct bank deposit," Elise said.
"When ordering from overseas, one may also be required to pay customs duty upon receiving the parcel which is not the case when ordering from Pink Biscuit because all our stock is held in Suva.
"Our personal delivery ensures no parcel gets lost or misplaced in the postage system."
So what is it about this business that has many people talking? For one thing, their unique business name.
"The word 'pink' was chosen because it is my favourite colour and 'biscuit' because the owners are of Rotuman descent. The name is unusual and unique which sets it apart from other retailers in Fiji," Elise said.
"Facebook is our main source of marketing and our main contact with our customers. We find it a very useful medium to be able to talk directly to our customers and answer any queries they may have.
"We had our launch party at the Holiday Inn in 2010 which enabled us to get our name out into the local scene. PB has relied a lot on word of mouth and we are very happy that our business has been able to succeed this way."
Elise resides in Brisbane, Australia but is in the country on a four-month break. Her cousin, Jennifer lives in Fiji and plays an equally important role in marketing PB products.
"I have been interested in shopping and fashion since I was a teenager. PB had originally started as a hobby and has now turned into a successful business," Elise said.
"I work full-time as an accountant in Australia and have been working on PB in my spare time over past year.
"Now that I'm on a four-month break, I am able to focus and develop PB more. To be able to work in a field that you have a strong interest in is much more rewarding and you are more likely to succeed.
"I think it is very important to do the necessary planning and groundwork before jumping into any business venture.
"I would suggest that anyone looking to set up a small business should put together a business plan before investing their personal capital or funds to ensure that their business idea can be viable and successful.
"To have your plan enables you to keep track, set goals and monitor your success and failures.
"In regards to the fashion retail industry, it is important to be in trend, provide quality items and have impeccable customer service."
She said many of their clients had suggested they open a store in Suva but this, they believe, would only increase their operating costs and selling price, a move they would not want for their customers. In the meantime, their success through online marketing is a stepping stone to further developing their brand and company.
---
From Fiji Times Online (4 January 2012)
DO highlights island migration

by Frederica Elbourne

IRREGULAR trade between Fiji and a neighbouring island country is a reason for unemployment in Rotuma, the island's district officer said yesterday.
DO Etika Taukave made the comment amid concern over the progressive exodus of people from the island to the mainland, leaving a population of an estimated 1900 people on Fiji's most remote northern island.
He said the latest shipment of dalo from Rotuma to Tuvalu last Sunday followed the previous consignment in May last year.
"It all depends on the Tuvalu government," he said in response to questions over the regularity of trade between the two islands.
Mr Taukave said the island's workforce comprised mainly of self-employed farmers who exported dalo to Tuvalu while the civil servants made up the rest.
He said migration of most islanders from Rotuma to Suva was because of the lack of employment opportunities on the island.
"Youth are coming there to Suva to seek employment."
"Biofuel and trade with Tuvalu are about the only commodities on the island but we hope it's enough to keep the farmers on the island."
Mr Taukave said the government was exploring the prospects of extending trade services to neighbouring islands around Tuvalu.
However, he refused to name islands that were being considered to be trade partners.
He said a New Zealand expert was expected on the island to fix a machine that would treat fruits for export purposes in what is anticipated to be a step up in trade and development.
"We have a hot treatment machine to treat fruits before it is exported.
"Once the machine is fixed and the fruits are treated, we will be dealing regularly with more neighbouring island countries," Mr Taukave said.
---
From Fiji Times Online (4 January 2012)
Rotuma needs rapid development, says think tank

by Frederica Elbourne

ROTUMA needs rapid economic development to keep its people on the island, a member of the Rotuma Think Tank has said amid revelations that its population has declined to below 2000 over the past six years.
Doctor John Fatiaki, who is also a member of the Rotuma Island Council, said yesterday the trend was worrying as people flocked to the bright lights of the urban centres on the mainland.
He said declaring Rotuma as a port of entry was not sufficient to keep villagers on the island, adding there was a need to upgrade the airstrip and fixing the ports to cater for larger ships.
Dr Fatiaki said the progressive exodus of people from the remote island, which left some part unpopulated, was because of lack of development and the absence of employment opportunities, better medical services on the mainland and poor communications and transportation services.
"One thing you learn on the island is to be eternally patient," Dr Fatiaki said.
The population of Rotuma remained at an estimated 4000 for some 20 years until the 1960s after which the number of villagers on the island dropped to 2400 until some five to six years ago, Dr Fatiaki said.
---