From Fiji Times Online (20 April 2012)
Job hopes for island

by Samisoni Nabilivalu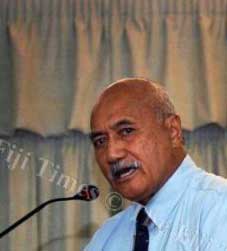 Colonel George Konrote of the Rotuma Development Board speaking at their meeting at the Parliament complex in Suva yesterday.

Picture: Eliki Nukutabu
THE biggest concern for the Rotuma Development Board is creating opportunities on the island for the younger generation, says acting district officer Etika Taukave.
He is hoping to get approval for the upgrading of Rotuma High School which includes the construction of an automotive building and with the inclusion of other vocational programs.
He said the school implemented a vocational program and was starting Form Seven next year with youths being encouraged to farm to support agriculture exports to Tuvalu.
"Many youths were leaving the island before but now they are staying and some have even returned for the vocational program," he said.
Mr Taukave said the vocational program prepared youths when they eventually left the island to search for work or further their studies on Viti Levu.
Speaking to The Fiji Times, he said his update for the board included a proposed upgrade of Rotuma Hospital which includes the provision of other services and the construction of a mortuary.
"Government will assess and make recommendations on which one should be prioritised.
"We would like to get the Rotuma Airport construction going because as a port of entry it should be a source of income for the island.
"It would open up links with Fiji, Kiribati and Tuvalu. We have a plan in place.
"Work on the airport had only gone as far a few layers of gravel being laid out on the runway and we are waiting for further funding."
He said other proposed projects included the expansion of the island's electrification grid which covered seven villages.
The island has a population of 2081 and while access to health services for the elderly has been an issue, medical staff on the island conduct home visitations.
---
From Fiji Broadcasting Company (19 April 2012)
Rotuma acknowledges development works
by Savaira Tabua

The Rotuma development board committee has acknowledged development works done by the government.

Rotuma representative—Brigadier George Konrote told FBC News an issue that raised much discussion during their meeting today is the need for the extension of its airport runway and the full upgrade of the Oinafa jetty.

"Government has put in more effort in improving the wharf, the only jetty we have on the island .There has some more work to be done."

Konrote says they are still waiting for confirmation on the shipping schedule for the Rotuma-Tuvalu trade.
---
From Brisvaani Radio (19 April 2012)
Rotuma's future needs collective approach
by Brisvaani News Desk
Government is doing its best to reach out to those who deserve assistance the most says the Commission Eastern, Netani Rika.

The Commissioner Eastern while opening the Rotuma Island Development Board meeting said that the Rotuma Island Development Board was an important link between government and the people of Rotuma.

"This link needs to be vibrant, strong and healthy for desired results to be achieved," Mr Rika said.

"Government's intent as we all know is to "Build a Better Fiji for all" and for our purpose it would be through the integrated rural development framework for productive, progressive, safe and resilient communities in Fiji, including the lovely island of Rotuma."

The Commissioner Eastern also added that Rotuma with its many challenges in terms of geographical location and smallness together with its related issues would definitely require everyone to be forward-looking, visionary and realistic on both paper and realities on the ground.

"Proposed programmes and projects need to be relevant, meaningful and sustainable and together we will need to identify the constraints and come up with viable economic activities and initiatives which would be people and also environment friendly," Mr Rika said.

Rotuma Island Development Board member, Mr Joji Konrote said that the board acknowledged with gratitude the fact that Rotuma was governed directly under the Office of the Prime Minister via a deputy secretary for Rotuma Affairs who does all the coordination work for the council and on behalf of the island.

Priority government projects for 2012 – 2014 for the island of Rotuma include the upgrading of Rotuma airport, Rotuma hospital, Rotuma high school and the expansion of the electrification grid.
---
From Fiji Times Online (16 April 2012)
The dilemma of changing Pacific lifestyles
Robert Tuxson On Board The Uto Ni Yalo
Question: In terms of nature versus nurture (your environment versus your genetic inheritance) where does your diet fit in? Are we truly what we eat? Do we eat to live or live to eat?
As somebody on board recently quipped ..."I'm on a seafood diet ... I see food and I eat!" Let's try and explore this fascinating topic from a layman's point of view . . .
There have been numerous studies done on different island groups. The conclusions are all dire. Change back to the old ways for a healthier lifestyle. Add exercise, don't smoke tobacco and if you are to drink alcohol do it in strict moderation.
Let's get specific. Apologies if this offends the cultural sensitivities of those good people living on the lovely island of Rotuma. Less than 20 years ago (one generation perhaps) the majority of the people (approximately 2000 or less) were living from the bounty of the sea and the fertility of the land. That meant the men spent part of each day cultivating a wide variety of root crops, fruits and other vegetables in their gardens. They walked to and from their plantations and spent time weeding, digging and harvesting (all forms of exercise). They often collected coconuts for consumption or copra, again exercising. Their families would help out.
The women took charge of most of the cooking (except the koua) and some inshore fishing as well as looking after relatively large families. The children helped out around the house. They collected materials for the fire; they kept the compound neat and tidy. They helped dad with copra and when not doing chores played outside at a variety of games that only kids can create. There was no shortage of physical activity. Many even walked long distances to attend school.
The average family diet was composed mainly of those compounds found, grown and captured on and around the island. This included protein from a variety of fish and other seafood, the infrequent "bush" chicken and on special occasions pork. Complex carbohydrates were plentiful on this small, but fecund island. Breadfruit, a variety of yams, sweet potatoes, dalo and lots of bananas provided not only great organic nourishment, but variety! Fruits abounded and were used as parts of meals and snacks. There were the wild "bush" fruits and the introduced mangos, guava, oranges, lemons, papaya, watermelon and their almost mystically sweet pineapples! A biochemical cum nutritional analysis of a "typical" Rotuman diet and lifestyle would be full of praise for its healthful qualities.
Of course there were the items that could be purchased from the local shops if one could afford them. Some people enjoyed tea and perhaps coffee although lemon leaf tea was available. Most had already begun to use sugar and salt, but in minor quantities. Rotuman "tradition" by then included "poat kau" tinned beef in all its delicious, but deadly fatty glory! Most families only ate it at special times so it did not play as negatively significant dietary role as it does today. Village shops made money, but most people could not afford to buy much and family members living in Fiji would send over care packages of store bought items. Some families enjoyed baked bread and butter in the mornings with their black tea at the expense of rejecting the leftover fish and root crop from the night before or the fresh fish and fruit from the early morning. The handwriting was, so to speak, on the wall by then. Still most families did not have the cash to spend much at the shop and staples like milk, sugar and flour were often purchased first. Kava was drunk by older men only. Alcohol was in relative abundance from that famous Rotuman "home brew" and many people did smoke tobacco even then. Few families could afford refrigeration and thus food was prepared and eaten within a day. The trash from this was mainly organic and could be disposed of in the sea or dug into the already rich soil. Cooking by koua was common and coconut fronds, shells and other wood could be well used there.
The changes that have occurred in Rotuma in a short time span have been remarkable and we must ask ourselves some salient questions. What is considered a necessity and what is considered a luxury? What is the root cause of the changes that took place? When we place health value on these changes would they be considered positive or negative?
Most Rotuman families still living on the island have extensive family living not only in Fiji, but in many countries. Their cumulative earning power has increased and as a result much more cash has been remitted to Rotuma than ever before. Simultaneously (or maybe as a result of this new found economy) the communal way of doing things has significantly diminished, replaced by "pay me for my labour mentality". With the injections of large amounts of cash came many quick and perhaps inevitable changes like the proverbial small snowball pushed off the top of a snow covered mountain that becomes an avalanche as it gathers speed, momentum and distance from the starting point. Electricity supply became more regular in some districts and almost 80 per cent in others. Fresh water flowed from taps and wells were no longer as popular. Telecommunications companies vied for space to erect their antennae which then opened up the "need"/"use" for cell phones and television sets when before it was very difficult to stay in touch with the "outside world" now it became simply pushing the right buttons!
---
From John Bennett in Suva (15 April 2012)
Fundraising dinner for Rotuma Day Celebrations in Suva
Last night we attended a fundraiser at the Vineyard Chinese Restaurant. I don't know the details of how much was raised, but the turnout was good. See press release from the Fiji Rotuman Association (19 April)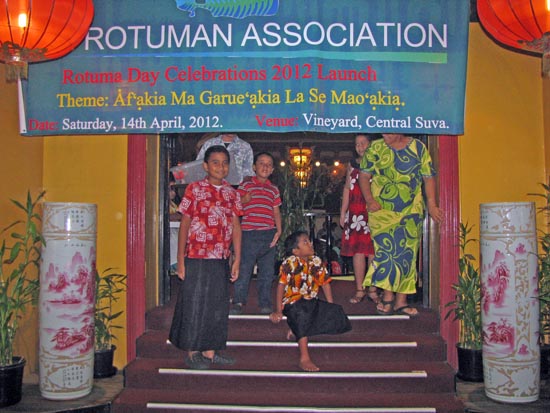 ---
From Fiji Times Online (10 April 2012)
Making progress
Robert Tuxson On Board The Uto Ni Yalo

Making steady progress on a SW course through a vast ocean expanse with no islands in the vicinity. Favouring winds continue to aid our voyage to Faaite in the Tuamotus some 2200nm away and closing!
Ten days at sea with the crew acting as a team getting all tasks and chores completed on time. The food has been a treat at each meal. For katalau we had Ben's renowned "bani lolo" with a variety of spreads to accompany it. Bananas, cereal and the usual coffee and tea complimented the first meal of the day served at 0600. By 1200 the crew were anticipating for vakasigalevu home baked garlic loaf and sweet corn soup with egg flower. Nothing remained by the time the meal ended. For vakayakavi we are having tuna pieces with roasted capsicum served in a garlic sauce from the albacore caught this morning with rice and vegies and boiled tuna and soup! For dessert there's brownies. Ben has two terrific assistants in Salome and LeeAnn.
The three watch captains LeeAnn, Seru and Jim have effectively managed their crew maximising their uli time and thus our consistent efforts during each shift. All crew have become confident uli operators which is manifest in the reduction in splashes, skipper's commands of port or starboard and time taken to adjust course headings.
Jone has become the "night walker/stalker". He takes time out every night to walk the "rara" ù deck looking in the channels, port and starboard for flying fish (ika vuka) and squid (kuita). He's adept at this and is often seen leaping with long legs akimbo over areas that the lesser man would have to crawl, in order to pounce upon the dry docked, soon to be Jone's tucker! He' so motivated he cleans them, prepares and cooks them and even cleans up after the fishy feast is over, bones and all!
The crew are preparing for Tahiti and with it they need to develop a special set of meke for the traditional occasions that we will attend. Try and develop a meke on shore and then try the same thing on the aft deck while the drua is doing what it does so well, take the waves in style! Iva and Filo have become the meke advisers as skipper beats the lali and Seta, Kele and Jone go through potential moves and actions.
Mausio, a font of the power of positive thinking, enjoys sharing recollections of his earlier days in Rotuma and how he has hopes that what he has learned and is learning on his voyages can be discussed with district elders in Rotuma and applied to making his island an even better place to live and raise children than it is now.
He is particularly interested in consulting with marine experts, the chiefs and the Rotuma Island Council in possibly establishing a portion of each district's reefs as a marine reserve.
If the Fiji government, in consultation with the Rotuma Island Council, would consider setting aside Rotuma and its pelagic areas as a Marine Protected Zone, then the work that could start in-shore would be part of an entire ecosystem conservation effort. We saw this concept in Cabo Pulmo, Baha, Mexico on the Sea of Cortez where once the area was identified and set aside (no fishing, reef gleaning, coral tampering or waste disposal) a wide variety of marine organisms returned or in some cases found the protected reefs so "healthy" that they naturally introduced themselves to it. This made for a wonderful bio-diversity with many niches filled.
The Cabo Pulmo residents were amazed at the rapidity at which this started and noticed positive results within the first year. Once established as such, snorkelers and divers could, following sensible guidelines, enjoy observing and photographing the fish and invertebrates that abounded there.
The secondary spinoff, and the one that could prove very important in Rotuma where their reef systems are limited and somewhat fragile, is that species from the protected area became sufficiently abundant to repopulate the open areas where they could be fished for. With district and village assistance giant clams could be re-introduced; diminishing coral species could be "planted" from shards and that being accomplished the myriad varieties found in plankton would have substrate and viable habitat to settle on and grow to maturity.
There have been several recent studies done on the available (edible) stocks of marine life on the reefs in Rotuma by Rotuman scholars. This information will prove invaluable as base line data in order to start the process of rejuvenating reef sections. Wouldn't it be terrific to have octopus, lobsters, beche-de-mer, shrimp, molluscs, and in-shore reef fish in greater abundance than they are today? For that matter there are many areas in Fiji that would benefit from considering such a plan. Modified of course to suit their particular environmental needs. In passing, we are all becoming aware of the multiple importance of protecting and re-introducing our native mangrove species. Think about the mangal as the nursery for a great variety of marine life, much of which is edible and commercially important. Another article brewing!
Master Mausio is excited about meeting informally with district representatives in Suva during the limited time the Uto ni Yalo will be there in June. If all goes well, he would voyage to Rotuma after the Solomon Islands Arts Festival in late July and have an opportunity to share ideas with decision makers there. Perhaps he, Kim Bennett and Bob Tuxson could share their experiences with others on the island.
Kim, daughter of Harieta Bennett, nee Pene of Itumuta, a serious student, who contemplates a return to academia and medical school, maintains a comprehensive diary and is learning more about celestial navigation through consulting several texts on board and the southern hemisphere star chart at nights during her three hour watches. Others have followed suit and we have a group of serious young navigators in the making!
Bob, with a marine science background and linked to Noatau through his wife of 35 years, Viki Marseu nee Fakraufon, is also enthusiastic about what might be accomplished by using an inter-disciplinary approach to identifying needs, developing a working plan and proposals and training interested people on the island as conservation/education guides and wardens. In Cocos Island where we saw another marine model the "guides" are called rangers and deal with a variety of preservation and conservation tasks.
Moala and Filo have already committed themselves to environmental protection in Fiji. It is fascinating listening to them discuss their plans after the voyage has been completed. Moala has many years of working with NGO's as a field expert. He is aux fait (more French!) with Fiji's bio-diversity, especially terrestrial, and has observed many uncommon and rare species. He has no problem in sharing his knowledge with others.
Filo, who completed a secondment with FIVS before boarding the Uto ni Yalo, is hoping for an opportunity to further her environmental studies abroad before returning home and contributing to the cause of conservation in Fiji. Hats off to both people for their vision and dedication.
The athletes from Rotuma High School were camping at the Churchwood Chapel hall on Rewa Street in Suva when they were alerted to the woman's cries for help down the road on Hunter Street.
"We were warming down after training and it was raining heavily," said a team official who did not want to be named.
"We were on our way up to the church when we heard her. We ran to the house and she was panicking so we told her to calm down."
The team official said the athletes began looking for the source of the fire once inside the house.
"It was in a bedroom on the other side of the house. We collected buckets from inside and formed a line to a nearby drain and filled them. We then broke the room's windows and doused the fire out."
The team of three teachers and seven students helped out and turned off the power switchboard and removed a gas cylinder and other flammable objects.
"We made a quick risk assessment for the team before entering the house to help the woman," the official said.
"We agreed we'd all go and help the women inside we also found a small child of about three or four.
A witness said the fire started after a curtain caught fire from a candle the elderly women lit and left unattended during a power outage in the area.
Firefighters who arrived later took control and secured the home.
National Fire Authority chief executive officer John O'Connor was at the scene and reminded the public not to leave live flames unattended.
We are flying back to Rotuma tomorrow. The cost is F$1,2630.10 one way for the two of us, F$631.55 one way per head. No drinks or food are served during the 2 1/4 hour flight and there is no toilet. There's no competition by another company to bring the fares down, so what can we do? Just take it or leave it and shut up!
The Minister for primary industries, Joketani Cokanasiga, will be our guest speaker for this year's Rotuma Day celebration.
Lovely to be back to the fresh air, fresh fish, niu to drink and make tahroro from it. I had some sisi fekei yesterday and it was lovely; fish yesterday and today, with ikou and vati. It's so nice to have them; crabs tomorrow, etc.
I believe that the Tuvalu trip is still on for those who have passports, mostly from Paptea village. Gagaj Raivai will be their leader. Tuvalu is closer to Rotuma than Fiji so it only takes one night on their boat, which will be coming to take them and bring them back.