From Tessa Brooks in England (31 July 2012)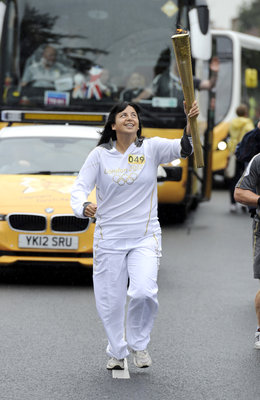 Laura carrying torch
My sister Laura, Munivai Aisake's 2nd daughter, was selected to run with the Olympic Torch on 6 July. The torch is passed through the hands of those who are selected to honour the tradition of carrying the torch's flame from Greece to London in a relay that runs for many weeks. So at the Opening Ceremony the Olympics officially started when the torch's flame reached its destination and lit a massive cauldron which will burn until the 2012 Olympics are completed. The family travelled east to Southend on 6 July to see Laura run with her torch.
Laura participated in the Opening Ceremony as one of the drummers in the celebration at the stadium that was watched by millions of people worldwide.
She was also a marshall during the Athletes Parade and in her rehearsal she saw that she would get to stand right by where the Fijian team of athletes becomes part of the celebrations.
We are very proud of her, and her efforts carry the hearts of all Rotumans throughout this spectacular historic event that unites all nations, regardless of whether they compete.
It was a great day and if you got to see any of the ceremony on TV or through the Internet then you can feel pride that Rotuma was represented in the stadium.
Much love to all.
Alan, Emma, Laura, Tessa & David in London.
note: Tessa Brooks' mother was Munivai Taukave Aisake, oldest daughter of Aisake and Ramue Aisake of Fapufa
---
From Freddy Kafoa in Honiara, Solomon Islands (27 July 2012)
Little Rotuma Experience in the Solomon Islands
Our Rotuman Family & Friends Community in the Solomon Islands were so happy to see the faces of our relatives from Fiji when they arrived. From the first day until they departed the two weeks were spent catching up with stories from home. My family left Fiji in 2008, and we were so glad to meet kainaga and see the group perform. This was the first time for us to see a Rotuman dance since arriving here. My children were so touched that tears fell as we were reminded of back home. It was an experience of a lifetime for all of us here in Honiara. For the first time the Solomon Islands hosted this event and we are all lucky to be part of it and experience the different cultures of the Pacific.

Fuata Mosese, one of the leading land surveyors in Honiara, along with his brothers and sisters, welcomed our Rotuman group with so much happiness because the visiting Rotumans reminded them of their late parents (Fuata & Rejieli Mosese). They arrived in the Solomons in 1969 and now call it home, but they always remembered our unique Rotuman culture, and were thrilled that their grandchildren could see how we dance.

The Moseses hosted a welcoming of the group on the beach and we said our farewells at Lynn and Edwin's house. The Itu'muta dance group performed again on the farewell night and it will be long remembered by all of us the Rotumans in the Solomon Islands. The group sang fara songs to entertain us until the bus arrived; it was just like Christmas in Rotuma.

A Rotuman food stall was set up in the festival village by Fuata and his wife, Monica. They cooked and catered during the two-week event, but could not keep up with the demand. Betty provided most of our Fiji contingent with curry and other dishes as we tried to meet the demand.
Our Fijian vaka, Uto Ni Yalo, arrived with Master Mausio and Kimberly Bennett as crew members. They were given a warm welcome in Honiara and we will long remember when the vaka sailed in for the opening ceremony. This is the traditional way our forefathers sailed through the Pacific on their voyages from one island to another. It looked so beautiful when the sails appeared on the horizon.

Farewelling all of them on the last night was very emotional. Saying goodbye to all those who became like family for two weeks was so sad. All of us in Honiara will always remember and treasure this experience. We offer our best wishes to everyone who visited us in the Solomon Islands and is now back home.
---
News from Margaret Enasio in Sydney (25 July 2012)


There's a very bright future for many Rotuman students even in times of tougher competition for PSC and FAB Scholarships.


For according to my sister-in-law, Dr Rejieli Liligeto (nee Enasio), the Director of Business Studies at Fulton College (who is hoping to be the next HOD), that Fulton College will become a University College affiliated to many of the Australian and Papua New Guinea Universities.


A huge new campus is being built on 1000 hectares of land at Sabeto in Nadi. The plan is for the current operations at Tailevu to shift over to Sabeto, sometimes mid next year if it wasn't for the disruption of the work by the flood early this year but at the latest in early 2014 when the University will become fully operational.


Her husband Dr Alfred Liligeto, the USP Director of Technical Vocational and Educational Training was at a meeting (at USP, last month) chaired by the Permanent Secretary for Education Dr Brij Lal who confirmed this.


This is very good and exciting news for Fiji and the many students who are contemplating to pursue further studies in the future. For there will be at least a choice between the USP, FNU, FU and FUC. But for those aspiring to one day settle overseas whether it is the Americas, New Zealand or Australia, their choice of the university will have to be spot on. To save them time from doing further studies in their chosen field of study and work before they are allowed to practice in the countries they hope to eventually settle in.


But with constricting resources and tougher competition for PSC and FAB scholarships, I am of the opinion that there is hope for many of our Rotuman Students. Like many of the overseas universities, I believe that there will also be opportunities for our Rotuman students to work towards their tuition at FUC, like they currently do now at Tailevu.


Unfortunately for Drs Rejieli and Alfred, their sons will miss out on these opportunities. Their eldest son, Von is 22 and on a scholarship in Sydney, doing his Masters but wants to follow his parents' foot steps immediately thereafter and do his doctorate too. Whereas Sam is a third year student and wants to be an airline pilot, but KEM a foundation student, wants to be an estate realtor. Both are at USP and very are talented singers.


Rejieli is also excited too about the Rotuman sisterhood who are PhD holders which now numbers four with one in Australia, NZ and Canada and believed that the Rotuman sisterhood will soon catch up with the Rotuman brotherhood of PhD holders that are seven.

I also know that Rejieli has started work towards her professorship in business and marketing and is very passionate about promoting the Rotuman women's education. She wanted to encourage our women students to aim high and pursue excellence in their studies to reach that ultimate goal in education. For she believes that it is a gift given to everyone and all that one has to do, is look inside themselves to unlock that inner most sense of want, to be the best in what they do and to the best of their abilities through hard work and perseverance.
---
From Sarote Konrote in Suva (22 July 2012)
We have 2 swimmers from Fiji to represent the country at the London Olympics and they happen to be both Rotumans. They are Paul Elaisa the grandson of Lavenia and Susau Elaisa of Itumuta and Matelita Buadromo the granddaughter of Sapeta and Makrao of Mofmanu Motusa Itu'ti'u. They flew to Liverpool for warm-ups before proceeding to London for the games. We are very pleased that at least we have the some Rotumans representing Fiji at the Olympics. We pray that they will excel and break some national records!
---
From Moana Liza [nee Hanfakaga] in Apia, Samoa (20 July 2012)
Vaka Gaualofa Connecting Tagata Pasifika

I sat at the Millenia Hotel at Sogi, at 2:25pm on Sunday 3rd June, boiling my tired eyes out while reading the heartfelt responses from 4 of the 6 vakas: vaka Samoa [Gaualofa], vaka Fiji [Uto ni Yalo], vaka Aotearoa [Te Matau], and vaka Mixed-crew [Hine Moana]. I had promised the remarkable Captains of the individual vakas that I would drink a glass of 'green tea' a.k.a Vailima to celebrate their selfless passion to make Pasifika Ocean a safer moana for our future generation. For the vakas that could not submit their responses before sail time, the 4 vakas are voices enough for all your courageous conviction. Nothing has tugged my heart more deeply since the heartfelt tsunami project with Sydney-based Pacific Pathways [for trauma counselling at the National University of Samoa in 2009] than the vision the Hawaii-based Polynesian Voyaging Society had activated. What wisdom the founders had and to be part of this noble course has riveted my heart to its core. ... continued
Download complete article published in the Samoa Observer
---
From John Bennett in Suva (16 July 2012)
This evening the Suva the Itu'muta group had a mamasa for their dance troupe that just returned from the 11th Festival of Pacific Arts in Honiara. The mamasa ceremony was followed by performances by the group and dinner for everyone at Churchwood Chapel. Kafoa Pene spoke on behalf of the group and shared reflections on their experiences amongst the many diverse peoples of Oceania and their respective cultures.
Photos
---
From Fiji Times Online (11 July 2012)
Mobile channels for island

by Nasik Swami

FOLLOWING consultations for about two years, the people of Rotuma will soon have provisions for mobile content channels in their Digicel mobile phones.
This follows an agreement between the Hoi Rua Ne Rotuma (management of Rotuma content channel), Mobimedia, the content providers for Digicel, and Digicel.
The owner of Hoi Rua Ne Rotuma, Abel Camillo, said his company would manage the Rotuma Digicel mobile content channel and facilitate the landsite on the island.
At a press conference yesterday, Mr Camillo said the channel musicians would be contracted while pictures, prayers and news would be provided by his company.
"The content channel will include Rotuman prayers, music, ringtones, news, Rotuman pictures and screen savers," he said.
Mr Camillo said through the channel they would maintain the Rotuman culture, music and language.
---