From Monifa Fiu in Suva (31 October 2012)
LajeRotuma was able to organise the travel of three women representing the Rotuma Women's Association and an elder, Gagaj Tomanav, the culture teacher at Rotuma High School, to travel to Labasa for the national climate change summit this past week (Oct 22-25). Funding was provided by the GIZ/SPC Rano project under one of its main activities, the climate eco-camp series. We acknowledge the blessings presented to us by the Council of Rotuma and the support of Rotuma High School for approval of a teacher to join the island party to the summit. This opportunity presented the women's group to share their stories with other members present at the summit and enabled ease of coordination with the LajeRotuma team here in Suva to plan for the upcoming November Climate Eco-Camp for women and children at the Oinafa anchorage.
The linked set of photos were taken during the summit. The tahroro print that the Rotuma delegates wore on first day of the summit was designed by artist George Wasile, symbolic of food security needs for Rotuma. We acknowledge the support provided to the group by "Kapui " designer label who sewed our dresses and shirts for a discounted price at very short notice.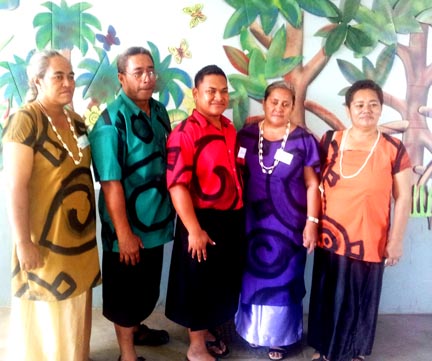 From left to right: Maryva Emose, Gagaj Tomanav, Rupeti Vafo'ou (LRI Field team leader), Mareta Tiuhe'a (President-Rotuma Women's Association) and Rosarina Fonmoa
For more information see the field journals of participants
---
From Antoine N'Yeurt in Suva (29 October 2012)
Solar-power for Rotuma
To coincide with the launch of the 2012 International Year of Sustainable Energy For All between December 2011 and January 2012, a demonstration solar-powered radio amateur station was set up in Fapufa Village on the island of Rotuma, historically a part of the Fiji Islands ceded to Great Britain in 1881. TOTAL (Fiji) Ltd. sponsored the solar power equipment and lighting requirements which supplied a Kyocera KD-135SX solar panel and Trojan T1275 deep cycle battery coupled to a Morningstar SS20L charge controller, with lighting supplied by a Sundaya Ulux-9 CFL lamp. Almost 7000 contacts were made with over 200 countries in Europe, USA, South America, Asia, Australia and New Zealand with 90% using Morse code (CW mode) and 10% using voice (SSB mode). These contacts are verified with the issue of QSL cards which will also be provided by TOTAL. Upon completion of the amateur-radio project, the solar panel, controller, battery and lights were transferred to the main house as initiation of a rural electrification project where all wiring and switching were supplied with a Sundaya Ulux-18 FL lamp allowing the family to enjoy bright lighting using entirely renewable, free solar energy. This made a big difference to their lifestyle, allowing them to read, work, recharge torches and mobile telephones and have social functions well past sunset when all such activities normally ceased before.
See article by Antoine with photos
---
From FijiTimes Online (29 October 2012)
Business thrives

by Serafina Silaitoga

SMALL operating businesses have worked well for the Rotuma Women's Association (RWA) with at least $10,000 income from one poultry project only.
RWA president Marieta Tiuhea said despite the limited marketing opportunities and number of customers on the island, the demand for eggs, chicken and even chicks had increased.
"We cannot meet the demand on the island as people continue to order eggs and chicken from our group," Ms Tiuhea said.
---
From Monifa Fiu in Suva (24 October 2012)

Rural Women Day celebrations in Suva

Field updates for the week 15th-20th October: Rotuma Women Association members in Suva join celebrations for Rural Women Day weeklong exhibition at the Civic Centre and participated at the Walk for Cancer held at Sukuna Park on the 20th of October.


The 5-team member had to be split up due to the full flights leading up to the dates of the summit. Translated notes below were from experiences of Maryva and Rosarina who flew in a week before the planned boat passage to Vanua Levuka on the 22nd of October.

"Due to the difficulties faced with transportation, the three of us (Mareta Tiuhea, Rosarina Fonmanu, Maryva Emose) and Gagai Tomanav had to fly to mainland Fiji. Rosarina and I flew in on Friday, 12th of October. Our travel to get here was a funny situation such that up until the day and last hour on Friday before flight departs, Rosarina and I were on waiting list. We got on the aeroplane with just a boarding pass. Fortunately we got to Suva in time for the next week's long celebrations on Rural Women's Day. The theme was "Empowerment of Rural Women and their Role in Poverty and Hunger Eradication". There were many women from around the country who came together in Suva which hosted this year's celebrations, at the Civic Centre showcasing their handi-craft a reflection of the women's creativity. The sale of home-made natural products ranging from seaweed jam-juice to sewn handicraft like cloth peg hangers, recyclable material for doormats, pillow cases, quilts and bird mobiles from pandanus dried leaf ('epa)!


We saw many interesting things at the Civic Centre and learnt many things from the women during the few days we spent time together. We were able to meet up with fellow Rotuman women clubs in Suva (Marseu Rafai) and Lautoka (my cousin Mareta!). A special story shared during the week was about the two women who had returned from India after a 6-month training to be a solar engineer with Barefoot College. A favorite saying I saw on the home-made materials during the show had this writing on it "A woman is like a tea-bag, you never know how strong she is until you put her in hot water". The displays and the stories from our new friends made that week brought to home how our women on the island need to connect with other like-minded women in rural areas from the rest of Fiji.


This past week has been an educational experience that ended with our participation at the Walk for Cancer awareness on Saturday from Sukuna Park. We are very blessed to be here and hope that we can share our experiences with the women when we return home!


Rotuma 'otou hanua pumue!


Hanisiof

Maryva ma Rosarina.
Marseu Rafai at the Suva Rotuman space
---
From Fiji Broadcasting Corporation (22 October 2012)
Rotumans seek recognition in Constitution

Taken from/By: FBC News
Report by: Devendra Narayan

The chiefs and the Council of Rotuma have expressed their desire to be acknowledged as one of the indigenous peoples of Fiji.

In their submission to the Constitution Commission, the Rotuman Council on behalf of their chiefs said the rights, aspirations and interests of all Rotumans should be recognised in the new Constitution.

The council says there should be constitutional arrangements where all matters relating to or affecting the lands and seas of the Rotumans be approved by the Council of Rotuma.

They have also called for the establishment of a Court system.

The council said some provisions in the 1997 Constitution are worthy of consideration particularly in the constitution and they include embracing the Judeo-Christian God as the God of the country and the role of the Great Council of Chiefs in blessing the constitution in their abundant wisdom.

It said there should be a solemn declaration before God that "With God as our witness, we give ourselves this Constitution".

The Rotuman Chiefs, however, didn't agree with section 38 (2) (a) of the 1997 Constitution, saying they consider that the provision on sexual orientation is inconsistent with the Preamble and one that will nurture some undesirable, unnatural and immoral practices.
---
From Pam Nataniela in Rotuma (22 October 2012)
Rotuma now has its own price control and fair trading inspector. Nataniela Tanu of Tarsua (Tuakoi) is Fiji Commerce Commission's inspector since April, and he is working hard to ensure that basic food items, fuel and gas are kept more affordable, as well as ensuring that other issues regarding fair trading are adhered to. Unlike before, when rare visits to Rotuma would produce brief, temporary changes, he is enforcing the rules on a regular and continuous basis. Prices in Fiji have reached an alarming high, but when prices in Fiji go down (as in fuel or cylinder gas or basic foods) people in Rotuma were not always informed. Now they are.
---
From Monifa Fiu in Suva (13 October 2012)
This last quarter has been an eventful one for LajeRotuma with a number of highlights as we renew partnerships and break new ground on improving our understanding of our heritage!
* An agreement was signed on the 2nd of October by SPC/GIZ under its Project "Coping with Climate Change in the Pacific Island Region" with LäjeRotuma, to implement a one-year Rano Project for community-based protection of swamp-lands and freshwater sources to enhance island resilience to climate change, thus safeguard food security on Rotuma;

* We renew our memorandum of understanding with the Rotuma Women Association gaining a fresh perspective on engaging with the women and children in understanding our stewardship roles in a changing climate setting;

* The facilitation of a Rotuma Women and Children Climate Eco-camp in mid-November at Oinafa Anchorage beachfront:) This activity is an extension of LRI's 'Adopt-a-habitat' Program first began in 2007, a partnership with the primary schools first supported by Vodafone Foundation grant then GEF Small Grants Programme. This eco-camp model was then shared with Tikina Naviti Conservation Initiative from Yasawa and an annual eco-camp was facilitated by LRI since 2008 with the village children/youth of Kese and Soso.

* Three women representatives, an elder and LRI field team leader-Rupeti Vafo'ou will be in Suva to join us and travel to Labasa (22- 25 Oct) to participate in the national Climate Change Summit that week. An itinerary is planned for the group whilst at Vanua Levu to visit sites i.e. Waisale Forest Reserve, Pearl Farm along its return route via Savusavu by ferry.

* Post-summit there is at least a week before the return boat for the Rotuma group' whereby an orientation/training sessions have been organised including a visit to the Fiji National Nutrition Centre, Fiji Museum, Koronivia Research Station and Colo-i-Suva Forest Reserve. A skills workshop on food preservation techniques is currently in discussion with a food scientist from USP in planning mainly with the Rotuma Women Association on the island home:)

* Rupeti Vafo'ou (field team leader) will stay on in Suva for his November training sponsored by NZ Unitec NGO Conservation Management Course so will miss him in the upcoming climate eco-camp on Rotuma.


See our information brief for this last quarter of plan of activities. If you are able to assist in anyway with the upcoming schedule please let me know. And look out on this website for new products in development: LRI profile in form of bookmark, tee-shirts for sale (limited stock) and items by the women to be marketed!
---