From John Taito in Navua, Fiji (30 June 2013)
Sinai: Multinational Force & Observers

Lieutenant Colonel Sapenafa Motufaga of Mea, Hapmak, Itu'ti'u, Rotuma assumed the appointment of Commanding Officer 2nd Fiji Infantry Regiment with Multinational Force & Observers in Sinai on 30 May 2013 from Lieutenant Colonel Manoa Gadai of Namotomoto, Nadi. The officer is Isireli and Luise's son of Mea, Hapmak, Itu'ti'u, Rotuma. Other Rotuman soldiers serving in Sinai include Warrant Officer Class One Peter Noel of Motusa, Itu'ti'u, Warrant Officer Class One Varamue Tuatoko of Savea, Itu'muta/Juju and Corporal Fesaitu Fapiano of Losa, Itu'ti'u. Duration of Tour of Duty is one year.
---
Golan Heights - UNDOF

The Republic of Fiji Military Forces Rotuman Club bid farewell to two of their senior members in Warrant Officer Class One Kapani Lino Inoke of Upu, Motusa, Itu'ti'u and Warrant Officer Class One Aisea Jiare Molia of Pala, Itu'muta who departed our shores on Thursday 27th June with the first batch of soldiers for one years peacekeeping duties at the Golan Heights, Syria.
---
Iraq - United Nations Guard Unit

Staff Sergeant Fesaitu Fatiaki (Kamilo) of Mea, Hapmak, Itu'ti'u and Sapper Patricia Shelly of Savlei, Itu'ti'u are currently serving with the Republic of Fiji Military Forces troops in Iraq (United Nations Guard Unit). Also serving are Corporal Rupeti Terotume of Losa, Itu'ti'u and Corporal Mua Ragkae of Lopo, Itu'muta. Duration of Tour of Duty is six months.
---
United Nations Mission in South Sudan - UNMISS
Captain Hiagi Ieli is currently serving with four other Republic of Fiji Military Forces Officers with the United Nations Mission in South Sudan. He is the son of Jiare and Ledua Ieli of Pephaua, Malhaha/Matuku, Lau. Duration of Tour of Duty is one year.
---
From John Taito in Navua, Fiji (19 June 2013)

Navua Rotuman Farmers Foodshow 2013 Report

On Saturday, 8 June 2013, the Navua Rotuman Community gathered at Mary and Wesley Konrote's residence at Veiwawa, Nakaulevu, Navua for their 11TH Annual Food-show. The wet weather during the week did not dampen the spirits of the competitors and the guests, who came from as far as Waila, Nausori and Suva arrived in good numbers to witness first-hand what their brothers in Navua had yielded for the much awaited 2013 competition.

The program commenced at 8.30a.m with Pastor Robert Powell of the Pacific Harbour Wesley Circuit reminding everyone that each competitor has been blessed and whether the yield was satisfactory or not, they were to give thanks and rejoice for the almighty God loves each and everyone of them equally. Rotuman Hymn Aus Famor Ne Noh Sousou was sung – mak ke' pel after which the Pastor delivered a Thanksgiving prayer and handed over to the Chairman, Mr. Jione Kaitu'u.

The Chairman in his address thanked the Pastor for delivering a wonderful message and then welcomed everyone and thanked them for their support in attending the event and told guests to feel at home and enjoy the day's program. The Chairman called the 2012 reigning champion, Mr. Jioje Fonmoa, to lead the guests for the crop inspection.

Competition commenced at 9.15a.m with the Filipine ta – Maha and then the Filipine ta Roa. The 15 taro varieties were measured first for length followed by the 9 yam varieties. There was a power-cut experienced in the Navua – Pacific Harbour corridor from 9.30a.m -12.30p.m and the crop weight measurements had to be on hold during the power cut.

The friendly reception from by the Navua Kava crew only led to their being relieved immediately of their duties by the more enthusiastic crew from Waila, Nausori.
Hot dogs, chocolate cakes and juice were served during morning tea and were enjoyed by everyone present.

Lunch was served at 12.30 p.m and everyone was treated to beef chop suey, koua puaka/moa, palusami and fekei mara ma a'ana.

The power supply resumed after lunch and the remaining taro, yams and temafa varieties were weighed. The entertainment by the local PRO-AMS band also livened the event as the M.C. led the guests in some exciting island moves.

The last crop was measured at 3.30p.m and the score-keepers—Mary Kaitu'u, Katarine and Zackly Fonmoa—tallied up the points for awards and bets payout.

The M.C requested the band to play a lively 'vude' number in which all the competitors took the floor to unwind as the competition had ended.

In an inspirational speech, Mr. Jioje Faga (Waila) thanked the Navua Farmers for 'holding on to the true spirit' of the mene'a tela a and also for the warm hospitality of the Navua Rotuman Community. The veteran farmer emphasised the importance that more meets between the Rotuman Communities in Waila/Nausori and Navua be encouraged as it not only strengthened ties between the two communities but was also a time of reunion/catch up amongst relatives and friends.

The Chairman in acknowledgement thanked Mr. Jioje Faga and men from Waila/Nausori for their continuous support for their fellow brothers in Navua and prayed that the Lord Almighty bless the Waila/Nausori Rotuman Farmers richly in their preparation for their 2014 competition.

The following messrs were asked to hand out the prizes & trophies for the champion Taro, Yam, Bets and Overall Champion 2013:
Mrs. Vamarasi Inoke
Mrs. Marie Mcgoon
Mrs. Lily Chand
Mr. Jioje Faga (Waila)
2013 Competitors
Jione Kaitu'u 72yrs of Maftoa, Itu'muta (Veiwawa Ho'aga)
Malakai Kaitu'u, 48yrs of Maftoa Itu'muta (Veiwawa Ho'aga)
Johnny 23yrs & Pene Konrote 21yrs of Pephaua, Malhaha (Veiwawa Ho'aga)
Sam George 62yrs of Feavarere of Itu'ti'u (Navua Ho'aga)
Jioje Fonmoa 49yrs of Savlei, Itu'tiu (Navua Ho'aga)
Freddy Wesley 49yrs of Paolo, Lopta, Oinafa (Rovadrau Ho'aga) Wesley Konrote 53yrs of Pephaua, Malhaha (Rovadrau Ho'aga)
Heaviest Taro: Mr. Jioje Fonmoa, Navua, 4.7kg
Longest Taro: Mr. Jione Kaitu'u, Navua, 67cm
Champion Taro 2013: 1st-Mr. Jioje Fonmoa 2nd- Mr. Jione Kaitu'u
Heaviest Yam: Mr. Jione Kaitu'u, Filipine Ta, 50.9kg
Longest Yam: Mr. Jione Kaitu'u, Filipine Ta, 95.4cm
Champion Yam 2013: 1st- Mr. Jione Kaitu'u, 2nd-Johnny & Pene Konrote
Heaviest Pineapple – Mr. Jione Kaitu'u, 2.80kg
Heaviest Melon – Mr. Jioje Fonmoa, 1.3kg
Heaviest Kumara – Mr. Sam George, 2.95kg
Champion Ho'aga – Navua

Overall Champion 2013 – Mr. Jioje Fonmoa

Mr. Jioje Fonmoa was again pronounced the Overall Champion 2013 and in his victory speech acknowledged everyone present and encouraged the other competitors to prepare well for next year as both the Overall Champion and Ho'aga trophies will be growing roots in the Navua Ho'aga, Ip rua e la fup va' e Hoa'ag ne Navua.

Mr. Malakai Kaitu'uon behalf of the organizing Veiwawa Ho'aga thanked Pastor R. Powell and everyone who was present for their support.

The M.C tuned the Rotuman anthem Atumotu Helava La Kele, which was sung beautifully by the crowd as the anthem echoed into the green plains of Serua as the sun slowly set into the Yatu-malolo group of islands.

Pastor R. Powell delivered the benediction followed by the end of 2013 Food-show cheer by the Navua Rotuman Community youths.

At 5.00p.m all guests were directed to their respective food crop piles as a token of appreciation for their contribution to the day's event.

Ua'ek ti' se haiasoag hanisit ne po e hunsiosiag e/Thank you to the following guests for your generous contribution to the event:
Fagmaniua and Vamarasi Inoke of Rovadrau, Navua
Fagmaniua Pene and Richard Wah of Vakabalea, Navua
Marie & John Mcgoon of Navua
Jioje Faga & Fiu of Waila, Nausori
Amoe & Rigamoto Nakaora and John Ravai of Waila, Nausori
Christopher, Fereti, Mako Chute & family of Nausori
Aggie & Francis Varea of Raiwai, Suva
Tausie & Daniel Amoe of Pacific Harbour
Joji Raki & Mojito Pranjivan of Vakabalea, Navua
David & Apisai Fereti of Wainiveidio, Navua
Tifanua & Eliesa of Suva
Kafoa & William Danford of Navua
Akiai (Junior) of Nakaulevu, Navua
Peter Seeto of Wainiveidio, Navua
Gus George & family of Navua
Te is rogrog ne mene'a tela'a ne fau te'is ne omus hunsisiag ne noh e Navua
Gagaja la Alalum 'ek is e te ne ava
---
From Radio Australia (18 June 2013)
Chemicals banned as Rotuma island works for organic certification
The growing demand for organic fruit and vegetables has inspired the people of Rotuma to turn the entire island into a certified organic farm with the aim of boosting exports and profits.

Rotuma is the northernmost island in the Fiji group and it's remoteness means it's closer to Tuvalu than Suva.
The plan to develop the island's agriculture into a major, chemical free, export industry is the work of the Rotuma Export and Marketing Company.
Steve Rice asked its Executive Chairman Hiagi Foraete for the details.
Presenter: Steve Rice
Speaker: The Executive Chairman of the Rotuma Export and Marketing Company, Hiagi Foraete
---
From Fiji Sun Online (14 June 2013)
Major-General Konrote: Politics far from agenda
By Rosi Doviverata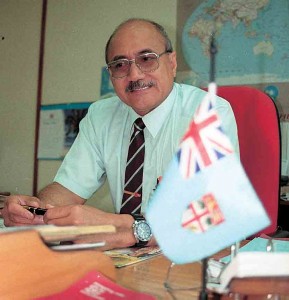 Still considers himself as a military man ... Major-General George Konrote.
On Viti Levu politics is in the air. Not so in Rotuma.

On Rotuma, people are cut off from the hype in Suva, so the majority of people here live a very laid back life-style, says Major-General George Konrote.

"Politics is far from their agenda," he said.

However, many on the island are grateful for the developments carried out by the Bainimarama Government.

"Schools and roads have been repaired, electrification is in progress, the airport runway is better – so we are grateful.

"We've also had visits from the President, Prime Minister and other Ministers."
Rotuma's population according to the 2007 census was under 2000.

Major-General Konrote considers himself a military man.

But he is more than that. He is a former diplomat and politician.

He now spends most of his time on his home island of Rotuma and has become an expert in fishing and farming.

A career soldier, Major-General Konrote was recognised for his contributions in the military. He was awarded with the UNIFIL Peace Medal in 1978, the Military Cross (United Kingdom) in 1982, the Order of Merit (Italy) in 1997, the Order of the Cedar (Lebanon) in 1999 and was made an Officer of the Order of Fiji (Military Division) in 1997.

From 2001 to 2006, Major-General Konrote served as Fiji's High Commissioner to Australia. After his appointment he was asked by elders in Rotuma to stand in the 2006 general elections. He stood as an independent and won.

Major-General Konrote said he stood for the sake of the Rotuman community.

"I went in to serve."

He was given the Minister of State for Immigration and Ex-servicemen portfolio – which lasted only six months.

For the future, Major-General Konrote says he has no political ambitions.

"More young people should get involved in politics," he said.

He wished the country every success in the election.

Then he chose politely not to talk anymore politics.

It was back to fishing and farming.
---
From Fiji Times Online (15 June 2013)
Baby at sea
by Dawn Gibson

AFTER two days in rough seas while rushing from Rotuma, a mother gave birth to a miracle beautiful baby girl on board a ferry that served as her hospital this week.
Akanisi Lusi, 28, was travelling about 640 kilometres to the CWM Hospital when she felt the overwhelming urge to start "pushing" while the MV Lady Sandy was out at sea on Monday night.
The ship was two hours away from docking at the Narain Jetty in Walu Bay when Atella Sweety Delilah was born.
"I tell you, it was a miracle," an elated Ms Lusi told this newspaper.
"It was a successful delivery."
Upon arrival at the Narain Jetty, they were rushed to the hospital in an ambulance.
About 70 passengers and 300-plus onlookers cheered and greeted mother and daughter when they disembarked to board the ambulance around 11.30pm on Monday.
Boat owner Durga Prasad said he could not have been more proud to help the two special passengers.
"How many people can say that they've witnessed such an amazing thing? I am extremely proud," he said.
Mr Prasad praised the team on board the ship, saying they did a great job.
"I was notified earlier to expect an extra passenger on board and that I should call an ambulance, and they came just in time. Within minutes after docking, they took the mother and daughter to the hospital."
Mr Prasad said his crew stood by ready with first aid equipment to help a nurse who accompanied Ms Lusi from Rotuma.
Speaking from her hospital bed, Ms Lusi said she worked against her better judgement when she decided to travel to Suva by sea.
It was a difficult decision, she said.
"I was really worried because the seas were very rough and I was only coming with my nurse, no family, so I really didn't want to travel," she said.
"Once I began pushing, I was still frightened. My nurse was very helpful, the passengers didn't mind and the crew were of good help so I was able to calm down."
One of the passengers sitting next to Ms Lusi as she was giving birth was 24-year-old local NGO worker, Joseph James.
He said he was nervous but happy for the proud mother.
"I was sitting just by her when she started pushing. I've never actually witnessed something like that before," Mr James said.
"It was an incredible thing to attest to a newborn breathing first life out on the ocean like that."
Last night, Ms Lusi was still at the CWM Hospital with little Atella.
She said they would probably stay in Suva for another two months before making the voyage back to her home island to the north of the mainland.
Mr Prasad said he could not have been more pleased with the delivery.
"Who knows, I'll probably be giving them free rides from now on."
Ocean child ... Akanisi Lusi and baby Atella Sweety Delilah are glad to be on dry land after the long trip across the ocean.
Picture: Supplied
© Fiji Times Limited
---
From Fiji Sun Online (6 June 2013)
New Form 7 block for Rotuma High School
Rotuma High School recently opened a new Form 7 block, made possible through the small grant scheme provision for schools by the Prime Minister's Office.

The Principal Education Officer for Human Resources Management at the Ministry of Education, Apao Solomone officiated on behalf of Government and emphasised the need for students to recognise Government's commitment to make education accessible.

"I am particularly appreciative of the commitment and the unity exhibited by the seven districts of Rotuma in the construction of the Form 7 building. I am also thrilled to learn that the finishing touches of the form 7 building was done by the Carpentry and Joinery students of Rotuma High School," Mr Solomone said.

School principal Perry Gabriel acknowledged the assistance from the Prime Minister's Office and the Ministry of Education for writing a new chapter for Rotuma High School.

The school received $18,000 through the small grant scheme.

The 21 pioneer Form Seven students were delighted with their new classroom.
They were reminded by Mr Solomone to work hard and develop a positive attitude towards their studies.

Meanwhile, the five schools in Rotuma recently had access to a careers exhibition for the first time.

MINFO NEWS
---
From Shirley and John Antonio in Brisbane (6 June 2013)
Rotuma Day 2016
Fiji may mark Rotuma's 135th Anniversary of its historic and multilingual Deed of Cession in 2016. Speaking after a recent Labour Day protest march last month in Brisbane, Australia, Suva-born Mr Vaivao J.E. Antonio OAM of Northern Brisbane, indicated he hoped to hear from Fijian Prime Minister, Commodore Voreqe Bainimarama, and the Chiefs of Rotuma about the forthcoming Rotuma Day anniversary. Read more
---
From Fiji Broadcasting Corporation (4 June 2013)
Rotuma expands trade
by Apisalome Coka
The Rotuma Enterprise Marketing Co-operative Limited – REMCOL is hoping to expand its export base to other stakeholders. REMCOL chairperson, Hiagi Foraete says they have only been exporting a few tonnes of produce to Tuvalu since trade started in 2011.
"To date we are trading with dalo, cassava, kumala, yams and we've included fruits like watermelon and pineapple. In the last shipment we sent rourou and bele, and with the machine that is being audited now we can send pawpaws, avacado pears and mangoes to Tuvalu."
Foraete says farmers on Rotuma are ready to sell their produce to other markets.
"Tuvalu is one, we would like to venture into others, we wouldn't like to put all our eggs into one basket." The next shipment of produce to Tuvalu will take place this month.
---