From Fiji Sun Online (27 November 2014)
Rotuma Girl Tops ACS
Noa'tau, Rotuma girl, Juleen Samuela, 19, was over the moon after being announced the Adi Cakobau School 2014 dux during the school's prizegiving yesterday.
Juleen said she could not describe how she felt when her name was announced.
"I am relieved now because all my hard work paid off and what my parents did for me as well," she said.
She said being a Rotuman and educated at an iTaukei dominated school was never a challenge because the school had warmly welcomed any student who joined.
"It was fine. They welcomed us, been very supportive and it has an all around learning approach and not only focuses on academic work.
"My parents have always been supportive of me and the teachers at the school have always been encouraging," she said.
Juleen credited the school for giving her an opportunity to fulfill the potential she had.
"Joining this school has always been a push factor in my achieving this award. We wake up early in the morning and study and being a boarding student has also been very helpful."
She also won subject prizes in English, Maths, Physics, the Best Science Student and the Fiji School Leaving Certificate Highest aggregate in 2013.
Her mother, Selai Samuela, said her daughter deserved the award because she was always consistent in her work.
She admitted her daughter to ACS because she wanted her to experience what boarding life was like in school, plus other things.
---
From Fiji Times Online (17 November 2014)
Band heads home for major album launch

ByAna Madigibuli

ROTUMA has a rich and rooted traditional culture that needs to be recognised more in the world of music.

World Party People band leader Tino Hunter believes the band's new album People need People that will be released on Rotuma in December will make a difference in the lives of many people.

Hunter, who left for Rotuma yesterday with his band, said the album was inspired by the rich culture of the Rotumans and how they always helped each other.

"I think we need to bring in a lot of Rotuman music because there is not a lot of Rotuman music in the market today," Hunter said.

"We need original Rotuman music that can inspire Rotumans out there and that is the reason we have modernised the music we create."

He said the band consisted of seven members but they could only pay for four members to launch the new album on Rotuma.

"The album describes the beautiful island and the importance of people's strong link with the land," he said.

He said People need People was the first English album the band would release.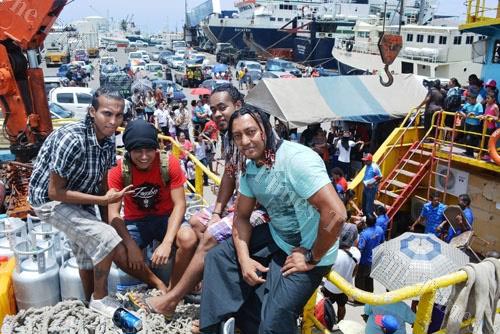 World Party People band members depart Narain Jetty for Rotuma Island. From left Rohit Lyash, Mark Phillip, William Fatiaki and Tino Hunter.
Picture: Jone Luvenitoga
---
From Fiji Times Online (15 November 2014)
Crafty hands

by Litia Vulaidausiga

MARSEU Rafai constantly urges younger artists to come forth and share their talents with the world.
This encouragement is reflective in the label of her craftwork, hef rani, a Rotuman translation of morning star.
She has actively channelled her creative flair into adornments and jewellery for about 20 years, a fete she credits to her continued appreciation of the arts and the friendship she has forged with other artisans.
Originally from Noatau, Rotuma, the president of the Rotuman Women's Association was among the jovial group who showcased their craft and artwork at the three-day Western Craft Exhibition in Nadi this week.
"I have four children and my daughters also share this passion of mine," she relayed.
Her gifted hands have created countless weaving belts, table mats, hats, wall hangings and other specially-ordered items for years, mostly made of voivoi, masi and magimagi.
"This is a family passion and even on school holidays, I make sure my grandchild learns how to make necklaces and other things instead of wasting time," she added.
On Thursday she proudly received a Fijian-crafted licence to authenticate her locally produced craft.
These licences come under the Buy Fijian-Made campaign launched in June last year and like others, Mrs Rafai said this stamp of authenticity would augur well for business.
Marseu Rafai (right) with her craftwork at the Western Craft Exhibition in Nadi.
Picture: Jai Prasad
---
From Fiji Sun Online (13 November 2014)
New Rotuma Hospital Costs $4.6m
The new Rotuma Hospital, will cost Government around $4.6million.
The Permanent Secretary for Rural and Maritime Development, Filipe Alifereti, says the new hospital should boost and improve health services for the people of Rotuma.
"This new development would ultimately fulfill the aim of the Government in bringing services closer to rural and maritime people," Mr Alifereti said.
He also confirmed that a Government delegation is expected to travel to Rotuma at the end of this month for the groundbreaking ceremony.
"The construction of the new hospital will be in two phases and we aim to complete the first phase before the year ends.
"This includes the construction of the hospital foundation and the wall structure. Construction work will be undertaken by the Republic of Fiji Military Forces engineers.
"The ministry will continue to look at new ways of providing the best services to rural communities," he said.
He said the Government is committed to the continual improvement of life for rural Fijians.
The project is expected to be completed by the end of 2015.
---
From Fiji Sun Online (12 November 2014)

Additional Trips for MV Lady Sandy

by Losalini Rasoqosoqo

Seaview Shipping Company's MV Lady Sandy has added two extra trips to its schedule due to demands from the islands.

The boat will arrive at Lakeba in Lau tomorrow and will later sail to Rotuma next week.

Both trips are to transport students to Viti Levu as requested by the school management.


Students from Rotuma will be travelling to Suva to participate in the Chow Games schedule for November 21-22 . . .

A total of 51 people will be transported from Lakeba tomorrow while 50 people are also expected to come from Rotuma.

"Those from Rotuma will also include normal passengers," Ms Chand said.

The MV Lady Sandy has the contract to service Rotuma from the government under the franchise scheme. However, the will be taking an early trip in order to assist the Rotuma students who wish to be in Suva for the Chow Games before November 20.

"We are glad that the Ministry of Transport has agreed to fund this trip even though it will be early as schedule," Ms Chand said.

"This will also be a great opportunity for the people on the island who wish to spend more time with families on Viti Levu to come early" . . .
---
From Lilino Vaurasi in Brisbane (6 November 2014)
I had the privilege of meeting Major General (Ret) Jioji Konrote in a recent visit to Fiji and congratulated the Hon Minister for his victory in the recent historic elections and inclusion in Fiji's Ministerial Government.
I was unable to attend Parliament the day the Hon minister delivered his maiden speech but was glad to be able to obtain a copy of his speech. I would like to have the Hon Minister's speech posted on the Rotuma Website so that Rotumans can read and understand the vision and pathway our Hon Minister intends to pursue in his Government role in the next four years. His message is very inspiring and I hope the same inspiration can be with all Rotumans.
Download Jioje Konrote's maiden speech to Parliament
---