From Fiji Times Online(29 June 2015)
Few families remain in mining town

By Litia Mathewsell

FOR residents both past and present, Vatukoula retains childhood memories and the awakening of youth. Its layout was unorthodox, with several communities set apart by ethnic makeup and varying privileges but closely bound by a maze of narrow roads and social activities.
Those who grew up during the area's booming days included Antonio Elaisa, a retired Human Resources training officer for the Fiji Sugar Corporation.
"I was three years old when I came to Fiji from the island (Rotuma), when my mum passed away," the Lautoka resident related.
"I was bought up by foster parents, Jioje and Keponi. My foster mum was my mother's twin sister and we stayed in Vatukoula in the 50s and 60s."
Retaining cultural practices
Antonio noted that despite the distance from Rotuma, their traditional customs remained, still intact and practised through ceremonial formalities.
"The Rotuman community also held functions, especially by our elders. Most of us came from Rotuma and stayed in Vatukoula because we had relatives working there."
These sentiments were echoed by Maria Vuan, a retired Nilsen College teacher who has lived in the area for over 20 years.
"This place was really a stepping stone for many," she said.
Though she didn't grow up in the area, she would become part of its vibrant communities through her husband, Sunia Albert, who worked at the mines and moved there in 1987.
As noted in the 1977 publication, Exiles and Migrants in Oceania, by Michael Lieber, Vatukoula had the highest percentage of expanded households of any of the Rotuman enclaves it studied. This was particularly due to a traditional obligation of well-off families looking after less privileged relatives, and this practice was prevalent in Vatukoula because of the high employment it afforded Rotumans who settled in Fiji.
The 50s and 60s
Antonio attended the Vatukoula Fijian Government School from Class One to eight and remembers taking a ten to 15-minute walk to school from Loloma — a settlement of mostly Rotuman families — with his cousins and friends.
"We would go to a lady named Mary Lala, who sold Indian sweets under a mango tree," he recalled.
"At the time, the community was very close in Loloma, Dolphins and Vunisinu. There were many social activities too, especially for the church, as many of the Rotumans were Catholic, so we would get together for services on the weekends."
The Emperor Theatre in Korowere was also a popular fixture, and regularly attracted a crowd of movie goers to its double-storey complex along Emperor Avenue, where supermarkets and grocery stores were also located.
"We didn't have DVDs back then, so the movies were shown through reels. Admission to the movies was about 20 or 50 cents, very cheap. And we'd have movies shown in the morning, midday and in the afternoon. We just had three sessions in a day and would walk to Korowere.
"We didn't go to Tavua because of transport problems. Buses were organised for businesses but there weren't any daily runs otherwise. So we would all walk from our various communities to Korowere. There was a bakery owned by a Chinese businessman named Fong Lee, and a taxi base was also there. Good businesses were going on. But now the place is different."
Greener pastures
"Vatukoula was very much prosperous in terms of business, in terms of the mining activities. It was really going very well and together with that, I could see the boom in businesses."
As charming as Vatukoula was for Antonio, the struggles of being raised in a large household prompted his resolve to find his own path for the future.
"Sometimes I didn't take lunch to school. It was a struggle. I set my goal to be well educated and to not have any second thoughts, but to focus on my future, and to get out of Vatukoula," he said, noting that despite the prosperity, the mining town had limited work opportunities.
"I could see that my other friends had already proceeded to higher education and said they couldn't come back to Vatukoula or they would be sent underground for casual works in the mines."
Antonio managed to study afield at the University of the South Pacific in Suva, with a government scholarship and retains fond memories of growing up in the charming mining town, where he still has a few resident relatives.
Rotuman assertiveness
As studies and publications noted, the Rotumans of Vatukoula did not go without their share of challenges. One of these was the community's insistence of retaining independence and control of their own affairs, which clashed with the rules of the mining companies. As cited by author Michael Lieber in Exiles and Migrants in Oceania, houses were symbolic to Rotuman social status and members of their community once approached a mining welfare office to request that their minister be allocated a house better than merited, which clashed with the mine management rules of how homes were assigned.
The Rotumans also ran their own mess hall and were noted as the only community in Vatukoula to take care of their own food, as a Chinese caterer oversaw the part-European and European mess, while the Fijian mess was taken care of by the mining company.
"The advantage enjoyed by Rotumans in their arrangement lies not only in profits but also in the capacity to allocate jobs within the mess to Rotumans," it was noted.
The first Rotuman worker at Vatukoula was a man named Tafaki, who joined the mine in 1939 and was recognised as a headman. Following him, the Rotuman community elected an electrician named Riamkau as headman.
"In a short time he had gained a commitment from the company for better housing, but his aggressive manner also generated some antagonism within the community. Then chief Tausia, one of the seven paramount chiefs from Rotuma, visited Vatukoula in 1950 and appointed another man, Vai, as 'headman'."
Vai remained headman until he died in 1960, although his predecessor, Riamkau, remained an influential member of the community during Vai's leadership and even put together a committee that compromised of one man of chiefly decent from each Rotuman district. They held monthly meetings.
"Interestingly, the resultant structure very nearly duplicated the social structure on Rotuma," Lieber noted.
"Thus the 'headman' in Vatukoula put in a very similar position to the district officer on Rotuma, and the committee corresponded to the Council of Chiefs. Even the monthly meetings, which rotated among committee members' households, paralleled the Rotuman custom of rotating host districts."
Riamkau was re-elected leader after Vai's death, though the committee passed a motion for the headman's term to be limited to two years.
Close-knit
"The community has been close but when you look at it, it has really depended on the kind of managers we used to have," Maria said.
"Some managers before were very easy, some were strict and managed to control the drunkards in the area."
One of the former regulations she noted included the eviction of a whole family if a member of their household damaged property or stole from other homes.
"That kind of eased off the rowdiness of the drunkards. We only had one or two cases of when that happened, because they would worry that no matter where they were, if they got into trouble, then their whole family was put out. And it was good, because it eased off the rowdiness and danger."
Mine managers differed in character, with some taking a more avid interest in the affairs of Vatukoula's community, while others were more centred on production.
"Some came in and both cared for the community, as well as the production," she said.
Likewise, the characters of those regarded as Rotuman leaders have also varied, though they have played pivotal roles of overseeing their people outside the traditional frameworks of Rotuman villages.
"Even though Rotumans are now everywhere, in Loloma, Nasivi and at Low-Cost, we still have what we call our area leader, similar to the village set-up. So whatever happens, we still do things together," Maria noted.
© Fiji Times Ltd.
Note: The article cited above from the book, Exiles and Migrants in Oceania, edited by Michael Lieber, was actually authored by Alan and Irwin Howard. It can be accessed on this website at http://www.rotuma.net/os/howsel/10genesis.html
---
From Fiji Times Online 28 June 2015)
Fruitful tour

By Vuniwaqa Bola-Bari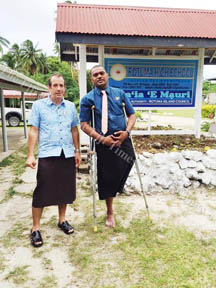 Assistant Minister for Sports Iliesa Delana and EU Ambassador Andrew Jacobs on Rotuma.
Picture: Supplied
THE trip to Rotuma, with an aim to empower the youths on the island, was a successful one after it saw the involvement of everyone on the Island.
EU Ambassador to the Pacific Adam Jacobs said the tour was fruitful with great youth participation where he also had the privilege of addressing the Rotuma Council with Minister Jioje Konrote.
"It has been great to carry out the trip with the Government ministers, showing close collaboration between the Government, the EU, and the UN on the important challenge of strengthening civil society engagement and on development challenges, including those faced by Rotuma."
Mr Jacob said they were in Rotuma with minister Konrote and assistant ministers Joeli Cawaki and Iliesa Delana with Head of UN in the Pacific Osnat Lubrani.
He said the team were there for the Rotuma Youth Empowerment and Leadership Program in the context of the EU-financed UNDP-implemented "Strengthening Citizen Engagement in Fiji Initiative" (SCEFI).
"In Rotuma the program has engaged with chiefs, community leaders, women's leaders, and youth focussing on priorities such as employment creation and sustainable development.
"SCEFI works all over Fiji including the smaller islands; our trip has been very successful, with great youth participation."
© Fiji Times Ltd.
---
From Fiji Times Online 25 June 2015)
Youths team up to revive lost art

by Felix Chaudhary

CONCERNED about the gradual loss of Rotuman music, tradition and culture over time, a group of youths from the sacred island are reaching back into the past and reinventing musical instruments and chants in the hope of preserving a lost art for future generations.
Rako Pasefika is in the process of recording a groundbreaking album and the music which incorporates the use of instruments — that were once thought to be forgotten and chants from eons ago — is spellbinding, captivating and fresh.
Courtesy of Lautoka-based production guru Phil Dakei, Rako Pasefika has captured elements of the past and woven this with a contemporary sound that has managed to find the elusive middle ground of local appeal and international flavour.
The group is managed by Letila Mitchell, a well-known figure in the local and regional arts scene and Paul Dominiko, former guitarist for Four Jams, a band that featured the inimitable vocal talent of local diva, Talei Burns.
And in the space of five years, the duo has taken a group of relatively inexperienced musicians from obscurity to the world stage.
Rako Pasefika has toured regionally and internationally and there are plans for more overseas outings once the album is completed and released.
While the world prepares to get wowed by the group and its music, many are also curious as to their name.
"Rako", explained Dominiko "means 'school', as a verb it means "to learn" and as a noun means "place of learning".
"Rako initially began as a dance group but Letila had a bigger vision to develop it into a place where visual and audio arts could be nurtured because there was no place for people in the arts to excel," he said.
"We never wanted our music to be genre specific but along the way, our sound has developed to incorporate elements of world music and contemporary styles fused together with traditional Rotuman music and culture."
Mitchell shared with passion her views about rediscovering music, art and tradition from her homeland.
"We have lost almost 80 per cent of Rotuman culture and we're not really sure why this has happened," she said.
"Some suggest that it's a small island and people are constantly moving from Rotuma in search of better opportunities in Fiji.
"What we have noticed is that there are fewer youths on the island and there is a big gap between the elders and the very young population."
She said the diaspora, coerced by the search for better education and economic opportunities, had not only impacted on traditional music. It had also led to the loss of craftsmanship, tattoo designs and other cultural aspects.
"Rako Pasefika is a vehicle that we are using to revive these lost arts.
"We have a strong connection with the people of Moce in the Lau group and our young people are learning long forgotten craftsmanship techniques again.
"The next step is dive into the history books and stories and symbolism and try to recreate this again.
"Pretty much everything we're doing is our expression of what existed before."
Dominiko explained about the types of instruments the band used for the recording and during live performances and also shrugged off comparisons made between Rako Pasefika and New Zealand-based Polynesian group Te Vaka.
"The instruments we're using were built in accordance to what we've researched," he said.
"Rotuma has links to Tahiti and the Cook Islands and that is why drums are a big feature in our music.
"In Rotuma, the sacred ground is called marais and they are called by this same name in Tahiti and the Cook Islands as well — so the similarities are quite obvious."
What makes Rako Pasefika unique is the use of traditional Rotuman pates, pahu and guitar.
The group's sound is based around the rhythm of dance and other interesting aspects of their songs is the use of call and response in their singing style, the percussive use of feet and hands and the haunting echoes of chants creates a sound that's unique to Rako Pasefika.
Producer Phil Dakei from Noisy Oyster Studio in Lautoka, and also a member of iTaukei group Makare, said the biggest challenge he faced was recording the different types of drums the band used.
"Capturing the essence of their music and unique sound without compromising on contemporary appeal was tricky but I think we managed to get it right in the end," Dakei said.
"Because they used a lot of acoustic instruments, another challenge was keeping their sound as close as possible to their stage performances while making the songs radio-friendly at the same time."
Dakei said once launched, Rako Pasefika's debut album would re-define the future of Rotuman music.
"Recording the chants, I got goose-bumps because this was music that has not been heard for many years being brought back to life and the passion in the singers voices was evident throughout the recording process.
"Rako Pasefika will do for Rotuman music what Paul Simon's Graceland album did for African jive," the renowned producer said.
Rako Pasefika travelled from Suva to Lautoka from November last year to record at Dakei's studio and the seven tracks that have emerged out of those sessions are nothing short of musical masterpieces.
Work on the final stages of production is in progress and an announcement is expected to be made of when the group is going to launch the as-yet-untitled debut album.
The band is keeping details of the album release on the down low at the moment but fans can look forward to something old mixed with a fresh, new and captivating collection of original songs with an international twist when the debut finally breaks out.
The music invokes the spirit of the fara with its tribal drum driven rhythms and also leans towards lamentations about nature and protection of the environment — a resounding mantra in Rotuman tradition and culture.
Rako Pasefika is yet another catalyst in Rotuma's push for international recognition on the world music stage, which began with impact artists like Kim Halliday and her group, Pacific Curls, the gospel flavor of Harry Tivaknoa, global appeal of Ngaire Fuata and the adventurous spirit of Knox.
More details on Rako Pasefika's debut album, the songs that were recorded and its planned release will be announced soon through this column.
Rako Pasefika performs live using instruments unique to Rotuman culture.
Picture: supplied
© Fiji Times Ltd.
---
From Sosefo Inoke in Suva (15 June 2015)
There are two Bills concerning Rotuma and Rotumans before the Fijian Parliament.
I and many others have some serious concerns about these proposed laws. I have taken the liberty of drawing up a Petition (click here to download).
The Petition asks the Parliament to defer the passing of these Bills into law until further discussions and consultations have taken place. The reasons are set out in the Petition.
It can be signed by Rotumans and their friends and anyone who supports it.
People are free to change the wording of the Petition if they wish.
Individuals and groups can sign their petitions and forward them to the members of Parliament. The email addresses should be in the Fijian Government website.
There is some urgency because I believe these Bills will be passed into law in the next sitting of Parliament starting 6 July.
---
Commentary on the Bills by Henry Enasio
Petition to Government by Joe Atu
Petition to Government by Fuata Jione
---
From East-West Center in Honolulu (5 June 2015)
Pacific Islands Women in Leadership Program Holds Capstone Workshop in Suva. Agatha Furivai's project focused on the sustainability of Rotuman culture, identity, and heritage through sharing and nurturing. See EWC report
---
From Fiji Times Online (3 June 2015)
Japan, Nauru deal
by Mere Naleba
FIJI will benefit by way of trade in a $A2.1million assistance given to Nauru by the Government of Japan in the procurement of new machinery to improve Aiwo Harbour in Nauru.
Unlike Fiji's Lautoka and Suva wharves, Aiwo Harbour cannot have ocean liners and larger vessels docking near the mainland because of the Island's geographical location.
Last week, Japanese ambassador Takuji Hanatani and Nauru's High Commissioner Jarden Kephas formalised Japan's $A2.1million assistance in a signing ceremony that took place in Suva.
The financial assistance will enable the purchasing of sea mule or what is described as a motorised tugboat and machinery that will enhance and improve day to day operations.
Japanese embassy's economic research and aid coordinator officer Peni Saurara said the assistance to Nauru ensured safe transportation of Fijian goods imported by Nauru from mother ships to Aiwo Harbour. "The assistance ensures safe trading between Nauru and the rest of the world including Fiji. With Rotuma declared an official Port of entry, it presents greater potential for safe trading between Rotuma and Nauru," Mr Saurara said.
Mr Saurara said the assistance ensured safe trading between Nauru and the rest of the world, Fiji included.
"With Rotuma declared an official port of entry, it presents greater potential for safe trading between Rotuma and Nauru," Mr Saurara said.
"Therefore Japan's assistance to Nauru has the potential of boosting trade with Rotuma. With the abundance of crops on the Island as well its strategic location, the assistance to Nauru would be a blessing in disguise to Rotuma and the rest of world."
Currently, Aiwo Habour has one pilot boat, one sea mule and a barge used berween the habour and berthed cargo container vessels to transport goods to and from the Island.
© Fiji Times Ltd.
---