From Fiji Times Online (18 August 2015)
Call for Rotumans to make submissions

by Vuniwaqa Bola-Bari

MEMBERS of the Rotuman community that signed a petition against the Rotuman Bill are calling on Rotumans to voice their opinions when the Parliamentary Standing Committee on Social Affairs calls for submissions.
Rosarine Lagi, a member of the Rotuman community that organised the signing of the petition, said they wanted all Rotumans to understand the need to make a submission before Parliament passed the Bill.
"We want Rotumans to ask Government to give these two Bills back to us to look through and explain what each clause contains, and what it means because it has a lot of changes to it compared to the old Rotuman Acts," Ms Lagi said.
"The change, first of all, in this Bill is in the definition of Rotuma whereby before the definition of Rotuma included its dependencies, rocks, reefs and fisheries which were now missing from Bill number 6 of 2015."
Ms Lagi said some Rotumans were reluctant to air their views.
She said some were of the view to allow the Bill to be passed and wait for five years before they could change it.
"We're asking them to come out now because this is the only time you can be heard and we're asking Government to come back to the Rotumans and discuss these Bills with us.
"Right now, we're optimistic that the standing committee will allow us to hear about these two Bills but we want our people to ask questions because these Bills concern us."
The Bill was tabled in Parliament by the Attorney-General, Aiyaz Sayed-Khaiyum, on May 14, and the petition was presented to Parliament by Opposition Leader Ro Teimumu Kepa on July 8.
In the presentation of the petition, Mr Sayed-Khaiyum said the Bills were already with the standing committee and the committee could go to Rotuma and hear directly from the people, or the 500 people who signed the petition could go to the standing committee to air their views.
Dr Luveni later said petitions were a fundamental right of the citizens which was preserved in the standing committee.
© Fiji Times Ltd.
---
Fiji Broadcasting Corporation (17 August 2015)
Oinafa Wharf expansion potential
Report by: Akosita Talei

The Royal Australian Navy HMAS Leeuwin has completed conducting its first sea bed mapping in the country.

The exercise included mapping the approaches to Rotuma and its surrounding waters.

Australian Navy Marine Geo-Special Officer Lieutenant Mitchell Kerr says during their 10-day survey, they have found that there is room for the Oinafa Wharf to be expanded.

"We conducted survey at Oinafa wharf and we got a depth a range from 4-7 meters in that area and we surveyed around the other side where the old boat passage was and that was deemed unsuitable so their future expansion of the wharf is most likely going to be the expansion of the Oinafa wharf."

A similar survey was conducted in Lautoka where the results showed the possibility of the city having another wharf.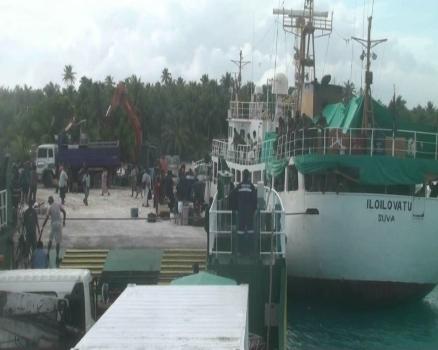 Oinafa Wharf in Rotuma
---
From Fiji Times Online (14 August 2015)
Community outreach

By Talebula Kate

COMMUNITY outreach is a priority for the Royal Australian Navy's regional engagement program.

This was highlighted by the Commanding Officer of the HMAS Leeuwin, Lieutenant Commander Richard Mortimer.

A statement from the Australian High Commission said crew of the HMAS Leeuwin enjoyed a morning of community service at Suva's St Marcellin Primary School on Tuesday, lending a hand by painting the school facilities after successfully completing seabed mapping activities in Rotuma and Lautoka with the Fiji hydrographic office.

"The opportunity to get into local communities to interact with new people and assist in some small way is always a very popular activity with the sailors. Schools are always a favourite, as it usually ends with a kick about with all the kids, which is a great way to finish off a day's work," said Lt- Cdr Mortimer.

Marcellin Parents Teachers and Friends Association president, Abel Camillo thanked the crew for their assistance in providing paint and labour for the facelift of the school's main building.

Mr Camillo was also delighted to note that the crew was led by Lt-Cdr Bernard Hollis, a Marist old boy from St Augustine in Cairns, as well as Able Seaman Jacob Morel, a Stella Maris and Marist old boy from Suva.

"We have no gifts or enough words of appreciation for their generosity in choosing St Marcellin Primary School, and in agreeing to provide paint and labour. I also thank the Australian Navy for gracing my beautiful homeland of Rotuma," Mr Camillo said.

Last month while surveying in Rotuma, the HMAS Leeuwin crew offered assistance to Rotuma High School's automotive school engineering section, as well as their catering and tailoring class. They also undertook general painting and repairs, and gave stationery and sporting equipment.
© Fiji Times Ltd.
---
From Fiji Times Online (13 August 2015)
The Tivaknoas on the revival trail

by Felix Chaudhary

HARRY Tivaknoa is revered among the Rotuman community as a living legend and the composer of many songs that are now regarded as classics.
Since his first foray into the world of music performance and composition in 1980, Tivaknoa embarked on a personal crusade to document traditional Rotuman music and to pen songs that have become the hallmarks of Rotuman culture over the years.
Chances are the majority of songs serenaded beside the tanoa or used to mark festivities in the sacred islands, 460km northwest of Viti Levu, are compositions penned by the now 55-year-old.
"I have had the best of both worlds in the sense that I was taught the values and culture of what it means to be Rotuman, and I have also learnt how Rotuman culture and tradition fits into the Fijian way of life," he shared.
"I'm glad that I was raised in Rotuma because I have a real respect for my tradition, culture and language and I have my parents to thank for that.
"But at the same time, I am quite sad in the way that we are fast losing traditional and cultural aspects of Rotuman life to the advances of western civilisation and modern technology.
"Both of these have had a huge impact on the Rotuman people because we were simply not prepared for it.
"Children now value the pursuit of education for the sake of earning money at any cost rather than using what they have — a very unique culture, art, language and tradition — to create something that the world will value more than what could be earned in normal employment.
"The changes that have happened have come about very quickly and one of the ways I thought I could make a difference was through music and art."
The former school teacher said it was while moving around the community in his teenage years that he realised how much Rotuman music had been lost over the years.
"Many Rotumans don't even know the lyrics of many of our old songs.
"I have found myself at sing-along sessions where there are two or three different versions of one song were sung because no one had taken the time to document this music and lyrics.
"I decided to pen down the words so these songs are documented and preserved.
"And some time back, I also began composing my own songs as well and I am very thankful and fortunate that God has blessed me with a talent for writing songs that people like."
Tivaknoa's compositions have made impact right across the Pacific with songs like Daddy Has Gone Away, released in 1989, becoming a major bit for the Rotuman music legend in countries as far away as Kiribati and the Solomon Islands.
While many of his songs are love ballads or songs used for dances and festivities, Tivaknoa's entry into music composition literally began with a baptism.
"I made a spiritual commitment to search for God and to grow closer to him," he shared.
"I committed my life to the Lord when I was 20 years old and immediately, I began to see how much God had gifted me with music and poetry.
"These gifts emerged as soon as I made that commitment."
Tivaknoa began writing and composing songs in earnest and has penned about 500 songs to date.
Many became overnight hits and found their way into other groups albums and were popular on radio stations across the Pacific.
"The sad thing is when I initially released my most famous song, Dad Has Gone Away, it wasn't registered.
"The amount of times it has been re-recorded or played on the radio, I could have retired from the revenue generated from that one song.
"I've heard versions in different languages and I've heard it played everywhere.
"I have since registered it with the Fiji Performing Rights Association and I have learnt a lot from the experience.
"Now, I am looking forward to the next song that I am going to pen that will also be as big a hit."
Tivaknoa has recently begun learning French. He has plans to record his songs in French and in the Kiribati language.
"While many of my songs are love songs, I also have inspirational songs as well and I want to share all my music with our Pacific family and also with the world.
"If I can inspire people through my songs to express themselves creatively through art or music, then my work on earth will have meant something."
Music in the Tivaknoa family is not limited to Harry alone.
His wife, Finau, is also a singer and daughters Lagivae, 17, and Ofa, 14, are vocalists and instrumentalists.
Lagivae and Ofa have been home-schooled by their parents for about six years now and the duo said being educated outside of the classroom had allowed them to pursue music, academic and creative studies in a more balanced manner.
"When we attended normal school, we never had the opportunity to learn music in an environment where it is encouraged as a possible career," Lagivae shared.
"We never learnt the types of skills needed to nurture our creativity. Each person is different, learns differently, has a unique set of skills and talents and progresses at a different pace.
"In a classroom set up, everyone is taught the same regardless of their ability or potential.
"And this is sad because a lot of kids with creative potential simply do not have the opportunity to express themselves and while the lucky few that are able to get employment go through, the others are left behind."
Lagivae said popular music played over the radio lacked depth and the singer-guitarist expressed an affinity for music from various cultures and varied styles.
"We learnt to respect all forms of music from dad and because of this, I listen to and like Indian, Korean, Punjabi and African music.
"The music that's played on the radio is so plastic. It lacks emotion, most don't have a storyline and they send the wrong messages to kids that the most important things in life are clubbing, partying and sex."
Her sister, the music virtuoso in the family, expressed similar sentiments.
"I don't idolise any English artist but I have a lot of respect for Korean artist K.Will," said Ofa.
The 14-year-old plays keyboard, bass guitar, guitar, accordion and violin.
"Dad showed us our first chords on the guitar but I developed my knowledge and applied this to the keyboard.
"Later, I used my keyboard skills to learn the violin and accordion and I am developing my skills on both instruments."
Apart from music, the Tivaknoa family also showcases its creativity through Kapui Kreations, a business that designs, manufactures and sells hand painted ornaments and clothing.
"This is what feeds us and takes care of our daily needs," Harry said.
"It also allows us to focus more on our music without having to rely on it too much in terms of making a living.
"However, the ultimate aim is to one day earn a living out of music as well.
"Some people might think this is impossible in Fiji but I beg to differ. With God on your side, nothing is impossible."
The Tivaknoa family, from left, Harry Tivaknoa, A'ofa Tivaknoa, Lagivae Tivaknoa and Finau Tivaknoa at their office in Suva.
Picture: Atu Rasea
© Fiji Times Ltd.
---
From Fiji Times Online (11 August 2015)
Embracing traditional knowledge

by Solomone Rabulu

WHILE a few people with traditional knowledge still exist, what's important is how the younger generation can embrace these skills for their future.
This is what the Rotuma Women's Association believes as they shared their experiences during the recent Central Division craft show in the Capital City.
Rotuma Women's Association member, Tausie Nakaora, 75 said, tradition and culture were two things they lived by as their identity and not something that was introduced.
"Our traditional culture is not something we wake up to one morning and are told to embrace it. It's a gift you have from birth and its practice is a part of you, and that's through the wisdom of our ancestors.
Ms Nakaora said it was not as easy as before when making skilful handicraft items.
"We had to come up with great creativity. We focus on what can be done traditionally, and also a bit of contribution to our modern world through recycling," she said.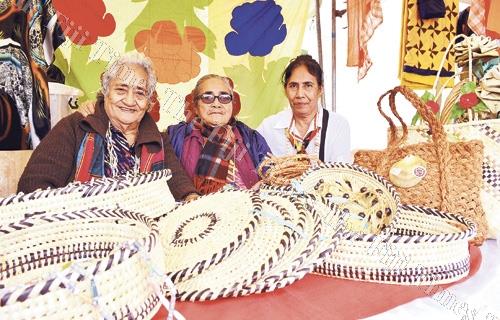 Members of the Rotuma Women's Association. From left: Raurikua Tevita, Tausie Nakaora and Marseu Rafai at the recent Central Division craft show.
Picture: Solomone Rabulu
© Fiji Times Ltd.

---