From Fiji Broadcasting Corporation (19 November 2015)
Fiji Red Cross Society extends its reach
by Ellen Stolz
The Fiji Red Cross Society is working with its donor and partners to extend its reach in the region which includes working closely with the people of Rotuma to re-establish a branch there.

Society Director General Filipe Nainoca says they used to have a branch in Rotuma however it has been inactive since 2010.

This is being done to reach out to more people in the far off maritime zones.

"You can't just go to Rotuma and do the same thing we are doing in other locations because it is a special place and is unique. We have to design something that is suitable for Rotuma and we have a lot of support from Rotuma to re-establish these branches in Rotuma."

Nainoca says there were concerns that, because it is so far away from Fiji, the branch will not be able to be established sustainably.

He says this is why the programs, which they wanted to, introduce in Rotuma, was trailed in Rabi first and was deemed a success.

By May 2016 next Rabi is scheduled to be part of the Red Cross Council.

---
From Fiji Times Online (16 November 2015)
It's nothing new to the First Lady

by Siteri Sauvakacolo

SAROTE Konrote is used to the life of hosting and entertainment. So it isn't at all surprising when Sarote says she's looking forward to working with women around Fiji as she continues to support her husband, Jioje Konrote, who was recently sworn in as President.
And the credit, Fiji's First Lady revealed all goes to her two sons, Emmanuel and Andrew, and all their family members for their continued support throughout the years.
"I feel honoured in a way and I wish to thank the support from our family members and our two sons," Sarote said.
"This is a challenge in itself but I'm used to this type of life, the entertainment and all and we used to host a lot when he was in the Middle East and in Canberra as well and I look forward to working with other women in Fiji."
Their younger son, Andrew Konrote who is a pilot with Fiji Airways, said it was nice to see the way Fiji was moving forward.
"Especially in the way its going and the way it is developing as a nation," Andrew said.
"People of different ethnicity are coming together and it's a huge thing that we have come this far. We are very humbled as a family to see where he is now as well as his service to the nation. Dad is a fighter himself in all the roles he has played all these years."
Akata Bentley, the President's sister, was all emotional as she sat in her wheelchair and witnessed her brother being congratulated by hundreds of Fijians at Government House in Suva last Thursday.
"We're very proud of George. He's always demonstrated leadership as our eldest sibling and I know that our late parents, Mue and Konrote, would be very proud. The inauguration ceremony was very moving and as a family we were extremely honoured being a part of the historical occasion," she said.
Younger brother, Aisake Konrote, who came all the way from Sydney, Australia to be part of the President's swearing-in ceremony said his brother was a man of faith.
"He earns this position and first all we would like to thank God for his blessings and he is someone who is always humble," the elder Konrote said.
"Though most of the time he lived a military life, he was always hardworking and was very kind.
"He is a man of faith and is very kind and I came all the way from Sydney, Australia especially for this special day."
As government ministers, members of the diplomatic corps and invited guests gathered at the Government House to witness the auspicious occasion, the Konrote family and their close relatives joined the lot in congratulating the new Fijian President, Jioje Konrote.
The President has two sons who are both pilots — the older brother, Immanuel Jioje is with Emirates airlines.
© Fiji Times Ltd.
---
From Fiji Sun Online (13 November 2015)
Genuinely Nice Konrote Also Man of True Courage
by Rosi Doviverata, Suva
Yesterday was certainly a joyous and proud moment for Rotumans worldwide. The nation witnessed the swearing-in of Fiji's new President, Jioji Konrote.
He becomes the first non-iTaukei chief and first Rotuman to be elected to Government House.
While his predecessor, the popular Ratu Epeli Nailatikau, will be a hard act to follow, President Konrote certainly possesses the right attributes to do the same and more.
Like Ratu Epeli, President Konrote is a man of the people. He is often described as being firm and fair, a genuinely nice man. Someone who is down to earth and people-friendly.
He is also a man who has never lacked courage in the face of adversity.
In fact President Konrote was awarded the Military Cross for gallantry in 1982. This is one of the Commonwealth's highest military honours for bravery.
It came for his efforts while serving as a major in the Fiji Battalion that was part of the United Nations Interim Force in Lebanon.
This was a dangerous and deadly time for peacekeepers in southern Lebanon, with armed elements attacking Israel and the Israelis responding.
A citation for his efforts included the following: "Major Konrote took command of A Company 1st Battalion of the Fiji Infantry Regiment in Lebanon in July 1980.
"Earlier that year, the South Lebanese villages of Al Qilaylah and Al Hinniyah were controlled by various armed factions who maintained their armed presence in defiance of United Nations policy.
"On his arrival Major Konrote brought these villages under the effective control of the United Nations command by his courageous diplomacy and sound peacekeeping tactics."
The citation also tells how Mr Konrote personally led his men from the front in successful efforts to confront and block dangerous armed elements.
He also bravely risked his life helping local people trapped in the conflict.
He later rose to command the Fiji Battalion in these troubled times in southern Lebanon.
Then he was honoured by the United Nations by being appointed the first and only Fijian to be Force Commander, and a United Nations Assistant Secretary-General.
But President Konrote is much more than a soldier as his successful subsequent careers as a diplomat and Government Minister illustrates.
Like Ratu Epeli, President Konrote is also expected to continue to be a strong advocate for the young – among other issues.
We wish you every success, President Konrote, and new First Lady Sarote Konrote
© 2015 Sun (Fiji) News Limited.. All Rights reserved.
---
From FijiVillage (13 November 2015)
Well wishes sent to Fiji's new President
By Vijay Narayan and Filipe Naikaso


Fiji's new President, Jioji Konrote
Members of the diplomatic corps and the disciplined forces have given their well wishes to Fiji's new President, Jioji Konrote.
US Ambassador to Fiji Judith Cefkin says today is an important event and they are looking forward to working closely with Konrote.
Meanwhile, British High Commissioner Roderick Drummond says he was honoured to be present in the farewell ceremony of former President Ratu Epeli Nailatikau yesterday and the swearing in of new President Jioji Konrote.
Drummond says Konrote also received a message from Buckingham Palace.
Acting RFMF Commander, Rear Admiral Viliame Naupoto says today is a historic day.
Acting Police Commissioner, Colonel Sitiveni Qiliho says they will fully support the new President.
Jioji Konrote was sworn-in as President by Chief Justice Anthony Gates at Government House in the presence of the First Lady Sarote Konrote, Prime Minister, Voreqe Bainimarama, his wife Mary Bainimarama, Speaker of Parliament Doctor Jiko Luveni, government ministers, the diplomatic community, religious leaders and other invited guests.
Konrote attended Natabua High School.
He enlisted into the RFMF in 1966 and trained with New Zealand and Australian defence forces, studying at institutions such as the Australian College of Defence and Strategic Studies and the Australian Defence Force Academy in Canberra, where he became a fellow in 1996, and the Kennedy School of Government at Harvard University in 2000.
Rising through the ranks of the Fiji Military, he commanded battalions of Fijian soldiers in their peacekeeping efforts in Lebanon during Fiji's UNIFIL campaign, and was subsequently appointed Deputy Force Commander of the UNIFIL operation, and finally the United Nations Assistant Secretary General and Force Commander in Lebanon.
In recognition of his contributions in these fields, Major General Konrote was awarded with the UNIFIL Peace Medal in 1978, the Military Cross UK in 1982, the Order of Merit Italy in 1997 and was made an Officer of the Order of Fiji (Military Division) in 1997.
From 2001 to 2006, Konrote served as Fiji's High Commissioner to Australia.
He also served in the Qarase led government in 2006 after winning his seat as an independent.
He won a parliamentary seat for the FijiFirst after last year's general elections and was appointed Minister for Employment.
Konrote is the first Fijian President to be elected by parliament under the constitution.
Previous Presidents were chosen by the Great Council of Chiefs.
---
From Fiji Broadcasting Corporation (12 November 2015)
First Lady ready for new responsibilities

Report by: Elenoa Turagaiviu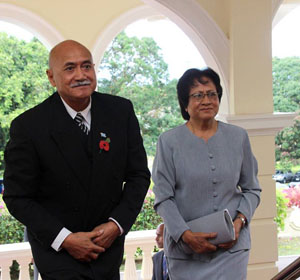 Jioji and Sarote Konrote
Photo from Fijivillage Facebook page
Sarote Konrote never once expected or dreamt of becoming the First Lady.

She is today, after her husband was sworn in as the new President for Fiji.

Her husband's appointment as the President came as a surprise for her.

However, the First Lady says he has worked hard and deserves the accolade.

She admits, she will have a busy schedule with this new responsibility… something she is ready for.

"It's ok with me because we are used to receiving and entertaining guests when he was Force Commander in Lebanon, we received and entertained some Prime Minister's and Head of States and even Bishops and then from there to Canberra."

For the Rotuman community, Konrote's swearing-in is significant as he is the first son of Rotuma to hold the President's post.

Konrote's friend Dr John Fatiaki says, it marks a new chapter for them.

"Konrote will make a wonderful President. For those of use who know him he is humble, a man of the people and i have no doubt that he will do the country proud."

Tui Macuata Ratu Wiliame Katonivere believes the new President is more than capable of fulfilling the role.

"He is very down to earth. He is a good natured person and he is a respectful person and I think he will be on par with the outgoing president they have the same values, they share the same sentiments and they are for the people, they are people-friendly."

Businessman Hari Punja believes Konrote has the qualities of a good President

"I knew Mr Konrote from a very long time. I used to know him very well when he was High Commissioner in Australia. We have had morning walks together many times. He is a great gentleman. He is a very fine gentleman and I'm sure he is going to be a very excellent President of the country."
---