From Fiji Times Online (30 December 2015)
Rotuma stamps its mark
by Repeka Nasiko

IT was a proud moment for the people of Rotuma yesterday as representatives from the island community joined staff of Fiji Airways and invited guests in welcoming a new Airbus A330-300, fittingly called the Island of Rotuma.
Fijians of Rotuman descent from Nadi and Lautoka put on a lively reception as they welcomed the official party bringing the aircraft home, headed by President Jioje Konrote.
Mr Konrote said the brand new Airbus A330-300 series was the airline's biggest airbus yet.
"It has 289 seats in economy class, 40 more compared to the 200-series we have," he said.
"It has 24 business class seats.
"There are many exciting improvements and upgrades in this new aircraft, in addition to our existing on-board features like lie-flat beds in business class, personal in-flight entertainment screens and complimentary meals, drinks and more space for your baggage.
"It will have more freight capacity, a more attractive and comfortable interior with mood lighting, and a quiet zone in economy class."
He said the aircraft would bring real economic opportunities for the country because almost 65 per cent of all visitors to Fiji travel on Fiji Airways.
Fiji Airways CEO and managing director Andre Viljoen said the Island of Rotuma was the largest aircraft in the Fiji Airways fleet.
"It is testimony of the growth and progress of Fiji Airways our national airline," he said.
"We are indeed very honoured that our President agreed to bring the aircraft home."
© Fiji Times Ltd.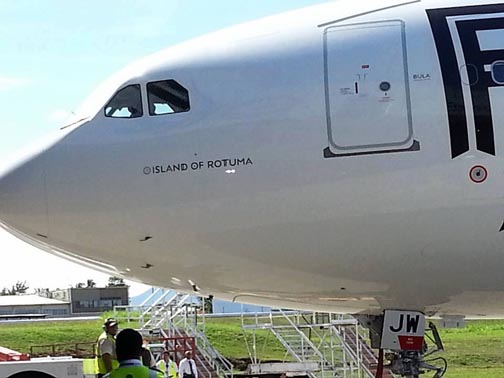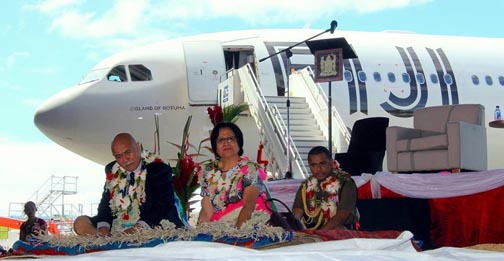 Photos courtesy of Vilsoni Hereniko
---
From Fiji Broadcasting Corporation (30 December 2015)
Experience of a lifetime for First Officer Konrote
Report by Maciu Bolaitamana

The arrival of the Fiji Airways Airbus is all the more special for one man who flew it home on its maiden voyage.

Thirty-two year old Andrew Konrote was with the A330-300 all the way from Tolouse in France.

He picked up a special passenger in Hong Kong… his father, the President of Fiji Major General Jioje Konrote.

The word I'm looking for is blessing. I feel very blessed to be part of this experience. We, the Rotuman people are very fortunate and very blessed to have this aircraft named after our island home. It's been a long journey. It's been a good two weeks.

First Officer Konrote says having his father on board was an experience of a lifetime, because this aircraft has sentimental value for all Rotumans in Fiji and abroad.

He adds the arrival of the Island of Rotuma will bolster service delivery for the airline – testament of the hard work put in by the people who run Fiji Airways.

The Island of Rotuma will be Fiji's flying billboard in new destinations like Singapore and San Francisco in the United States.

---
From Fiji Times Online (30 December 2015)
A proud moment for Konrotes

by Repeka Nasiko

BEING part of the crew that flew in Fiji Airways' newest aircraft from Toulouse, France, will be a career highlight for pilot Andrew Konrote but having his parents on board as passengers made the journey extra special.
The youngest son of President Jioje Konrote, Andrew, is an A330 first officer with the national airline.
He said he was blessed to be given an opportunity to fly his parents back to Fiji on board the Island of Rotuma.
"This is really a special occasion for our family," he said.
"Having them on a flight like this is something that will not happen again and that in itself is a blessing for all of us.
"During the flight, I think mum got a lot of sleep and I think dad was excited by all of the things that was happening around him.
"But overall, I'm sure they enjoyed the flight."
He said the experience stood as a milestone in his career achievements.
"I'm also grateful to the Fiji Airways team because a lot of people were involved in getting this aircraft safely across.
In his welcoming speech, the President said the 10-hour flight from Hong Kong was spent in absolute comfort.
"This aircraft is more than just another addition to the fleet of our national airline," he said.
"It is a symbol of a modern, progressive nation, which remains proud of its roots, culture and identity, while moving with the times to embrace the opportunities of the future."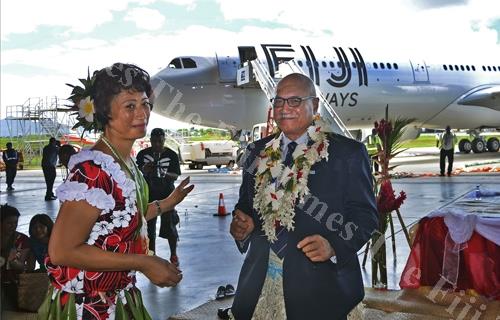 President Jioje Konrote and Makarita Rupeti celebrate the arrival of the new Fiji Airways A330-300 aircraft at Fiji Airways hangar in Nadi yesterday.
Picture: Baljeet Singh
© Fiji Times Ltd.
---
From The Financial (29 December 2015)
Fiji Airways Welcomes 'Island of Rotuma' Home

The President of Fiji, His Excellency Major-General (Ret'd) Jioji Konousi Konrote, on December 29 brought home Fiji Airways' newest A330 to Fiji.

Rapturous applause and excitement greeted the aircraft as it touched down at Nadi International Airport and taxied up to the airline's Hangar facilities. Fijian Prime Minister Josaia Voreqe Bainimarama and other Government Ministers joined Fiji Airways staff to welcome the aircraft, according to Fiji Airways.

A traditional Rotuman ceremony of welcome was accorded to His Excellency the President, who stepped off the A330 as its first official guest. The aircraft has been christened 'Island of Rotuma', following Fiji Airways' naming convention for its fleet after Fiji's islands.

His Excellency the President stated: "This aircraft is more than just another addition to the fleet of our national airline. It is a symbol of a modern, progressive nation, which remains proud of its roots, culture and identity, while moving with the times to embrace the opportunities of the future."

The new A330-300, the largest in the fleet, has 289 seats in Economy and 24 in Business Class. The new plane features enhanced mood lighting, increased cargo space and a Quiet Zone in Economy Class. Other product features and configuration match the current 200-series fleet.

It will be deployed largely on the airline's busy long haul routes of Los Angeles and Hong Kong. 

His Excellency added: "This aircraft will bring real economic opportunities for our people, because almost sixty-five percent of all visitors who travel to Fiji travel on Fiji Airways. And the more seats we have, and the better our service and overall flight experience, the more we will be able to attract more travelers. We are competing in the premier division of air travel, and we want to win."  

The Head of State also explained the significance of naming the aircraft after Rotuma: "By christening this Airbus after their [Rotumans'] island, we are honouring their contribution to our country…. I am sure that all Fijians of Rotuman descent will join the rest of the country in sharing their pride every time they see this aircraft."
The A330-300 is expected to begin commercial flights in early January.
---
From Fiji Times Online (29 December 2015)
Island of Rotuma arrives to a lively reception at Nadi airport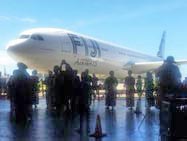 Island of Rotuma ... the latest addition to the Fiji Airways fleet. Picture: Repeka Nasiko
By Repeka Nasiko

THE Island of Rotuma landed at the Nadi International Airport a few minutes ago to a lively reception of loud and proud Rotumans.

The new A330 Airbus is the latest addition to the Fiji Airways fleet.

Onboard is President Jioje Konrote who will be handing over the new aircraft to Prime Minister Voreqe Bainimarama.
© Fiji Times Ltd.
---
From Fiji Times Online (27 December 2015)
Compilation of their experiences - Rako

by Torika Chandra

RAKO'S new music album, Mama Hanua, tells a story — a story about their humble beginnings, aspirations and dreams. And according to the group's spokesman Paul Dominiko, it is a collection of who they are as a group.
"It is not just a compilation of our music, but it is our story," Dominiko said.
"It carries with it many messages that speak of our life experiences, emotions embedded deep within our being. It sings happy moments full of laughter, love and hope and also our times of despair, fear and darkness. It is where our dreams become reality.
"It speaks of our family and the hope and light of the children born and growing up in Rako. We have been together in our youth, we have been at the births of each other's children, we have sat beside each other mourning the passing of beloved ones and we have rejoiced in the sanctuary of our little community.
Dominiko said at every point they had faced new challenges as a group, learnt invaluable lessons and grew spiritually. He adds that as their aspirations grew and evolved, their message and the people they inspired and motivated grew too.
All this is reflected in the seven songs in the album, all originally composed by members of the group. And the album has a theme, to protect and preserve the earth, sky, ocean and the Pacific people.
"Our goal in making this album was to keep it as close as possible to the live element. We pride ourselves as a live band and we try to capture that live essence in the album.
"Everything you hear on the album we can play live, and that's what we trying to promote as well — live music."
The album even has a contribution from a Hawaiian artist.
"She gave us a Hawaiian chant and we've been singing it in Hawaiian the whole time. She told us that we will be able to sing the song once we can sing it in our own language, the Rotuman language.
"We had a Rotuman elder translate it for us a year ago and it is used in the album as well."
The Rako group initially began as a dance group. But through the years they have evolved into bigger things. They now are heavily involved in the local fashion industry with three collections so far, jewellery and now music.
"The whole group contributed to the making of this album, everyone has had some input in some stage of the production.
"And we had people outside the group too who contributed. We basically had the whole Rako community involved."
The group now has a studio at the old Laucala Bay Secondary School complex in Laucala Bay. This opportunity has allowed them to expand and today they have more than 100 young people who learn art, dance and music.
"Rako is the Rotuman word for school and whoever joins the group we teach them self-belief and discipline and whatever they do, we teach them to be the best they can be at it.
"We've built a community and it's not just a dance group any more, nor is it just a group for Rotumans which was how we initially started out. We now have people from all walks of life."
Mama Hanua, and just in case you've forgotten that's their new album, is going for $30 each at their Laucala Bay studio.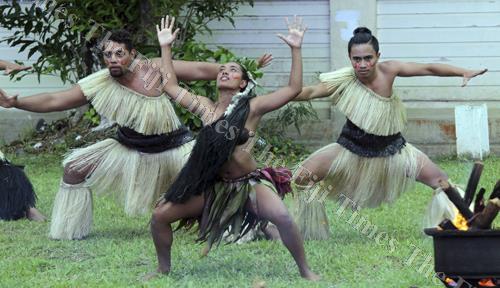 Rako group members perform during launching of the new CD on Tuesday, December 22. Picture: Atu Rasea
© Fiji Times Ltd.
---
From John Bennett in Rotuma (26 December 2015)
I'm sorry to inform you that Gagaj 'es Itu'u of Itu'muta, Oseas, passed away this evening at Ahau Hospital. Plans are underway to hold the funeral at the community hall tomorrow (Sunday, 27 December) and for his burial at the Faniua cemetery.
---
From Fiji Times Online (16 December 2015)
Tree snail found in Rotuma

by Keresi Nauwakarawa

A UNIVERSITY of the South Pacific student has created history after finding a living tree snail in Rotuma.
The university said Froseann Stevens, a biology student, found the endemic species while working on her project in collaboration with LajeRotuma Initiative, which is a community-based environmental education and awareness development program.
USP's associate professor Gilianne Brodie, who is also the project leader, said the find was of great interest at the international level because of the tragic extinction history of related tree snail species in other Pacific Island countries, primarily as a result of invasive species.
© Fiji Times Ltd.
---