From Fiji Times Online (20 January 2016)
Johana braves first day at school
by Keresi Nauwakarawa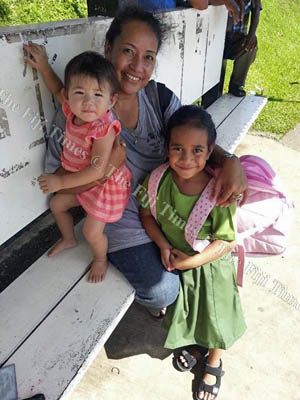 Ramarasi Manueli with her daughter Lenua Manueli and Year 1 student Johana Tuatoka of Latter Day Saints Primary School in Samabula during the first day of school yesterday.
Picture Keresi Nauwakarawa
FOR Year 1 student Johana Tuatoka of Raiwaqa in Suva, this week will be a challenge.
The five-and-a-half-year-old was among Year 1 students nationwide who began their primary school year yesterday.
Johana, originally from Malhaha in Rotuma, shared how confident she was during her first day at the Latter Day Saints Primary School in Samabula.
"I was happy and today was good. I did not cry," she said.
She said most of the day was spent in introductions and being familiarised with the school rules.
Her auntie Ramarasi Manueli said the family's worst fear was that she would not enjoy her first day.
"Last year, she cried for a bit so this year, I stayed outside the classroom for most part of the day, and I am glad she enjoyed it so I am happy," she said.
"The whole family all tried to play a part towards her first school day. Those that ironed her uniform, helped her eat breakfast this morning and the occasional encouragement at home this morning. We all kept reminding her not to be scared and enjoy her first day."
She said calls had been made throughout the day by family members regarding Johana's progress.
"Everybody wanted to find out how she did, and I am sure this is the same for other families of the Class 1 students. It was like everybody was going to school for the first time."
She said family support towards each school day was vital.
"We can only do so much but family support is vital. It helps a lot towards the child to remain determined to go to school every day and enjoy the learning process."
According to a government statement, Term 1 will have 14 weeks of school until April 23 when the two-week holidays begin.
---
From Fiji Sun Online (7 January 2016)
Flight FJ 411 Unique, Special Experience
by Nemani Delaibatiki, Nadi

Flight FJ 411 from Nadi to Auckland yesterday was not only special but unique.
The inaugural flight of the Island of Rotuma, the name of the new A330-300 Airbus, newest plane in Fiji Airways fleet, was unique because it was manned by an all-Rotuman cabin crew.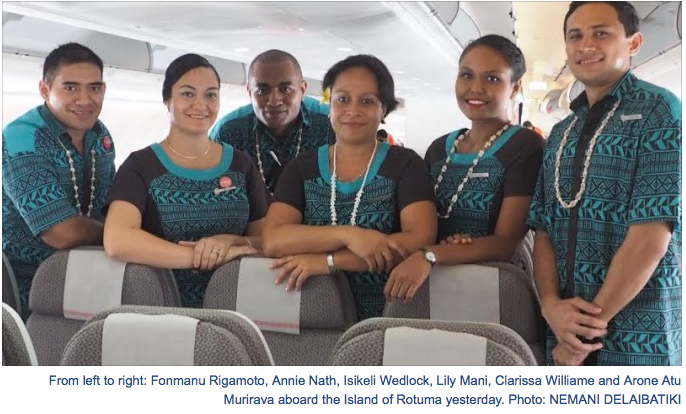 They brought to life the name of the plane.
There was a sense of pride and joy among those passengers on board, particularly those of Rotuman ancestory.
Tima Tuinasau, 37, who now works and lives in Wellington, whose mother is from Oinafa in Rotuma, said she, was absolutely delighted to see Rotumans manning the plane.
"They gave this flight and the plane's name that authentic feel," she said.
"They also brought Rotuma close to me. I can talk to them in Rotuman. The last time I visited Rotuma was in 2007.
It makes me feel proud that the plane arrived in Auckland not in name only but in terms of the Rotuman people too.
That is why this flight is very special to me. I feel that emotional attachment," she said.
Her husband Sitiveni Tuinasau, originally from Naivisara, Burebasaga, a former prison warden but now pastor in the Kingdom Ambassador International Fellowship in Wellington, echoed the sentiments of his wife.
He said this was a wonderful gesture by Fiji Airways.
"It gives recognition to a minority group and is consistent with the Government policy of treating everyone equally and giving everyone a fair go," he added.
Mr and Mrs Tuinasau both agreed that this was the best Fiji Airways plane they had travelled in.
"There is more space and the service is excellent," Mr Tuinasau said.
Arun Kumar, 47, originally from Raviravi, Ba, now a mechanic in Papatoetoe, south Auckland, said: "This plane is magnificent. It is different to other Fiji Airways planes. The crew members are lovely and the service excellent."
His wife Sarina Wati, 43, airport worker, said: "It's very nice and comfortable."
Daughter Arishma Shayal, 21, an assembly worker for Fisher & Paykel said: "It's more open and free inside. The legroom is great."
She said they would continue to fly Fiji Airways.
"Hopefully, we will always travel in this one," she said.
Josua Love, 58, originally from Daviqele, Nabukelevu, Kadavu, now a meat factory worker in Christchurch, said: "This plane is different from others in the same fleet. The space is big. It's obvious Fiji Airways is making big changes. I just love it."
They summed up the feelings of other passengers.
Two hundred and eighty nine, including nine business class seats of the 313 seats, were filled for this flight. The same number travelled in the return journey to Nadi.
The indications so far show that Island of Rotuma will fly higher and higher.
Alfred Pagkale, 50, the pursor for the two flights, said in the 28 years he had been with the airline, this was the highlight of his career.
"Never had a Rotuman crew on board at any one time like this," he said.
Mr Pagkale, who started as a junior flight attendant, agreed that this was a nice plane with lots of space.
The quiet zone is a new innovation. It's part of economy class but without children. For those who are looking for a quiet flight, this is the place for them.
The all-Rotuman cabin crew was a one-off exercise only for the two trips to celebrate the first flight to Auckland.
After that it will change.
Captain Trent William Irvine (Australia) and collagues Frank Richard Whitehouse (Britain) and Ritesh Thaker (Namibia) must be commended for the wonderful flights.
I give 10 out of 10 for the cabin crew: Alfred Pagkale, Harieta Kafoa, Annie Nath, Lily Mani, Saufa'asi Fullman-Marr, Fonmanu Rigamoto, Clarissa Williame, Arone Atumurirava, Isikeli Wedlock.
The Island of Rotuma finally got hosed by two fire brigade trucks in the traditional watery welcome at Auckland International Airport. On board there was the sunshine of warm Rotuman smiles and Fiji Airways service.
---
From Fiji Broadcasting Corporation (6 January 2016)
Newest Fiji Airways aircraft flies on maiden voyage
Fiji Airways newest aircraft, the Island of Rotuma undertook its inaugural commercial flight to Auckland, New Zealand yesterday.

The Nadi-Auckland flight saw eight out of nine of the inaugural flight operating cabin crew being of Rotuman-descent, including Purser Alfred Pagkale.

The plane is scheduled for the Auckland route for a while and will ultimately service the busy Nadi to Los Angeles route.

The A330-300 series aircraft is the only aircraft in the fleet with an Economy quiet zone for passengers looking for more peace and quiet.

---