From Fiji Sun Online (18 February 2016)
Makereta Konrote Named to Fiji National Provident Board
Two women – one a prominent accountant and the other an accomplished lawyer – were yesterday named on a new look Fiji National Provident (FNPF) board.

It is amongst continuous transformative reforms in the 52-year-old fund.

Pursuant to the Fiji National Provident Fund Decree 2011, the Attorney-General and Minister for Finance, Aiyaz Sayed-Khaiyum, has appointed Directors of the FNPF Board.

Ajith Kodagoda has been retained as Chairman of the Board and Tevita Kuruvakadua will also serve a second term.

The new Board members are Makereta Konrote, Sanjay Kaba and Bhavna Narayan.
Their appointment is effective from January 23, 2016, for a period of four years.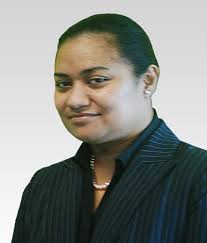 Makereta Konrote
Makereta Konrote – is currently the Acting Permanent Secretary Finance. Ms Konrote has worked in Government at a senior level for many years and as Senior Advisor to the Executive Director at the World Bank. She has extensive experience and knowledge in economic policy formulation, Financial Management and public sector reforms. Ms Konrote is a member of a number of Boards and is a member of the Australian Institute of Company Directors. She holds a Master of Environmental and Resource Economics qualification from the Australian National University, Bachelor of Arts Degree in Economics and Public Administration from the University of the South Pacific.


---
From Fiji Sun Online (7 February 2016)
Proud Day for Rotuman Cousins
Cousins Janice Manueli, 25, and Lorina Filipe, 24, were all with smiles when they were admitted to the Bar at the High Court in Suva yesterday.
The Suva-born pair is from Noa'tou in Rotuma.
They were among 31 lawyers who were admitted yesterday.
Ms Manueli attributed their success to their families.
"I feel so excited today because it has been a really hard journey for the four years at law school, but I guess the trick for law school is having the support of family," she said.
"I think you can go anywhere when you have great support."
Although she had her cousin by her side during the ceremony, she wished her late father; Fauoro Sefeti Manueli was alive to see his dream bear fruition.
Mr Manueli died last October.
"It's been great having each other all along because we have always been supporting each other. We've lost so much in our lives, we've had our share of laughters and also shed tears together during those years.
"I dedicate my achievement to my father who I lost last year in October. He has been my greatest support in my law school and I wish that he was here," she said.
Ms Filipe on the other hand, dedicated her achievement to her parents and families. She said it was great to be able to be admitted to the Bar alongside her cousin and best friend.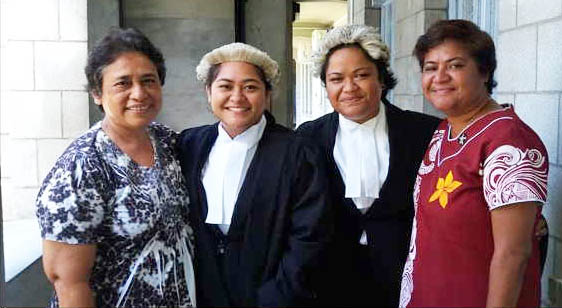 Lorina Filipe (second from left), and Janice Manueli (second from right), with their proud mothers yesterday out the High Court in Suva. Photo by Rama
Edited by Maikeli Seru
---