From Joe Atu in Brisbane (31 May 2016)
Rotuma Day Celebration in Brisbane, Australia, Saturday, 14 May 2016.
This year our community decided to celebrate Rotuma Day with a kato'aga. Although we may live very far from Rotuma, our heritage will never be forgotten. The lyrics for the day was composed to celebrate our Rotuma when it was ceded to Great Britain.
All the food preparations were done on Friday and the boys started the koua at 4.00am early Saturday morning.
The day turned out to be perfect for our celebrations. Our thanks to our visitors from Fiji, New Zealand, Interstate, and Toowoomba.
Program for the day:
1. Sporting activities
2. Food presentation for honoured guests
3. Lunch
4. Kato'aga
5. Rotuma Day church service on Sunday
Sporting Activities
Sporting activities for the children included an egg-and-spoon relay race, a three-legged race, and a sack race. This was followed with a coconut scrapping (ao niu) competition. A demonstration of basket weaving; the baskets were later used to carry the food from the koua. Note that the a lone female in the photo album, Kijiana, was not going to let the men outdo her. The final event was a tug-o-war as the community was already divided into two groups, Group 1 wearing white and Group 2 wearing black. The winner was Group 1.
Food Presentation
This year the community decided to honour our local community members to sit as honoured guests at the head of the table. Names were revealed on the day by our President as a surprise to our members. They can be seen in our photo gallery with Henry as our Chief Guest.
Food presentation was followed with lunch.The crowd was way beyond our expectations as there were over 400 people in attendance. In true Rotuman spirit, we did not disappoint our guests and ensured that all were well fed at our luncheon. I have since received so many complimentary remarks about Rotumans being very generous hosts.
Kato'aga
The day finished with our Rotuman Community of Queensland entertaining our guests with our traditional dance performance. Needless to say, the performance was an outstanding success. We were blessed with two new families who moved to Brisbane and brought their children and joined in the performance. One of the parents was so proud of his children dancing for the first time that he too joined in the dance himself as a first timer. There were also a few first timers dancing and they all accredited themselves very well. There were lots of cameras and I am sure you may find most of the performances in Facebook. The dance group finished the day by singing our Rotuma National Hymn, 'Atumotu Helava.
Sunday
The Rotuma Church Service was held on Sunday led by Pastor Gabriel. We finished the day with a lunch and our President, Pastor Gabriel thanked all the hard work put in by the community.
Coming Events
9 July 2016 - Agriculture Food Show (Tē ran manea' ne kel'ȧk tē la 'ā )
17 September 2016 - Juju Fundraiser Island Nite
---
From Fiji Times Online (28 May 2016)
Label releases new collection

by Monika Singh

LOCAL design label Bulalicious next collection will aim to aid those affected by Severe TC Winston to help them get back on their feet.

In a statement yesterday, Bulalicious said it prides itself on designing "clothing with conscience", which was why their new line focused on those who truly needed their support, those affected by Severe TC Winston.

Taveuni, along with several other areas across Fiji, was severely affected by the cyclone.

Bulalicious teamed up with established Fiji-born graphic artist Sonam Sapra, who has family links to Taveuni, and her hand-drawn prints are a stunning feature of the new collection.
The prints are inspired by iconic symbols relatable to the "Garden Island" such as the Tagimoucia flower, beautiful lakes and exotic birds.

Bulalicious also welcomed its new ambassador, Fijian-born surfer Hannah Bennett.
Local surfer Hannah Bennett is the new ambassador for Bulalicious. She is modelling their Taveuni treasure rashvest. Picture: Supplied
---
From Fiji Times Online (16 May 2016)
Rotumans in Labasa celebrate

by Luke Rawalai

ROTUMANS living in Labasa joined their counterparts around Fiji in celebrating Rotuma Day over the weekend.
The small Rotuman community in Labasa together with their kinsmen residing in Savusavu took time off their busy schedules on Saturday to celebrate the day with feasting and merrymaking at the Holy Family Primary School.
Community spokesman Alfred Wiliame said they celebrated the day annually as a time to get together and reflect on their achievements and contributions to the various communities that they had come to call their home away from home.
"This year we decided to visit the Rotuman community in Savusavu and host them to a feast," he said.
The Rotuman community in Labasa in their traditional costumes as they celebrate Rotuma Day over the weekend. Picture by Luke Rawalai
---
From Fiji Sun Online (16 May 2016)
Rotuma Blessed with Beauty
By Shahani Mala
Sunday school children of Churchward Chapel heard yesterday that the island of Rotuma was very beautiful.

Church official Kelly Finiasi said: "There are many children who have not been to Rotuma and only have seen pictures and heard about Rotuma from their elders.
"Rotuma is full of natural beauty.Our land is blessed with natural resources but it's changing due to the act of men," she said.
Ms Finiasi said most of the 179 children in the classes were raised in Fiji and would like to visit their homeland, Rotuma, and experience what they have been told about the island in Sunday school.
She is one of the 12 teachers who conduct Sunday school class for the church.
Eight-year-old Darik Finiasi said: "I have never been to Rotuma and it's my dream to visit my homeland one day.
"I have only seen pictures of Rotuma Island and heard about it from my parents."
Church minister Reverend Mario Rigamoto said: "For the last 30 years the Church has been organising the Sunday school.
"Students learn about God and his sacrifices for his people and the good things he has done.
"We also tell children stories of Rotuma and allow people to share their Rotuma experience with our students."
The Fiji-Rotuman community collected over $10,000 during the Rotuma Day celebration on Saturday which will be donated towards the Prime Minister's Cyclone Relief and Rehabilitation Fund.
Edited by Rusiate Mataika
Children during their Church Service yesterday. Photo by Shahani Mala
---
From Fiji Times Online (16 May 2016)
Rotumans give $12k in cyclone aid

by Charlene Lanyon

THE Fiji Rotuman Association family and friends made a contribution of about $12,000 towards the Prime Minister's Cyclone Winston Appeal.
The funds were collected during the Rotuma Day celebrations held at Churchward Chapel in Suva on Saturday.
Chief guest President Jioje Konrote said the funds was collected was part of their contribution to help Fijians rebuild their homes and lives.
Mr Konrote reminded those present to maintain the values, beliefs and tradition of their culture because it was part of their heritage as a people who valued community.
He said the theme, "Who is my neighbour? A Journey of Compassion", called on Rotumans to help out in any way they could in their family, community, city and nation.
As the national ambassador for non-communicable diseases, Mr Konrote highlighted the importance of living a healthy life and following a balanced diet.
Fiji Rotuman Association chairperson Paserio Furivai said the celebrations this year focused on raising funds to help cyclone-affected families.
"Our theme makes us question ourselves, if people are affected around you, how do you reach out to them," Mr Furivai said.
"We have gathered here today (Saturday) to celebrate our history, culture and heritage and also help our fellow brothers and sisters who were affected.
"The money collected would be presented along with the farmers' food crops that are on display here today (Saturday)," he said.
The seven districts of Noa'tau, Oinafa, Itu'ti'u, Malha'a, Juju, Pepjei and Itu'muta were represented at the celebrations.
See Fiji Rotuma Association Press Release (19 May 2016)
---
From Fijivillage.com (15 May 2016)
Over $10,000 collected for PM's cyclone relief fund during Rotuma Day

By Elizabeth Vasukilauvatu
President Jioji Konrote at the Rotuma Day celebrations [Photo: Fijian Government]
The Fiji‑Rotuman community collected over $10,000 during its Rotuma Day celebration which they intend to donate towards the Prime Minister's Cyclone Relief and Rehabilitation Fund.
President Jioji Konrote acknowledged the kind spirit and goodwill among the Fijians of Rotuman descent while attending the celebration yesterday.
Konrote says Rotuma Day celebrations in past years were always marked by cultural dances, agriculture and handicraft shows, and much feasting and merry‑making but this year is different as they have decided to observe Rotuma Day with a church service, agriculture and handicraft shows and fundraising towards the PM's Cyclone Relief fund.
The Fiji‑Rotuman community donated root‑crops that were on display during the agriculture show, last month, to Commissioner Eastern for distribution towards those who are still struggling from the effect of Cyclone Winston.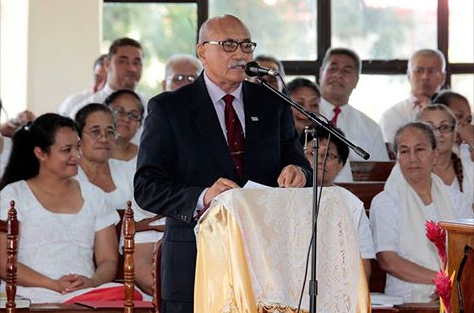 His Excellency The President (Ret) Major General Jioji Konusi Konrote today officially opened the Rotuma Day Celebrations
---
From Fiji Sun Online (15 May 2016)
Fundraiser Focus On TC Winston Victims

By Shahani Mala
Fiji Rotuma Association had organised a fundraising yesterday to contribute towards the Prime Minister's Cyclone Appeal Fund.
This was part of their Rotuma Day celebrations at Churchward Chapel Ground at Rewa Street in Suva, yesterday.
Association chair Paserio Furivai said: "Today's Rotuma Day Celebration is very special to us.
"It is focused on people affected by Tropical Cyclone Winston.
"We have organised fundraise to help people affected by Tropical Cyclone Winston," he said.
The theme for this year's Rotuma Day celebration is 'Who is My Neighbour? A Journey in Compassion.' The Rotuma Day is marked on May 13 but it was celebrated yesterday.
"Rotuma Day celebration is all about all Rotumans to get together and reunite with their families.
"There are relatives who are living apart but, this celebration reunites them," he said.
Mr Furivai said they participated in cultural activities such as children dancing, women showcase their handicraft work and men displaying their root crops.
"Today marks the day when Rotuma was ceded to Britain 135 years ago.
"We also appreciate our ancestors for what they had done for us and pray for our younger generation to have a better future," he said.
Edited by Paula Tuvuki
---
From Fijivillage.com (15 May 2016)
Rako Pasefika wins big at FPRA Music Awards

By Meli Tavaga

Rako Pasefika group leader Paul Dominiko receiving an award
"We can take Fijian music to the world if we all work together."
Those are the words of Rako Pasefika group leader, Paul Dominiko while receiving their award for Best New Artist during the 2016 Fiji Performing Right Association Music Awards last night at the Grand Pacific Hotel.
Dominiko says they are honored to be recognized in this year's awards.

Rako Pasefika formed by a group of Rotuman and Polynesian artists won the awards in four categories which includes Best Composition, Best English Song, International Achievement Award and Best New Artist.
---
From Fiji Times Online (12 May 2016)
Rotumans to gather for annual event

by Avinesh Gopal

ROTUMANS living in Fiji will converge in Suva on Saturday for their annual event.
The Fiji Rotuman Association's annual gathering will be held at the Churchward Chapel on Rewa Street.
The theme for the annual event is "Who is My Neighbour? A Journey in Compassion".
All money raised by the seven district associations in Suva will be given to the Government for the Winston appeal, as the contribution of Rotumans in Fiji.
---
From Otago University Press (11 May 2016 )
David Eggleton's 'The Conch Trumpet' wins Ockham New Zealand Book Award for poetry
Warmest congratulations to David Eggleton, whose book The Conch Trumpet has won the 2016 Ockham New Zealand Book Award for poetry. The awards were presented on Tuesday 10 May as part of the Auckland Writers Festival, at a ceremony MC-ed by author and comedian Michelle A'Court.
The judges of the poetry category – Elizabeth Caffin, Paul Millar and Selina Tusitala Marsh – said 'The choice of David Eggleton's The Conch Trumpet is in part a tribute to decades of resounding poetry with a distinctive Pacific voice and vision. Eggleton's extraordinary fluency and energy is unquenched in this substantial collection. Always vigorous and fluent, he evokes in song and incantation the ancient, the deep, the unspoken forces of myth and memory in Aotearoa.'
You can read the full report, as well as the list of winners in all categories, here. David will also be appearing alongside the winners of the other three categories at another AWF event, 'The Winners' Podium', on Friday 13 May.
---