From Fiji Broadcasting Corporation (19 November 2016)
Extensive consultations needed for Rotuma Bill: Rabuka
Report by Aliki Bia

Social Democratic Liberal Party Leader Sitiveni Rabuka has called for extensive consultations on the Rotuma Bill and the Rotuma Land Bill of 2015.

While presenting SODELPA's submission to the Standing Committee on Social Affairs, Rabuka says government should let the people of Rotuma freely decide on whether to consent to the new law.

"To do otherwise would be to be in breach of their fundamental human rights, including a breach of their rights as indigenous people, as recognised in international law, treaties and declarations like the UNDRIP and ILO 169."

Rabuka says it will be a breach of human rights if consultations are not done.
---
From Fiji Times Online (17 November 2016)
Rotuma Bill 'will allow registration'

By Matilda Simmons

THE new Rotuma Lands Bill 2015 will, for the first time, enable a registration system for Rotumans similar to the Vola ni Kawa Bula (VKB) for the iTaukei.
Making their submissions on the Bill yesterday, iTaukei Trust Fund Board member Fatiaki Misau told the Parliamentary Standing Committee on Social Affairs that there had never been such a system in place for Rotumans and the registrations would make it easy for their people in terms of solving conflicts or land issues.
Mr Misau said previously Rotumans were registered only to their fathers, but under the new bill a Rotuman child can be registered to both parents as per Polynesian customs.
Under Part 2 of the Rotuma Bill, a register of Rotumans known as Puk ne 'Es on Famor Rotuma (PEFR) shall be updated and maintained by the Lands Commission in Rotuma.
The commission shall deposit a copy of the PEFR and whenever updated, an updated copy of the PEFR shall be lodged with the Office of the Registrar of Titles.
Meanwhile, the legal officer for the iTaukei Land Trust Board, Qisa Vokanavanua, made a submission that the registration of only living persons from the second and third generations be recorded because it would be a costly affair to include names from the 1800s.
Ms Vokanavanua said this would benefit the younger generation of Rotumans in the future.
Another aspect is Rotumans living outside of Rotuma would be able to have a say on what goes on in the Council of Rotuma and the Forum of the Rotuman People which would be established under the Rotuma Affairs Bill, which is also undergoing consultation.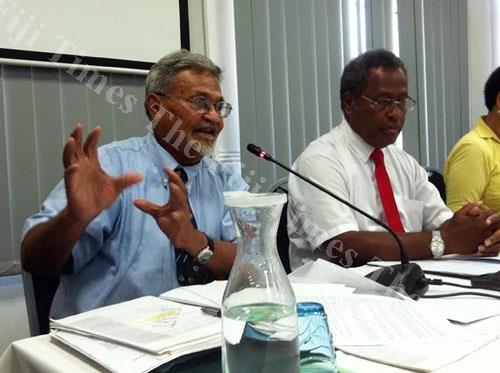 From left, iTaukei Trust Fund Board member Fatiaki Misau and Isoa Kaloumaira appear before the Parliamentary Standing Committee on Social Affairs yesterday. Picture: Jona Konatac
---
From Fijivillage.com (16 November 2016)
Notable drop in Year 8 pass rates for some subjects

By Dhanjay Deo

The pass rate for the Year 8 Examination has recorded notable drops in some subjects while others have gone up compared to the results of last year.
The pass rate for Mathematics this year is 41% compared to 49% last year.
The pass rate for English has dropped from 73% to 70% this year.
However, subjects like Basic Science has recorded an increased pass rate which is 74% this year compared to 54% last year.
The highest pass rate is recorded for Rotuman studies which is 80%.
Vosa Vakaviti has also recorded an increased pass rate which is 78% this year while Hindi's pass rate is 49%.
Meanwhile, the provisional results for Year 8 examination will be released to schools this afternoon and will be available to the students and parents from 8am tomorrow.
16,144 students sat for the examination.
The students and parents can obatin the results from their respective schools, District Education Offices and online through the government website: www.examresults.gov.fj
---
From Fiji Times Online (16 November 2016)
Kaloumaira: Rotuman language in danger

By Matilda Simmons

Update: 4:07PM THE iTaukei Trust Fund Board has urged Rotumans around the country to contribute meaningfully to the new Rotuma Affairs Bill and the Rotuma Lands Bill, which is currently being consulted before the parliamentary standing committee.
The Board CEO, Isoa Kaloumaira, told the Standing Committee on Social Affairs in a presentation today that the People of Rotuma made up one of the two indigenous communities in the country and that their language were in danger of being lost.
"The Rotuman language is listed as in danger in the UNESCO Atlas of the World's Languages in Danger, therefore one should seriously consider the importance of contributing meaningfully to this Bill, as the robustness of the Rotumans living and practicing their culture and heritage now and into the future will be greatly influenced by the enactment of this bill," said Mr Kaloumaira.
"The responsibility is therefore considerable with regard to safeguarding the uniqueness of this race, its culture and heritage as best as the Rotumans want."
The parliament standing committee is expected to travel to Rotuma from December 13-18 to hear submissions from the islanders.
---
From Fiji Times Online (12 November 2016)
$2.86m to fight fruit flies

by Monika Singh

THE Biosecurity Authority of Fiji's bid to manage fruit flies has been boosted by a $2.86 million funding from the International Atomic Energy Agency.
BAF executive chairman Xavier Khan said they submitted a proposal to IAEA in 2014 for managing fruit flies in Fiji and it was approved last year.
BAF in a statement yesterday said the four-year project started this year with the assistance of the National Focal Point, Ministry of Foreign Affairs.
Mr Khan said one of the main aims of the IAEA project was to address fruit fly issue in Fiji and Rotuma.
For Rotuma, he said the project aimed to suppress the levels of B. Kirki to low levels and possibly eradicate it using modern techniques.
According to BAF fruit flies are a threat to fruit and vegetable production in Fiji and exports of these produce to overseas markets as they damage fruits and vegetables.
"Fruit flies affecting fresh fruits and vegetables restrict trade as it can be transmitted to importing or trading countries through exports of fresh fruits and vegetables.
"Fiji has been subjected to stringent biosecurity import requirements from many developed countries and has further faced numerous challenges in the market access and export of these fruit fly host commodities because of the presence of B. kirki in Rotuma.
"Fiji has also faced suspensions in the past for export of these fruit fly host commodities namely breadfruit, papaya, eggplant and mangoes. While BAF has stringent monitoring and surveillance program to prevent the entry of B. kirki from Rotuma into Fiji through restrictions of fruits and vegetables from Rotuma to Fiji, there is still a pathway that could allow B. kirki to transmit through undeclared fruits and vegetables on vessels and air flights from Rotuma to Fiji."
Mr Khan said if B. kirki entered Viti Levu, Fiji's current export of fresh produce to overseas market would be jeopardised.
"This is why it is extremely important to manage and eradicate B kirki in Rotuma," he said.
He said the project would also help Fiji access export markets for its fruits and vegetables including those which were fruit fly host commodities such as breadfruit, papaya, mangoes, and egg plants in other countries too.
"The suppression and possibly eradication of B kirki population in Rotuma would also have overall benefit as it would reduce damages of fruits in Rotuma and benefit the subsistence, semi-commercial and commercial growers. The Rotuman farmers would be freely able to export their fresh produce to Fiji and other countries without restrictions of transmitting B kirki and earn foreign exchange."
According to BAF, Fiji, including Rotuma, has seven species of Tephritidae fruit flies which includes Bactrocera xanthodes and Bactrocera disctincta which are present in Fiji and Rotuma; Bactrocera passiflorae which is widespread in Fiji but is not present in Rotuma. Bactrocera species near passiflorae which is also present in Fiji only and B. kirki and B. obscura which only occur in Rotuma but not in other parts of Fiji. B. gnetum is in Vanua Levu. Out of the seven species only three species are considered to be economic species which are B xanthodes, B passiflorae and B kirki.
---