From Fiji Sun online (28 December 2016)
Standing Committee Bound For Rotuma
by Shahani Mala
The Committee plans to spend six or more days in Rotuma to hold consultations on two Rotuman-related bills.

The Standing Committee on Social Affairs will have consultations in Rotuma Island from today.

They departed for Rotuma on the MV Cagivou this week.

Members of Parliament; Viam Pillay, Mosese Bulitavu, Anare Vadei, Assistant Minister for Women, Children and Poverty Alleviation Veena Bhatnagar, Parliament's deputy Speaker Ruveni Nadalo travelled with support team.

Chairman of the Social Affairs Committee, Viam Pillay said: "We have two bills that has come to the Social Affairs Committee.

"The two bills are the Rotuma Bill and the Rotuma lands bill. These are two bills we are currently working
on as a committee.

"We have had consultations in Suva and now we are going to Rotuma," he said.

Mr Pillay said they were scheduled to go to Rotuma before but, because of the recent weather conditions, it was delayed.
He said after the consultations in Rotuma they would return as a committee and compile their report.

Mr Pillay said they are scheduled to stay on Rotuma Island for six days, but they might have to stay one or two days more if they are not able to complete the consultations on time.
Edited by Paula Tuvuki

---
From Fiji Sun online (19 December 2016)
According to Faiz Khan, Airports Fiji Limited executive chairman:
"We have plans to develop the Rotuman Airstrip to accommodate the ATR72S to be flying there which will open Rotuma to Fiji and also Tuvalu.
"Rotuma upgrade has been a work in progress, a dream and a desire for past 30 plus years.
"It is good to see action now being taken to upgrade it. Larger aircrafts and greater frequency means Rotuma will become closer to the rest of Fiji than what it is today."
---
From Fiji Times Online (13 December 2016)
Best year for AFL

By Shayal Devi

THE Nadi International Airport modernisation project is likely to be complete by early next year, says Airports Fiji Ltd (AFL) executive chairman Faiz Khan. . . .
"From our analysis, 2016 is arguably the best year AFL has had as we have seen phenomenal increases in the way in which we are developing our infrastructure.
"You look at the Nadi airport modernisation project, it has seen immense progress in 2016 and we should be completing that project towards April or May next year. That will not just be an icon for Fiji, but I believe it will be for the rest of the Pacific as well."
Meanwhile, Mr Khan said AFL had also signed a contract to develop the Rotuma airstrip.
"This will allow, from the end of next year, ATR 72s to land in Rotuma and that is really big for Fiji and Rotumans as well.
"Many Rotumans that I speak to and those who have heritage in Rotuma have never been to Rotuma and the reason they cite is that frequency of travel and frequency of aircraft is not there. So this is what we achieve by upgrading our airports and airstrips. This is where we are allowing greater connectivity not only from Nadi to the rest of the world, but within Fiji and within smaller islands too.
"Rotuma as you know is about 600 kilometres from Nadi so the isolation factor of Rotuma in the local framework is quite immense."
---
From Fiji Broadcasting Corporation (9 December 2016)
New vessel to enhance outer island services
Report by: Kelly Vacala

Goundar Shipping now has a fourth vessel, the Lomaiviti Princess 4, to enhance its outer island services.

Company President George Goundar says the ship will be in service by next week and will link Savusavu, Taveuni, Rotuma, Suva, Koro and Kadavu.

"Its gonna provide a daily service, two trips a day between Natuvu and Taveuni so people who's doing business in Labasa or Taveuni can do in either two of islands and be home by evening .Total cost of this project is one point four million Fijian dollars, that included the accommodation with the airfare, fuel cost and the maintenance we have done on the vessel."

Goundar is also planning to bring in another two ships by next year.

Minister for Infrastructure and transport Praveen Kumar says the new Lomaiviti Princess 4 is an important component of the national transport network that links people and commerce.

---
From Fiji Times Online (5 December 2016)
A time to celebrate

by Geraldine Panapasa

THE festive season has well and truly begun and like many families planning the month's celebration, Rotumans in Fiji and around the world officially welcomed this special time of the year on December 1.
It's a cultural norm for this group of minority Fijians from a remote island 646 kilometres north of Fiji (Suva to Ahau) to observe the December 1 tradition either with a family or community feast or fara — described by anthropologists Alan Howard and Jan Rensel as a custom during the Christmas holidays where Rotuman youths go from village to village, and sing and dance for the entertainment of selected households.
According to Fiji Rotuman Association chairman Paserio Furivai, there were many aspects to the December 1 ritual. However, in Rotuman culture, on the first of December the chief or leader is not expected to request or tax his men or members to participate or carry out obligatory projects in the village.
"In Rotuma, there is the fatogia. It is like a taxing of the people where a chief requests his people to do work in the village such as repairing the fence for a pig pen," he said.
"But it is culturally understood that from the first of December, there is no more work — a tools down day. It is also the start of the festive season but in terms of work in the village, the chief is not expected to tell the men to carry out any obligatory work.
"The men and families are free to do whatever they want — it's a time of celebration."
During this festive period, Rotumans can be seen in the village socialising, having picnics or organising gatherings — with the celebrations usually starting in the morning and featuring an abundance of crops and fruits from the year's harvest. Those that have been to this hidden paradise will know exactly just how blessed the island and its people are in terms of its resources and natural beauty.
"So December is when people are allowed to go and fara — they go from one district to the next — and we expect people to go to picnic spots or gather for a feast," Mr Furivai said.
A common sight for a fara around Fiji is a carrier filled to the brim with children, youths and elderly Rotumans, strumming their guitars and singing tunes from their island home, covered in perfumed powder, doused with cologne and dressed for a real 'party' island style.
Music is an integral part of the socialising scene on the island. And according to a snippet adapted from Howard's "Rotuma,"The Garland Encyclopedia of World Music. Vol. 9, Australia and the Pacific Islands, edited by Adrienne L. Kaeppler and J. W. Love in 1998, music forms an integral part of playtimes, periods set aside for intensive socialising.
Howard said of this Rotuman culture was that the most notable was the four-to-six-week mane'a period during December and January where little work was done, and youths would go on visiting-expeditions (fara), when, on the grounds of selected houses, they sing and dance to the accompaniment of guitars and ukulele. In reward, household members sprinkle the performers with perfumed powders, and spray them with cologne; if adequate supplies are on hand, the hosts also dispense soft drinks and food.
Working on your farm during this time of the year on the island is an uncommon practice. But while some might even praise a person when he is seen going to his farm at this time, others might have a different perception.
"If a person continues to go and tend to his farm at this time, he is seen as one who is not well prepared because you have the whole year to go to your plantation and do all your work, so at this time if a man is seen going to his plantation, he is said to be one that is very poorly prepared or one that is not ready for the festive season," Mr Furivai explained.
"It's not something people will say like 'he is a hardworking man' — it's the opposite — he is seen as one who is not prepared."
Mr Furivai said the duration of the celebration normally depends on the ending date decided by the island's Council of Chiefs.
"It is usually a week before the school starts in the new year — around the second or third week of January. But yes, it is a cultural norm that is understood and celebrated wherever Rotuman people are in the world."
He said the Fiji Rotuman Association had plans to celebrate the start of the festive season on Saturday at the Housing Assistance and Relief Trust headquarters in Nasinu.
So if, in your neighbourhood, you come across a fara group, feel free to join in the celebration and festivity — Rotumans are very warm and welcoming by nature.
Music and dance is usually a common form of celebrating the festive season for Rotumans. Picture: Supplied
---
From Fiji Times Online (1 December 2016)
Rotuma Bill opposed

by Matilda Simmons

A GROUP of professionals have spoken out against the draft Rotuma Bill which is in consultations process in Fiji.

Making submissions at the Parliamentary Standing Committee on Social Affairs, the group representative Rosie Langi said the new Bill had clauses which could have Fiji Laws applied to Rotuma and the Government could have any say in the island's administration, including its territorial waters.

Referring to the draft Rotuma Bill No 6, Ms Langi highlighted that a whole Section 3 of the Rotuma Act was missing in the draft Bill which could have implications for the island.

"If you look at it in totality — in the current law there's a Section 3 which says the laws in Fiji will apply to Rotuma only if they are suitable and the inhabitants there permit. This is missing from Bill No 6. It means only one thing — all the laws in Fiji will apply to Rotuma, whether Rotumans like or not. I think this is serious," said Ms Langi, who is a lawyer by profession.

Ms Langi said if the Bills were amended, it would be a quick fix solution.

"You are simply giving credibility to the review committee that went around and never went back to the people. We have written a letter to the Attorney-General and the PM's office requesting them to withdraw the Bill.

"I've looked at your standing orders for the committee and it looks like you will recommend amendments. We are not after amendments. Simple as that," she said.

Ms Langi had led the group in a signed petition last year to stop the Bill from being tabled in Parliament after it was tabled by A-G to be passed in Parliament.

She called on the committee to have the Bill relooked and suggested that a wide consultation among professionals was needed.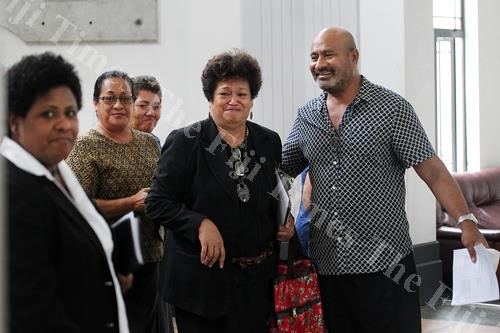 Rosie Langi and Jione Fuata with members of the Kauag'esea group after they presented their submission to the Parliamentary Standing Committee on Social Affairs on the two Rotuma Bills yesterday. Picture: Atu Rasea
---