From Fiji Sun Online (24 November 2017)
Dream Big And You'll Achieve It, Says Shirley Mua
by Losirene Lacanivalu

Dream big, act on it and you will achieve it, is the message by Christian Mission Fellowship Primary School dux yesterday.
Fourteen-year old Shirley Mua said: "We have a lot of smart people in our year eight class, and I had to focus and ensure that I get this award.
"I maintained the momentum and I have my teachers and parents to thank for all they have done for me."
She said the advice of dreaming big was given by her mother and she has always tried her best to live up to it.
The girl from Rotuma says she wants to become a businesswoman.
Shirley plans to be a businesswoman when she completes her education.
She will be attending Christian Mission Fellowship College.
The Attorney-General and Minister for Economy Aiyaz Sayed- Khaiyum was chief guest at the ceremony.
He lauded CMF's contribution to education.
Edited by Ranoba Baoa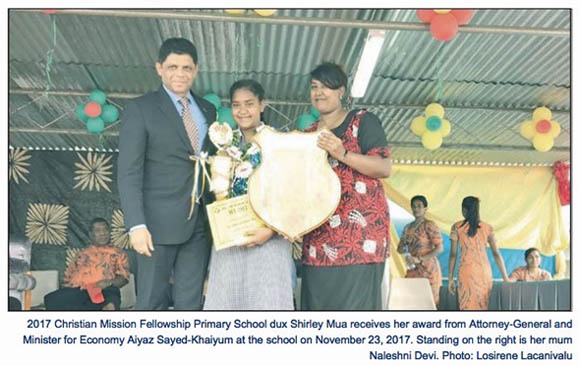 ---
From Fiji Times Online (27 November 2017)
New brand of fashion

By Solomone Rabulu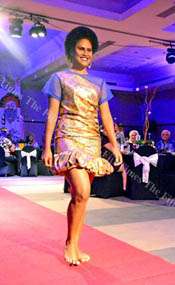 Miss World Fiji Nanise Rainima models a design at the Vaka ne Rotuma Project launch at the Grand Pacific Hotel in Suva on Saturday, November 25, 2017. Picture: Solomone Rabulu
The Vaka ne Rotuma project will be the new brand all fashion lovers will want to explore after its first fashion initiative hit the Suva City on Saturday.
Founded and pioneered by Rotuman fashion designer Hupfeld Hoerder, the show celebrated the Rotuman culture and talent.
"This is one great opportunity for us to give back to our vanua," said Mr Hoerder.
"Our major objective is to fund for a boat to help service our island as accessibility to Rotuma can be very difficult.
"We would love to partner with a local boat company that could assist us with this initiative and offer efficient transportation accessibility to our people."
Mr Hoerder said the event was also another way of getting the people together.
"We had David Tavanavanua who successfully debuted in the designers' category," he said.
"Each designers put together about 15 pieces, some showcasing the Rotuman culture and tradition which made it more exciting as many don't really know what our traditional wear are in Rotuma.
"We also had auction prices where designers showcased their latest flair and the responses from the public was nothing but overwhelming."
While optimism was the key faith to Mr Hoerder's achievement, he hoped the yearly event will interest those who lived abroad too.
"We are calling on to all Rotumans in Fiji and abroad to support us with this new move," he said.
"We plan to have future showcasing being done overseas so people of Rotuma living abroad can actually see and feel the importance of why we are doing this."
The night's event featured Rotuman designers from the likes of Moira Solvalu, Michael Mausio, Letila Mitchell, Aisea Konrote, Hupfeld Hoerder and newcomer Edward Tavanavanua.
---
From Fiji Times Online (22 November 2017)
Rotumans raise cash for vessel

By Vishaal Kumar

A THREE-DAY program that will include traditional and contemporary songs, dances, art, craftsmanship and a fashion show will be held to promote Rotuman culture and heritage in the country.
The Vaka Ne Rotuma show will be held at the Grand Pacific Hotel this Saturday and the project is pioneered by local Rotuman fashion designer Hupfeld Hoerder.
Mr Hoerder said one of the major challenges for many Rotumans living in Fiji was accessibility because of the island's isolated location.
"It has been a challenge for Rotumans on the island to establish economic activities that allow them to build sustainable livelihoods for their families and communities," he said.
He said Rotumans were one of the two indigenous ethnic groups in Fiji and there was a need for more awareness on culture and heritage so that young Rotumans and visitors alike could learn and appreciate this unique community.
He said the show would include established Rotuman designers such as 8 Mountains by Moira Solvalu, Hupfeld Hoerder, Michael Mausio, Rosie Semisi, Rako by Letila Mitchell, Aisea Konrote and newcomer Edward Tavanavanua.
"During the cocktail segment before the show there will be a silent auction of art and handicrafts as well as prizes kindly donated by sponsors," he said.
He said the proceeds from the show would go towards a trust fund that would be used for investment in the purchasing of a roll-on roll-off ferry for Rotuma.
"The long-term plan is for this to be an annual event that involves more activities such as a discussion forum where Rotumans can gather and share issues and challenges they face," he said.
"This is the first charity fundraiser, so we cannot say how much at this stage we'll collect because people are pledging from all over the world and supporting a good cause."
About 250 people are expected to attend the event.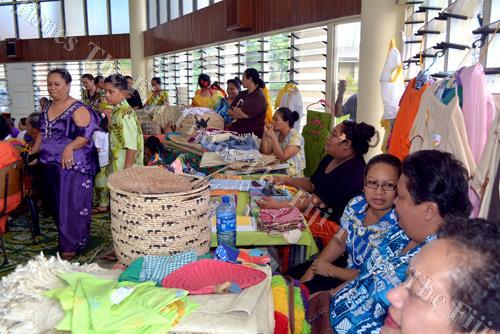 The Vaka Ne Rotuma show will include traditional and contemporary songs, dances, art, craftsmanship and a fashion show. Picture: FT File
---
From Fiji Times Online (10 November 2017)
Trust fund plan for designers

By Mere Naleba

FIVE established Rotuman fashion designers have now focused their attention on raising funds which will assist in setting up a trust fund for the people of Rotuma.
The five designers are Moira Solvalu of 8 Mountains, Michael Mausio of Essence of the Pacific, Letila Mitchelle of Rako, Aisea Konrote of Hefrani and Hupfeld Hoerder of Hupfeld Hoerder designs and upcoming fashion designer Edward Tavanavanua who will stage a fashion show on November 25. Funds raised will go towards the trust fund.
Mr Hoerder who has been involved in the fashion industry for the past 25 years said the trust fund would then invest in a roll-on roll-off ferry for Rotuma.
The fashion show called Vaka Ne Rotuma which can translate to a "boat for Rotuma" will be held at the Grand Pacific Hotel in Suva. Mr Hoerder said this was an opportunity to give back to his motherland. Tickets for the show are selling at $200.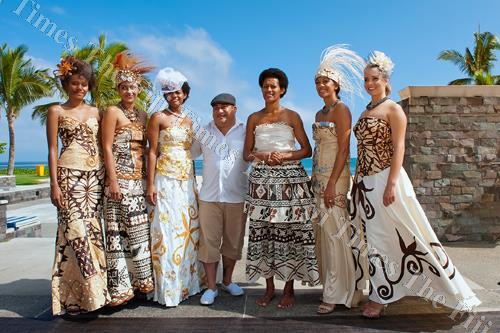 Rotuman designer Hupfeld Hoerder (middle) with models wearing his traditional tapa designs. Picture: Supplied
---
In case you've heard rumours circulating that the chiefs in Rotuma want to break away from Fiji, Fuata Jione offers the following clarification:
"Early this year the Rotuma Island Council (RIC) filed a written submission to government rejecting the two Rotuma Bills. Following that, the Fiji Independent Commission Against Corruption (FICAC) was dispatched to Rotuma, and in May this year the Chairman of RIC was forced to resign and Government appointed the D.O. to be interim chairman, contrary to the Rotuma Act. The chiefs objected to such a move but allowed it. In May, Government dispatched its lawyers and a civil servant, Pasirio Samisoni, to go around Rotuma to explain the Rotuma Bills.
The D.O. subsequently took three RIC members to Fiji and the FICAC charged them. The government team returned to Rotuma in May, but the people remained opposed to the Rotuma Bills by a large majority.
In June, the seven chiefs sought my help and appointed me an advisor, along with Dr. John Fatiaki, Rosie Lagi, Inoke Sosefo, and Pasirio Furivai. However, when the DO passed away suddenly in Fiji in July, the seven chiefs met and formed the Council of Chiefs and took interim measures that were contrary to the Rotuma Act, but they felt that they needed to take the leadership in Rotuma.
A letter sent to Jacob Karutake, Liason Officer for Rotuma Affairs in the Office of the Prime Minister, dated July 5th 2017 (see attachment) is the one I believe some Matas of the RIC saw as a move to sever ties with Fiji. Police were dispatched to Rotuma and stopped the chiefs from meeting as a group. The media accuse the chiefs of wanting to form a separate state from Fiji, but nothing in those letters suggests this is the case.
Since that saga, a new D.O. has been appointed and the RIC has reconvened with Gagaj Kausiriaf as interim chairman. I heard that the seven chiefs came over to Fiji to faksoro the President, but I don't know why.
The letters show that the Rotuman chiefs acted reasonably under the circumstances and that there is no suggestion of an attempt to secede from Fiji."
---
From Fiji Times Online (5 November 2017)
Chiefs Visit

By Felix Chaudhary and Nasik Swami

POLICE confirmed a group of people from Rotuma had travelled to Suva and would be meeting Commissioner Eastern Luke Moroivalu tomorrow to seek forgiveness over allegedly making comments about forming a separate state.
Police spokesperson Ana Naisoro said the group had not been arrested.
"I can confirm that there is a group travelling to Suva but they are not under arrest or have committed any crime," she said.
Ms Naisoro said while details remained sketchy, it had been alleged the group would meet Mr Moroivalu on Monday to seek forgiveness for alleged discussions about the setting up of a separate state.
When contacted by this newspaper yesterday, Mr Moroivalu confirmed seven chiefs did travel with him from Rotuma upon the completion of his tour of the island last week.
However, he denied their trip had anything to do with the chiefs alleged discussions about forming a separate state.
"I came with them, there are seven chiefs and they are all in Suva and all are in their homes," Mr Moroivalu said.
"On Monday we will have a meeting in the office.
"We will meet to finalise some important development issues on the island."
When asked if the chiefs were brought to Suva because of alleged discussions to form a separate state, Mr Moroivalu denied it.
"That's not true," he said.
When quizzed if they were meeting him to seek forgiveness, he also said it was not true.
"There is nothing of that sort."
According to sources with close links to the island, the chiefs came under scrutiny after a meeting where discussions were allegedly held about the possibility of Rotuma forming a separate state.
Rotuma was ceded to Great Britain in a Deed of Cession on May 13, 1881. The British administration joined Rotuma to Fiji for administrative purposes.
However, there have been a number of attempts by Rotuman chiefs since the 1970s to secede from Fiji.
---
From Fiji Times Online (3 November 2017)
2018 deadline for Rotuma hospital construction

By Alisi Vucago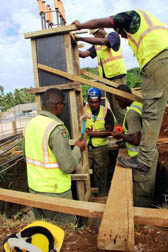 RFMF engineers involved in the construction of the new Rotuma hospital.
Picture: Supplied
THE $8.3million Government investment for the construction of the Rotuma hospital is set to be completed by September next year.
Commissioner Eastern Luke Moroivalu said this earlier this week after a meeting at the Ahau Government Station on Rotuma with engineers from the Republic of Fiji Military Forces who are constructing the new hospital.
"Completion of the first phase included the construction of the hospital kitchen and the mortuary," Mr Moroivalu said in a Government statement issued this evening.
"The second phase is currently progressing and this involves the construction of a northern wing, a southern wing, and a double story central block.
"These include the completion of an administration space, laboratory, and wards for men, women, and children."
Mr Moroivalu said the RFMF engineers arrived in Rotuma in September and had a 12-month target to complete the second phase of the construction of the hospital.
Warrant Officer Class One Maciu Uluiviti said that 50 personnel from the RFMF Engineers were deployed for this project at Ahau.
The construction of the new hospital is one of three major government infrastructural projects underway in Rotuma.
---
1 November 2017 Alfred Ralifo and Monifa Fiu will be attending a meeting in Bonn, Germany on 6 November regarding the Role of Women as Healers of the Ocean at the Frontlines of the Climate Resilient Development-Nature Nexus.
The meeting is a side-event of the upcoming meeting on climate change in Bonn to be chaired by President of Fiji George Konrote.
The rationale for the side-event is that "Women are leaders in ocean management and agents for building resilient communities – and their valuable work bridges across climate action, sustainable development and nature protection. This event highlights the different roles women play in community resilience building and ocean sustainability."
"It's an undeniable that the ocean controls the climate while sustaining life on earth – the health of our ocean is strongly linked to the health of our planet. Climate change however does not affect everyone equally. There is mounting evidence that climate change actually affects women adversely to a stronger degree, especially at the ocean front.
Their relationship with the ocean connects women from around the world. The crucial role women play in addressing poverty, food security, health, education, energy, community resilience and decision-making for their families and communities at the grass-root level is under-recognised and should not continue to be overlooked. Their daily personal interactions and intricate relationship with the ocean to sustain and hold together their families and communities have accumulated a wealth of knowledge and experiences on the complex dynamics of the state of our ocean ecosystems. Through many years, they have witnessed first-hand the changes in the ocean and the climate and how it has affected them.
As first line healers of the ocean, these women's untapped force and power to ensure continuous ocean health in the face of unsustainable development and the loss of biodiversity, which is exacerbated by a changing climate, needs to be fostered and up-scaled by providing them equal opportunities to participate in decision-making processes and co-management of our ocean's resources at different scales and levels.
The objectives of the side-event are to:
• Share experiences and lessons on the impacts of climate change and biodiversity loss on their lives and communities and how saving the ocean can contribute towards building community resilience through adaptation and mitigation strategies while ensuring food and economic security. Sustainable coastal ecosystem management is also part of disaster risk management, as in the case of mangroves that adapts to rising sea-levels and provides very effective coastal protection. Thereby, they contribute to livelihood security.
• Highlight the diversity of leadership roles women play in building community resilience against impacts of climate change and biodiversity loss through sustainable ocean resource use, ocean science, and marine and coastal ecosystem management in the Asia-Pacific and Indigenous communities in other parts of the world.
• Identify opportunities for empowerment, capacity-building and adequate sustainable financing for women to effectively participate and contribute towards accelerating climate action at local, national, regional and international level.
• Mobilise women to be part of decision-making processes at all levels to ensure that women's voices, needs and concerns are taken into consideration in planning, implementation, monitoring and evaluation of climate action, including enhancing NDCs, NBSAPs, national SDG implementation plans and Disaster Risk Reduction and Responses
• Identify funding opportunities to empower women to engage in ocean governance in marine resource management.
Alfred Ralifo will be attending as a representative of the World Wildlife Federation and Monifa Fiu, who is LajeRotuma Initiative Coordinator, Vice President of the Fiji Voyaging Uto Ni Yalo Trust, Climate Adaptation Planner & Advisor Rotary Pacific Water Foundation, is scheduled as a speaker.
________________
Monifa Fiu spoke about the importance of sharing stories and amplifying them through action. She said that kinship must not be forgotten and recalled the connections both among ourselves and between ourselves and the ocean. She spoke about the resilience of the reefs in her lagoon, noting the "dramatic" changes she has witnessed.
| | |
| --- | --- |
| | |
| Monifa and Alfred in Bonn | Monifa giving talk |
---