From Fiji Sun Online (30 August 2018)
Why Konrote Should Be Re-Appointed As Fiji's President
By Nemani Delaibatiki
Major-General (Ret'd) Jioji Konrote is expected to serve as President for one more term.
Parliament will hold a special sitting tomorrow to decide.
These are the following reasons why Major-General Konrote should be reappointed:
He has done a sterling job as Champion for the Elimination of NCDs (Non-communicable diseases)

He has maintained the high standards, respect and dignity for the high office.

As a Rotuman, he is the first non-iTaukei and commoner to ascend to the position.

He is one of Fiji's most outstanding and decorated military officers, who was particularly noted for his courage, strong sense of morality, righteousness, forethought, professionalism and adaptability during his 36 years as a solider and military commander.

He served with the 1st Ranger Squadron, Special Air Service of the New Zealand Army (NZSAS). As a young Officer, he had served as a Platoon Commander with the 1st Battalion of the Royal Hampshire Regiment and a Staff Officer in the Headquarters of the 51st Infantry Brigade, British Far East Land Forces in Hong Kong.

He also served as UNIFIL Commander in Southern Lebanon

He retired from active service within the ranks of the RFMF at the end of his term as UNIFIL Force Commander and was appointed Permanent Secretary for Home Affairs & Immigration in 2000.

In 2002, he was posted to Canberra as Fiji's High Commissioner to the Commonwealth of Australia and Ambassador Plenipotentiary to the Republic of Singapore.

During the 2006 General Election, Major General Konrote was elected into Parliament as the Member for Rotuma and appointed as the Minister of State for Ex-Servicemen & Immigration.

He returned to his home island of Rotuma in 2007 and was a community worker until the 2014 General Election when he was again re-elected into Parliament and appointed Minister for Employment, Productivity and Industrial Relations in the present FIJIFIRST Voreqe Bainimarama led Government.

Major-General (Ret'd) Konrote has served his first three-year term, which expires on October 12.
Opposition view
It is unclear whether the Opposition will field a candidate.
No comment could be obtained from the National Federation Party yesterday. But, sources say officials were upset about what they called short notice.
They said NFP leader Biman Prasad described the issue as highly unsatisfactory.
He was of the view, sources said, that the issue should have been referred to the Business Committee.
They said he had indicated that they might be absent from the sitting and this had been communicated to the Secretary-General of Parliament.
SODELPA general secretary Adi Litia Qionibaravi said last night that the party has not decided yet.
Edited by Caroline Ratucadra
---
From JDee Savike's Posting on Rotumans On Facebook (20 August 2018)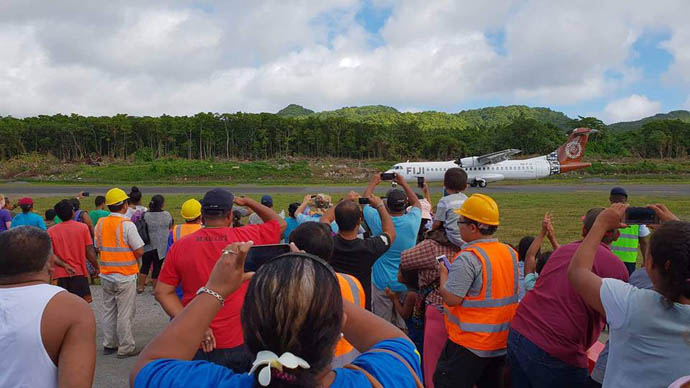 The day everyone's been waiting for: Families and friends at Rotuma Airport awaiting ATR 72 test flight
---
---