From CosmeticsDesign-Asia.com (28 November 2018)
Meet the Australian brand sourcing ingredients from an organic island [Rotuma]
The founder of Australia-based brand, Vatea, has revealed the challenges she overcomes to source ingredients from Rotuma, a 100% organic island in Fiji.
---
From Fiji Sun Online (28 November 2018)
MV Cagivou Replaces Brianna For Rotuma Trip
by Inoke Rabonu
Government vessel MV Cagivou is expected to set sail for the Island of Rotuma on Friday replacing the suspended franchise service of MV Brianna.
District Officer Rotuma Osea Ravukivuki has confirmed that the directive of the suspension of MV Brianna was from the Ministry of Infrastructure, Trade and Transport.
"The announcement of the suspension of service of MV Briannawas directly from the Ministry responsible," Mr Ravukivuki said.
"The people of Rotuma and members of the public were informed of the change recently," he said.
"I cannot comment further as only the Permanent Secretary can comment.
The suspension of the MV Brianna came into effect at the beginning of November (this month) and is expected to remain until January 2019.
MV Brianna is owned by Victoria Marine Limited with its office in Walu Bay, Suva.
VML Operations Manager Felix Maharaj refused to elaborate on the suspension when contacted yesterday.
The MV Cagivou commissioned by the Prime Minister Voreqe Bainimarama in 2015, has a stern roll-on roll-off design and is capable of carrying 100 passengers.
Ministry of Infrastructure Trade and Transport acting Permanent Secretary David Kolitagane confirmed giving the directive.
Mr Kolitagane said a statement will be issued with regards to why MV Brianna's service has been suspended.
MV Cagivou has recently returned from the Eastern parts of Fiji carrying pre-polling materials for the 2018 General Election.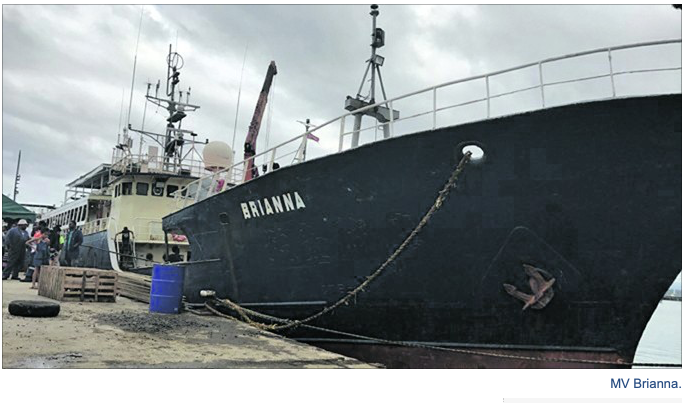 ---
From Fiji Times Online (26 November 2018)
Aviation journey
By Shayal Devi
AS aerodromes across the country continued to evolve in the years after the World War II, the need to construct more airstrips outside the main ports of entry continued to gain prominence.
Rotuma, already considered one of the remotest islands, was identified as the site for a new aerodrome in 1981.
With a new airport came new staff members and among those recruited for the task was aerodrome information officer Antonio Muera.
Hot on the heels of his success in managing numerous aerodromes on mainland Fiji, Mr Muera was transferred to the newly established Rotuma Airport in 1981.
It was here that he was subjected to a historical occurrence for the island, the landing of a British Aircraft Corporation (BAC) 1-11 74-seat passenger jet.
Piloted by Rotuma's own Captain Kava Konrote, the memory of this event is still fresh in the mind of Mr Muera.
"That was piloted by the late Captain Kava Konrote and nobody thought he could land such a big aircraft in that time," the 70-year-old recalls.
"He did a very good landing and when I went to check, you could hardly see the tyre marks.
"That was the first time many saw an aircraft of that size, there were a few times smaller aircraft came in so a lot of people came over to see."
At that time, he was to spend only three days at the airport.
He ended up staying for 28 years until his retirement in 2009. Today, he still resides on the island.
"We had a crash here in 1987 but luckily, no lives were lost.
"Now, we have improved and also have firefighters who have been trained.
"Before, when I was working up in the tower, if you want to call the aircraft and our VHF only worked when you saw the aircraft. Then, you can talk to the pilot.
"Recently, I asked Captain Sen (of Northern Air) and he said you can get the radio from 130 miles out, which is a big improvement and now we have modern equipment for the weather especially and you know, Rotuma weather changes very quickly so this is a huge improvement."
He has spent over 40 years in civil aviation, starting in 1969 after leaving St Johns College in Cawaci, Ovalau.
"I was with my friends and everyone asked me to be a sailor and then when I talked to my parents, my mother told me 'Son, if you get married, if your wife or children are sick, you can't take them on board'."
He then decided to join the aviation field and took heed of a vacancy advertised by Fiji Airports that was looking for a flight service officer.
"I've been to all the major airports, I've worked as airport manager in Savusavu and transferred to Labasa after."
Today, his son has followed in his footsteps.
Bryan Tanu, 40, is a flight information officer for Fiji Airports based at Rotuma Airport. Because of its isolation, Rotuma Airport has had its share of challenges over the years. A grass landing strip which was almost always left in a poor state after bad weather tops that list.
This year, Fiji Airports invested almost $12.8 million to construct a new chip seal runway at the airport.
This investment is likely to minimise flight cancellations to the island as there were numerous instances in the past where people were left stranded on the island after flights were cancelled because of unfavourable weather.
According to Fiji Airports executive chairman Faiz Khan there were a number of challenges faced while working in an isolated environment located 587 kilometres from Nadi.
Mr Khan said the project spent about $500,000 in barging costs and $650,000 in flight charters.
"Each charter flight cost the project $23,000 and there were about 29 charters," he says.
"There were five barges at a cost of around $100,000 each. Fiji Airports received no subsidies on these daunting charter costs but persevered on."
Now, there is hope that improved facilities will not only result in reduced air fares, but also allow more people to visit their families on mainland Rotuma.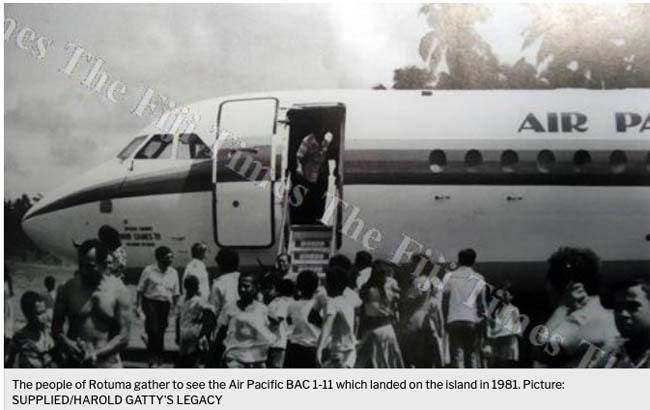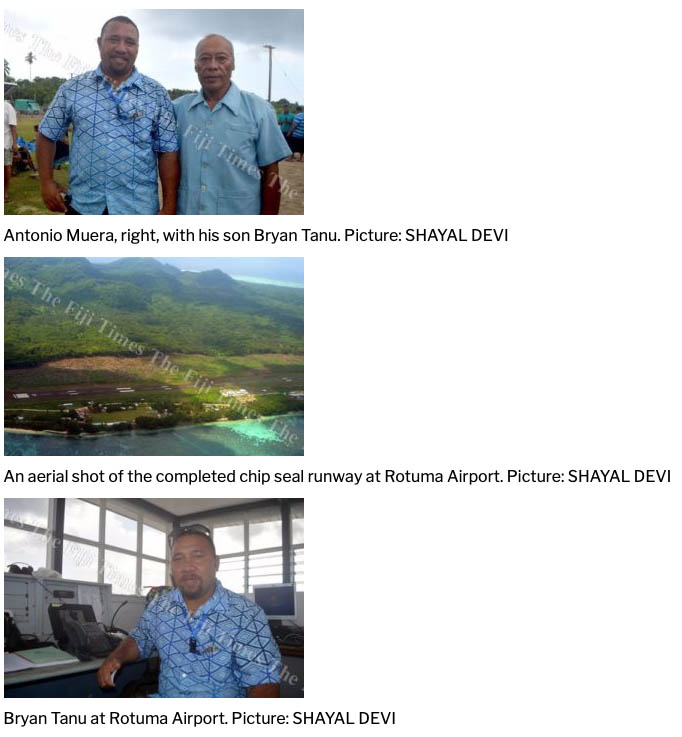 ---
From Fiji Times Online (25 November 2018)
Rotumans celebrate Pepjei Day
By Vilimaina Naqelevuki
"PEPJEI Day is celebrated by all members of our district and is a way to promote and revive our Rotuman culture."

These were the words of Pepjei Suva community president Francis Jone during an interview with Fiji Times Online earlier today.

Rotumans from the Pepjei district turned up in numbers and bright colours at the Marist Brothers High School Lambert Hall in Flagstaff to mark their special day.

Mr Jone said it was important for them to hold this event as it would ensure their younger generations learn not only the language but also their rich Rotuman culture.

"Most of our children grew up here in Fiji and abroad so this is a way to ensure that they learn about the Rotuman language and culture," he said.
He said one of the main aims of the celebrations was also to support all the projects being carried out on the district in Rotuma.

Pepjei is one of the seven districts on the island of Rotuma and is made up of three groups Ujia, Uanheta and Avave.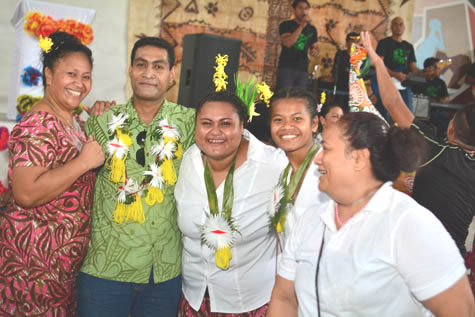 ---
From Fiji Times Online (18 November 2018)
Rotuman lass looks forward to fashion show
By Jessica Savike
MODEL Hanisivae Hodge is looking forward to walking the ramp at this year's Style Fiji Fashion annual show in Nadi next month.
Among the list of pioneer models for Style Fiji, Ms Hodge said this was her fifth year participating for the Style Fiji show.
The 22-year-old who is from Rotuma the village of Malhaʻa and she works as an events coordinator for the Fashion Council of Fiji.
Ms Hodge likes eating anything with cheese and her favourite hobbies are watching Netflix or having a good read on a rainy day.


---
From Fijivillage.com (5 November 2018)
President Jioji Konrote sworn-in today to office for a second and final term
By Naveel Krishant
His Excellency, the President Major General (Ret'd) JiojI Konusi Konrote was sworn in for his second three-year term as Fiji's president at Borron house today.
The ceremony was presided by the Chief Justice, Anthony Gates in attendance was the Hon. Prime Minister Voreqe Bainimarama, Cabinet ministers, members of the diplomatic corps and other dignitaries, his family and relatives.
He was sworn-in by Chief Justice Anthony Gates.
Konrote was earlier re-appointed as the President of Fiji on the 31st of August this year for another three years.
He was nominated for a second term by Prime Minister Voreqe Bainimarama in parliament.
Today's ceremony at Borron House was attended by Prime Minister Voreqe Bainimarama, SODELPA Leader, Sitiveni Rabuka, Speaker of Parliament, Dr. Jiko Luveni, Police Commissioner, Sitiveni Qiliho, RFMF Commander, Viliame Naupoto, Government Ministers, Permanent Secretaries and members of the diplomatic corp.
President Jioji Konrote being sworn in at Borron House earlier today [Photo:Fijian Government]
---
From Fiji Times Online (3 November 2018)
Electrification plan for Rotuma
By Shayal Devi
PLANS are afoot for a rural electrification project on Rotuma in this financial year. People on the island raised concerns about the absence of electricity at Itu'muta district during Prime Minister Voreqe Bainimarama's trip on Monday.
Responding to queries, a government official confirmed they had received funding for the extension of the grid from Malhaha to Oinapa.
He said the funding was for the survey and also procurement of materials. Construction would commence from the next financial year, he added.
"The financial year starts from August to July so we are into the 2018/2019 financial year now and will end in July of next year," he said.
---
From Fiji Times Online (2 November 2018)
Home away from home
By Siteri Sauvakacolo
Lusiana Tausia shares her love about Rotuma. Picture: Shayal Devi
WHEN Lusiana Tausia first landed on Rotuma some years ago, she was homesick — the thought of missing her loved ones crept into her as she was in a place surrounded only by the sea and very far away from home.
But this homesick and loneliness turned to smiles as the people of Oinafa district took great care of her and treated her like one of their own.
Ms Tausia is married to a gentleman from Oinafa and they have a son and three grandchildren.
Any visitor to Rotuma would not miss this Matuku, Lau lady as she loved to greet visitors and share to them what life on Rotuma was all about.
At the opening of the Rotuma Airport runway, Ms Tausia gladly shared that her village contributed two cows and three pigs to the feasting, hence the beginning of this conversation.
"I love Rotuma because it is paradise," Ms Tausia said.
"The boat comes to Rotuma after two to three months so if the stock in the shops finish, we can still survive because there is sea around us and there are farms, the sea and even plenty coconuts which we can survive with until the next stock comes.
"This is a lovely place and everyone just looks after each other and treats each other with love and respect."
Ms Tausia is from Naroi, Matuku with maternal links to Buliya, Ono on Kadavu.
She has also engaged herself in a lot of community activities especially cooking food for those who have worked in upgrading roads and airport runway on Rotuma.
The money earned from this are used to support her family's needs and buy some of her personal items.
Right now, she looks after her mother-in-law while at the same time enjoys the beauty of the island home.
---
From Fiji Sun Online (1 November 2018)
Fiji Airports Delivers Major Infrastructure Development For Rotuma
By Rachna Lal
Executive chairman Faiz Khan has reason to be proud after another success.
It took the current team of Fiji Airports only two years to build a new chip seal runway in Rotuma when others had tried for 40 years and failed.
This upgrade now allows bigger aircrafts to service the island of Rotuma.
One can confidently say, as a result of economies of scale, the air fares have reduced and commuting to the island and development of this isolated island 587 km away is now a reality. Well done Fiji Airports for transforming Rotuma for good and putting smiles to the island of Rotuma.
The opening of the new chip seal runway was done on Monday morning by Prime Minister Voreqe Bainimarama.
It was indeed another milestone infrastructure project by Fiji Airports.
40 years in the making
This project was a work-in-progress for the last 40 years, designed and shelved a number of times due to challenges with its isolation and resulting cost factors.
Fiji Airports executive chairman, Faiz Khan, said the last time it was shelved some 15 years ago, a budget of $22m plus variations was prepared for the runway alone.
Fiji Airports has delivered this project for $12.8 m with a bigger scope which included consultants costs, fencing, fire tender, fire building, crop clearance and compensation, barging, charter flights etc.
Mr Khan said: "This achievement is in line with FA's philosophy of prudent cost management of our operating and capital expenditure.
"It allows us to build two of something when others would build one."
Rotuma District Chief, Gagaj Amuela Manav, said this opening marked an iconic milestone for our country.
"This day forecasts a promising future for our future generations. Hereafter the people of Rotuma would be able to reap the benefits similar to that of people on the mainland," he said.
He said all this would not have been possible without the vision of the government of the day and they are grateful to the Prime Minister for making this possible.
Challenges faced
Once a project is successfully completed, it looks easy to people.
To give you some idea of the challenges faced in working in an isolated environment that is 587km from Nadi, Mr Khan stressed the project spent about $0.5 million in barging costs and $0.65 million in flight charters.
"Each charter flight cost the project $23,000 and there were about 29 charters.
"There were five barges at a cost of around $100,000 each," he said.
Mr Khan said Fiji Airports received no subsidies on these daunting charter costs but persevered on.
"It was never easy to build the runway in Rotuma to allow ATR operations," he said.
Mr Khan thanked the contractor China Railway 5; the consultant GHD for ensuring they delivered the highest quality despite the challenges through isolation.
He also thanked each and every one at Fiji Airports for their tremendous efforts; the landowners for various cooperation; the Commissioner Eastern; Ministry of Public Enterprises for its strategic direction and their Board of Directors.
"I would particularly like to thank the Fiji Airports team that has delivered this project despite the adversities and challenges, through their sheer grit and determination," he said.
"If we can build a new runway 587 km from mainland, we can and will change the face of domestic air travel within Fiji in a few years' time.
"We will do so based on Government's vision for better connectivity, development of Fiji and prosperity for the Fijian people.
"Government is the 100 per cent shareholder in FA. Based on the partnership we have developed with Government, no longer are such projects stuck in the pipeline for 40 years, no matter how difficult they are.
"No longer are such projects spoken about at gatherings and published in media for momentary satisfaction, without ever being delivered."
Air connectivity
The success of this project marks the new beginning for air connectivity for Fijians.
Mr Khan stressed, in the past it was difficult to find a flight to Rotuma with the twin otters only carrying seven passengers at a time with one flight a week.
"This restricted the development of Rotuma. There are no hotels on the island. Many Rotuman people and Fijians have never visited Rotuma," he said.
"Yet, Rotuma has pristine environment with its turquoise blue waters and white sandy beaches.
"With the twin otter operations replaced by ATRs, tenfold passengers will be carried at a time.
"With a couple of flights per week, this new runway will allow Rotuma to transform itself for the better, for good. It will allow Rotuma to realise its potentials."
Mr Khan stated: "This runway may have been 40 years in the making. But it is what it will mean for the Rotumans and the Fijian people for the next 100 plus years into the future that history will remember us by, as our greatest achievement."
---
---