From Fiji Times Online (1 December 2018)
Rotuma graduates encouraged to pursue higher education
By Litia Cava
GRADUATES from the Fiji National University's (FNU) Sustainable Livelihood Project (SLP) training program, which was recently offered in the districts of Itu'tiu and Oinafa in Rotuma, were encouraged to put their newly-acquired knowledge and skills into practice and assist with the development of the island.
The graduation was held at Motusa Village on Rotuma.
Chief guest at the Itu'tiu district graduation ceremony Gagaj Iroa reminded the new graduates that learning never stopped, encouraging them to pursue higher education and to share their knowledge with fellow villagers.
According to a statement that was released by FNU, the Sustainable Livelihood Project training is offered through FNU's National Training and Productivity Centre's (NTPC) Non-Formal Division.
"Education is for all. There is no age limit to learning nor is there one that says learning comes to an end at a certain age," Mr Iroa said.
A total of 162 participants successfully completed a two-week training on basic practical skills carried out by SLP in Rotuma.
The Sustainable Livelihood Project is part of the Government's initiative that was set up five years ago to promote development in rural and maritime communities through technical and vocational training.
The primary objective of the project is to train and empower rural communities and villages with basic practical skills and knowledge that are relevant and necessary to their immediate and future needs.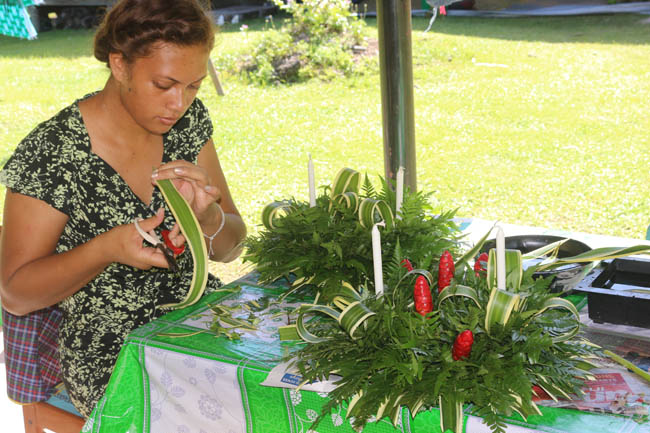 Commercial Floriculture student_Corrina Malifa works on her Xmas decoration project. Picture: SUPPLIED
---