From Fiji Sun (27 February 2019)
Tributes Pour in for Late Colonel Paul Manueli
By Ashna Kumar
Tributes began pouring in yesterday for the late Colonel Paul Fanifau Manueli, the first
local Commander of the then Royal Fiji Military Forces.

The Commander of Republic of Fiji Military Forces, Rear Admiral Viliame Naupoto, who
led the tributes, said Colonel Manueli saw many firsts during his tenure as Commander RFMF.

Colonel Manueli had served as Commander RFMF from 1974 to 1979 and subsequently became a successful businessman and politician.

He had served as a Cabinet minister in Sitiveni Rabuka Government.

He was Rotuma's representative to the Great Council ofChiefs, which was abolished in 2012.

Colonel Manueli, 85, was from Noa'tau District in Rotuma.

He died because of a short illness at his residence in Namadi Heights, Suva last Saturday.

He is survived by his wife Lydia, son Peter, four grandchildren and two great grandchildren.

Commander Naupoto said Colonel Manueli saw the formation of the Navy, the RFMF Engineers and also propelled RFMF into the international peacekeeping under the United Nations.

When Commander Naupoto joined the Military, Colonel Manueli had retired.

He said he would never forget the first time he met him.

"I was still a student at Queen Victoria School and 1accompanied our English teacher Mr Shackleton, a retired Australian colonel, on his trip to Suva.

I was to pick up our film reels for that weekend.

"As we were walking past the old DC Southern building near the bus stand, Colonel Manueli who was in uniform and standing there looked towards us, came to attention and saluted.

"They shook hands with my English teacher and I was introduced to Colonel Manueli and then my English teacher told me later that he was Colonel Manueli's instructor when he was at the Australian Military College.

That shows the character of Colonel Manueli."
Colonel Manueli's granddaughter Farah Manueli said her grandfather was the most regal man she had known.
Colonel Manueli will be accorded a full military funeral on Friday.
After the funeral service at Churchward Chapel, Rewa St, the military will march with the cortege through Suva City to Walu Bay and Suva Cemetery, for the burial.
Edited by Ranoba Baoa
See also Letters to the Fiji Sun
---
From Alan Howard (23 February 2019)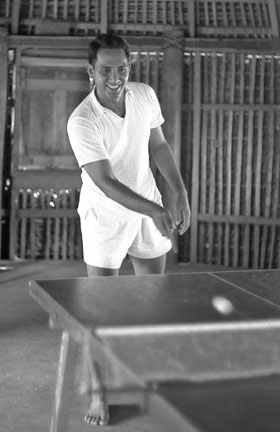 D.O. Paul Manueli at Ahau in 1960
Jan and I are deeply saddened by the passing of Colonel Paul Manueli. Paul was the District Officer in Rotuma for the second half of my field work there in 1960. I found him to be a man of the utmost integrity and fairness in his dealings with the many issues that confronted a District Officer at that time. We became close friends as ping-pong playing members of the Ahau Sports Club.
We kept in touch over the years and visited with him on our last two trips to Fiji, in 2012 and 2017. His stories about his career were captivating, especially his account of his confrontation with a bull elephant in Malaysia. The elephant picked him up with its trunk and hurled him to the ground and threatened to stomp him, but finally backed off, leaving Paul with a back injury that plagued him for the rest of his life.
His service to his country, as a military and political leader, were exemplary. He was a source of pride for all Rotumans and will be sorely missed by all who knew him. We extend our deepest condolences to his wife, Lydia.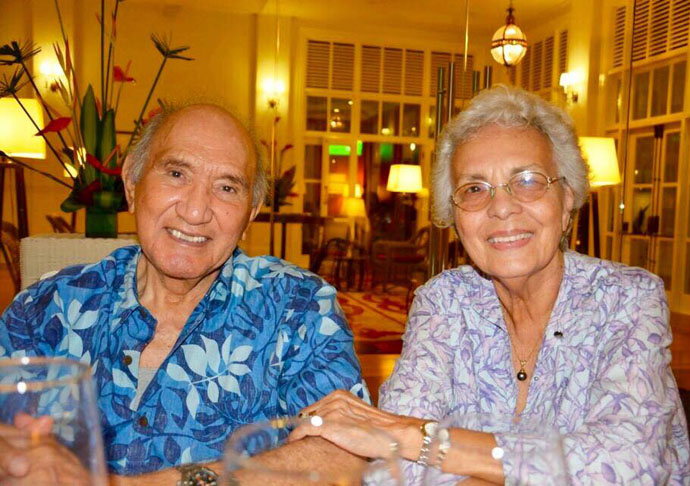 Recent Photo of Paul and wife Lydia at home in Suva
photo courtesy of John Taito


---
From Community Scoop (21 February 2019)
Rotuman Community marks International Mother Language Day
Press Release – Auckland Rotuman Fellowship Group
The United Nations celebrates International Mother Language Day today, 21 February. Rotuman Community marks International Mother Language Day by announcing Language Classes
21 February 2019
'OTOU FÄEAG TA : RAKOA . 'INEA'IA . MAÜR'AKIA
MY LANGUAGE : LEARN IT . KNOW IT . LIVE IT
The United Nations celebrates International Mother Language Day today, 21 February.
The Rotuman Community in Auckland, Aotearoa/New Zealand is marking the day by announcing the commencement of its Rotuman Language Classes.
Organised by the Auckland Rotuman Fellowship Group Incorporated (ARFGI), the unique and endangered Rotuman language is being taught by Elders and qualified teachers.
Chairperson Mr Faga Fasala said, "We took the initiative using our own funds and resources, to move things forward and help save our unique language".
The Language Classes, which are free, are open to everyone and not just Rotumans, and held every Saturday from 6pm at the Fickling Centre in Three Kings, Auckland.
"Language is what makes us who we are, and is part of our culture and identity", Mr Fasala said, "And it is our duty to preserve this invaluable taonga".
The Group is also hosting the Rotuman Langauge Week 2019 in Auckland from 12th to 19th May of this year.
Rotuman people are a separate ethnic group with their own distinct language, culture and identity, and originate from the Polynesian Island of Rotuma.
Rotuma consists of the island of Rotuma and its nearby islets, and is located in the middle of the Pacific Ocean, about 500 kms north of Fiji, and 500 kms west of Wallis & Futuna.
Rotuma was annexed by the British on 13 May 1881 ('Rotuma Day'). Although Rotuma is its own nation, it is currently administered by Fiji as a dependency.
The Rotuman language is currently listed on the UNESCO List of Endangered Languages as "Vulnerable".
Rotuma is described as an 'untouched paradise' with some of the world's most pristine and beautiful beaches.
---
From Fiji Times Online (20 February 2019)
Rotuma women's club expose talents
THE Suva Rotuman Women Club will be using the Central Division craft show to expose the talents of their women in the group.
Lusie Managreve who spoke on behalf of the group said the show was also a learning curve for them.
"Our main actually is to help improve our products and talents. This is to also help our women to better work in whichever field they specialise in," Ms Managreve said.
"The show will also help the women get news ideas in making things."
She said the club had now been running for more than 10 years.
"We have continuously come for this craft show and most of our products are done from the masi, vau and the voivoi leaves."
The craft show ends tomorrow.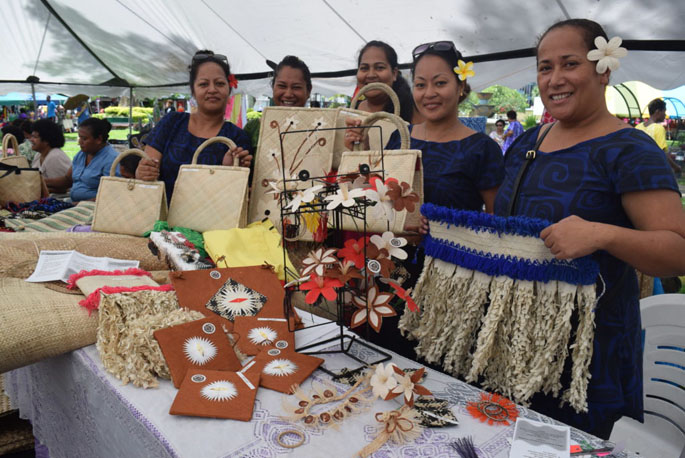 ---
From Fiji Sun (14 February 2019)
Obituary: Old Fijian Warrior Fades Away
In August 1953, at the age pf 18 years, Mesu answered the call of the Fijian colonial government for young men to enlist in the Army so as to go and fight the communist terrorists in Malaya.
By Rsesa Walu Bay, Suva
Old soldiers never die, they just fade away is a familiar line taken from a popular song sung by British soldiers during World War 1. It is a line that aptly describes an old Fijian soldier who passed away on January 21, 2019.

Mesulania Varea Solomone, known simply as 'Mesu' was born on September 5, 1935, in the village of Elsio in the Malha'a district of Rotuma. It was the district that Raho, the founding ancestor of Rotuma, settled in thousands of years ago.
In August 1953, at the age of 18 years, Mesu answered the call of the Fijian colonial government for young men to enlist in the Army so as to go and light the communist terrorists in Malaya.

The Communists in Malaya

The terrorists in Malaya were drawn mainly from sections of the ethnic Chinese population in Malaya. Although they controlled the economy and business they were never really integrated into the national life of Malaya.

In 1929, they formed the Malayan Communist Party (MCP) which aimed to overthrow the British coionial administration and replace it with communist rule. The MCP formed a military arm which they called the Malayan Races Liberation
Army (MRLA).

At its peak, the MRLA was estimated to be about 8000 strong. They set up training camps in the jungles of Malaya and engaged in murder, extortion and sabotage against the civilian population.

The level of disorder in Malaya became so bad that on June 18,1948, the British enacted emergency powers calling on the military to assist in restoring law and order.
Britain drew on military forces from throughout the British Bmpire to defeat the communist insurgency in Malaya. Fiji provided a battalion, IFIR (1st Battalion, Fiji Infantry Regiment) of approximately 800 men to engage in operations against the terrorists.

'Hunt and Kill'

The battalion commenced operations in Malaya in June 1952. It was led initially by Lieutenant Colonel Ron Tinker, a New Zealand Special Forces Officer. Tinker was a no-nonsense hard task master who demanded very high standards from his men .

He defined the Fiji Battalion's mission in Malaya in very simplistic terms that the Fijian soldier understood; "Hunt and Kill" .

It became the battalion's motto in Malaya and described the way they operated there.

The Fijian battalion mounted small patrols deep into the Malayan jungle where they flushed out the terrorists and exterminated them like termites. A number of female terrorists were also eliminated by the Fijians in their campaign.

Mesu was part of reinforcements who were posted for active service with IFIR in Malaya on May 1,1954. He was initially posted to 'D' Company which was made up of men from Lau, Lomaiviti, Kadavu and Rotuma.

Mesu was later posted to 'A' Company, which comprised men from the tribally-connected provinces of Tailevu, Naitasiri and Rewa. It was with 'A' Company that he served until the battalion returned to Fiji in June 1956.

When it was time to return home after two years fighting, the story goes that the men from 'A' Company set about convincing the young and unmarried Mesulama that upon his return to Fiji they will find him a strong and sturdy wife from Tailevu.

She would be able to chop down a large tree for firewood in the morning and in the afternoon of the same day, clear the side of a mountain and plant a hectare of taro.

And before the sun rose the next day, disappear into the jungle with her nets to catch freshwater prawns for his dinner, which she would lovingly cook in coconut milk infused with coriander and lemon zest, topped with finely chopped red chillies to excite the palate.

In addition to all these menial chores, she would happily bear him fifteen sons for the village rugby team! She was everything a man could wish for in a wife, they said.

Mesu returned with the Fiji Battalion that disembarked in Suva on June 18,1956 and transferred to the regular force of the Fiji Military Forces.

He specialised as a weapons instructor following training with the New Zealand Army. It was in this instructional role that many young Fijian recruits who are now leaders in government and in their respective communities came in contact
with Mesulama.

Unlike other Army instructors who were very direct with an 'in-your-face' style, Mesu was the opposite. He was polite, respectful and encouraging; almost padre-like in his dealings with his men. His style resonated with many and left a lasting impression with them. He was a good role model.
Middle East Peacekeeping Service

Mesu served with the Fijian Battalion in Lebanon from 28 April 1979 to 1 August 1980 where he held the position of Senior Weapons Instructor.

It was an intensely active and demanding time for the Fiji battalion. There were frequent skirmishes with local armed elements, often with deadly results.

In late August 1979, Fijian soldiers at a checkpoint in Al Bazuriah shot dead the local leader of the Communist Party in South Lebanon.

Fijian positions at Al Bazuriah where the killing occurred soon came under attack.

Armoured vehicles from the Senegalese battalion were deployed in support of the Fijians there who were under the command of Major Epeli Ganilau. Near Qana, another Fijian position commanded by Second Lieutenant Penioni Jikoiono
came under attack from about 80 to 100 armed elements.

Private Seruidakuwaqa from Savusavu was shot in the thigh by an attacker who managed to breach the Fijian defences. Another Fijian soldier turned and shot the attacker dead.

As the attack on Jikoiono's position intensified, Fijbatt machine guns from the Fijian Battalion HQ position in Qana commenced supporting fire to jikoiono's position.

The General Purpose Machine Guns (GPMGs) were mounted in a sustained fire (SF) role.

The Fijian machine gunners used tracer rounds, which ignited in its trajectory so as to allow fire to be adjusted.

The Fijian battalion commander at Qana exercised tight control over the situation. He read every move of the battle unfolding below hiin and personally directed and adjusted the fire of the machine guns so as to lay down a curtain of fire in front of Jikoiono's position to deter the attackers.

Mesu manned one of the machine guns that was closest to the attackers. He could hear them shouting to each other. Unfortunately, several of the attackers ran into this defensive curtain of fire and were either killed or wounded.

Complicating the situation, Dutch (Netherlands) armoured vehicles sent to reinforce Jikoiono also came under fire from the attackers.

The Dutch Lieutenant commanding the armoured vehicles was shot though the spine and slumped forward on the turret of his vehicle. Dutch soldiers disembarked and took cover behind their vehicles. They were pinned down by the attackers who were swarming towards them with guns blazing.

To save the Dutch, Fijibatt machine guns were ordered to switch their fire to cover the Dutch. Several armed elements attacking the Dutch were cut down by the covering fire from Fijian machine guns.

The attackers then withdrew. The Fijian action that day saved the Dutch from further casualties.

In his book (Mission with UNIFIL; An African Soldier's Rellections) the UNIFIL Force Commander, Major General Emmanuel Erskine of Ghana, devotes a whole chapter to this battle fought by the Fiji Battalion. He argues that the Fijian
actions '... illustrate the practical interpretation and application of the use of force in self defence by UNIFIL'.
The sad sequel to all these events occurred four days later on August 24,1979 when armed elements ambushed a Fijian motorised patrol killing three Fijian soldiers and wounding four others.
One of those wounded in the ambush was Driver Apirato, also from Rotuma. With three Fijian soldiers dead and another four wounded, it was indeed a very sad day for Fiji.

Sadly, the Dutch officer who tried to help the Fijians later died of his wounds.

Mesu again deployed for peacekeeping service with the MFO in the Egyptian Sinai from May I984 to May 1985. He was commissioned to the rank of Captain in October 1988 and in 1989 was promoted to the rank of Major to command RFMF
units based in Nausori.

He retired in August 1992 after almos t40 years of service. In recognition of his loyal service Mesu was awarded the insignia of the Member of the British Empire (Military Division), MBE (Mil).

Mesulama passed away on January 21, 2019 and his remains were cremated. He is survived by his wile Varea Tivao and
three children. It was a life well lived.

In passing, Mesulama joins the long list of the descendants of the warrior-chief Raho who have served Fiji well in times of peace and war.

Lieutenant Colonel Isireii Dugu, who had undertaken recruit training under Mesulama in the late I960's and served with him in Lebanon and Fiji, summed up Mesulama in this way

"The late Major Mesulama was a professional soldier who was dedicated, honest and committed to his calling. He served with honour and dignity and set an outstanding example to his juniors".

18799 Major Mesulama Varea Solomone, MBE (Mil), 1935-2019. Thank you for your service, sir. May you rest in peace.

Source: RSESA Walu Bay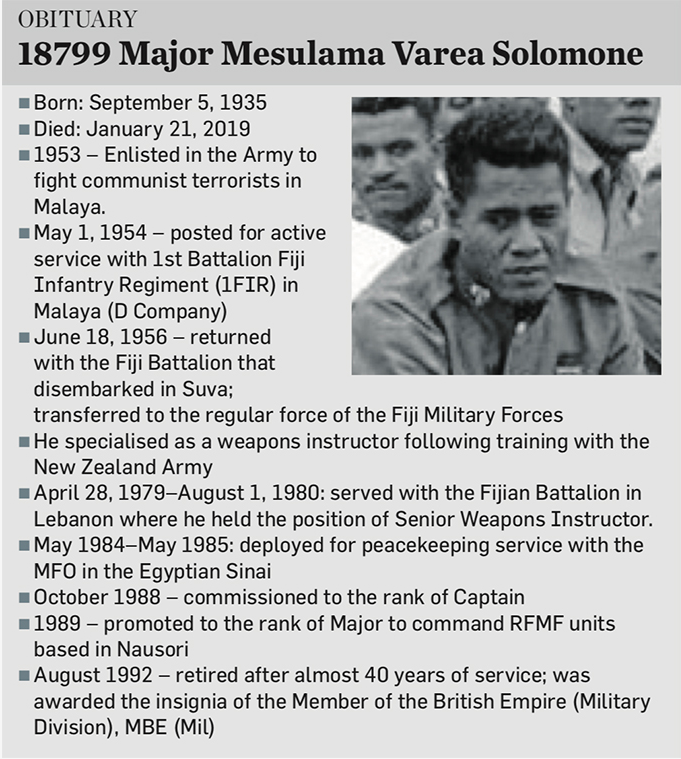 ---
From Fiji Sun (9 February 2019)
Top Leaders Bank on Dream, Hard Work
"I am happy that my teachers had faith in me and I would also like to thank my parents for giving me the confidence to take up this challenge," Bezalel Singh
By Neelam Prasad, Suva
Becoming head boy of Nehru Primary School was Bezalel Singh's dream from day one.
The 13-year old said he was always keen on becoming the head boy and hopes to live up to his teachers' expectations.
The school welcomed it's student body during the prefects induction ceremony yesterday.
Bezalel lives in Toorak, Suva, and aspires to study medicine in the future.
"I am happy that my teachers had faith in me and I would also like to thank my parents for giving me the confidence to take up this challenge," he said.
Maxine Antonio has been the class captain for a number of yers before earning her place as head girl.
The teenager from Itumuta, Rotuma, said her journey had been a challenging one.
"It was difficult at times, but I believe in hard work and that kept me going," she said.
"I am glad I had not given up before and that's the lesson I can take from this entire experience."
Edited by Percy Kean
---