From Fiji Times Online (6 July 2019)
Best Investment
By Luke Rawalai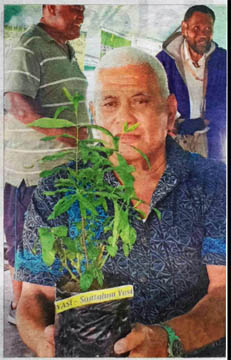 Gagaj Markao Vu with his million dollar secret, sandalwood
picture:Luke Rawalai
WITH about 4000 sandalwood plants Gagaj Markao Vuowns the biggest sandalwood farm on the island of Rotuma.

This newspaper met the outspoken but humble Tuakoi native of Itutiu district on Rotuma who was approached by a Chinese buyer on this offering to buy 48 of his 21-year-old plant for $2.5 million.

In an interview Gagaj Markao said he was also approached by an American investor on the same day offering to buy 50 trees for $150,000.

Gagaj Markao however told the investors that he was bidding 48 trees from his farm for $5m.

With a smile he said this was the deal he had with the investors adding it was a "take it or leave it" deal.

"I know how hard it is to look after the plants and I am not settling for any lower or higher
bid for my precious sandalwood," he said.

"Part of the deal is that those wishing to buy these sandalwood need to purchase it straight from the farm as I have no intention of getting it this far.

"I had begun planting sandalwood for my nine children and now my 37 grandchildren.

"I have never regretted doing this investment because it is now benefiting my family."

Gagaj Markao said anybody could invest on the trees adding it was a worthy venture.

"It is not a big effort to look after the plants because once they start growing there is very little need for any menial labor," he said.

"This is the best investment for the future of your children if you are a parent."

Meanwhile last year the Agriculture Ministry revealed that Fiji has sandalwood farms valued at $500m following a survey by the ministry's' Sandalwood Development Department.

The survey was carried out more than 50,000 sandalwood plants in farms on Vanua Levu, Vlti Levu, Kadavu and Lomaiviti. The fragrant wood takes 20 to 30 years to mature and Fiji is expected' to have a sandalwood boom between 20 to 30 years, says the ministry's research officer, Maika Daveta.

"I know how hard it is to look after the
plants and I am not settling for any lower
or higher bid for my precious sandalwood"

---
Extracted from Radio New Zealand (2 July 2019)
Inspired Pacific weavers celebrate Matariki
By Christine Rovoi
To celebrate Matariki, a group of weavers including six from the Pacific have told their stories of the stars, the moon and the seasons.
Six Māori weavers made up the rest of the group which was part of the inaugural Te Mata O Rehua Weaving Symposium in Auckland.
They created sculptures and art works from harakeke (flax) and other mediums. . .
For Fesaitu Vaurasi of Rotuma it had been 25 yearssince she last wove anything.
But she said she could not turn down the opportunity to weave a Rotuman mat for Matariki.
There are similarities between Matariki, the seven sister stars in the Pleiades cluster of the Tarus constellation, and the seven stars used in Rotuman leis and garlands for their men, Ms Vaurasi said.
"Though the languages are different, I was so proud to learn that we have a lot in common - Māori and Rotumans," she said.
"Rotumans have seven stars in their men's leis to mark the seven districts of the island - the seven chiefs of the island."
---