From the Daily Mail Online (31 December 2020)
Kate Middleton and Prince William's travel and logistics officer with 'superb can-do attitude and great sense of humour' is recognised in New Year's Honours
Member of Prince William and Kate Middleton's, 38, staff has been recognised

Tifare Alexander, born in Fiji, works as Travel and logistics officer for couple

Has been made a Member of the Royal Victorian Order (RVO) by the Queen, 94,

Performs odd jobs for the couple and also does some chauffeuring for pair
The Duke and Duchess of Cambridge's travel and logistics officer has been made a Member of the Royal Victorian Order by the Queen.
Tifare Alexander, who has worked for Prince William and Kate Middleton, both 38, for more than eight years, has been recognised for his service to the couple in the New Year Honours.
The Fijian-born former Paratrooper – known as Tif – is part of the Cambridges' small household which includes their nanny Maria Teresa Turrion Borrallo.
A royal insider previously told The Sun the Fijian, who performs odd jobs and the occasional bit of chauffeuring for the couple, is 'a lovely guy — like all Army, a superb can-do attitude and great sense of humour'.
In the past he has been photographed driving Kate to official events and been spotted working in the background.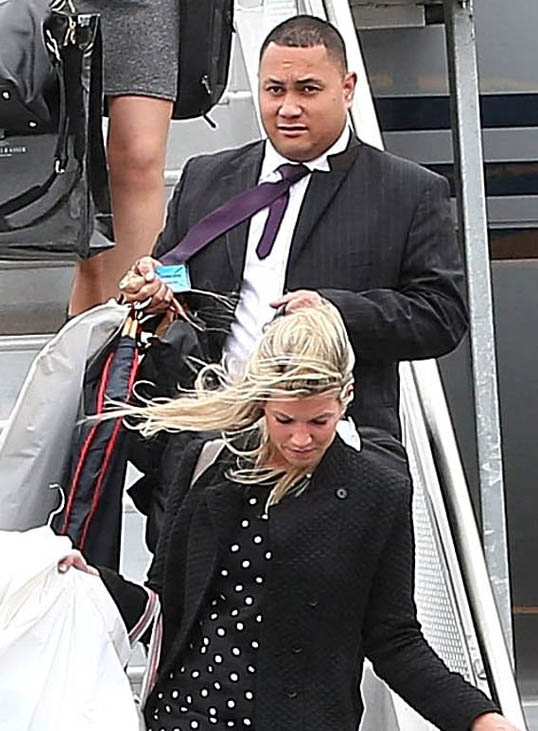 Fijian-born former Paratrooper Tifare Alexander, who has worked for Prince William and Kate Middleton, both 38, for more than eight years, has been recognised for his service to the couple in the New Year Honours
---
From Fiji Times (17 December 2020)
TC Yasa: Rotumans count themselves lucky; no serious damage reported
By Luke Rawalai
The people of Rotuma are counting themselves lucky after TC Yasa passed the island this morning causing no serious damage to the island.
In an interview this morning, Rotuma Council chairman Gagaj Taimanav Fai Seriroa Taukave confirmed they had contacted the seven districts who confirmed there were no serious damage in their communities.
Gagaj Taimanav said islanders had experienced heavy rain and strong winds last night which dissipated this morning.
"We had a period of sunshine this morning before the rain started again," he said.
"We count ourselves lucky to be spared from the wrath of TC Yasa."
Meanwhile, the Fiji Meteorological Centre located Severe TC Yasa about 140km North-northwest of Yasawa-i-rara, 245km North-northwest of Nadi, and 280km West-northwest of Rotuma at 8am today.
---
From Fiji Times (16 December 2020)
TC Yasa: Police visits villages on Rotuma; villagers secure homes and livestock
By Luke Rawalai
As one of the first islands in the Fiji group to come into contact with TC Yasa later today, the people of Rotuma were literally up with the sun this morning as they prepared for the storm.
Rotuma Council chairman Gagaj Taimanav Fai Seriroa Taukave said police had been visiting villages within the island's seven districts, creating awareness to people on the need to be prepared for the approaching cyclone.
Gagaj Taimanav said the wind had started to pick up this morning while villagers secured their properties and livestock.
"Shutters are being nailed to homes and people are stocking up on supplies," he said.
"We have been advising and keeping in contact with district representatives on their preparatory plans.
"All we can do now is pray for the better because as far as preparations go, we are getting there."
Meanwhile, the National Disaster Management Office has listed the following evacuation centres on the island:
Motusa District School
Malhaha District School
Paptea District School
Rotuma High School.
---
From Fiji Times (12 December 2020)
Island tourism – The controversial Rotuma day trip
By Teri Tuxson
ON November 28, as the last Fiji Link flight of day trip tourists departed the island of Rotuma, one set of residents were saddened to see them go, another group were elated and relieved, and yet another group of island residents were still wondering what these "tourists" were doing on their island home for four hours every weekend and how they had ended up there in the first place.
And this is where the problem lies. When a vast majority of residents are not properly consulted and provided with details on activities that concern them, or more importantly, in this case, not even asked their opinion on whether they want "tourists" traipsing through their backyards and gawking at them going about their daily lives.
Rotuma is an isolated group of islands in Northwest Fiji, with one main island inhabited primarily by indigenous Rotumans of Polynesian descent, and a small number of iTaukei state workers of Melanesian descent at the government station in Ahau.
Rotuma falls within the State of Fiji, but the people largely govern themselves through their traditional chiefly system.
The cash economy is miniscule; the majority of residents rely on remittances and subsistence agricultural and fisheries activities.
There are about 1900 inhabitants who permanently live on island, and over 15,000 that live worldwide.
Both Rotuma's heritage, isolation, and situation make it unique, so much so that the United Nations has listed it as endangered and at risk of extinction.
Rotumans are a kind, warm, and generous people with deep respect for their faith, their traditions, and the mana of their island home, but also with continued respect for the state instituted governance structures.
They seldom complain and possess a high disregard for confrontation.
Many will leave the island when they come of age, for further education or to pursue employment opportunities.
The highest level of education offered on the island is secondary school and thus the onus and responsibility to properly inform residents of the pros and cons of all development or any government sanctioned activities falls on the government of the day.
The decision to allow "tourists" on Rotuma does not belong to the Fiji Government.
The decision to allow "tourists" access to Rotuma Island does not belong to the commercial interests of the government-owned and financially struggling Fiji Link airline.
The decision does not belong to the government appointed district officer, nor does it fall solely on the Rotuman chiefs.
This decision to allow "outsiders" should have been made collectively by those whose lives will be most affected and that is, those who live on the island year round.
This decision should have been made after proper and thorough consultations had been conducted throughout all the seven districts on the island.
This is called Free, Prior and Informed Consent (FPIC) for indigenous peoples, and it is laid out in the UN's Declaration of Human Rights. As members of the UN's Human Rights Council, our government is well aware of this and their important role in protecting the rights of its indigenous peoples.
Before any decision was made, all relevant ministries and civil society should have been dispatched to the island to provide a proper and all-inclusive stakeholder consultation process, i.e. namely but not limited to, the Ministry of Tourism, Ministry of iTaukei Affairs, Ministry of Women, Department of Cooperatives, Department of Environment, LajeRotuma Initiative, etc, and separate spaces for consultations with women and youth, to present both sides of what this means for those who live on the island, and what equitable opportunities are available for all residents.
Then, only after this has been done, those that live on Rotuma can make the decision for themselves.
The seven district chiefs receiving a letter from the government appointed district officer informing them of Fiji Link's decision to have tourists on Rotuma does not constitute free, prior and informed Consent.
This constitutes coercion and is the definition of a paternal attitude where unilateral decisions are made away from the people whose lives are affected without concern for consequences and repercussions of such a decision.
Development activities and moving forward will always be on the cards and as long as it is done properly, sustainably, and with the full consent of all those affected, there is no problem. But that decision is exclusively theirs to make.
And whilst they appeared to try to make things equitable by having each district youth group host the "tourists", this is only on the surface.
Only those individuals who already owned private vehicles were given the opportunity to act as supplementary guides, and this is not an act of good faith, and by definition, not equitable.
Of course, the rest of the community noticed this unequal distribution of opportunity, and thus opportunity for income earning for the "haves" and the "havenots".
We returned from our two-week family trip to Rotuma last weekend, and the opinions about these day trips are mixed. Some think it is a great boost for the tiny island economy, others absolutely hated it.
But none of them were asked for input prior to the Fiji Link initiative and none of them were invited to attend any stakeholder consultation prior to the decision being made.
Since our independence in 1970, we have had ample time to develop models for working with indigenous communities; the Pacific region has developed appropriate ways of working with indigenous communities, and the verdict is out – consult, consult, consult before any decision is made. This has been proven time and time again as the only way forward.
• Teri Tuxson is the assistant co-ordinator for the Locally Managed Marine Area Network International, working with indigenous peoples throughout the Pacific region to build vibrant, empowered, and resilient communities. The views expressed in this article are her own and does not necessarily reflect the views of this newspaper.
---