From Fiji Times (25 May 2021)
So close and yet so far
by Unaisi Ratubalavu
In 1987, a young Australian family travelled to Fiji but never made it to their destination – Rotuma.
On November 30 that year, The Fiji Times reported the family lost about $1400 because of a shipping cancellation.
Harry Chappel, a Sydney bus driver, travelled to Fiji with his Rotuman wife, Regina, and their three young children with the intention of visiting his in-laws on Rotuma.
It had been three years since Mrs Chappel visited Rotuma and her ailing father had never seen his grandchildren, aged between seven months and five years.
The Chappel's booked a passage on the Komaiwai on November 14, a few days after arriving in Fiji and were told it would sail on November 25. "We paid $95 for our passage and $28 for my brother-in-law," Mr Chappel said.
On November 24, he rang the shipping company and was told there was a delay and to continue checking with the company about the sailing date.
Finally, on November 28, Mr Chappel went to the company office and was told that the November voyage was cancelled.
The next sailing date was for a charter voyage in December and, therefore, the ship could not take him. He and his wife were bitterly disappointed.
"We saved really hard all year for this trip," he said. "It will be three to four years before we can get enough money to come to Fiji again and by that time, the children's grandparents could be dead," he added. He had to return to Australia by January 2.
There was a ship scheduled to sail to Rotuma on December 17 which the shipping company said the family "might" be able to get on.
"But in any case, we would have to return on the same voyage so we could get back to Australia and it would mean only one night in Rotuma," Mr Chappel said.
A similar tragedy happened to the family 15 months before.
They had saved up and brought their second child to Fiji. In Suva, they tried to book a passage to Rotuma.
"I was told I could not pay that week but to come back the next week before the sailing day and get the tickets," Mr Chappel said.
"When I did, I was told they were all sold out and the ship booked out.
"That was the end of that and we just had to go back to Australia."
---
From Radio New Zealand (14 May 2021)
NZ's Te Papa comes alive for Rotuma
By Christine Rovoi
An outbreak of Covid-19 in Fiji has forced Rotumans there to cancel this year's Rotuma Day celebrations.
But in New Zealand, the pandemic has failed to dampen the islanders' spirits.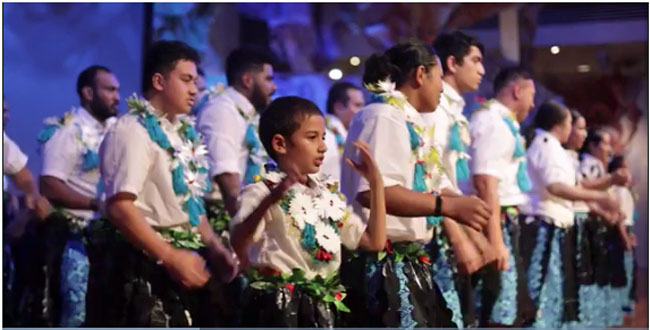 Fiji recorded its fourth covid death yesterday as the Suva and Nausori corridor, home to three towns and one-third of the population, goes into a lockdown from 11pm tonight to 4am Wednesday morning.
Fijian President Jioje Konrote, who hails from Rotuma, said the world was hit with this deadly virus and Fiji was no exception.
In his Rotuma Day message, Konrote said while he was relieved the coronavirus had not reached his island home, the effects on Fiji's main island Viti Levu were devastating.
Last year, Rotumans in New Zealand were forced to take their language week celebrations online because of the pandemic. It was their first on the government's Pacific language weeks.
Last night, Rotumans were able to gather together in Wellington to mark 140 years of the island's cession to Britain.
The Museum of NZ's Te Papa Tongarewa hosted the event.
However among the smiles, singing and dancing, one thing was evident: New Zealand Rotumans are fighting to keep their endangered Pacific language alive.
The language, with only about 15,000 speakers in the world, is listed on the UNESCO List of Endangered Languages as 'definitely endangered'.
The language is distinct from other Pacific languages and from Rotuma, a Fijian dependency of tiny islands about 650 kilometres northwest of Fiji's capital Suva.
While fewer than 2,000 people live on the island, there are about 800 Rotumans in New Zealand, and many others reside in Fiji and around the world.
The Secretary and Chief Executive at the Ministry for Pacific Peoples, Laulu Mac Leauanae, was also at Te Papa and paid tribute to the elders and youth in the community for keeping the culture alive.
"It was amazing. So many things, the language and all that but the singing, the singing of the hymns hearing the language, seeing so many Rotumans in the room - over 200, it felt like a 1000 when you hear the singing. But it was just the spirit in the room, was amazing."
Laulu said one of the biggest elements of the ministry's work was the importance of culture, language and identity.
"We've been supporting all of the Pacific languages here in New Zealand and Rotuman is the first of many weeks of celebration of different languages."
Has he learnt any Rotuman words? "Noa'ia e mauri, which someone told me means hello," Laulu replied.
This year's theme for Gasav Ne Fäeag Rotuạm Ta - Rotuman Language Week - is Tutur häk ne måür lelei - the four pillars of life and wellbeing: spiritual, physical, psychological and social.
New Zealand's Parliament also marked the occasion with the Rotuman community invited to the house where they presented tefui garlands to Prime Minister Jacinda Ardern, the Speaker Trevor Mallard and other MPs including National leader Judith Collins.
The prayer service was delivered in Rotuman by Labour's Taieri MP Ingrid Leary, who had lived in Fiji and has links to the community.
Leary said it was an opportunity for her to celebrate her children's unique culture and language.
"It felt like history was being made," she said. "It was beautiful to see the community come in.
"We sat there in the Speaker's lounge as the garlanding was going on, pinching ourselves and saying we never imagined in a million years that we would be standing in the NZ Parliament together celebrating Rotuman Language Week.
"And that I would be saying the prayer in the house which was a great honour."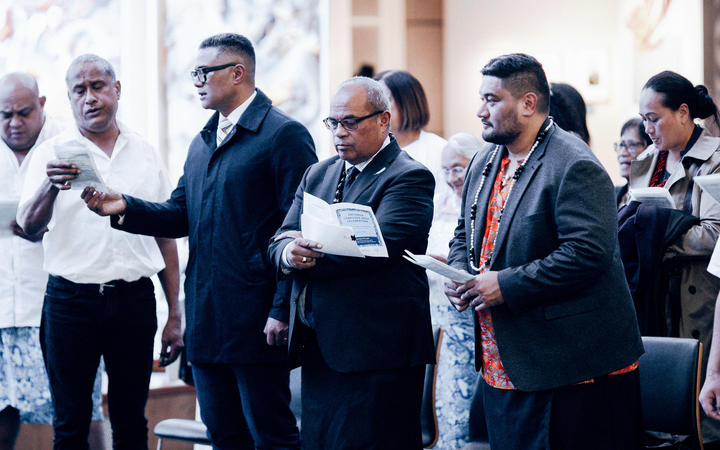 Minister for Pacific Peoples Aupito William Sio, second right, and his CEO Laulu Ma Leauanae, third right.
Photo: RNZ PACIFIC/Dom Thomas
Leary said this week's celebrations were also an important part of the revitalisation of a "beautiful and endangered language, an opportunity to celebrate the new wave of cultural leaders who have bravely stepped out to make Rotuman arts relevant in a modern context".
She said the islanders were honouring their traditional practices, but added it was also a great excuse for Rotumans everywhere to get together as a community and have fun.
The president of the New Zealand Rotuman Fellowship Group, Maria Fuata, agreed.
"It makes us unique in terms of a Pasifika people in Aotearoa New Zealand. It's also not about promoting and teaching the language, it's actually about preparing for the next generation which is the majority of our population.
"But also connecting that to our elders and making sure we pass that on in a safe but in a authentic way - not missing any of our genuine Rotuman knowledge and culture."
Fuata said there was also a huge responsibility for all Rotumans to step up together to take that on.
The Rotuman Language Week ends on Saturday.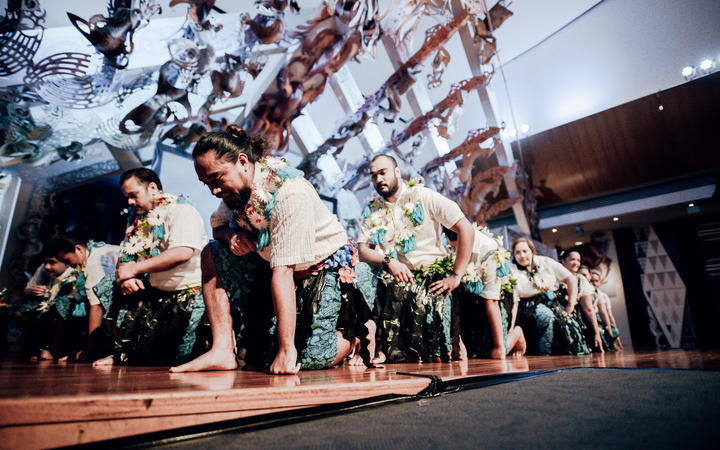 Photo: RNZ PACIFIC/Dom Thomas
---
From TV New Zealand (13 May 2021)
Kiwi Rotumans fight to keep their endangered Pacific language alive
By Irra Lee
What do you do if your language is at risk of becoming extinct? For one community organisation, the answer lies in grassroots solutions.
For the second time, and only the first time free from the gathering restrictions of last year's Alert Level 3 restrictions, New Zealand is officially marking Rotuman language week until Saturday.
The language, with only about 15,000 speakers in the world, is listed on the UNESCO List of Endangered Languages as 'definitely endangered'.
The language, distinct from other Pacific languages, hails from Rotuma, a Fijiian dependency of tiny islands 500 kilometres north of Fiji.
While only about 2000 people live on the islands, there are about 800 Rotumans living in New Zealand. Many others live in Fiji and around the world.
Rachael Mario, chairperson of the Auckland Rotuman Fellowship Group Incorporated (ARFGI), is organising numerous events to mark the week, including song and dance performances and community gatherings.
"We have to look outwards, not inwards. We want to share our language with everybody," she said.
"In the past, what we've done is we've always had events at a community centre where people come to us. This year, we want to go out to people and market our language."
Throughout the year, Mario and the ARFGI run weekly language and culture classes, as well as math tutoring.
"Our kids, if they don't know their identity, they won't do well in this country. So we need to empower each other.
"Having maths improves the confidence of our children, because some of them are at the bottom of the heap education-wise … University students in our community, I can count on my fingers how many have gone."
But programmes and classes could only do so much, Mario said.
"Yes, there are a lot of resources. But, parents need to be involved to speak Rotuman at home. They can come to class, but class is only once a week."
She also wants to see more support from the Government to help the ARFGI run programmes nationwide because the group currently uses its own funds and resources to do so. The Ministry for Pacific Peoples provides funding for community workshops, with Budget 2019 providing $20 million over four years to support Pacific languages and cultures.
"It's quite tough without any funding. It's all at grassroots level, community-based. But, we've got our heart and passion into it, so we go through it," Mario said.
Mario said she wanted to pay it forward and continue her community work because she was fortunate enough to have come to New Zealand from Fiji. She came to the country 34 years ago.
"I wanted to uplift our people to do well in this country like I have, sort of, because I'm settled. I know my identity, I know how to speak Rotuman and I know what to do. I'm trying to help them own a home and help kids do well in school so they can finish their education and contribute positively to Aotearoa," she said.
"Once you know your language, you know your identity. Then, you can achieve whatever you want."
The battle for recognition
Rotuman language week is one of nine being marked in New Zealand this year. But getting Rotuman officially recognised as a language week didn't happen until 2020, and it was a challenge to get there, Mario said.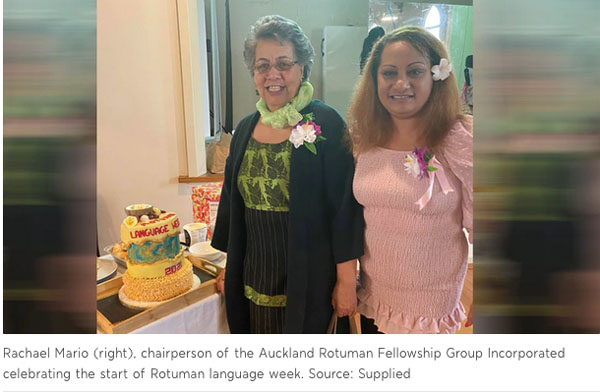 She said ARFGI first approached the Ministry for Pacific Peoples in 2018 asking for Rotuman language week to be featured on its website, like it does with other Pacific languages. At the time, the ARFGI was already marking the language week.
"Despite all our emails over two years, they kept saying they'd look into it but it didn't happen," Mario said.
ARFGI lodged a complaint to the Human Rights Commission (HRC) against the Ministry for Pacific Peoples in December 2019. The group claimed the ministry was unlawfully discriminating against the Rotuman language and its language week event.
However, numerous Rotuman groups at the time, after meeting at a forum, said in a letter to the ARFGI the complaint was a "misrepresentation" of the community's views, and said they would have preferred to work with the Government to get the language week recognised.
But Mario said she believed the HRC complaint had led to the official recognition of the Rotuman language week in 2020.
What resulted was two versions of Rotuman language week 2021: one social media page the Ministry of Pacific People's website links to as the "official" page for the language week, and another being run by the ARFGI.
Both are running events to mark the language week, with the ARFGI funding its own activities.
Mario called on the ministry to recognise all Rotuman groups, because the current model was "dividing" the community.
She also asked the ARFGI be included in decision-making over the language week because it was doing work at a grassroots level.
In a statement to 1 NEWS, a Ministry for Pacific Peoples spokesperson said community-led events were a "key focus" in its Pacific language weeks programme.
"Funding is available for community groups to run events as part of a collaborative approach.
"The Ministry has engaged and remains committed to engaging and working with all our nine language community groups including the Rotuman community that includes the Auckland Rotuman Fellowship Group," the spokesperson said.
How do languages become endangered?
Massey University linguistics lecturer Arianna Berardi-Wiltshire, whose research focuses on minority language education and revitalisation, said there were a number of factors that could put a language at risk of becoming endangered or extinct.
Berardi-Wiltshire said these included migration, colonisation, globalisation, the pressure to shift to a more widely-used majority language, or a decrease in the number of speakers through practices like genocide.
She said the consequences of a lost language could be devastating for communities, because a large part of their cultural identity and history would end up being lost.
"Normally, every interaction [a community] has with spirituality, their intellectual life, the way they think about the world, it's all filtered through the language.
"So, when indigenous languages are replaced by another language, the world becomes filtered through a different language and the first language loses its power to contain and transmit information and represent the world for those people."
For a language to be revitalised, Berardi-Wiltshire said it was "crucial" for previous generations to pass it on to the next.
"In order for that to happen ... the community needs to take an active path in that there needs to be enough fluent speakers. For this to happen, there needs to be support from the outside, from the society at large.
"It'd help if society at large values the endangered language and has systems of support in place to allow the endangered language community to do what they have to do in order to resume transmission [of the language between generations].
"It really helps if the endangered language becomes valuable not only for the community of speakers itself, but widely valued, acknowledged and protected. Because, in that way, it gains status and prestige," she said.
But, if the community itself doesn't see a language as valuable, "no one will", she added.
---
From Asia Pacific Report (13 May 2021)
Taieri MP Ingrid Leary pays tribute to 'brave new wave' of Rotuman culture
By APR editor
Aupito William Sio and Labour Party MP for Taieri Ingrid Leary
Pacific Cooperation Foundation
The New Zealand Rotuman community is celebrating Rotuman Language Week 2021 this week until Saturday.
Ingrid Leary, MP for Taieri and an ex-Pacific journalist, media academic at the University of the South Pacific and former director of the British Council, shares her experience with the importance of maintaining the Rotuman language and culture for her children.
READ MORE: Rotuman Language Week 2021
What does Rotuman language week mean personally to you?
Noaʻia e Mauri to our Rotuman communities in Aotearoa.
Rotuman Language Week is an opportunity for me to celebrate my teenage children's unique culture and language. It's an important part of the revitalisation of a beautiful and endangered language, an opportunity to celebrate the new wave of cultural leaders who have bravely stepped out to make Rotuman arts relevant in a modern context while honouring the traditional practices, and a great excuse for Rotumans everywhere to get together as communities and have fun.
What events … will you be attending during Rotuman language week?
I am discussing the marking of Rotuman Language Week at Parliament with my Labour colleagues from the Pasifika Caucus and have the huge honour of saying the opening prayer for Parliament on Wednesday. I was asked to do this, given that I also said my Parliamentary Oath of Allegiance in Rotuman and Te Reo. I am hoping to get to some of the events, including the official closing, if my parliamentary duties allow.
Unfortunately I could not make the opening ceremony in Auckland with the Minister of Pacific Peoples, ʻAupito William Sio, as I had important business in my electorate last weekend. However, I encouraged all my extended family and friends to attend that and as many events as they could.
What do you think the significance is, and importance of, New Zealand officially observing Rotuman language week?
Rotuman Language Week brings visibility both to the language/culture of Rotumans and to the communities themselves. This is vital to Rotumans having a voice at decision-making tables, as well as to ensuring young Rotuman New Zealanders are safe, confident and proud in their own cultures.
What is your favourite Rotuman food?
Fekei of course – the national dish made from starch, sugar and coconut milk – and cooked in an earth oven similar to a hangi pit. Yum!
Can you tell us something unique about the Rotuman culture that you think most people would not be aware of?
Rotumans who live on Rotuma spend the month of December (after a year of very hard work) in a Christmas Fara or traditional party – which entails going from house to house, one day at a time right around the island, singing, dancing and feasting. If the leaders decide to continue the party, then it can even go on for up to six weeks. The best place to be for Christmas, I'd say!
---
From Pacific Media Network (PMN) (10 May 2021)
Rotumans determined to save their language from extinction
By Ruci Farrell
Rotumans celebrate the launch of Rotuma Language Week at the Auckland War Memorial Museum at the weekend. 
Minister for Pacific Peoples Aupito William Sio issued a call to action for Rotumans to help shape the future of Pacific Language Weeks in New Zealand.
His message at the launch of Rotuma Language Week in Auckland over the weekend was short and blunt - fight to safeguard your language or risk losing it over time.
"The fight to hold on to something that is precious, something that makes sense to us, that connects our past with the present and hopefully gets passed on to the future - that is a really vital and critically important fight.
"The role of the ministry is to support the Pacific Language Weeks of the people of the Pacific and we want to ensure we not only promote the language but to ensure we value it," the minister says.
Census counts between 2013 and 2018 show a decline in the number of speakers of Pacific languages in Aotearoa.
More than half of the 981 Rotumans here are New Zealand-born and under the age of 30. Only a third of the 15,000 Rotumans around the world speak the language with fewer than 2000 fluent speakers residing in Rotuma.
The ministry is transitioning to the Refresh for Pacific Language Weeks, based on nationwide consultations with Pasifika youth, community and church leaders and language stakeholders.
This follows a damning review that showed Pacific Language Weeks over the last 14 years made little difference to the number of Kiwi-born Pasifika learning and speaking Pacific languages.​
Listen in to PMN Rotuma on 531pi with hosts Fesaitu Solomone (right) and Jioje Vai.
The launch of PMN Rotuma on Pacific Media Network's flagship radio station is another significant milestone to safeguarding a language UNESCO describes as definitely endangered.
PMN CEO Don Mann says the protection and promotion of language and culture is at the heart of everything PMN stands for.
"It's our duty to serve the Rotuman Community of Aotearoa and to open our channels of communication as a bridge for Rotuman people to connect regardless of where they may be."
"The whole objective of the show for me and my co-host is the ability for us to connect with the young ones many of whom are not fluent in the Rotuman language," says programme producer Fesaitu Solomone.
The business entrepreuner who serves on the board for the Ministry for Pacific People and Auckland Museum says many of them can listen and understand but the ability for them to speak back and converse in the language is minimal.
"Its an opportunity for them to be part of the programme and to hear their voices. It's about creating a safe space for our young ones and our elders who are not fluent for them to share their views their ideas. Maybe that's where the next vision is going to be created on how they want to see the language expand to."
Fesaitu's co-host is Jioje Vai a New Zealand-born Rotuman with Tongan heritage. He is part of the Hata culture collective that's coordinating the nationwide programme for Rotuma Language Week.
"Rotuma is a little small island northwest of Fjii. We fall under the Polynesian triangle and have our own language and culture. We're kinda the fruit salad of the Pacific and it is quite a complicated language," Joije Vai says.
"I am lucky I fully understand so I'm very blessed but I am still learning to speak the language.
"The majority of Rotumans in NZ as well as abroad understand the language but can't speak it so it's kinda like a bi-lingual programme.
"I share the vision with PMN in having a platform where we can not only provide community content but also be an education platform for the likes of people who live overseas or anyone who can teach the language."
Minister for Pacific Peoples Aupito William Sio (third from right) with Rotuman community leaders at the launch of Rotuma Language Week.
---
From Mirage News (9 May 2021)
Rotuman Language week affirms language as key to Pacific wellbeing
Hon Aupito William Sio
The first Pacific Language Week this year makes it clear that language is the key to the wellbeing for all Pacific people said Minister for Pacific Peoples, Aupito William Sio.
"This round of language weeks begin with Rotuman. As I have always said language is one of the pillars of our identity. This Government believes Pacific languages deserve to thrive in Aotearoa New Zealand.
"This year's Rotuman Language Week theme is Tutur häk ne mȧur lelei, or, in English, the 'four pillars of life', including health: Fakʻata (spiritual), Fakforo (physical), ʻOs Aʻhäe (psychological) and Hạikạinagaga (relationship with people).This is a holistic approach to life and language that will inspire our young people.
"Tutur häk ne mȧur lelei reminds us that Pacific resilience is about more than just physical health – we must also nurture the other aspects that make up our entire beings. It is a call to action to take stock of our overall wellbeing.
"The Wellbeing Budget 2019 delivered a $20 million package to MPP over four years to support the revitalisation of Pacific languages. The funding will lay the foundations for making sure Pacific languages flourish in Aotearoa," said Aupito William Sio.
Rotuman Language Week will run from Sunday 9 May to Saturday 15 May 2021.
"My hope for Rotuman Language Week is that we accept the invitation to nourish our culture through Rotuma's four pillars of life. We will also unite with the Rotuman community as they share with us the beauties of their culture and language," said Aupito William Sio.
---
From Radio New Zealand (8 May 2021)
Rotumans celebrate language and culture 'together' amid Covid-19
By Christine Rovoi
Aotearoa's Rotuman community is excited to celebrate their language and culture together this year.
Last year's Rotuman language week, New Zealand's third, was forced online because of the Covid-19 pandemic.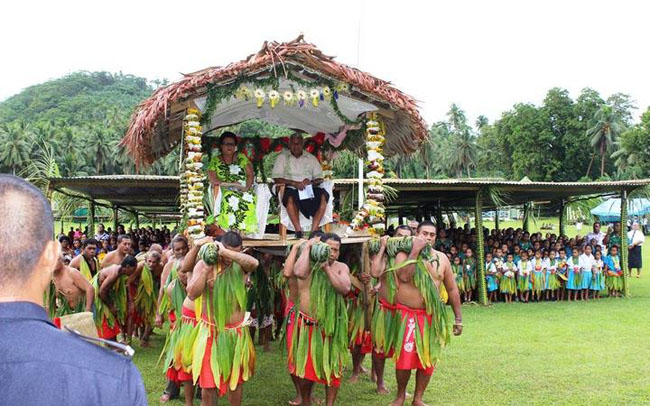 Fiji's Prime Minister Frank Bainimarama and his wife Mary are welcomed to Rotuma in a traditional ceremony during Rotuma Day celebrations. Photo: Facebook/Fiji govt
This year's theme for Gasav Ne Fäeag Rotuạm Ta - Rotuman Language Week - is Tutur häk ne mȧür lelei - the four pillars of life and wellbeing:
Mȧür Fakʻata (spiritual - a place of solace that gives meaning to life).
Mȧür Fakforo (physical - living life in all its fullness).
ʻOs Aʻhäe (psychological - steers our presence and place in life).
Hạikạinagaga (social - our connection with people).
According to Auckland-based Rotuman language tutor, Fesaitu Solomone, the traditional Rī Fak Rotuam is a thatched shelter or house which needs four strong pillars to hold the entire house together, "just like the four pillars for our wellbeing".
She said the theme also acknowledged and celebrated the strength and resilience of New Zealand's Pacific communities during the Covid-19 pandemic.
Activities and events will be held through Aotearoa to showcase the richness of the Rotuman language, culture and traditions, Solomone said.
Minister for Pacific Peoples Aupito William Sio will launch tomorrow's event during an Exclusive Viewing of Rotuman Collections at the Auckland Museum.
This would be followed by the launch of the Rotuman Language Week Theme Song, Solomone said.
She also said the Gasav Ne Fäeag Rotuạm Ta events would be streamed live on the NZ Rotuman Language Week Facebook page.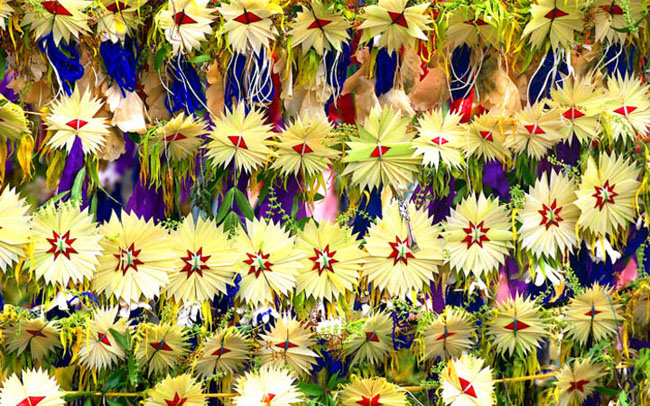 Rotuman fui or lei. Photo: Supplied
This year is extra special: Mario
Like a number of Pacific tongues, Rotuman was a language earmarked as under threat by the United Nations agency, UNESCO.
The head of the Auckland Rotuman Fellowship Group, Rachael Mario, says this is a concern.
It's been a challenge to keep the language alive, Mario said.
"Language is what makes us who we are and is part of our culture and identity. It is our duty to preserve this invaluable taonga.
"We invite all Kiwis to come and join us and celebrate being Rotuman. We pay tribute to our elders and leaders, who have, for the last 35 years, continued to celebrate our culture in New Zealand.
"We thank them for keeping our customs and traditions relevant," she said.
Mario said a showcase at the Auckland War Memorial Museum next weekend is among the highlights for the week-long celebrations.
The event is being hosted the New Zealand Rotuman Community Centre in the South Auckland suburb, Papatoetoe.
Mario said tomorrow also marked a special day for Rotumans.
"It's Mother's Day so we are going to have a pink ribbon breakfast which is open to everyone to come and join us.
"We'll provide the breakfast with the Kingsland Methodist congregation so it's a combined effort with the Mt Albert United Church.
"As well the Showcase, the programme will include Sunday's Closing Church Service with the Ate Fak Rotuma (a traditional feast served on banana leaves, with people seated on the floor)."
Mario said following the Harmimia ʻAmah ʻNe Haihanisiga or pink-ribbon breakfast, there will be singing of the popular Atumotu Helava.
There will also be a combined church service led by by the mothers.
The theme focuses on the wellbeing of our nation and communities, Mario said.
Rotuman children are learning to dance the traditional tautoga. Photo: Christine Rovoi
Rotumans go on air
A new radio programme has been launched to mark Rotuman Language Week.
From midnight to 2am on Saturdays the new weekly show, aired on Pacific Media Network's 531pi station in Auckland, will feature narratives from the diaspora in Aotearoa.
Solomone, one of the show's hosts, said they intend to include Rotumans from around the world to participate in the programme.
"Basically, it's a bilingual programme so our target audience we're looking at all our community members and those who are interested in the Rotuman language.
"These include those who are not fluent, who can't speak the language properly or to converse in full Rotuman.
"And for those who are wanting to learn the language. So this programme is an opportunity for them to be a part of it."
Solomone said people could share their views on issues that mattered to them including "things happening around the world in terms of our Rotuman community globally".
"It is a programme for our people, mainly for us in Aotearoa."
But it's going to expand to everyone internationally, she said.
Also see Kiwi Rotuma's challenge to keep endangered Pacific Island language alive
Facts about Rotuma
Rotuma is located almost 650 kilometres northwest of Fiji's capital Suva.
The island is a Fijian dependency but closer to Tuvalu than to Suva and, while it's influenced by Melanesian Fiji, Rotuma's Polynesian culture is closer to that of Tonga and Samoa.
About 2000 people live on the island with 10,000 on mainland Fiji and thousands more, like me, around the world.
This year, on 13 May, also marks 140 years since Rotuman chiefs ceded the island to the United Kingdom.
Rotuman Language Week ends on Saturday 15 May.
Rotuma is located about 650 kilometres northwest of Fiji's capital Suva.
---